Dr. James Adie
My research vision
Jim's primary research area is concerned with social-cognitive approaches pertinent to explaining health-related outcomes in achievement settings, particularly sport. Extending the research from his Ph.D., this line of work continues to be informed by two prominent motivational frameworks, namely achievement motivation and self-determination theories. To date, Jim has applied these frameworks to the study of motivational processes associated with psychological well- and ill-being in sport and education settings. One future research direction targeted is to assess the impact of motivational interventions aimed at realising the full potential of individuals/groups in achievement situations.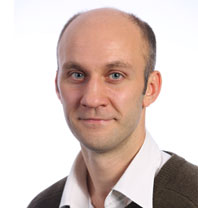 Lecturer in Psychology

Building: James Starley
Room: JS244
Email: james.adie@coventry.ac.uk
Biography
Jim joined the School of Psychological, Social and Behavioural Sciences at Coventry University in June 2013. Prior to this he worked in the departments of Psychology and Health Sciences at Liverpool Hope University (2009-2013). His Ph.D., completed at the University of Birmingham, focussed on the motivational processes underpinning psychological well- and ill-being among participants in team sport settings. His doctorate work and continuing research on participation motivation and well-/ill-being has resulted in publications in leading international peer-reviewed journals and the presentation of these papers at prestigious conferences (e.g., North American Society for Psychology of Sport and Physical Activity). A recent contribution to this area of literature involved co-authoring a chapter in the edited book, "Advances in Psychology of Sport and Exercise".
Jim is a Chartered Psychologist (CPsychol.), Chartered Scientist (CSci.) and Full and Divisional (Sport and Exercise Psychology) Member of the British Psychological Society. He is also a Fellow of the Higher Education Academy (FHEA) and a member of the Society for the Study of Motivation. External activities include being invited to regularly review manuscripts on behalf of several esteemed Psychology, and Sport and Exercise Psychology Journals.
Selected outputs
Adie, J.W., Duda, J.L., and Ntoumanis, N. (2012) 'Coach autonomy support, basic need satisfaction, and well-being among elite youth soccer participants: A longitudinal approach'. Psychology of Sport and Exercise 13 (1), 51-59.
Adie, J.W., and Wakefield, C.J. (2011) 'Perceptions of the teaching environment, engagement and burnout among university students on a sports-related degree programme in the UK'.Journal of Hospitality, Leisure, Sports and Tourism Education 10 (2), 74-84.
Adie, J.W., Duda, J.L., and Ntoumanis, N. (2010) 'Achievement goals, competition appraisals and the well- and ill-being of elite youth soccer players over two competitive seasons'. Journal of Sport and Exercise Psychology 32 (4), 555-579.
Adie, J.W., and Jowett, S. (2010) 'Meta-perceptions of the coach-athlete relationship, achievement goals and intrinsic motivation among sport participants'. Journal of Applied Social Psychology 40 (11), 2750-2773.
Adie, J.W., Duda, J.L., and Ntoumanis, N. (2008) 'Autonomy support, basic need satisfaction and the optimal functioning of adult male and female sport participants: A test of basic needs theory'. Motivation and Emotion 32 (3), 188-189.
Adie, J.W., Duda, J.L., and Ntoumanis, N. (2008) 'Sport Psychology Achievement Goals, Competition Appraisals, and the Psychological and Emotional Welfare of Sport Participants'. Journal of Sport and Exercise Psychology 30 (3), 302-322.