Dr. Gurnam Singh
MY RESEARCH VISION
I describe myself as an academic activist in that what inspires me both in my teaching and research is the desire to transform individuals and society. I always seek to deploy a critical sociological imagination in my work as well as espousing democratic, humanitarian and universal principles. My belief is that committed scholarship has the potential to enable human societies to respond to the challenge of all kinds of inequalities, at the local, national or global level.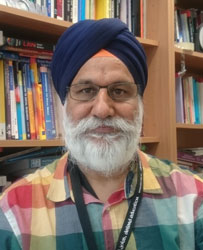 Principal Lecturer in Social Work and Visiting Professor of Social Work

Building: Charles Ward
Room: CW109
Email: g.singh@coventry.ac.uk
BIOGRAPHY
Gurnam Singh is currently Principal Lecturer in Social Work at Coventry University and Visiting Professor of Social Work at the University of Chester. Prior to entering academia in 1993, he worked as a professional social worker and community activist.
He completed his PhD from the University of Warwick in 2004 on anti-racist social work. In 2009 in recognition of his contribution to Higher Education he was awarded a prestigious National Teaching Fellowship from the UK Higher Education Academy. Over the past 20 years he has secured research projects in excess of £500,000 and has presented over 100 papers at national and international conferences, many as an invited keynote speaker.
In addition to his academic work, Gurnam has an extensive media profile and over the past 6 years has regularly presented discussions and debates on minority TV channels, including Sikh Channel and Akaal Channel and well as BBC Radio networks.
SELECTED OUTPUTS
Cowden, S., & Singh, G. (2016). 'Community cohesion, communitarianism and neoliberalism. Critical Social Policy', Oct 2016, DOI: 0261018316670252.
Singh, G (2016) 'Post-racial pedagogy - challenges and possibilities, Race Ethnicity and Education'. 25th Oct 2016 DOI: 10.1080/13613324.2016.1248830
Singh, G and Cowden, S (2016) 'Intellectuality, student attainment and the contemporary higher education system', in, G., Steventon, D.,Cureton and L., Clouder (eds), Student Attainment in Higher Education. Abington, Taylor & Francis/Routledge.
Singh, G and Kwhali, J (2015) 'How can we make not break black and minority ethnic leaders in higher education?' Stimulus paper - June 2015 ISBN: 978-1-906627-77-5. London: Leadership Foundation for Higher Education.
Singh, G and Cowden, S (2015) 'The intensification of neoliberalism and the commodification of human need – a social work perspective'. Critical and Radical Social Work. Available online: September 9, 2015.
Singh, G (2015) 'The neo-liberalisation of higher education', in, Post - 16 Educator. Issue 81 October –Dec 2015. ISSN 0459-2026, pp13-18.
Cowden, S., and Singh, G. (2015) 'Critical Pedagogy: Critical Thinking as a Social Practice'. in The Palgrave Handbook of Critical Thinking in Higher Education. ed by Davies, M., and Barnett, R. London: Palgrave Macmillan, 559-572.
Cowden, S., and Singh, G. (2014) 'A Critical Analysis of Service Users Struggles'. in Rethinking anti-discriminatory practice, diversity and equality in social work. ed by Cocker, C., and Hafford-Letchfield, T. Basingstoke: Palgrave.
Cowden, S., and Singh, G. (eds.) (2013) Acts of Knowing: Claiming Critical Pedagogy in, against and beyond the university. New York: Bloomsbury Academic.
Singh, G., and Cowden, S. (2013) 'Is Cultural Sensitivity Always a Good Thing? Arguments for a Universal Social Work'. in Practical Social Work Ethics: Complex Dilemmas within Applied Social Care. ed. by Carey, M. Farnham: Ashgate.
Singh, G., and Cowden, S. (2013) 'Part two Response to Tariq Modood - Accommodating religions: Who's accommodating whom? A three-part debate about multiculturalism and religion'. Critical Social Policy 34 (1), 128-134.
Singh, G. (2013) 'Rethinking anti-racist social work in a neo-liberal age in, Race, Racism and Social Work'. in Race, Racism and Social Work: Contemporary issues and debates. ed. by Lavalette, M., and Penketh, L. Bristol, Policy Press.
Singh, G., and Cowden, S. (2013) 'The New Radical Social Work Professional'. in Professional Social Work. ed. by Parker, J., and Doel, M. London: Sage/Learning Matters, 81-97.
Cowden, S., and Singh, G. (2013) 'User Involvement: Now You See It, Now You Don't'. in Rethinking Anti-Discriminatory Practice, Diversity and Equality in Social Work. ed. by Cocker, C., and Lechfield, T. Basingstoke: Palgrave Macmillan.
Singh, G. (2011) 'Black and Minority Ethnic (BME) students' participation and success in Higher Education: improving retention and success - A Synthesis of Research Evidence'. York: Higher Education Academy.
Singh, G., and Cowden, S. (2011) 'Multiculturalism's New Faultlines: Religious Fundamentalisms and Public Policy'. Critical Social Policy 32 (3), 343-364.
SELECTED PROJECTS
Disparities in Student Attainment: This was a joint study between the University of Wolverhampton and Coventry University which explored the gap between the attainment of black minority ethnic (BME) and white students across the two universities, with a specific focus on solutions for closing the gap.
Disparities in student attainment: Improving student attainment through an understanding of structures, spaces and people: This is a 3 year longitudinal action research project looking at developing strategies for institutional change.
Step-up to Social Work: Development, delivery and evaluation of a pilot Masters level intensive full-time training work-based professional social work programme in partnership with Coventry, Warwickshire and Solihull Social Services and Manchester Metropolitan University.
Diversity Champions Development Project: This project involved the recruitment and training of a network of 'diversity champions' across all university departments with the expressed aim to improve inclusivity in teaching and learning with a specific emphasis on BME students.
Evaluating Educational Strategies for preventing violent extremism and Far Right membership: This research was commissioned by the Coventry Hate Crimes Partnership to evaluate the effectiveness of two educational interventions designed to work with young people in danger of involvement with far right groups.
Hate Crimes Toolkit and training for frontline practitioners: This project involved developing and piloting a tool kit on hate crimes for professionals working in various statutory services across Coventry.