Dr Christopher Mee
MY RESEARCH VISION
Eukaryotic cells are intrinsically interesting and understanding their development, behaviour and ultimately death has always been a fascinating pursuit for any Cell Biologist. My own interest focuses on how cells interact and organise to become tissues and structures through the process known as cell polarity. A background in both human neurodegenerative disorders and human viral pathogens has lead me to want to understand the fundamental processes that help cells form into tissues. This is done through studying the protein complexes that form between cells, how this influences cell signalling and to ultimately understand how disease, ageing and pathogens lead to the breakdown of cell polarity and the development, progression and maintenance of human disorders. Currently this work is focussing on liver cell polarity and its role in ageing, fibrosis and cancer.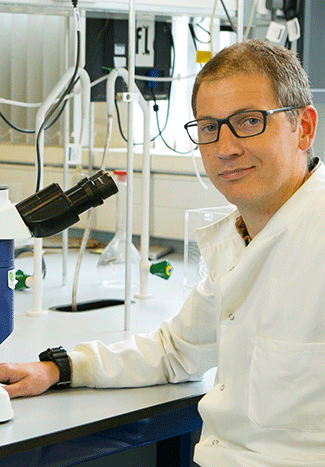 Senior Lecturer in Biomolecular Science

Building: James Starley
Room: JS133
Email: ab0643@coventry.ac.uk
BIOGRAPHY
My major research interest is in studying liver cell polarity and how tight junction proteins interact with adhesion junction proteins to form polarized tissues/structures. This is particularly relevant when looking at the changes that occur in the liver and its regeneration after injury and in relation to disease, ageing and the presence of human pathogens. This interest has developed from looking at the effects of liver cell polarity on the viral entry process of Hepatitis C.
I previously spent 5 years working within Professor Jane McKeating's Lab at Birmingham University looking at the role of HCV and cell polarity. This has resulted in me being involved in 11 published papers in journals such as Nature Medicine, Gastroenterology and the Journal of Virology. This work has also been presented at the Annual HCV meetings in 2008 and 2009. Prior to this I was an Investigator Scientist at the MRC Functional Genetics Unit at Oxford University; here I worked principally on invertebrate models of human neurodegenerative disorders such as Alzheimer's, and my work on a Drosophila model of Alzheimer's resulted in me being awarded the Westminster Medal 2006 for excellence in research and R&D at the House of Commons.
SELECTED PROJECTS
Role of cell polarity in HCV viral entry: This work was the first to show the importance of the polarized hepatocyte phenotype in HCV entry and the role of VEGF in this process.
Live cell and Calcium imaging in human hepatocytes – Study of the effects of inflammatory mediators on hepatic polarity and tight junction protein distribution: This work continues to look at the role of growth factors and inflammatory mediators' on TJ protein distribution in the liver.
Live cell imaging to study paracrine interactions between liver sinusoid endothelial cells and hepatocytes that regulate hepatic polarity and hepatitis C virus infection": This project, undertaken at the University of Groningen eamined the role of liver endothelia-hepatocyte interactions in HCV.
Studying the role of hepatocyte polarity on Hepatitis C infection": Undertaken with collaborators at Groningen, this laid down the techniques for a number of papers on HCV/polarized hepatocyte interactions.
Ageing and its role in liver regeneration – studying gene expression profiles: Understanding how gene expression profiles of growth factor and inflammatory mediators change in rat livers with age.
Zebrafish – a model for studying the role of tight junction proteins in liver regeneration and ageing: A new project beginning to use zebrafish to study liver development and regeneration after injury.
Liver injury, fibrosis and the onset of EMT: Understanding how damage and subsequent liver fibrosis can lead to EMT and liver cancer.
Over and under-expression of tight junction proteins and in vitro cell models – understanding EMT and its role in liver cancer: Understanding the regulatory role of TJ proteins in controlling or triggering EMT which often leads to cancer phenotypes in polarising tissues.
Calcium handling and ryanodine receptors in invertebrate model systems: Ryanodine receptors (RyRs) form a class of intracellular calcium channels which are important in human disease, this project looks to model and understand those diseases in invertebrate models.