Camelia Dijkstra
MY RESEARCH
VISION
My research was initially inspired by human curiosity for space exploration. Using diamgnetic levitation as a technology to simulate weightlessness, the research showed very innovative results the effects of both altered gravity and also strong magnetic fields on biological systems.
My vision is to use my interdisciplinary expertise in molecular biology, biophysics and magnetism to advance the research at Coventry University in the development of: 1) environmental technology with the aim of developing advanced technologies that are sustainable and have low environmental impact and 2) biomaterials research on testing the use of new materials for implant purposes.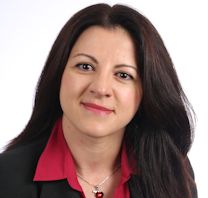 Research Development Executive

Building: Techno Centre
Room: ICG11
Email: c.dijkstra@coventry.ac.uk
BIOGRAPHY
Following from a BSc in general biology at Babes Bolyai University in Cluj-Napoca (Romaina), I undertook an MSc in Plant Genetic Engineering as a joint programme with the University of Nottingham. In 2004 I started my PhD at the University of Nottingham on a large interdisciplinary EPSRC project aimed at developing diamagnetic levitation as a novel technology used both in space-related research and for studying the effect of high magnetic fields on biological systems. After obtaining my PhD in Biosciences, I held a number of research positions within the Plant Sciences and Food Sciences Departments at Nottingham.
In a research role, since 2011 I have been the Co-director of the Biomolecular Research Applied Research Group at Coventry University. I provide expertise and training in advanced techniques in molecular biology in various research projects. For the future I aim to use the expertise and findings from the results presented in Hill et al., (2012) and Dijkstra et al., (2011) and Herranz et al., (2012) to develop advanced technologies that are sustainable and have low environmental impact as well as complementing a team of material scientists, chemists and engineers to develop a new line of research in Biomaterials.
SELECTED OUTPUTS
Herranz, R., Larkin, O.J., Dijkstra, C.E., Hill, R.J.A., Anthony, P., Davey, M.R., Eaves, L., van Loon, J.J.W.A., Medina, J., and Marco, R. (2012) '

Microgravity simulation by diamagnetic levitation: effects of a strong gradient magnetic field on the transcriptional profile of Drosophila melanogaster

'. BMC Genomics 13 (52).
Hill, R.J.A., Larkin, O.J., Dijkstra, C.E., Manzano, A., de Juan, E., Davey, M.R., Anthony, P., Eaves, L., Medina, J., Marco, R., and Herranz, R. (2012) '

Effect of magnetically simulated zero-gravity and enhanced gravity on the walk of the common fruitfly

'. Journal of the Royal Society Interface 9 (72), 1438-1449.
Dijkstra, C., Larkin, O., Anthony, P., Davey, M.R., Eaves, L., Rees, C.E.D., and Hill, R.J.A., (2011) '

Diamagnetic levitation enhances growth of liquid bacterial cultures by increasing oxygen availability

'. Journal of the Royal Society Interface 8 (56), 334-344.
Beuls, E., van Houdt, R., Leys, N., Dijkstra, C., Larkin, O.J., and Mahillon, J. (2009) '

Bacillus thuringiensis conjugation in simulated microgravity

'. Astrobiology 9 (8), 797-805.
Dijkstra, C., Adams, E., Bhattacharya, A., Page, A.F., Anthony, P., Kourmpetli, S., Power, J.B., Lowe, K.C., Thomas, S.G., Hedden, P., Phillips, A.L., and Davey, M.R. (2008) '

Over-expression of a gibberellin 2-oxidase gene from Phaseolus coccineus L. enhances gibberellin inactivation and induces dwarfism in Solanum species

'. Plant Cell Report 27 (3), 463-470.
Manzano, A.I., Matia, I., Gonzalez-Camacho, F., Carnero-Diaz, E., van Loon, J.J.W.A., Dijkstra, C., Larkin, O.J., Anthony, P., Davey, M.R., Marco, R., and Medina, F.J. (2009) '

Germination of Arabidopsis seed in space and in simulated microgravity: alterations in cell growth and proliferation

'. Microgravity Science and Technology 21, 293-297.
Marco, R., Lavan, D.A., van Loon, J.J.W.A., Leandro, L.J., Larkin, O.J., Dijkstra, C., Anthony, P., Villa, A., Davey, M.R., Lowe, K.C., Power, J.B., and Medina, F.J. (2008) 'Drosophila melanogaster, a model system for comparative studies on the responses to real and simulated microgravity'. Journal of Gravitational Physiology 14, 125-127