Engineer a solution to a problem
Design and build
Students are tasked with the design and build of a system of tools to conduct a full-set tyre changeover on a scale model car – the aim is to be as fast as possible. They are further challenged by a set of rules and regulations, such as no hands on the car and limitations on material usage.
Watch the students in action.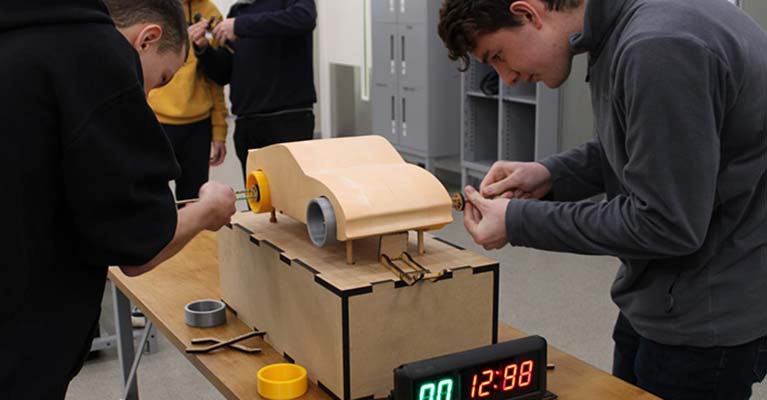 Team work
The students must work as part of a team to follow the design process from initial problem scoping to final detailed design and build. The task allows them to practice the tools and techniques taught on their degree course to engineer a solution to a problem.
The Pit Stop Challenge concludes with a competition event, where teams carry out a pit stop on the scale model car to try and get the fastest change over time possible with their own tools.
I believe this module is essential for engineering students in their first year, as it sets the foundations for design work and engineering processes that allow us to succeed in further projects. During the pit stop challenge, I particularly enjoyed the hands-on aspect, designing in Catia and the prototyping stage of the physical tools used for the task. The level of competition also helped motivate me during the challenge.

Lucas Amblard, first year Motorsport Engineering BEng (Hons) student