My placement at BMW Group
Mechanical Engineering BEng (Hons) student Faith Falusi shares his experiences of undertaking placements working for Rolls-Royce Motor Cars (RRMC) and MINI of the BMW Group.
What does your role involve and how are you utilising your academic studies?
I have been fortunate to work for Rolls-Royce Motor Cars (RRMC) and MINI of the BMW Group, where I have applied the knowledge gained from my course in both placements.
At RRMC I worked within the Aftersales Technical Services team, where I supported the technical specialists to solve complex field issues that customers face daily. I came across different design failures of vehicle components and performed root-cause analysis. I evaluated, produced technical documentation and improved service diagnostic tooling both at the software and hardware level.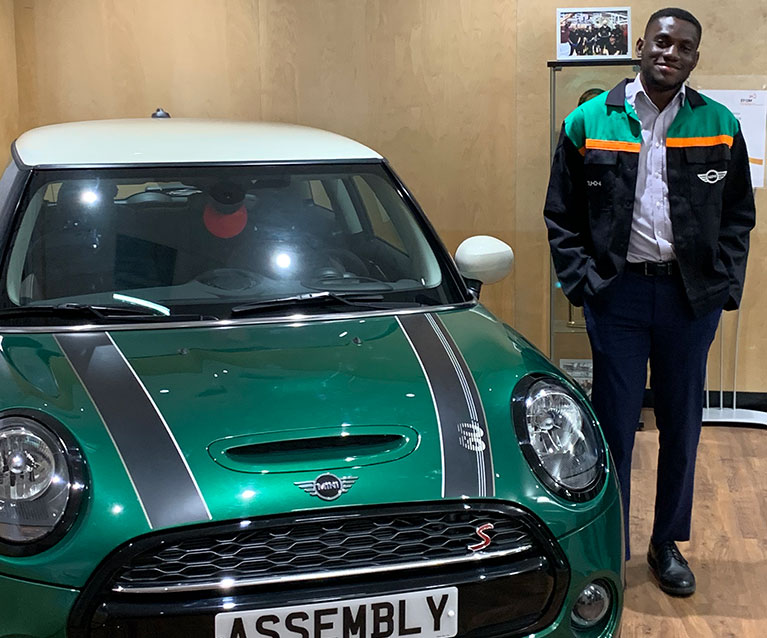 I also had a chance to apply my MATLAB skills where required. Tools such as MATLAB and CATIA taught at Coventry University are widely used in the industry.
Currently, I am an Assembly Planner for Structure, Controls and Facility at MINI, which boasts a modern factory with a strong focus and movement towards Industry 4.0. A thousand cars are manufactured here every day with associates and robots on the assembly line.
I implement project management for assembly structure, mechanical, controls and special tool-in preparation for the next shutdown. I also conduct project progress and status meetings with senior planners. I create simulations for the new assembly line using Unreal Engine software and also provide support for other projects such as the programming and planning for the use of KUKA robots on the line. The engineering management modules already studied on my course have been beneficial so far.
What do you think you've learnt whilst on placement?
My professional skills and technical capabilities have definitely improved. I have had a lot of corporate and work-specific training that has enlightened and exposed me to different issues faced in the work environment.
I practice good task-management, planning and problem-solving both at the workplace and at home. I am grateful for the person I am now as I feel implementing these skills will change the way I approach the last year of my course.
I have learnt to build a healthy relationship with colleagues and be inclusive, which in return has opened opportunities to be involved in many exciting projects.
What would be your advice to a student considering a placement?
Honestly, there will be some rejections even when you think you're the best fit for the role. Please, do not give up if things don't go the way you expected, be persistent.
I did not seek help from the faculty's placement team until it was quite late in the application season. Looking back, I wasted a lot of time and effort trying to navigate the process on my own, with little knowledge of the different situations I would be subjected to by recruiters.
After a one-to-one session with a placement team advisor, I finally broke through the barrier of the initial screening stages, which led to several interviews and assessment invites where I was able to showcase my skills – and end up where I am now!