My placement at Boutsen Ginion Racing
Oleg Karchevskyy studying Automotive Engineering BEng (Hons) shared his experiences of undertaking a placement year at Boutsen Ginion Racing, a Belgian racing team currently competing in Touring Car Cup Europe and GT World Challenge series. This team has also previously raced in the European Le Mans Series and Eurocup Megane Trophy.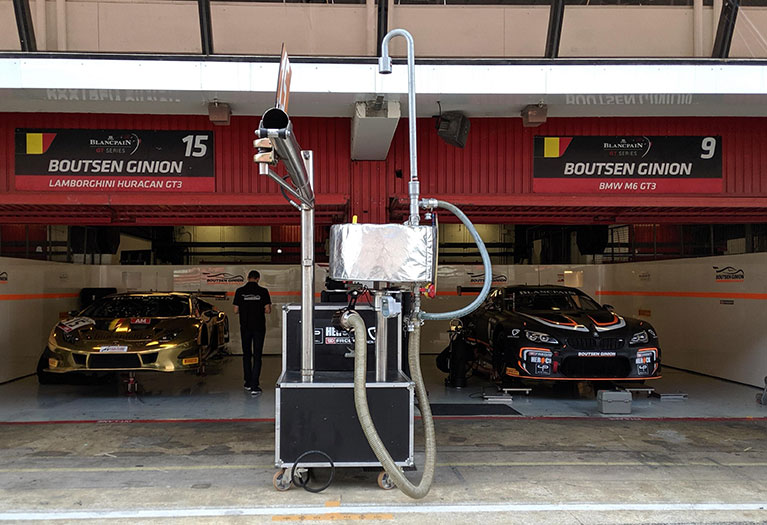 What does your role involve and how are you utilising your academic studies?
My role during race weekends is data engineer. This involves downloading data from the car after each run or session to check the car is running as it should mechanically. It is my responsibility to make technical decisions in order to ensure the best possible result, such as replacing faulty sensors which could reduce the performance of the car.
I work closely with the race engineer to give him data to help coach the driver, as well as improve the setup of the car. I use a comprehensive workbook to keep track of changes on the car and the events of the sessions.
Back at the workshop, I am responsible to keeping track of the mileage of all of the components of the cars and I manage their inventories. The more advanced Excel skills I picked up whilst studying have really helped me with this database management. I also do some part design using Catia for equipment the team will be using for the upcoming season. Previous experience with the software at university has helped me to perform this role.
What do you think you've learnt on placement?
During this placement I have learned a lot about racing data acquisition and electronics systems, how racing teams operate and the systems they have in place to compete. Most of all though, I have learnt to apply myself under the high pressure environment of motorsport, using engineering principles I have developed during my automotive studies.
What would be your advice to any student considering a placement and how did the university's placement team support you?
The question you should be asking yourself is why shouldn't you do one?!
My placement has so far given me real-world experience that I would have never have gotten if I had not chosen to undertake a placement and put the things I have learnt on my course into context.
Make some time to format your CV well and write an individual cover letter for each company you contact - you could be juggling multiple placement offers! The faculty's placement support team sends out plenty of opportunities via email and there are several dedicated internal web pages for finding companies to apply for, which I took advantage of when applying. The placement team also offer advice for CVs and cover letters which is useful to get a different perspective on your writing.