Services we offer
The Talent Team exists to offer tailored career and enterprise support to students wishing to gain employment and professional practice opportunities within course specific industries. Specialist careers information, advice and guidance is offered to all our students from their first year through to final year, helping them make plans and set goals in order to achieve their desired career outcome.
The services we offer include:
CV and portfolio guidance
CV and portfolios vary for all industry sectors. We ensure that students accurately present themselves and their skills, competencies and abilities utilising content suitable and recognised within their various industry sectors.
Embedded Employability Skills Sessions
We deliver industry specific skills sessions across all four schools within the College. These sessions provide students with vital transferable and key employment skills required by employers nationally and globally.
Professional practice placement support
Delivering student placement preparation sessions
Providing placement opportunities across a range of subjects
Selecting suitable candidates if required
Liaising with placement employers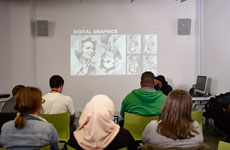 Enterprise support
In response to the increased trend of freelancers and start-ups, our dedicated enterprise officers offer assistance to students on how to begin as a freelancer/entrepreneur.
Graduate support
Helping students navigate the recruitment process, this includes everything from CV, cover letter and application writing right through to preparation for psychometric testing, assessment centres and the interview process.