Turning a passion into a degree
Why Automotive Design?
I am a car person, and I am very into anything related to cars. I studied Chinese Calligraphy when I was an undergraduate in China. In my spare time, I love to explore new things, and the car industry is always my first choice. I started to learn about automotive design myself, and then I got design training and started thinking of studying abroad. This is what led me to apply to Coventry University.
Why Automotive Design at Coventry?
I was aware of Coventry University's good reputation in the automotive design community before I applied to the course. Many professional automotive designers or product designers (industry leaders) graduated from Coventry University.
The UK also has a great reputation in higher education and it is a native English speaking country, so would help me with English improvement.
The tuition fees at Coventry were also a lighter financial burden to me, compared with other universities in the US and UK.
How did you find the course at Coventry?
The clay modelling studio was a great benefit. I was able to make clay car models independently, which increased my knowledge about 3D techniques and inspired my career direction.
One of my lecturers Aamer needs a mention, he was an automotive designer within industry and you can feel his passion towards the subject and how he wants to encourage that same passion in the students. I really admire and appreciate him, even if it is hard to achieve a high grade in his module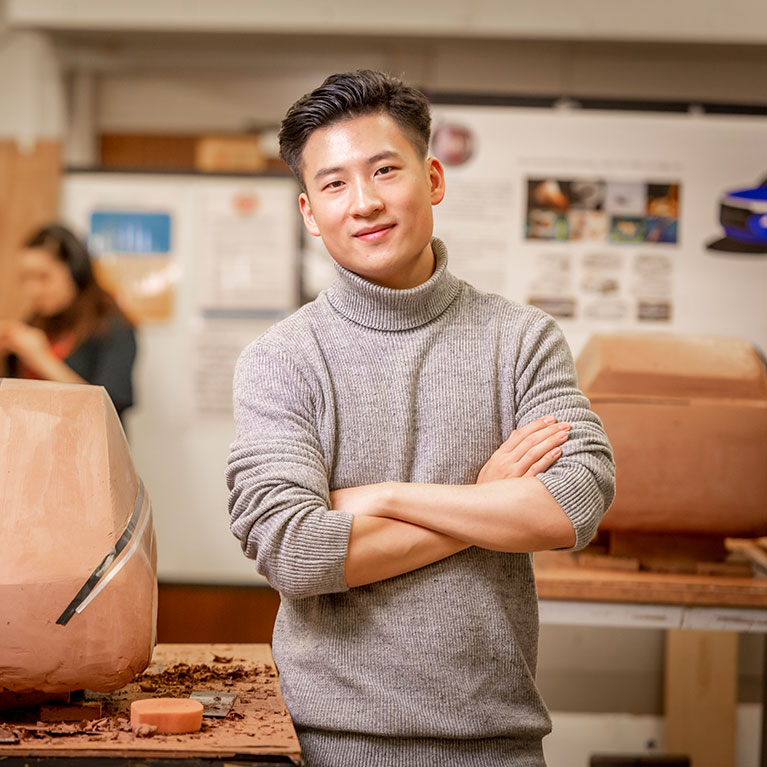 The course is challenging and you will learn at a fast pace. You need to put in as much effort as possible and then you will feel the course is valuable.
Overall, I learnt a lot throughout the whole year which is really helpful in my career. It is not about whether you graduate from a university that is famous or not, it is whether you have widened your horizon and gained professional knowledge. In the automotive design industry, you need to prove yourself via a great portfolio with a good experience.
Can you tell us about your Final Major Project?
My final project was called Project M-MR, which means man-machine relay racing. It was a racing project with an intelligent platform designed for future racing events. The project was based on my interests as I am into sports cars. I wanted to take advantage of this opportunity to design a fancy car, without restrictions such as car style or brand.
The biggest challenge for me was how to get the right direction and finish the whole project in the short-time period. We had to complete the dissertation, initial design draft, project optimisation, modelling and rendering in less than 3 months. At the beginning of the project, I felt a little lost, but I learnt how to manage my time, make a trade-off during the project and finally completed it well.
Do you have any tips for students considering this course?
If you are interested in this course, do prepare yourself before the course starts. You might not have enough time to learn basic knowledge. You will need to prepare yourself at the master entry-level to allow your learning journey to be meaningful.