Employment Fair- my biggest project
Rusne Ramonaite, who is studying BA (Hons) Event Management, started looking for placements while in her 2nd year at university.
When the opportunity came up to apply for a one year placement as Coventry University's Faculty of Business and Law's (FBL) Employability and Events Coordinator, she jumped at the chance.
Her biggest project so far has been organising the annual FBL Employment Fair.
We caught up with Rusne to find out how it went.
Hear from employers about how much they enjoyed the Employment Fair.
1
Months of planning
We started organising the fair way back in September by going through the risk assessment, health & safety and the event request forms.
Completing this task gave me an opportunity to apply theory into practice. I had learnt how to fill out these forms from lectures, however this actually taught me how to do it when preparing a real life event.
This task also gave me a chance to see how complex this event was expected to be. The aim of the fair was to get 25 employers to attend the event and attract around 800-1000 students.
2
Unpredictability of events
I was given a range of contacts for companies that my manager wanted to invite to the fair and proceeded to start contacting and inviting the employers.
Sourcing the companies proved to be the most challenging task. Even though I had some of them confirmed since November, they were dropping out for different reasons. Although this made my job more difficult - given that it was a few weeks prior to the event, we still had time to replace them. It also reminded me that events are unpredictable, so all the event manager can do is have an action plan in place for any situations that may arise.
Furthermore, I created the event's floor plan. I separated the companies by schools. I think separating them by schools was a great idea as it was easy for the students to find what they were looking for.
3
Student ambassadors
Another thing that I was heavily involved in was helping to manage 10 student ambassadors on the day. I organised a briefing a week before the fair where I talked about the expectations, incentives and the health & safety aspects of the event.
I also went through the floor plan, their rota and the companies attending the fair. On the day, I supported the ambassador coordinator in managing them throughout the duration of the event by ensuring they were sticking to their rota and responsibilities.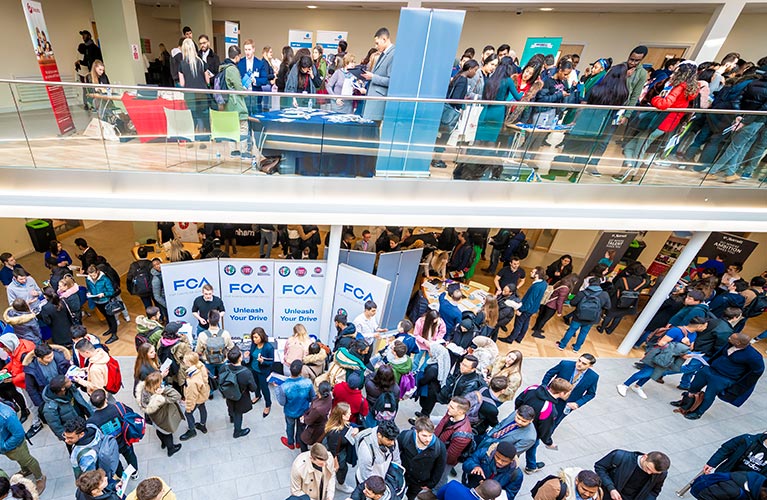 As HR in events is an avenue that I am interested pursuing a career in, managing the ambassadors on the day was a very useful experience. The Fair was the biggest event I have ever organised – we had 26 companies and 1200 students attend which exceeded our expectations.
The fair was a massive success with 100% of the employers saying that they would attend again; most of them saying that the event was very well organised and one of the companies even mentioning that this was the best event they ever attended.

Rusne Ramonaite BA (Hons) Event Management Student