Working alongside European and International students is amazing
Business Analytics MSc student Jay Kishor Samgi from Leicester shares his experience of studying his postgraduate course at Coventry University.
How long did you spend researching Coventry and your course?
My journey to becoming a Coventry University student started in early 2015. At the time, I lived in Leicester, and I wanted to move to a closer city to experience the student lifestyle. Coventry quickly became my primary choice due to it being a student city with a multicultural population. This was backed up by social media and also during the open day I attended in 2015. Fast forward to 2019, when I was getting closer to finishing my bachelor's degree.
I saw Stay on Go further posters and leaflets around campus about postgraduate (PG) opportunities and on the university website, as well as on social media like Instagram. The amount of information about PG taught courses at Coventry made my decision to apply very easy.
I easily found all the information about the course I wanted to study on the uni website and the faculty also helped me. The faculty gave me the course director's details which allowed me to meet with him and discuss the course.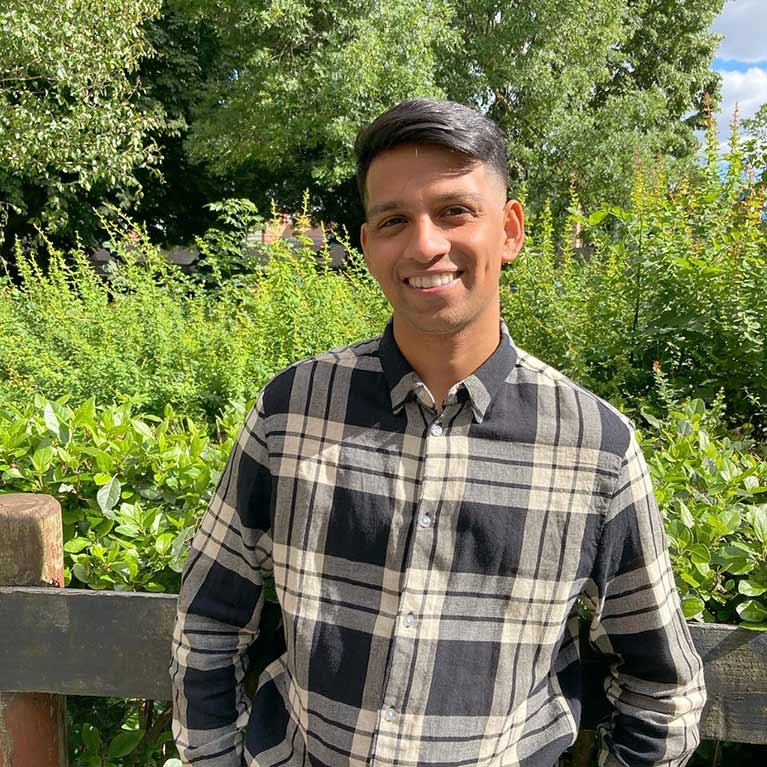 Is there anything in particular that sets Coventry apart from other institutions you were considering?
I really enjoyed being surrounded by European and international students when attending the open day. This was exciting and very welcome as it meant I would be networking with students from different countries.
In addition, the fact the city is smaller than many other UK cities, and the campus is very close to the city centre ,made me consider Coventry even more. It meant I would not need transport to get to campus, and shops and restaurants would be close by, allowing me to enjoy my social life with ease.
Why did you choose Coventry University to study your PG course?
I studied my bachelor's at Coventry University and the transition to a PG course seemed very simple and easy. The Stay on Go further opportunity meant a 15% discount on tuition fees and so was very appealing.
Furthermore, I did not want to move to a new city and start again. I felt at home in Coventry, with friends and my part-time jobs. For my course specifically, the cohort was predicted to be of small size, therefore I knew I would have better contact with my course mates and lecturers. This would allow me to make the most of my experience and achieve excellent results.
Why did you choose this particular course? What appealed most to you?
I came from an undergraduate background in International Relations and Politics and, after taking a year to study in Spain in my third year, I had learnt that I needed to expand my technical skills to improve my career prospects. I was really intrigued by the MSc Business Analytics course as it focused on equipping students with the necessary skillset to adapt to any type of workforce and work with any type of data/ information and make it understandable for everybody. The ability to learn to work with Excel, Tableau, SPSS, NVivo and other software was very exciting as I knew such technical skills would be handy for the future.
Could you provide an overview of Coventry and what's available, e.g. city-centre, food and drink, nightlife?
The campus is right in the heart of the city. Students can easily walk from building to building and if they live in university accommodation, then they are most likely only a two-minute walk from campus! The city has evolved so much! It has all the necessary supermarkets and stores near student accommodation to make food shopping easier for students. The variety of restaurants is mind-blowing given the small size of the city centre and gives options to satisfy the cravings of any student from any country!
Another great aspect of Coventry is the variety of pubs and bars. Students can enjoy time out with friends in multiple bars that are very student-friendly! The nightlife is also good as there are always different events happening to suit every student's need. Getting about is easy too. The bus station is literally 2 minutes from the students' union, and the train station is less than 15 mins walk from the city centre. Many students also use the opportunity of Coventry's centre-of-the-country location to travel to other cities and explore the UK. Having public transport close to student accommodation means students can take day trips to other places very cheaply and then return safely to their homes on Coventry's well-lit foot or cycle paths.
Which postgraduate facilities do you use most, for example the library, Jaguar building, Centre for Academic writing etc.?
I spent most of my time in the library, specifically the lower-ground floor which was reserved just for PG students. COVID-19 times excepting, the library is open 24/7, therefore I used it whenever I needed to do individual and group projects.
In my PG course, I had many group projects and was always looking for a place on campus to work with my group. I found the library and the Jaguar building very convenient for these occasions. Known as the Jag, it's also the building where most PG students have their lectures and seminars. The building does incorporate many little areas of study for groups to use with large screens and tables for academic use.
For more informal gatherings, TheHUB was also a good place to meet with friends. The restaurants make the building a good place to catch up with friends and grab something to eat at the same time.
What do you enjoy most about being a PG student at Coventry University?
I enjoy being able to network with students who previously had industry experience and then decided to study a PG course at Coventry. I enjoy learning from people who have come from other countries and experienced a completely different education system. I also enjoy being able to help others adapt to the lifestyle and academic requirements at the university.
What hints and tips do you wish you had known before you started your PG studies, which you would like you share with others who are considering joining the Coventry PG community?
I wish there had been some formalised welcome week for PG students with social gatherings, day and night-time activities for creating friendship groups. I also wish there had been an active social media page for PG students.
If you had to describe your experience in three words, what would they be?
Exciting, Rewarding, Challenging
What are you planning for your next steps once you complete your PG studies??
I am currently looking for full-time roles in Leicester. It's only just up the road which is great as it's nice to keep close ties with this great city and university.
Read other students' stories