A city where lots of countries and cultures come together
International Relations MA student Andreea-Madalina Craiu from Romania shares her experience of studying her postgraduate course at Coventry University.
How long did you spend researching Coventry and your course?
I applied for UK universities in the UK through a support agency which highly recommended Coventry University as a good provider of academic studies and a preferred university amongst Romanians.
Is there anything in particular that sets Coventry apart from other institutions you were considering?
For me it was the multicultural scene of the city and university with its facilities which made Coventry stand out from the crowd.
Why did you choose Coventry University to study your PG course?
The course structure was the best fit for my requirements, whilst the university itself was a modern campus with all the necessary facilities, but in a city with lots of history.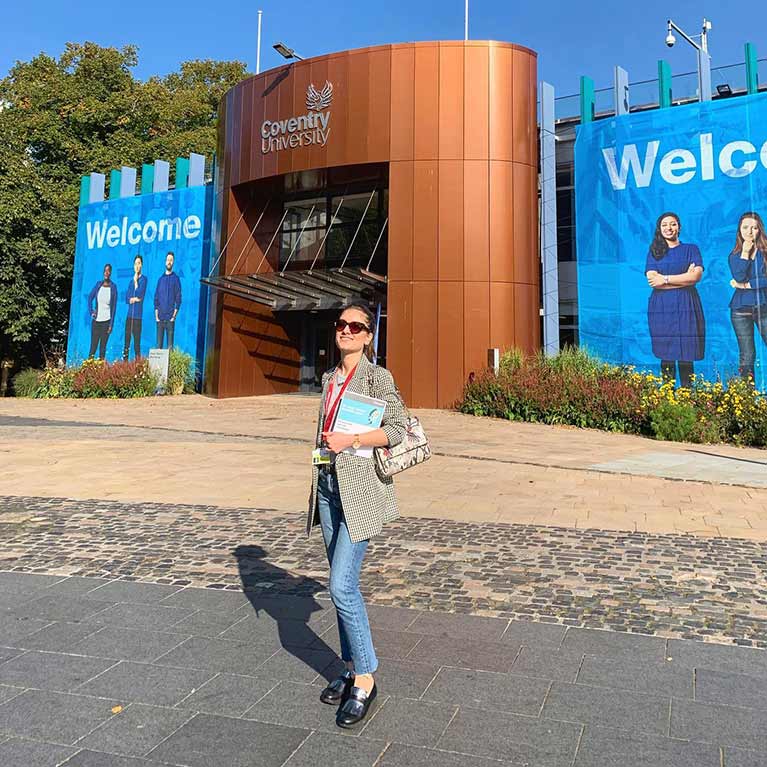 Why did you choose this particular course? What appealed most to you?
Besides the course description best fitting my requirements, it was the prospect of fieldtrips to institutions in the field of study that really appealed to me.
Could you provide an overview of Coventry and what's available, e.g. City centre, food and drink, nightlife?
Coventry is a student-friendly city that offers many places where students can go out. There are restaurants for every pocket, plus pubs and clubs. It is a very lively city both during the week with all the students around the campus and the city centre and then during weekends when many students are going out. There are museums and many shops as well. There is always something to do in Coventry.
Which postgraduate facilities do you use most, for example the library, Jaguar building, Centre for Academic writing etc.?
The facilities I used the most were the library and the Jaguar building as these were great places to study. While the Jaguar building would close at 10, the library was open 7/24. The Centre for Academic writing was very helpful, especially in the beginning of my studies and I would encourage any student to use it.
What do you enjoy most about being a PG student at Coventry University?
I enjoyed the extracurricular activities, the many societies and volunteering, sporting activities. There is always something extracurricular to do and personally what I enjoyed the most was when got the chance to be a postgraduate student ambassador. This experience made my student experience better and I think every student should consider becoming a student ambassador.
What hints and tips do you wish you had known before you started your PG studies, which you would like you share with others who are considering joining the Coventry PG community?
I was very worried at the beginning, mostly about the assignments. What I wish I would have known before was to enjoy my student experience more. If you pay attention to the lectures and start working in plenty of time for your assignments there is enough time left to still get involved in lots of activities around the university which will enhance the student experience.
If you had to describe your experience in three words, what would they be?
Exciting, interesting and informative.
What are you planning for your next steps once you complete your PG studies?
I am planning to search for internships in my field of study. I can also achieve this with the help of the university's very helpful Talent Team for career guidance.
Read other students' stories