Outreach
Outreach at Coventry University
The Student Recruitment Team deliver interactive sessions to highlight the benefits and opportunities that Higher Education can bring to your students. We offer aspiration-raising support in school and at the University. If you would like to arrange a session, please contact us at outreach.rao@coventry.ac.uk.
You will be able to find out more about session content and available dates in our Activities Guide for Schools and Colleges, which will be available to view from the beginning of November 2019.
Resources
Mini Guide
A pocket-sized guide to Coventry University for those looking to start university in 2019.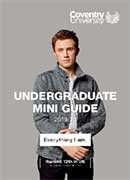 Activities Guide for Schools and Colleges
The Guide highlights the events and activities we can provide your students this year.