Sports and Exercise Therapy BSc (Hons)
Study level:

Undergraduate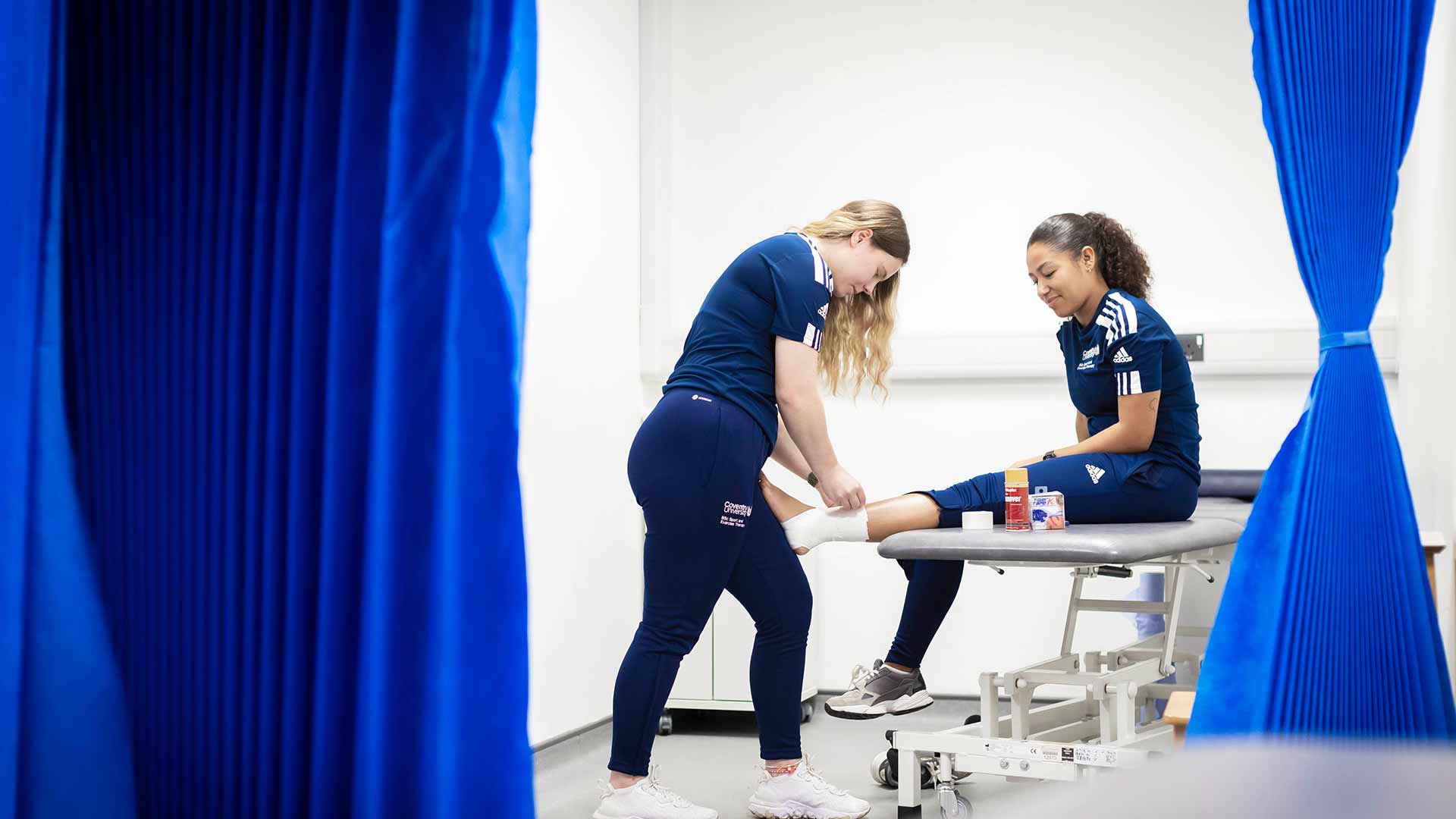 On our Society of Sports Therapists accredited course, we aim to create independent practitioners grounded in musculoskeletal, exercise physiology, treatment, and rehabilitation knowledge with an emphasis on performance underpinned by sports science principles.
Location
Coventry University (Coventry)
Study mode
Full-time
Sandwich
Duration
3 years full-time
4 years sandwich
Start date
September 2023
---
Course overview
The design of our accredited course develops you into an independent practitioner set for the healthcare, sporting, and practice-based environments.
You will learn how to manage a range of clients from the young to the elderly, from the sedentary, to the elite independent and team-based sporting populations.
You will be guided and supported in your studies by expert academic practitioners who continue to work clinically within the discipline, alongside active research involvement. This ensures you will have access to a wide range of professional networks and links throughout the industry.
You will benefit from outstanding facilities and the opportunities to work at local, national and international events with elite and community-based sports people (subject to availability).
On graduation, you will be 'practice ready' and able to start your career as a Sports and Exercise Therapist working in sporting, healthcare or community settings.

Joint Top Modern University for Career Prospects
Guardian University Guide 2021 and 2022

5 QS Stars for Teaching and Facilities
QS Stars University Ratings

Top 5 UK Student City (Coventry)
QS Best Student Cities Index 2023
Why you should study this course
You will get the opportunity to study in the multi-million-pound Alison Gingell building with specialist sports therapy suite, physiology and biomechanics laboratories and industry-standard equipment4.
You will explore the structure and function of the human body and how to employ a variety of therapy techniques including massage, soft tissue manipulation and exercise programmes. This will be expanded to include joint mobilisation techniques and management of acute emergency situations. In addition, you will have the opportunity to acquire knowledge and skills in the application of scientific disciplines such as psychology and nutrition to your clients.
Your dedicated lecturers continue to work with international, national and local athletes as well as within successful private practices, and look to support and develop you into the next generation of Sports and Exercise Therapists (staff subject to change).
Our students have provided support at the World and British Transplant Games and have worked with a variety of elite sports teams including Wasps RFC, Coventry City Football Club, and Coventry Blaze Ice Hockey Team.
Accreditation and professional recognition
The degree is accredited1 and recognised by the following bodies:

The Society of Sports Therapists
On successful completion, you should be eligible for full membership of The Society of Sports Therapists (SST) (additional costs and SST requirements apply) allowing you to be able to practice as a Sports Therapist in a wide variety of settings.
---
The practical elements of the course are really helpful – how hands-on the course is. The amount of contact hours and support here is really good.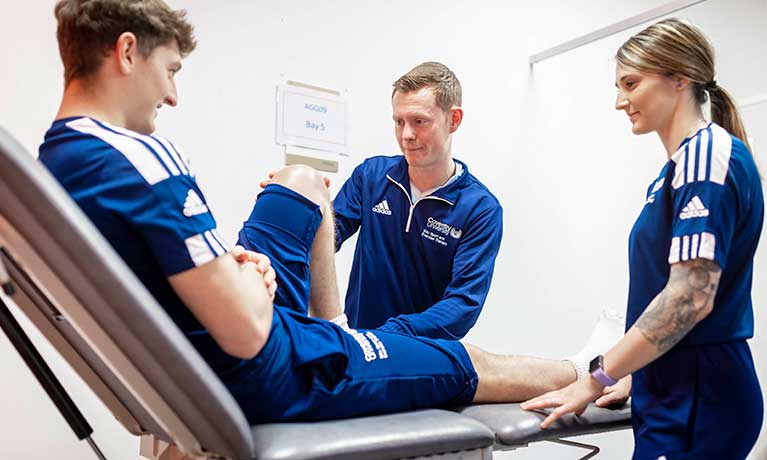 ---
Modules studied in year one aim to provide the scientific knowledge underpinning therapeutic techniques. This includes understanding human anatomy and the involvement of complex structures in understanding the body's movement. You will cover the science of exercise through our bespoke biomechanics and strength and conditioning modules as we develop your understanding of their applications within the rehabilitation pathway. You will also have the opportunity to gain skills in soft tissue techniques in preparation for running our onsite massage clinic.
Modules
Professional Skills in Sports and Exercise Therapy - 20 credits

The module aims to develop the study skills required to promote an evidence-based approach to therapy practice. A focus will be placed on developing a range of written, verbal and digital platform skills to enable communication to scientific and non-scientific audiences. You will explore scientific method, research design and how to manage, explore, analyse and interpret different types of information. In addition, the ability to manage your own time effectively in order to balance life, work and university demands will be developed in this module.

Soft Tissue Therapy - 20 credits

The aim of this module is for you to develop your practical skills and knowledge in the application of soft tissue therapy. You will be taught a range of soft tissue techniques, utilising your understanding of anatomy and movement to increase the range of movement and extensibility of a muscle. Through this module, you will develop your theoretical knowledge of soft tissue technique concepts and integrate them into practical treatments on a participant.

Foundations of Anatomy - 20 credits

Good anatomical knowledge is essential in effective management of sports injuries and therefore this module provides the foundation of the Sports and Exercise Therapy BSc (Hons) course. This module will challenge students to observe, describe and locate anatomical landmarks, be able to assess and test muscle function, develop your palpation and handling skills essential for professional practice. This module integrates the understanding of applied anatomy linking the theoretical knowledge of anatomy to the analysis of human function.

Biomechanics for Sports and Exercise Therapists - 20 credits

The aim of this module is for Sports and Exercise Therapy students to understand the form and function of biological tissues and their relation to human movement. You will develop a knowledge base of the underpinning principles regarding fundamental biomechanical principles and tissue form and function. Through the module, you will learn to assess movement patterns, understand the principles that increase potential risk of injury, and be able to relate this to common themes within a sporting context and within the general public.

Principles of Strength and Conditioning - 20 credits

The aim of this module is for Sports and Exercise Therapy students to develop their understanding of the fundamentals of exercise science. You will obtain an appreciation for the fundamental physiological concepts that are essential for everyday activities as well as in sport. You will learn how to undertake a series of scientific labs and practical workshops which aim to put theory from the lectures into practice. This module sets the foundation for being able to test and evaluate key physiological measures whereby in the second year you will then be able to apply interventions targeted to improve these systems.

Functional Anatomy and Injuries - 20 credits

The aim of this module is for you to be able to assess clients who present with mechanical problems. This module builds upon the foundations of Anatomy modules in semester 1 where you will learn various skills and techniques that can be applied when assessing injuries and dysfunctional patterns. This module develops knowledge of anatomical structures and orthopaedic assessments to carry forward when considering areas such as injury management, rehabilitation protocols and return to full function criteria further in the course.
In year two you will have the opportunity (under supervision) to utilise your skills in the on-site massage clinic, open to the public, and will be taught joint manipulation techniques. You will be taught how to assess and manage injury, and how to employ rehabilitation programmes. In addition, exercise physiology is taught, which is focused on sporting performance and how Sports and Exercise Therapists can support and enhance athletic function. Preparation for the final year project begins with a focus on designing and analysing research investigations.
Modules
Functional Rehabilitation - 20 credits

The aim of this module is for you to develop and deliver appropriate and comprehensive rehabilitation programmes to a variety of client groups; with consideration of various factors such as age, gender and general health. The module will involve you integrating therapeutic exercise interventions for clients with dysfunctional movement patterns using examples from real life situations.

Trauma Management - 20 credits

The aim of this module is to enable you to recognise and develop your skills needed to be able deal with a trauma situation whether in sport or other situations. Theoretical components will be taught alongside practical application to allow a deeper understanding within a case study environment. All skills will be underpinned by the awareness of the pathophysiological processes, and signs and symptoms of common conditions associated with sport and exercise. On completion of this module you should be able to create and conduct a thorough risk assessment with an emergency action plan (EAP) in a variety of uncontrolled settings.

Manual Therapy - 20 credits

This module aims to explore manual therapy and the application for use as a Sports and Exercise Therapist. Throughout the module, you will explore and evaluate various manual therapy techniques that can be applied to the central body and peripheral limbs. You will then be able to undertake clinical assessments with clinical reasoning then apply appropriate manual therapy interventions to target the cause of the presentation. The module will engage you debates and problem-solving exercises using examples from real-life issues, while underpinned by common pathological central and peripheral neuromusculoskeletal complaints and dysfunctions.

Applied Rehabilitation of a Client - 0 credits

This assessment-only module brings together the taught elements from the Functional Rehabilitation module and the Manual Therapy module. Here you will integrate your knowledge and skills to assess and apply a range of appropriate techniques to address the clinical presentation.

Performance Rehabilitation and Conditioning - 20 credits

The ability to progress an athlete's rehabilitation program for successful reintroduction back into sport is an important attribute for a Sports and Exercise Therapist. Therefore, this module aims to explore a range of athletes from a variety of sporting populations and competitive levels, challenging you to devise and undertake progressive rehabilitation strategies with the aim of reintroducing the athletes back into sport. Throughout this module, you will consider the role of a Sports and Exercise Therapist and how they are required to work alongside other professionals, covering a range of topics that influence success of the athlete's return to performance.

Research in Sports and Exercise Therapy - 20 credits

This module aims to enhance analytical skills allowing you to develop a deeper understanding of research skills related to Sports and Exercise Therapy. You will explore qualitative and quantitative approaches to research with focus on critical analysis leading to problem solving and discovery. These skills will enable you to construct appropriate research design to explore novel insights in the field of sports and exercise therapy. Furthermore, the application of scientific and non-scientific communication will be developed supporting you in the dissemination of research.

Clinical Preparation - 20 credits

Working within a clinical setting is a fundamental requirement of being a Sports and Exercise Therapist. This module will prepare you for being an effective clinical therapist through developing your knowledge and understanding of the roles and responsibilities of working within a clinic. The module will expose you to a wide range of clinical topics and populations, where you will critically evaluate a range of treatment modalities and develop your proficiency in their application. This module's aim is to prepare you to work effectively within the third year Sports and Exercise Therapy clinics and document your clinical experience hours towards gaining accreditation under the Society of Sports Therapists.
There's no better way to find out what you love doing than trying it out for yourself, which is why a work placement2 can often be beneficial. Work placements usually occur between your second and final year of study. They're a great way to help you explore your potential career path and gain valuable work experience, whilst developing transferable skills for the future.
If you choose to do a work placement year, you will pay a reduced tuition fee3 of £1,250. For more information, please go to the fees and funding section. During this time you will receive guidance from your employer or partner institution, along with your assigned academic mentor who will ensure you have the support you need to complete your placement.
Modules
UK Work Placement - 0 credits

This module2 provides you with an opportunity to reflect upon and gain experience for an approved placement undertaken during your programme. A placement should usually be at least 26 weeks or equivalent; however, each placement will be considered on its own merits, having regard to the ability to achieve the learning outcomes.

International Study/Work Placement - 0 credits

This module2 provides you with an opportunity to reflect upon and gain experience for an approved international study/work placement undertaken during your programme. A work/study placement should usually be at least 26 weeks or equivalent; however, each placement will be considered on its own merits, having regard to the ability to achieve the learning outcomes.
In the final year, you will lead the university's Sports and Exercise Therapy student clinic and/or in an external clinic or sporting placement2, whereby you should build a portfolio of evidence of clinical competency to fulfil post-graduation requirements for registration with the SST*. You will learn the importance of screening and profiling in order to enhance your rehabilitation strategy with consideration for nutritional and psychological aspects of their needs. You will have the chance to design and undertake a research project.
*Please see the accreditation and professional recognition section and the SST website for further information on requirements.
Modules
Clinical Practice - 20 credits

The aim of this module is to introduce you to working within a professional clinical environment where you will be able to manage your time and organise the clinic effectively2. As a Sports and Exercise Therapy student you will be exposed to the concepts of clinical reasoning and evidence-informed practice when assessing and treating a wide range of musculoskeletal disorders. You will develop your clinical skills through practical experiences with clients supported by tutors within the clinical environment. You will also experience taking on the role of a clinic manager, where you will apply your communication skills, organisational skills, timekeeping, record keeping and leadership skills.

Project Development - 20 credits

The knowledge and understanding of the scientific research process developed in the second year of study will be applied by you to create a research question within a chosen topic area. An independent research study will then be designed and communicated in the form of a critical literature appraisal and portfolio. This assessment will showcase, amongst other things, your ability to seek and identify relevant information, develop research question(s) and make evidence-based informed judgments. These are all key graduate level skills desired by employers as they are often representative of an individual's ability to perform work-based tasks such as write reports, develop business cases and conduct audits. In addition, this module provides the opportunity for you to evaluate and practice specific practical skills and methods relevant to your proposed research. You will also gain valuable experience in exploring ethical and health and safety issues, including completing appropriate documentation, surrounding your proposed research. The module provides an opportunity for you to develop skills and behaviours that foster graduate attributes such as valuing difference, agile/adaptable thinkers, collaborative communicators, motivated contributors and socially mindful.

Screening and Profiling - 20 credits

The aim of this module is for you to be able to identify and reason how and why sport injures may occur and what can be done to reduce the risk of injury. This module will introduce you to the concepts and models of injury causation and the analysis of an athlete's needs based on research literature around epidemiology. You will practically explore and critically evaluate the benefits of screening and profiling tests and develop an ability to devise an injury risk management strategy for an athlete.

Clinical Experience - 20 credits

This module has the aim of evolving you into becoming an independent Sports and Exercise Therapy practitioner. Your clinic experience will continue working actively with supervisors; however, a greater emphasis will be placed on developing your clinical reasoning and interpretation as well as individualised intervention plans for each client. Over the semester, you will work both independently as well as learn to take a leading role within your clinical team. Clinical sessions will provide the opportunity for you to gain the experience in identifying causes, risk reduction, diagnosis, investigation and management of the common injuries and dysfunctions that arise as a result of daily activities and through sport and exercise. Student learning for this module will also be supported by external placement opportunities that allow you to obtain the minimum of 200 clinical experience hours to gain accreditation for the Society of Sports Therapists (SST)2.

Independent Research Project - 20 credits

Within this module, you conduct, analyse, interpret and communicate, via a scientific research paper and oral presentation, a scientific investigation in a specialised area of sport and/or exercise. You are expected to demonstrate an ability to work independently and show high levels of organisational skills throughout all phases of your work. Once analysed, data must be presented and critically evaluated in light of the current literature. In addition, you will reflect critically on day-to-day experiences of conducting research. You are expected to behave professionally when interacting with research participants, students and module staff at all times. The module provides an opportunity for you to develop skills and behaviours that foster graduate attributes such as valuing difference, agile/adaptable thinkers, collaborative communicators, motivated contributors and socially mindful.

Effective Multidisciplinary Practices - 20 credits

The aim of this module is to allow you to critically evaluate and develop solutions to complex, inter-related, multi-faceted issues that may be encountered when working to return an individual back to full capacity. This module will develop your appreciation of the biopsychosocial consideration of working with clients alongside the demands placed upon them when progressing to return through rehabilitation. You will gain a greater insight into the role of a Sports and Exercise Therapist in returning individuals to full fitness, and further develop your understanding of the multidisciplinary approach to facilitate an appreciation of all aspects of rehabilitation and return to play. The module will engage you in a wide range of debates and problem-solving exercise(s) using examples from real-life issues.
We regularly review our course content, to make it relevant and current for the benefit of our students. For these reasons, course modules may be updated.
We have lots of practical sessions, a lovely sports injury clinic and my lecturers not only help in the teaching setting but also with my own injuries.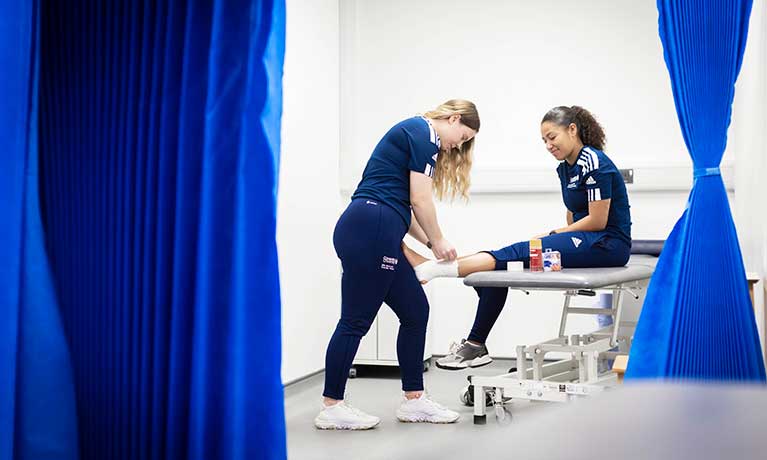 ---
How you'll learn
To guide you through your learning journey your lecturers will utilise a range of teaching and learning techniques to enhance your path to becoming an independent practitioner.
In the first year where you ground yourself in subject theory, interactive lead lectures enable you to participate in the learning journey supported by asynchronous tasks enabling you to undertake further learning in your own time. As our course is practical in nature, we introduce practical sessions from day one combining demonstration techniques and content focused tasks. Through these practical sessions, you develop your soft skills that enhance your information gathering ability, and apply your treatment techniques working individually through working in pairs and as part of a group of students.
Through the massage clinic and sports therapy clinic your educators adopt a more learner-centred approach to your teaching that encourages participative methods including discussions and case studies where peer to peer learning and problem solving is undertaken.
Sports therapists need to be able to see and assess the patient's body in order to provide effective treatment. Therefore, in order to study sports therapy, you may need to remove some clothing in some cases (i.e., when acting as the client). However, it is important to note that modesty and privacy are prioritised throughout using towels as screens and covers.
---
Teaching contact hours
The number of full-time contact hours may vary from semester to semester, however, on average, it is likely to be around 15 contact hours per week in the first and second year dropping to around 12 contact hours per week in the third and final year as you become a more independent learner.
Additionally, you will be expected to undertake significant self-directed study of approximately 20 hours each week, depending on the demands of individual modules.
The contact hours may be made up of a combination of face-to-face teaching, individual and group tutorials, and online classes and tutorials.
As an innovative and enterprising institution, the university may seek to utilise emerging technologies within the student experience. For all courses (whether on-campus, blended, or distance learning), the university may deliver certain contact hours and assessments via online technologies and methods.
In response to the COVID-19 pandemic, we are prepared for courses due to start in or after the 2023/2024 academic year to be delivered in a variety of forms. The form of delivery will be determined in accordance with Government and Public Health guidance. Whether on campus or online, our key priority is staff and student safety.
---
Assessment
This course will be assessed using a variety of methods which will vary depending upon the module.
Assessment methods include:
Formal examinations
Essays
Group work
Presentations
Reports
Projects
Coursework
Individual assignments
The Coventry University Group assessment strategy ensures that our courses are fairly assessed and allows us to monitor student progression towards achieving the intended learning outcomes.
---
International experience opportunities
Our sandwich degree option allows a full-year work placement, which can be taken abroad, or you can undertake a study-year abroad2. Past students in our School have been successful in securing places in Spain, France, Canada and the US. The Society of Sports Therapists (SST) also runs a travelling scholarship scheme for student members, which enables successful applicants to work abroad in various clinics or educational establishments. (Subject to additional costs. For further requirements and eligibility please visit the SST website.)
We also try to ensure there is an international perspective to course content and have previously visited the World Transplant Games in Argentina and participated in collaborative online international learning (COIL) projects with places such as Hong Kong.
You can go straight from uni and be successful in work. It is a competitive environment but if you work hard, are dedicated and passionate, it can be done.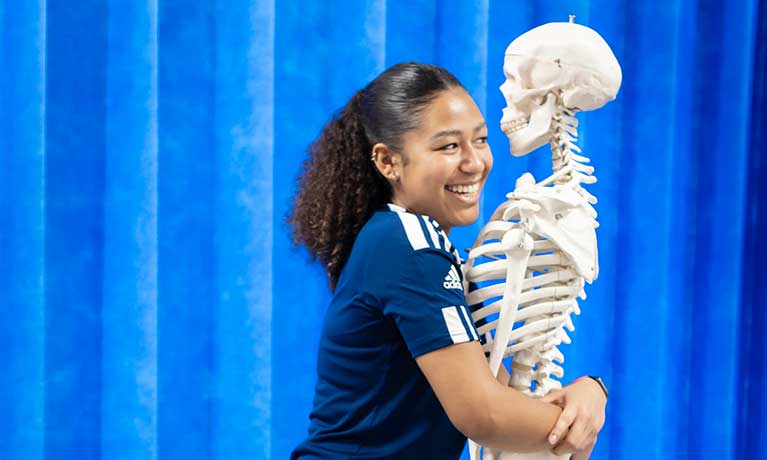 ---
Entry requirements
Typical offer for 2023/24 entry.
---
Fees and funding
2023/24 tuition fees.
Student
Full-time
Part-time
UK, Ireland*, Channel Islands or Isle of Man
£9,250 per year
Not available
EU
£9,250 per year with EU support bursary**
£18,300 per year without EU support bursary**
Not available
International
£18,300 per year
Not available
If you choose to do a work placement, you should consider travel and living costs to cover this. There is also a tuition fee of £1,250 that will cover your academic support throughout your placement year.
For advice and guidance on tuition fees and student loans visit our Undergraduate Finance page and see The University's Tuition Fee and Refund Terms and Conditions.
We offer a range of International scholarships to students all over the world. For more information, visit our International Scholarships page.
Tuition fees cover the cost of your teaching, assessments, facilities and support services. There may be additional costs not covered by this fee such as accommodation and living costs, recommended reading books, stationary, printing and re-assessments should you need them. Find out >what's included in your tuition costs.
The following are additional costs not included in the fees:
Any optional training course and assessment fee to gain related qualifications
Any optional overseas visits and field trips: £400+ per trip
*Irish student fees
The rights of Irish residents to study in the UK are preserved under the Common Travel Area arrangement. If you are an Irish student and meet the residency criteria, you can study in England, pay the same level of tuition fees as English students and utilise the Tuition Fee Loan.
**EU support bursary
Following the UK's exit from the European Union, we are offering financial support to all eligible EU students who wish to study an undergraduate or a postgraduate degree with us full-time. This bursary will be used to offset the cost of your tuition fees to bring them in-line with that of UK students. Students studying a Degree with a Foundation Year with us are not eligible for the bursary.
How do you know if you need to pay UK or international tuition fees?

We carry out an initial fee status assessment based on the information you provide in your application. Your fee status determines your tuition fees, and what financial support and scholarships may be available to you. The rules about who pays UK (home) or international (overseas) fees for higher education courses in England are set by the government's Department for Education. The regulations identify all the different categories of student who can insist on paying the home rate. The regulations can be difficult to understand, so the UK Council for International Student Affairs (UKCISA) has provided fee status guidance to help you identify whether you are eligible to pay the home or overseas rate.

If you meet all the criteria required by any one category, including any residence requirements, your institution must charge you the home rate. You only need to find one category that you fit into.
---
Facilities
This course is delivered at Coventry University main campus, primarily in the Alison Gingell building4.
You will benefit from the outstanding facilities for sport and exercise sciences in the purpose-built Alison Gingell building, including sports and exercise therapy clinic, extensive sport and exercise science laboratories, gait analysis track and 3D motion capture software.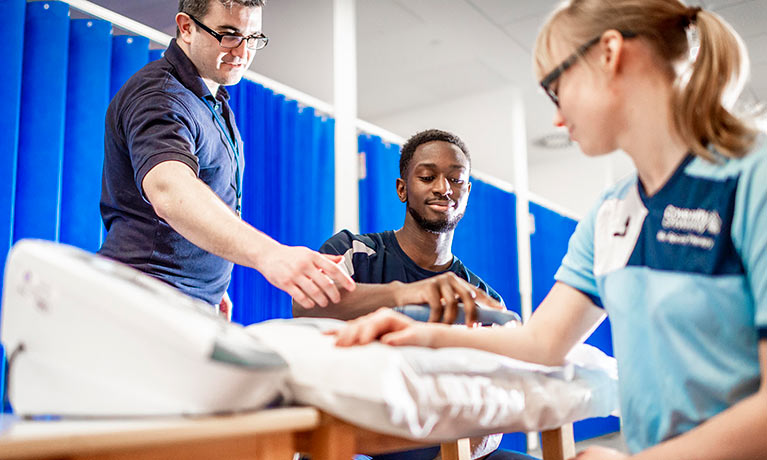 Sports Therapy Clinic
The Sports Therapy Clinic is run by final year Sports Therapy students under the supervision of qualified staff with second year students providing a supervised massage clinic twice a week.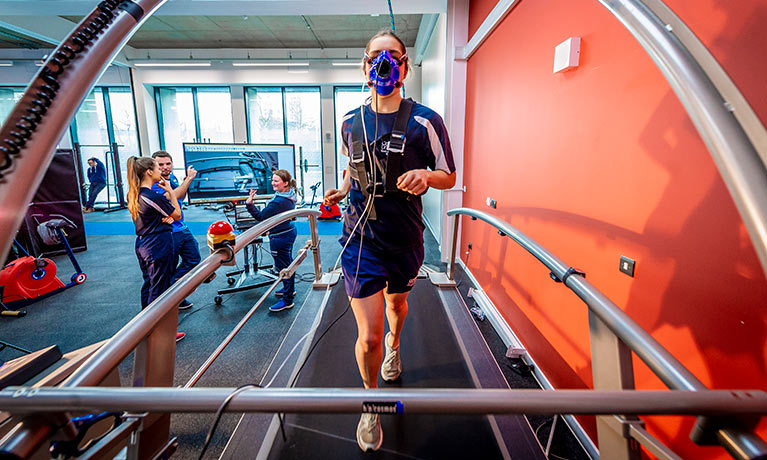 Strength and Conditioning Suite
Our multi-purpose suite is equipped with multiple Olympic lifting platforms, a 20m gait analysis track, an anti-gravity treadmill and a 3D motion capture system.
---
Careers and opportunities
Accreditation from the Society of Sports Therapists means that on graduation you will be qualified to work as a sports therapist with professional teams, clubs or private clinics. Alternatively, you can access appropriate additional training to support professional football and rugby (additional costs, competitive application, availability and meeting any applicable visa requirements may apply).
The course includes a substantial amount of sport science, which can allow you the opportunity to move into other career options upon graduation, such as management or service delivery in sport and leisure centres. If you are more interested in the medical and health applications of exercise science, you could go on to work within cardiac and other rehabilitation teams within the NHS, or with local councils within sports development or exercise for health schemes.
Past graduates from this course have gone on to work at high levels of professional and semi-professional sports such as football, rugby and transplant sport. Other graduates have gone on to lead successful careers within private practice, both owning and working within a range of therapy clinics nationwide and internationally.
A proportion of past graduates have also utilised their skills within the NHS in rehabilitation departments.
Graduates have also continued with postgraduate study on courses, including our:
Where our graduates work
Graduates have also gone to work as clinicians with practices such as Swan Physio Ltd, Body Logic Health, and as sports therapists for teams such as Wasps, Watford FC and Aston Villa FC, Nottingham Forest FC, Kidderminster FC, Peterborough United FC, Coventry United Ladies FC, QPR FC.
Further study
We have a range of postgraduate courses that graduates would be well prepared to progress onto, enabling them to gain specialist skills relating to development of teaching, sporting potential or lifelong physical activity. Our PGCE courses allow entry to teaching careers and our more specialist MSc programmes in sport provide opportunities for graduates to develop skills in a more specific area of study.
You may be entitled to an alumni discount on your fees if you decide to extend your time with us by progressing from undergraduate to postgraduate study.
The opportunities which were offered to us throughout the course were amazing. We had the opportunity to work in two onsite clinics throughout the second and third year, to cover pitch side first aid at different sporting events, the chance to volunteer at the Coventry Marathon, international trips and a choice to do a placement year in which I managed to get a year-long internship at WASPS RFC. Having these opportunities at Coventry University gave me the chance to develop further and gave me the confidence to become the best Sports Therapist I could be.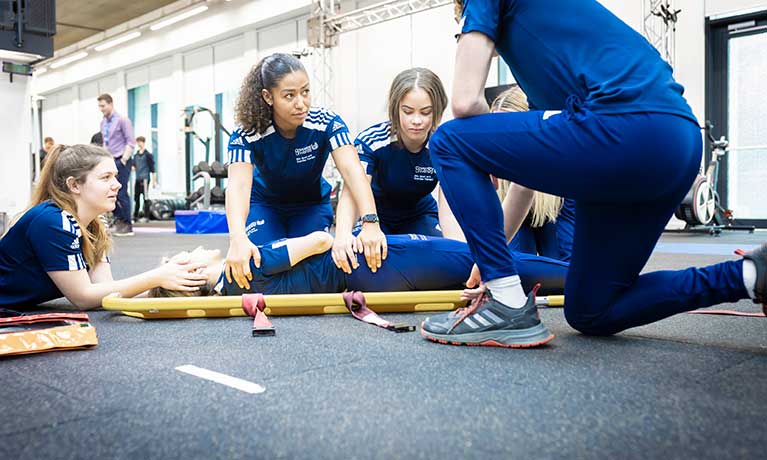 ---
How to apply
UK students

Full-time students applying to start in September 2023 can apply for this course through UCAS from 6 September 2022. Read our application pages to find out your next steps to apply.

Part-time students should apply directly to the university.

---

If you'd like further support or more information about your course get in touch with us today.

International students

International codes:
HLSU256

Full-time students applying to start in September 2023 should apply directly to the university.

How to apply

For further support for international applicants applying for an undergraduate degree view our International hub.

You can also download our International guide which contains lots of useful information about our courses, accommodation and tips for travel.

---

Get in touch with us today for further advice and guidance.
Disclaimers

Coventry University together with Coventry University London Campus, CU Coventry, CU London, CU Scarborough and Coventry University Online come together to form part of the Coventry University Group (the "University") with all degrees awarded by Coventry University.

1Accreditations

The majority of our courses have been formally recognised by professional bodies, which means the courses have been reviewed and tested to ensure they reach a set standard. In some instances, studying on an accredited course can give you additional benefits such as exemptions from professional exams (subject to availability, fees may apply). Accreditations, partnerships, exemptions and memberships shall be renewed in accordance with the relevant bodies' standard review process and subject to the university maintaining the same high standards of course delivery.

2UK and international opportunities

Please note that we are unable to guarantee any UK or International opportunities (whether required or optional) such as internships, work experience, field trips, conferences, placements or study abroad opportunities and that all such opportunities may be subject to additional costs (which could include, but is not limited to, equipment, materials, bench fees, studio or facilities hire, travel, accommodation and visas), competitive application, availability and/or meeting any applicable travel COVID and visa requirements. To ensure that you fully understand the visa requirements, please contact the International Office.

3Tuition fees

The University will charge the tuition fees that are stated in the above table for the first Academic Year of study. The University will review tuition fees each year. For UK (home) students, if Parliament permit an increase in tuition fees, the University may increase fees for each subsequent year of study in line with any such changes. Note that any increase is expected to be in line with inflation.

For International Students, we may increase fees each year but such increases will be no more than 5% above inflation. If you defer your course start date or have to extend your studies beyond the normal duration of the course (e.g. to repeat a year or resit examinations) the University reserves the right to charge you fees at a higher rate and/or in accordance with any legislative changes during the additional period of study.

4Facilities

Due to COVID-19, some facilities (including some teaching and learning spaces) and some non-academic offerings (particularly in relation to international experiences), may vary from those advertised and may have reduced availability or restrictions on their use.

Student Contract

By accepting your offer of a place and enrolling with us, a Student Contract will be formed between you and the university. A copy of the 2023/24 contract can be found here. The Contract details your rights and the obligations you will be bound by during your time as a student and contains the obligations that the university will owe to you. You should read the Contract before you accept an offer of a place and before you enrol at the university.
---
---