Sports Coaching BSc (Hons)
Study level:

Undergraduate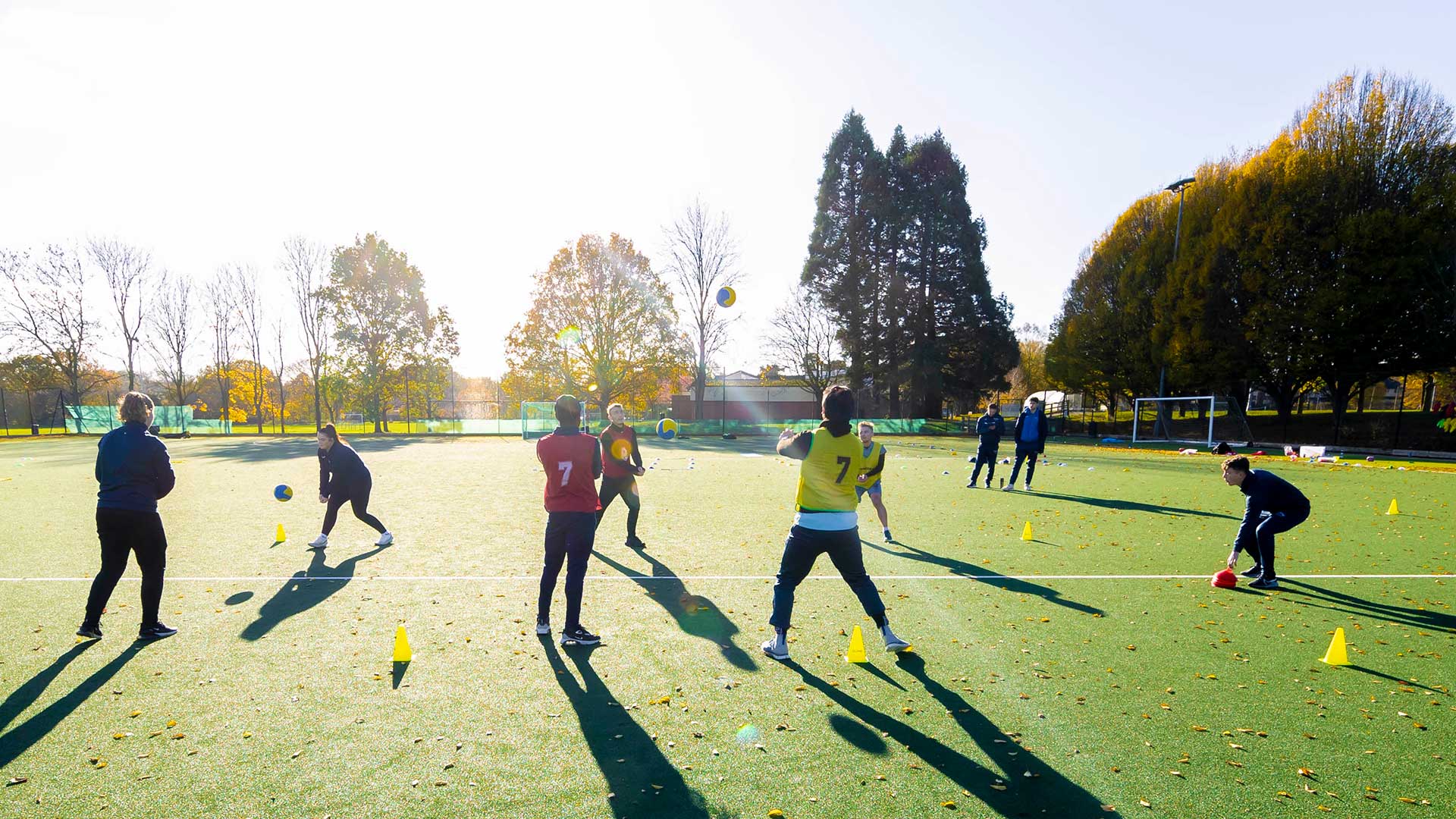 This course aims to produce competent, confident and reflective coaches with strong practical application of scientific knowledge.
Location
Coventry University (Coventry)
Study mode
Full-time
Sandwich
Duration
3 years full-time
4 years sandwich
Start date
September 2023
---
Course overview
You will experience a range of opportunities to develop their coaching practice, emphasising optimal youth development.
Sports coaches can provide support to professional sports teams and national governing bodies developing future sports stars, help build skills and confidence as PE teachers in school settings, or positively impact lifelong participation in physical activity.
The course aims to foster the skills to be an exceptional sports coach and develop a range of attributes such as leadership, teamwork, and communication required to gain employment in the graduate job market. 
A large element of the taught content and assessment will be practical, giving you the opportunity to apply coaching theories to your coaching practice, considering the needs and wants of the participants.
The breadth of sports coaching in community settings and schools (e.g. sports clubs, physical education and youth projects) and talent pathways (e.g. professional teams and national governing bodies) is covered throughout the degree programme, supporting diverse career pathways.

Joint Top Modern University for Career Prospects
Guardian University Guide 2021 and 2022

5 QS Stars for Teaching and Facilities
QS Stars University Ratings

Top 5 UK Student City (Coventry)
QS Best Student Cities Index 2023
Why you should study this course
Graduate attributes will be a central theme embedded throughout the degree to enhance employability.
Expert guest lecturers specialise in community coaching, physical education, elite talent pathways, and high-performance sport (Subject to availability).
High levels of student satisfaction related to assessment and teaching delivery (Module Evaluation Questionnaires show >90% are satisfied with the modules studied)
Students have the opportunity to complete a level 2 coaching qualification at no additional cost, and numerous placement opportunities are available in a range of coaching settings, enabling students to gain applied experience during their degree programme2.
Staff who teach on the degree programme actively engage in scholarship, coaching practice, and research, creating an opportunity for students to explore and understand current research and practical applications in contemporary topics in sports coaching (staff subject to change).
Accreditation and professional recognition
This course is accredited1 and recognised by the following bodies:

Chartered Institute for the Management of Sport and Physical Activity (CIMSPA)
The Sports Coaching BSc (Hons) is endorsed by the Chartered Institute for the Management of Sport and Physical Activity (CIMSPA). This endorsement reflects a commitment by Coventry University to equip students with the skills, knowledge and experience needed to effectively transition into roles in the sector by aligning courses with professional standards. CIMSPA-endorsed degree programmes are certified as meeting professional standards set by the most highly regarded employers in the sector. Students may also apply for discounted membership of CIMSPA.
---
The course has lots of practical sessions that help shape the way you would go about coaching. The support you get from the lecturers is really helpful, and it eases the transition process into uni by knowing you can always come to them for help.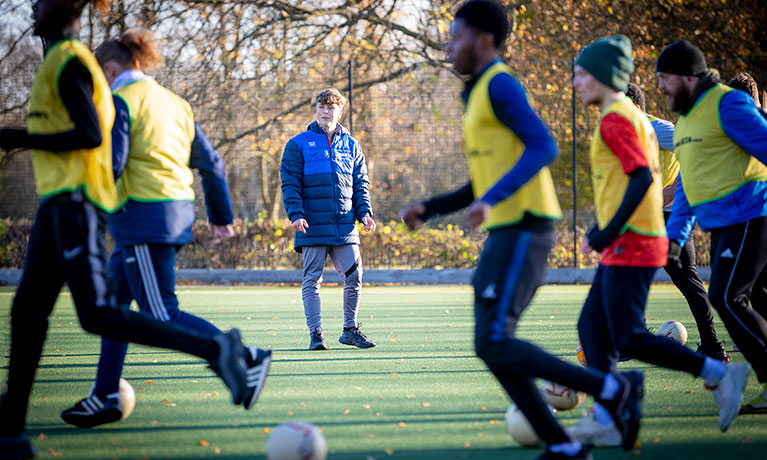 We're based at Westwood Heath, we've been able to coach practically and use the theory that we've learnt in the classroom out on the pitches. We've got a lot of data analysis equipment, such as the cameras, so we're really lucky to be here.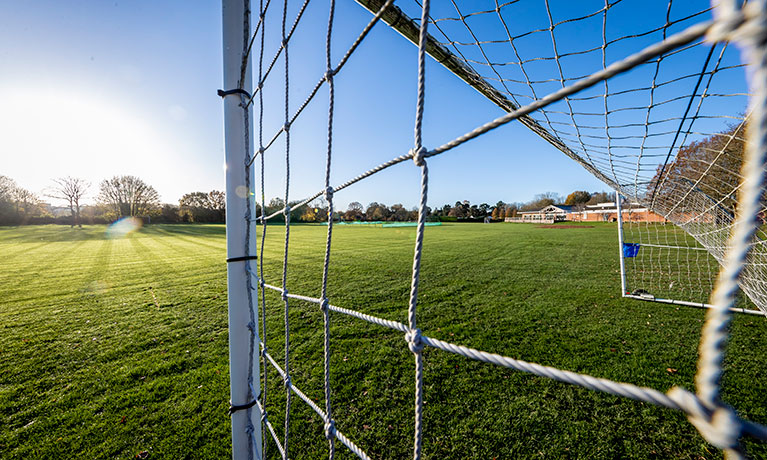 ---
Modules consist of fundamental practical and theoretical approaches to sports coaching. The coaching process, which includes planning, delivery, reflection, and various pedagogical approaches, will be introduced. In addition, you will gain knowledge of bio-psycho-social, which will help inform a broad understanding of the needs and wants of the individual or group. You will develop their discipline-specific study skills and professional practice. A key aspect is acquiring the necessary skills base and understanding the process of practical coaching in preparation for year two study, where these skills will be developed further. In addition, you will have the opportunity to gain a national governing body coaching qualification. 
Modules
Professional Skills in Sports Coaching - 20 credits

The module aims to develop personal skills and professional skills in the field of sports coaching. The development of personal skills will support you on your learning journey providing opportunity for reflection, personal development and the improvement of graduate attributes. Study skills will be supported and developed promoting an evidence-based approach to coaching practice. A focus will be placed on developing a range of written, verbal and digital platform skills to enable communication to scientific and non-scientific audiences. You will explore scientific method, research design and how to manage, explore, analyse and interpret different types of information. In addition, the ability to manage your own time effectively in order to balance life, work and university demands will be developed.

Foundations of Sports Coaching - 20 credits

The module introduces you to a range of issues that underpin the delivery of a practical coaching session. The module will introduce the coaching process in which the requirements of the participant (Who), the specific demands of the activity (What) and the pedagogical approaches used to structure the learning environment (How), inform decision-making, planning and reflection. You will be introduced to the 'what' and sample the range of different sports you may coach. The module will have a focus on the practical delivery of coaching sessions underpinned by theoretical concepts with a focus on developing the core components of the coaching process: planning, delivery and evaluation. As part of this module you will complete and reflect upon an appropriate coaching qualification facilitating opportunities to gain work experience2 in the coaching sector.

Physical Development in Sports Coaching - 20 credits

This module aims to provide you with an understanding of the exercise physiology that underpins paediatric participant development. More specifically, a focus will be placed on understanding the impact of safe and effective training programmes on participant development when considering growth, maturation and training adaptation. You will also be exposed to important contemporary issues for coaches to understand, such as relative age effect, sport-specialisation and the selection hypothesis. You will also be required to perform field-based tests and consider the reliability and validity of such tests.  

Pedagogical Approaches to Sports Coaching - 20 credits

You will build on your knowledge of 'what' they are coaching and begin to develop an understanding of 'how' you are coaching. This module will challenge your current understanding of what effective coaching is and how to create an effective learning environment in practice. Through a series of practical sessions and workshops you will be asked to deconstruct and reconstruct the coaching process through exploration and experimentation with pedagogical theory. You will start to understand and develop your own coaching philosophy and gain an understanding of what 'coaching' means to you.

Foundations of Psycho-Social Principles in Sports Coaching - 20 credits

The purpose of this module is to support you to explore the psycho-social needs of the participants you work with. The indicative content will provide an evidence base of psychological skills/characteristics, social considerations and most importantly, how this knowledge can be considered and applied within your sports coaching practice. This module will support you to approach sports coaching practice in an empathetic manner, beginning with the participants' needs in mind ahead of any technical or tactical objectives. 

Motor Learning and Control - 20 credits

This module introduces you to the principles of motor learning, skill acquisition and sport and exercise psychology in the sport and exercise environment. You will develop knowledge of the structure and function of the brain, how individuals develop motor control, and methods of structuring the environment to maximise learning and performance. There will also be the opportunity to evaluate current research and gain and apply practical skills in laboratory/tutorial settings. The module provides an opportunity for you to develop skills and behaviours that foster graduate attributes such as valuing differences, being agile/adaptable thinkers, motivated contributors and being socially mindful.
Modules build on the fundamental knowledge gained in year one. You will develop competence in the coaching process, with an emphasis on the critical analysis of the pedagogical approaches and scientific principles underpinning practical coaching sessions. You will apply your knowledge to practical scenarios, enabling you to continue developing your professional skills and their application, particularly reflective practice and career management. In addition to this, you will further develop research skills and employability by exploring qualitative and quantitative approaches to research and a mandatory structured work experience module.
Modules
Sports Coaching Practice - 20 credits

This module will develop and demonstrate both theoretical knowledge and applied practical skills in sports coaching. You will again focus on an experiential approach to learning and be exposed to a range of academic literature which underpins physical literacy within specialist age groups. In addition, you will explore and evaluate a range of current theoretical thinking developed by national and international policies and frameworks for sport and physical activity and how these influence the design of their own practice. The learning environment will be considered in further depth with a particular focus on deliberate practice and deliberate play.  

Understanding Psycho-Social Development - 20 credits

This module focuses on a participant-centred, needs-based approach in which you will evaluate psychological and social theories to inform the practice of sports coaching. You will be exposed to several key psychological and social frameworks allowing you to develop informed and critical approaches to their coaching practice. Key topics such as personal processes, interpersonal processes and motivation will be evaluated with consideration of how they impact on communication skills and the learning of the individual. 

Curriculum in Physical Education and Sport - 20 credits

Physical education is key to developing a lifelong engagement in children with sport and physical activity. This module offers a blended range of theory and practical learning designed to give you an in-depth understanding of the National Curriculum for Physical Education and School Sport. You will develop your skills in delivering high-quality PE across a range of activities, including Invasion Games, Net and Wall Games, Striking and Fielding, and Problem-solving activities. You will focus on understanding and exploring the national curriculum and its priorities, including the use of the School Sport Premium Funding and how this is utilised as a vehicle for whole school improvement. You will also explore the benefits that PE and School Sport have to offer in the areas of attainment, cognitive function, behaviour, attendance, health and physical and mental wellbeing. 

Professional Practice in Sports Coaching - 20 credits

The module aims to develop employability and a range of graduate skills. You will be required to apply for and undertake a work-based learning experience2 in an appropriate organisation. During the experience employability skills will be developed including professional knowledge, practical leadership / activity facilitative skills and vocational competencies. You will have the opportunity to reflect on the world of work and explore various employment opportunities they may wish to pursue in the future.

Strength and Conditioning in Youth - 20 credits

This module aims to develop the understanding of the physical development in youth within a sports coaching context. Evidence-based training interventions to improve a range of physical characteristics (speed, strength, power and endurance) will be considered in detail in terms of growth and maturation in young athletes. You will apply this knowledge to design, implement and monitor safe and effective physical development programmes. Further to this, you will examine overtraining, injury prevalence and periodisation strategies and their impact on development. 

Research in Sports Coaching - 20 credits

This module aims to enhance analytical skills allowing you to develop a deeper understanding of research skills related to sports coaching. You will explore qualitative and quantitative approaches to research with focus on critical analysis leading to problem solving and discovery. These skills will enable you to construct appropriate research design to explore novel insights in the field of sports coaching. Furthermore, the application of scientific and non-scientific communication will be developed, supporting you in the dissemination of research. 
There's no better way to find out what you love doing than trying it out for yourself, which is why a work placement2 can often be beneficial. Work placements usually occur between your second and final year of study. They're a great way to help you explore your potential career path and gain valuable work experience, whilst developing transferable skills for the future.
If you choose to do a work placement year, you will pay a reduced tuition fee3 of £1,250. For more information, please go to the fees and funding section. During this time you will receive guidance from your employer or partner institution, along with your assigned academic mentor who will ensure you have the support you need to complete your placement.
Modules
UK Work Placement– 0 credits

This module2 provides you with an opportunity to reflect upon and gain experience for an approved placement undertaken during your programme. A placement should usually be at least 26 weeks or equivalent; however, each placement will be considered on its own merits, having regard to the ability to achieve the learning outcomes.

International Study/Work Placement – 0 credits

This module2 provides you with an opportunity to reflect upon and gain experience for an approved international study/work placement undertaken during your programme. A work/study placement should usually be at least 26 weeks or equivalent; however, each placement will be considered on its own merits, having regard to the ability to achieve the learning outcomes.
Modules encourage independent and innovative approaches to the coaching process. You will further develop self-awareness informed by critiquing, synthesising and applying a range of appropriate information from scientific and non-scientific sources. Critical self-awareness allows you to enhance your coaching practice and develop a specialism in an independent research project. In year three, modules focus on contemporary issues, community participation, and high-performance pathways to further develop your employability profile. 
Modules
Project Development - 20 credits

The knowledge and understanding of the scientific research process developed in the second year of study will be applied to create a research question within a chosen topic area. An independent research study will then be designed and communicated in the form of a critical literature appraisal and portfolio. This assessment will showcase, amongst other things, your ability to seek and identify relevant information, develop research question(s) and make evidence-based informed judgments. These are all key graduate level skills desired by employers as they are often representative of an individual's ability to perform work-based tasks such as write reports, develop business cases and conduct audits. In addition, this module provides the opportunity for you to evaluate and practice specific skills and methods relevant to your proposed research. You will also gain valuable experience in exploring ethical and health and safety issues, including completing appropriate documentation, surrounding their proposed research.

Contemporary Perspectives in Sports Coaching - 20 credits

In this module you will explore contemporary perspectives in sports coaching. The aim of the module is to develop a theoretical knowledge of current perspectives in sport coaching and critically evaluate their influence on, or how they might inform, coaching practice. Topic areas covered will be dependent on current perspectives influencing today's coaching practice. You will be required to disseminate current thinking on contemporary coaching topics to scientific and non-scientific audiences. 

Promoting Sports Participation - 20 credits

The purpose of this module is to appraise strategies for sports promotion leading to the creation and critical evaluation of effectiveness of events to promote sports participation and deliver long term solutions to contemporary perspectives in sports. The study of sport participation perspectives including equality of opportunity, community engagement, health and wellbeing and development of identity through sport.  

Managing Athlete Careers and Performances - 20 credits

This module examines the requirements of developing professional athletes over the period of their athletic career, in both individual and team sports, in the context of management inputs. The focus is to provide a toolkit of core management competencies, specialist specific knowledge and skills, for you to develop your own management development plan to operate within the industry as a coach or manager of professional athletes or teams. 

Advanced Sports Coaching - 20 credits

The module aims to give you a better understand the full coaching process, more specifically nested planning, coaching delivery and critical reflection over long-, medium- and short-term durations. In order to do this, you will be required to consider a range of theoretical, evidence-informed practical coaching methods with reference to who they're coaching, what they are coaching and how they are coaching given the needs of a group of individuals.

Independent Research Project - 20 credits

Within this module you will conduct, analyse, interpret and communicate, via a scientific research paper and oral presentation, a scientific investigation in a specialised area of sport and/or exercise. You are expected to demonstrate an ability to work independently and show high levels of organisational skills throughout all phases of their work. Once analysed, data must be presented and critically evaluated in light of the current literature. You will reflect critically on day-to-day experiences of conducting research and are expected to behave professionally when interacting with research participants, students and module staff at all times.
We regularly review our course content to make it relevant and current for the benefit of our students. For these reasons, course modules may be updated.
---
How you'll learn
The Sports Coaching course is delivered in various pedagogical approaches to ensure all learners are catered for. Practical sessions and workshops employ a range of innovative approaches, (e.g. escape rooms, gamification, group projects) to engage students and make learning memorable. The personal tutor system and study skills support offered throughout the course supports students in the transition from school or college to university. Finally, the academic staff have years of experience working in the field, bringing to life real-world scenarios which creates a unique experience for the students (staff subject to change).
Teaching contact hours
Depending on the year of study you will typically have between 9-18 hours of structured weekly teaching and learning hours which may include activities such as workshops, laboratories, online tutorials, seminars and lectures. This will be supported by a weekly course programme hour with your tutors. In addition, you will be expected to undertake around 18 hours of self-directed study each week.
As an innovative and enterprising institution, the university may seek to utilise emerging technologies within the student experience. For all courses (whether on-campus, blended, or distance learning), the university may deliver certain contact hours and assessments via online technologies and methods.
In response to the COVID-19 pandemic, we are prepared for courses due to start in or after the 2023/2024 academic year to be delivered in a variety of forms. The form of delivery will be determined in accordance with Government and Public Health guidance. Whether on campus or online, our key priority is staff and student safety.
---
Assessment
This course will be assessed using a variety of methods which will vary depending upon the module. All assessments are coursework based.
Practical coaching
Group projects
Presentations
Reports
Essays
Podcasts
Debates
The Coventry University Group assessment strategy ensures that our courses are fairly assessed and monitors student progression towards achieving the intended learning outcomes.
---
International experience opportunities
Our sandwich degree option allows a full-year work placement, which can be taken abroad, or you can undertake a study year abroad. The university runs several specific schemes to enable overseas study periods or work experience2. Teaching staff also ensure that they bring their internationally rated research expertise into their teaching practices. You will also have opportunities to challenge yourself in a range of community and academic projects, both locally and globally. These international opportunities may include collaborative online learning with students at established overseas participating universities and field trips2.
The course has a fantastic group of coaches working here to try and develop you. Our aim is to produce competent and exceptional coaches who can go out and work with people in a variety of environments.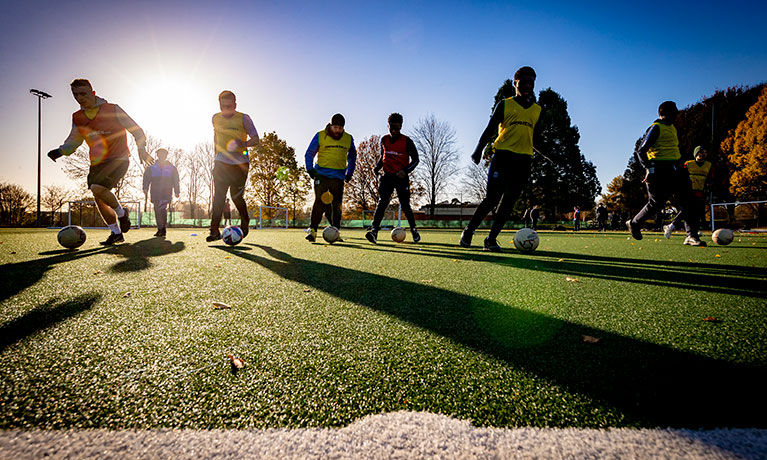 The Sports Coaching mission is to develop and enhance the coaches of tomorrow using a variety of pedagogical approaches to bridge the gap between theory and practice.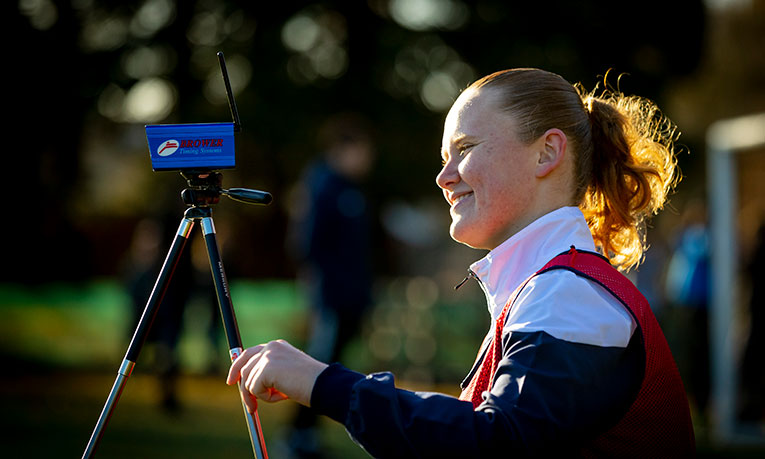 ---
Entry requirements
Typical offer for 2023/24 entry.
| Requirement | What we're looking for |
| --- | --- |
| A level | BBC to include PE, Biology, Psychology or Sociology. Excludes General Studies. |
| BTEC | DMM in the BTEC Level 3 Extended National Diploma in a Biological or Sport Science based subject. Excludes Health and Social Care. |
| International Baccalaureate | 30 points to include 5 points in Biology at Higher Level. |
| GCSE | 5 GCSEs at grade 4 / C or above to include English, Mathematics and two Sciences. |
| Access to HE | The Access to HE Diploma to include 30 Level 3 credits above Merit of which 15 must be at Distinction in Biology or Sport Science related units. Plus GCSE English and Mathematics at grade 4 / C or above |
We recognise a breadth of qualifications, speak to one of our advisers today to find out how we can help you.
Additional information
Please note that some work placements may require additional health and professional suitability checks including criminal record checking via DBS. The information you provide will be used to determine your eligibility to go on placement(s). Placements are provided at the placement provider's discretion. The university is, therefore, unable to guarantee the provision of placements or the location and type of placement offered.
Are you eligible for the Fair Access Scheme?
We believe every student should have the opportunity to dream big, reach their potential and succeed, regardless of their background. Find out more about our Fair Access Scheme.
Select your region to find detailed information about entry requirements:

You can view our full list of country specific entry requirements on our Entry requirements page.
Alternatively, visit our International hub for further advice and guidance on finding in-country agents and representatives, joining our in-country events and how to apply.
English language requirements
IELTS: 6.0 overall (with at least 5.5 in each component area)
If you don't meet the English language requirements, you can achieve the level you need by successfully completing a pre-sessional English programme before you start your course.
For more information on our approved English language tests visit our English language requirements page.
---
Fees and funding
2023/24 tuition fees.
| Student | Full-time | Part-time |
| --- | --- | --- |
| UK | £9,250 per year | Not available |
| International | £18,300 per year | Not available |
If you choose to do a work placement2, you should consider travel and living costs to cover this. There is also a tuition fee3 of £1,250 that will cover your academic support throughout your placement year.
For advice and guidance on tuition fees and student loans visit our Undergraduate Finance page and see The University's Tuition Fee and Refund Terms and Conditions.
We offer a range of International scholarships to students all over the world. For more information, visit our International Scholarships page.
Tuition fees cover the cost of your teaching, assessments, facilities and support services. There may be additional costs not covered by this fee such as accommodation and living costs, recommended reading books, stationery, printing and re-assessments should you need them. Find out what's included in your tuition costs.
The following are additional costs not included in the tuition fees:
Any optional overseas field trips or visits: £400+ per trip.
Any costs associated with securing, attending or completing a placement (whether in the UK or abroad)
How do you know if you need to pay UK or international tuition fees?

We carry out an initial fee status assessment based on the information you provide in your application. Your fee status determines your tuition fees, and what financial support and scholarships may be available to you. The rules about who pays UK (home) or international (overseas) fees for higher education courses in England are set by the government's Department for Education. The regulations identify all the different categories of student who can insist on paying the home rate. The regulations can be difficult to understand, so the UK Council for International Student Affairs (UKCISA) has provided fee status guidance to help you identify whether you are eligible to pay the home or overseas rate.

If you meet all the criteria required by any one category, including any residence requirements, your institution must charge you the home rate. You only need to find one category that you fit into.
---
Facilities
This course is based at Coventry University's main campus, with most of the teaching being delivered at our Westwood Heath facility. Westwood Heath houses both excellent teaching rooms and sports facilities. Some teaching will also be delivered at the Alison Gingell building4.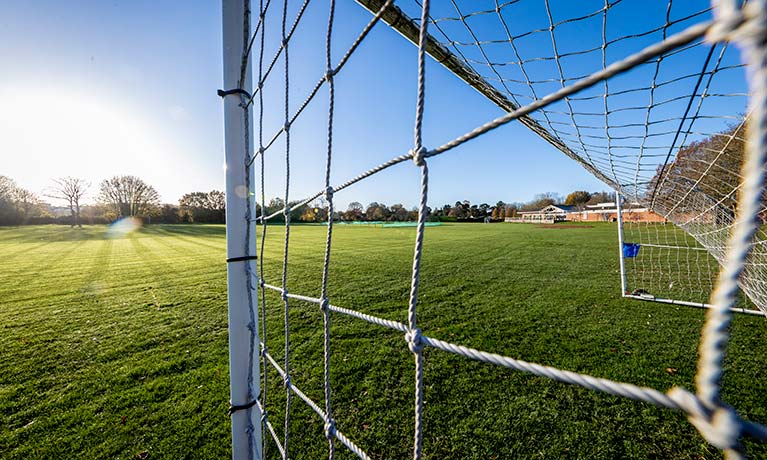 Westwood Heath
Our Westwood Heath facility houses modern teaching rooms alongside grass and AstroTurf pitches, where most of your time will be spent. Practical sessions are captured using our state of the art AP Capture camera system and software to enrich the teaching and learning experience.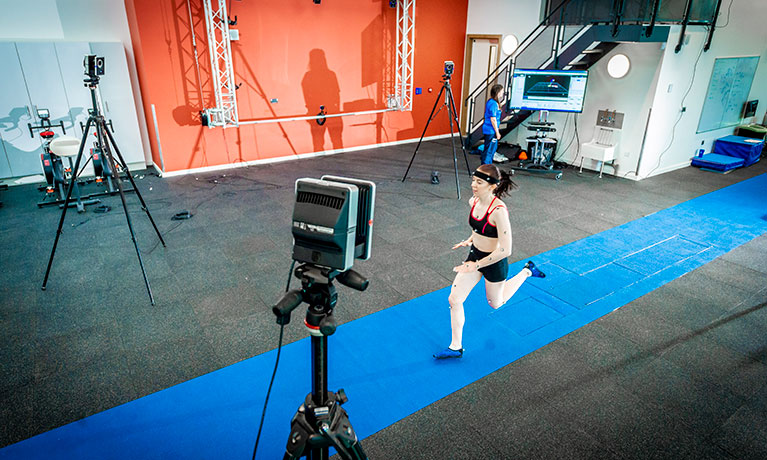 Alison Gingell Building
You will benefit from the outstanding sports and exercise sciences facilities in the purpose-built Alison Gingell building. This includes a sports hall, sport and exercises science laboratories, strength and conditioning suite, gait analysis track, 3D motion capture system and an environmental chamber.
---
Careers and opportunities
The professional experience opportunities, along with the content of this course, will enable graduates to reflect the competencies expected of an advanced level coach or PE teacher. Practical experiences are embedded into the course and will be facilitated by our established links with local and national sporting organisations, teams and local schools. In addition, the optional sandwich year allows you to enhance your CV by incorporating a full year of work experience in a coaching environment2. This course's exciting and innovative aspect is that the degree aims to complement coach education from national and international governing bodies. You will have the opportunity to take a Level 2 UKCC (UK Coaching Certificate) vocational qualification included within your degree to enhance your coaching profile and employment opportunities.   
The course will suit students wishing to pursue careers in sports coaching, PE teaching, sports development, leisure management and community programmes.
PGCE courses allow entry to teaching careers and our more specialist sport MSc programmes provide opportunities for graduates to develop skills in a more specific area of study.
---
How to apply
UK students

Full-time students applying to start in September 2023 can apply for this course through UCAS from 6 September 2022. Read our application pages to find out your next steps to apply.

Part-time students should apply directly to the university.

---

If you'd like further support or more information about your course get in touch with us today.

International students

International codes:
HLSU268

Full-time students applying to start in September 2023 should apply directly to the university.

How to apply

For further support for international applicants applying for an undergraduate degree view our International hub.

You can also download our International guide which contains lots of useful information about our courses, accommodation and tips for travel.

---

Get in touch with us today for further advice and guidance.
Disclaimers

Coventry University together with Coventry University London Campus, CU Coventry, CU London, CU Scarborough and Coventry University Online come together to form part of the Coventry University Group (the "University") with all degrees awarded by Coventry University.

1Accreditations

The majority of our courses have been formally recognised by professional bodies, which means the courses have been reviewed and tested to ensure they reach a set standard. In some instances, studying on an accredited course can give you additional benefits such as exemptions from professional exams (subject to availability, fees may apply). Accreditations, partnerships, exemptions and memberships shall be renewed in accordance with the relevant bodies' standard review process and subject to the university maintaining the same high standards of course delivery.

2UK and international opportunities

Please note that we are unable to guarantee any UK or International opportunities (whether required or optional) such as internships, work experience, field trips, conferences, placements or study abroad opportunities and that all such opportunities may be subject to additional costs (which could include, but is not limited to, equipment, materials, bench fees, studio or facilities hire, travel, accommodation and visas), competitive application, availability and/or meeting any applicable travel COVID and visa requirements. To ensure that you fully understand the visa requirements, please contact the International Office.

3Tuition fees

The University will charge the tuition fees that are stated in the above table for the first Academic Year of study. The University will review tuition fees each year. For UK (home) students, if Parliament permit an increase in tuition fees, the University may increase fees for each subsequent year of study in line with any such changes. Note that any increase is expected to be in line with inflation.

For International Students, we may increase fees each year but such increases will be no more than 5% above inflation. If you defer your course start date or have to extend your studies beyond the normal duration of the course (e.g. to repeat a year or resit examinations) the University reserves the right to charge you fees at a higher rate and/or in accordance with any legislative changes during the additional period of study.

4Facilities

Due to COVID-19, some facilities (including some teaching and learning spaces) and some non-academic offerings (particularly in relation to international experiences), may vary from those advertised and may have reduced availability or restrictions on their use.

Student Contract

By accepting your offer of a place and enrolling with us, a Student Contract will be formed between you and the university. The 2023/24 Contract is currently being updated so please revisit this page before submitting your application. The Contract details your rights and the obligations you will be bound by during your time as a student and contains the obligations that the university will owe to you. You should read the Contract before you accept an offer of a place and before you enrol at the university.
---
---