Business and Human Resource Management BA (Hons)
Course Code
UCAS Code: N600
International Code: FBLU035
Location
Coventry University (Coventry)
Study mode
Full-time
Part-time
Sandwich
Duration
3 years full-time
4 years sandwich
4-6 years part-time
Start date
September 2022
---
Course overview
Study level: Undergraduate
Understand the importance of being able to recruit, select, develop, motivate, performance manage and reward employees efficiently and effectively to help organisations realise their business goals.
This course can help to develop an understanding of the knowledge, skills and behaviours needed by human resources professionals.
You can explore how to apply your learning to case studies of real-life scenarios to understand the impact and influence of good human resource management.
There's a focus on supporting you to develop a potential career in managing and leading people across a range of business sectors.

Global Ready
An international outlook, with global opportunities

Teaching excellence
Taught by lecturers who are experts in their field

Employability
Career ready graduates, with the skills to succeed
Why you should study this course
This course aims to provide a solid foundation in the management of people, drawing upon contemporary business and human resource theory and practice.
The CIPD qualifications are specifically designed to incorporate the needs of both management specialists and generalists, increasing the business content and broadening the appeal and relevance of these highly respected qualifications.
Our focus will be on practice-led learning throughout your studies, encompassing informed research, real-world case studies and role-play (skills practice), designed to help enhance your essential practical and academic leadership and management skills. We will explore how to apply your learning to case studies from various organisations, from multinational corporations to smaller companies, across the public, private and charitable sectors. These case studies provide an opportunity to see the impact and influence that good human resource management has on business performance.
We will encourage you to use your student membership of the CIPD to engage with field trips and conferences, as well as attending local and national branch events. These will give you the opportunity to engage with employers of different companies, providing the chance to build your professional networks and access the latest research and thinking. Talks include topics that currently present significant challenges to human resource practitioners, such as unconscious bias in recruitment and performance management, skills shortages and linking reward to performance.
Accredited by

Chartered Institute of Personnel and Development (CIPD)
The course is currently accredited by the Chartered Institute of Personnel and Development. Meeting the Student Membership requirements gives you the opportunity to achieve either a CIPD Intermediate Certificate or Intermediate Diploma in HRM upon successful completion of specific modules. Subject to competitive application, availability, meeting applicable visa requirements and additional costs may apply. If the accreditation of this course changes, we will notify applicants and students as soon as possible.
---
Memberships
Chartered Association of Business Schools (CABS)
Coventry Business School is currently an active member of the Chartered Association of Business Schools, which has a membership of over 120 business schools and higher education providers and supports its members in maintaining world-class standards of teaching and research.
European Foundation for Management Development (EFMD)
Coventry Business School is currently an active member of the European Foundation for Management Development, a global membership organisation dedicated to management development, covering over 900 members across 91 countries.
---
In your first year, you will study a range of modules designed to underpin your knowledge and practice of HR and business management. These could include examining the financial underpinnings of human resources or how you can begin to shape your CV to enhance your potential future career options.
Modules
Academic and Professional Skills in Business and Management

The overall aim of this module is to enhance your independent learning skills to help achieve long term sustainable employability. Therefore, the guiding principle of the module is to improve your personal development skills and ability to confidently take ownership of your long term self-directed career progression for ethical business focused on interpersonal conduct.

Exploring Work Psychology

This module is designed to provide broad coverage of the central topics to the study of workplace psychology, including recruitment and selection; learning and development; leadership; health and safety; organisational change; the experience of working; psychological well-being at work and interpersonal relationships.

It is designed to provide you with an overview of key areas in work psychology in a way that will provide the scaffolding required to understand how the theoretical and practical aspects link together. The module will also offer the opportunity to gain practical experience in some of the key skills associated with psychology at work.

Understanding HRM

This module aims to develop your critical understanding of some of the key issues surrounding the management of people at work and strengthen interpersonal skills in the work situation. It provides a broad introduction to various areas of HR practice. We will emphasise developing the skills necessary for effective management of people at work and interacting with other people in the working environment, as a manager or colleagues. Therefore, this module is aimed not only at those wishing to specialise in people management but also those who want to improve interpersonal skills for their future working life.

Global Business Context of HRM

Human resources (HR) professionals need to understand key developments in the business and external economic contexts within which HR operates. This module enables you to identify and review the business and external contextual factors affecting organisations and assess the impacts of these factors on the HR function. It also examines HR's role in strategy formulation and implementation. It is designed to encourage you to adopt a critical perspective of these contexts and to provide workable organisational and HR solutions to address them.

Financial Aspects of HR

This module introduces you to the basic financial concepts in people management. You can gain hands-on experience through a simulation game of measuring and calculating the costs involved for human resource management tasks such as recruitment and selection, reward packages, family-friendly policies, grievance and discipline procedures, change management, absence management, health and safety and well-being policies.

Contemporary Issues in People Management

The aim of this module is for you to develop an awareness of contemporary HR issues in the media relating to topics such as HR planning, recruitment and selection, equality and diversity, health and safety, performance management and rewards, training and development, employment relations, discipline and grievance, management of conflict and change, international HRM. You will then learn how to use these when applying HR theories.

Add+vantage

The Add+vantage modules teach a range of work experience and career development activities to broaden your knowledge, skills and qualifications within a work focused environment.

There is a very broad range of Add+vantage subject areas in different themes of Global Languages, Global Perspectives, Professional Development, Creativity and Enterprise and Entrepreneurship, Work Experience, Global Experience Field Trips, Projects and Skills, Professional Accreditation and Research Skills.
During your second year, you will have the opportunity to further your knowledge in key areas of human resource management, as well as having the opportunity to select an optional module to pursue an area of interest.
Modules
Critical Employment Awareness and Developing your Career

This module is designed to enable you to develop a sound understanding of the knowledge, skills and behaviours required by human resources (HR) professionals, whether in a generalist or specialist role and as described in the CIPD HR Profession Map (HRPM). It can help you to embrace the 'thinking performer' perspective, covering the competencies needed by the HR professional in a personal capacity, when collaborating and working with others, and when functioning efficiently and effectively in an organisational context. It will enable you to assess your strengths and identify a continuing professional development (CPD) plan, based on the capabilities required for ethical, business-focused and interpersonal professional conduct. You will explore placement and graduate opportunities and where they want to be in five years. Key note speakers and guests will undertake sessions with a focus upon CV writing, professional online profiles for e-recruitment and career directions.

Using Data in Business

If human resources (HR) professionals are to add value to businesses by enhancing their competitiveness, innovation or productivity, they need to present a viable and realistic case for improvement based on sound work-based research and an understanding of what is considered good practice. This core unit develops the skills of research and enquiry to enable you to understand the nature, purpose and use of business data and information management in organisations; identify, select and evaluate data sources that support organisational decision making in HR; and synthesise, apply and manage the flow of this data, taking into account the people, processes and technology involved. This is with a view to evaluating the role of HR in business and strategy formulation and implementation and presenting a business case for improvement.

Resourcing, Talent Planning and Employer Branding

One of the major aims of this module is to introduce you to the strategic approaches that organisations take to position themselves as employers in the labour market and plan effectively to meet their current and anticipated organisational skills needs. Another is to introduce the key operational tools, techniques and practices that organisations use to resource their organisations effectively.

Strategic and International Reward

This module provides you with a comprehensive understanding of how the business context drives reward strategies and policies, including the labour market, industrial and sector trends, regional differences and trends in pay and international comparisons; the financial drivers of the organisation, the balance sheet and the impact of reward costs. You will need to gather and evaluate intelligence on a wide range of reward data and show how this impacts business decisions. You will acquire knowledge of the perspectives, principles and policies of reward from a theoretical and strategic focus and how to implement them in practice. You will be able to assess the contribution of reward to business viability and advise on the appropriateness of policies and practices to line managers to promote employee performance. You will also examine the equality implications of reward practices and international comparison of regulatory requirements (gender pay gap, ethnicity pay gap reporting).

Improving Organisational Performance

Human resources (HR) professionals need to understand how organisations can drive sustained organisation performance by creating a high-performance work organisation and involve line managers in the performance management process. You will assess the different conceptual frameworks of high-performance working (HPW), and examine its impact on organisational performance, competitive advantage, employee engagement and employee well-being. The module will provide you with the business case for and the barriers to HPW and the role of people management in improving organisational performance.

Add+vantage

The Add+vantage modules teach a range of work experience and career development activities to broaden your knowledge, skills and qualifications within a work focused environment.

There is a very broad range of Add+vantage subject areas in different themes of Global Languages, Global Perspectives, Professional Development, Creativity and Enterprise and Entrepreneurship, Work Experience, Global Experience Field Trips, Projects and Skills, Professional Accreditation and Research Skills.

Optional Modules

Choose one from the following:

Digital Business
This module aims to develop your understanding of contemporary business practice in a digital environment. The module builds on existing theories and concepts that encourage you to critically assess market opportunities and develop business ideas exclusive to online platforms. The module will offer a critical understanding of the opportunities and challenges posed by transforming the digital landscape and consumer culture. It will help you explore international aspects of digital business practice and ethical compliance concerning data protection, digital security, and customer information handling.

Employment Relations
Employment relations is about how work is regulated at organisational and societal levels and by whom. Who is involved in making the rules that govern working life and why? Who decides what rights and obligations employees and employers have? At what level are these decisions made and through which processes? What ideologies drive different approaches to regulating the employment relationship? What implications does this have for equality and diversity and inclusive economies?

This module allows you to build on your knowledge and experience to develop the skills required to make informed and effective judgements about existing and emerging models, processes and practices of employment relations in local and international jurisdictions.
In your third year, you have the option to apply for a placement in the UK, or a study abroad year* studying with one of our partner universities or completing a work placement through either the Placement Year or Study Abroad Year modules.
As these are non-credit bearing modules, you will not have to pay additional tuition fees for that year. You will, however, need to complete a marked assessment reflecting on your placement/study abroad or work placement experience. If you successfully complete this assessment, the module selected will appear on your final academic transcript. You will graduate with 360 credits in total, assuming successful completion of your final year.
Our Talent Team offer a wide range of support services to help you apply for a placement opportunity, including mock interviews and CV writing workshops.
Modules
Professional Placement

Study Abroad
In your final year, you will have the opportunity to conduct a project into a specific area of HRM, as well as have a further chance to select an optional module to tailor your studies to your interests.
Modules
Project

This module aims to provide you with an opportunity to apply and develop your research skills and extend your knowledge, understanding and ability to critically analyse in a specialist area of interest. You will chose an academic area related to your programme of study and apply your independent learning skills to research this area in depth. You will receive academic support through a series of group supervisions and will be allocated a project supervisor.

Innovation and Change

This module seeks to explore the theories and frameworks underpinning organisational change to allow you to develop your understanding of what change means, how it happens and how it is best managed. It will also aim to draw on the concepts of creativity and innovation and the conditions and processes required to encourage you to identify opportunities for innovation and improvement in organisations and to explain the rationale for choice in the context of organisational objectives.

HR Analytics for Strategic Decision Making

HR analytics or predictive decision-making processes in human resources occur through the capture, storage, sharing, transfer and analysis of big data to study the trends of human resource management within organisations. It allows all decisions on human resources – from recruitment, performance management, succession planning, training, and talent management to be viewed from a scientific approach. This module will examine how analytics can help organisations to look forward in their decision making, reducing errors and costs whilst increasing optimisation.

Business Governance, Leadership and Sustainable Ethics

This module will evaluate the impact of an organisations' structure and governance on management and leadership practices. There is considerable interest in the idea of purposeful organisations that focus on societal responsibility, values and ethics and these organisations need a purposeful leader; someone who has a strong moral self, a vision for his or her team, and an ethical approach to leadership and commitment to stakeholders. You will explore theoretical models, management and leadership styles and approaches designed to promote a culture of mutual trust, respect and support.

Employment Law

Employment law is a dynamic subject, as it responds to changing, and sometimes conflicting, economic, political and social demands, both within the UK and the European Union, and in the wider global context. The module aims to provide a critical understanding of the regulation of employment by law and to place the legal rules in their broader economic and socio-political context.

Add+vantage

The Add+vantage modules teach a range of work experience and career development activities to broaden your knowledge, skills and qualifications within a work focused environment.

There is a very broad range of Add+vantage subject areas in different themes of Global Languages, Global Perspectives, Professional Development, Creativity and Enterprise and Entrepreneurship, Work Experience, Global Experience Field Trips, Projects and Skills, Professional Accreditation and Research Skills.

Optional Modules

Choose one from the following:

Strategic and International HRM
The aim of this module is to critically explore the policies and practices for the management of people across international boundaries and the complex human resource and employment strategies and policies in multinational corporations (MNC). The module introduces the key concepts for understanding the practice of managing strategic international HRM and the operational aspect of the organisation of performance efficient systems of work in international settings. The institutional, ideological and intercultural factor such as cross-cultural communication, negotiation and decision making will also be developed through international teamwork activities.

Enterprise and Entrepreneurship
This module aims to develop the your understanding of business enterprise, entrepreneurship, start-up processes, effectual and critical thinking as applied to business innovation and creativity. The module seeks to provide an academic and experiential perspective in the processes of managing enterprise entrepreneurship.
We regularly review our course content, to make it relevant and current for the benefit of our students. For these reasons, course modules may be updated.
---
How you'll learn
Teaching methods include seminars, 'live' project work, practical and skills demonstrations and role-play activities. These may be in recruitment and selection, negotiations, problem-solving and managing change issues.
Within your first and second year, you will have 12 contact hours of teaching a week, including seminars or workshops and lectures. In your final year, if you are undertaking a project/dissertation, contact hours may reduce due to a greater emphasis on independent study.
Workshops, designed considering the CIPD Profession Map of behaviours and skills, aim to provide guided exposure to academic works, specialist inputs from industry and team-based projects.
Subject to availability, we also organise many industry visits, including Warwick Castle, to help understand the tourism industry's challenges alongside some team-building, Coventry City Council and Cadbury World. A Jaguar Land Rover visit highlighted automation effects on the workforce, the challenges of managing a high-end manufacturing globalised workforce, and the impact of Brexit.
---
Assessment
Assessment could vary depending on the module, and methods include formal examinations, coursework, tests, essays, creative writing assignments, practical, project work or group work, presentations, posters and portfolios.
The Coventry University Group assessment strategy ensures that our courses are fairly assessed and allows us to monitor student progression towards achieving the intended learning outcomes. Assessments may include exams, individual assignments or group work elements.
---
Job ready
On successful completion, you will be able to:
Demonstrate a comprehensive knowledge and understanding of the function of and context in which HRM operates; best practice approaches; contemporary theories, and empirical evidence concerning the effective management of people within a business environment; and the many sources of HR information and research techniques.
Critically examine the strategic role of the HR function's contribution to an organisation's improved performance.
Evaluate and present reasoned arguments for adopting different approaches to manage people within various business contexts effectively.
Undertake primary research to address a 'live' HR or business issue.
Design a range of HR activities, e.g. recruitment and selection, performance appraisal, grievance and disciplinary.
Conduct a range of interviews associated with managing people, e.g. selection, appraisal, counselling, grievance, exit interviews.
Understand the relevance of effectively managing financial budgets.
Appreciate the importance of self-reflection, self-awareness, openness and sensitivity to diversity in people, cultures, business and management issues.
Demonstrate a broad range of transferrable professional skills: individual initiative and enterprise; effective performance within a team environment, including leadership, team building, influencing and project management; interpersonal skills of effective listening, negotiating, persuasion and presentation.
Appreciate the importance of developing a global outlook.
---
International experience opportunities
The course has a diverse student and staff body, designed to provide a multinational learning environment. We also have dedicated teams to help promote and support internship, study and work abroad* planning; students are encouraged to consider these opportunities from the moment they join our programmes.
Coventry Business School currently has many links with multinational organisations and, where possible, will include representatives from these organisations in the teaching and learning of this course. You will also be supported in applying to undertake HRM placement opportunities* in several countries, for example, China, Dubai, India, Nigeria and the USA.
---
Typical offer for 2022 entry.
| Requirement | What we're looking for |
| --- | --- |
| A level | BBB |
| GCSE | Minimum 5 GCSE's graded 9-4 / A* - C including Maths and English |
| BTEC | DDM |
| IB Diploma | 30-31 points |
We recognise a breadth of qualifications, speak to one of our advisers today to find out how we can help you.
Are you eligible for the Fair Access Scheme?
We believe every student should have the opportunity to dream big, reach their potential and succeed, regardless of their background.
Select your region to find detailed information about entry requirements:

You can view our full list of country specific entry requirements on our Entry requirements page.
If you do not have the typical entry requirements, you may want to consider studying this course with an international foundation year. Upon successful completion our International Foundation Year - Business will provide you with the knowledge and skills you need to progress onto this undergraduate degree.
Alternatively, visit our International hub for further advice and guidance on finding in-country agents and representatives, joining our in-country events and how to apply.
English language requirements
IELTS: 6.0 overall, with no component lower than 5.5
If you don't meet the English language requirements, you can achieve the level you need by successfully completing a pre-sessional English programme before you start your course.
For more information on our approved English language tests visit our English language requirements page.
---
Fees and funding
2022/23 Tuition fees
| Student | Full time | Part time |
| --- | --- | --- |
| UK | £9,250 per year | Not available |
| International | £15,300 per year | Not available |
For advice and guidance on tuition fees and student loans visit our Undergraduate Finance page and see The University's Tuition Fee and Refund Terms and Conditions.
We offer a range of International scholarships to students all over the world. For more information, visit our International Scholarships page.
Tuition fees cover the cost of your teaching, assessments, facilities and support services. There may be additional costs not covered by this fee such as accommodation and living costs, recommended reading books, stationery, printing and re-assessments should you need them. Find out what's included in your tuition costs.
---
Facilities
We aim to create facilities and use technology close to what you would expect in real-world business environments, such as our Trading Floor, which is one of the largest of its kind in Europe. The Business Simulation Suite allows you to experience strategic problem-solving in life-like business environments, while the DigiComm Lab recreates the atmosphere of working for a contemporary marketing agency.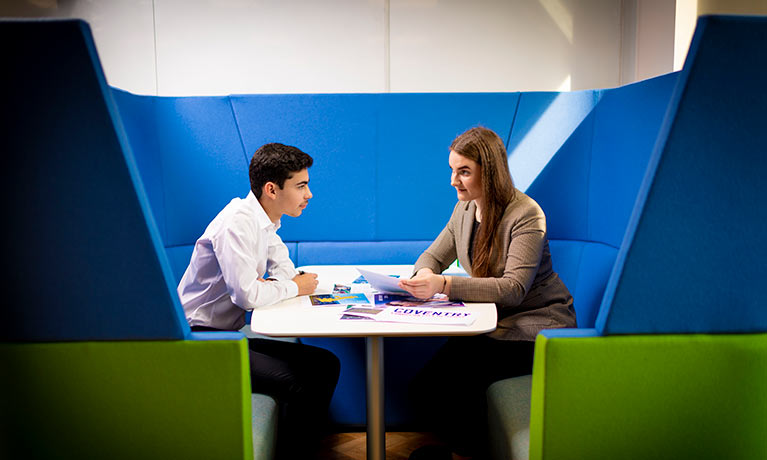 Designed to build creative minds, the DigiComm Lab is equipped with the latest industry-standard marketing and advertising software and devices to support your creative development.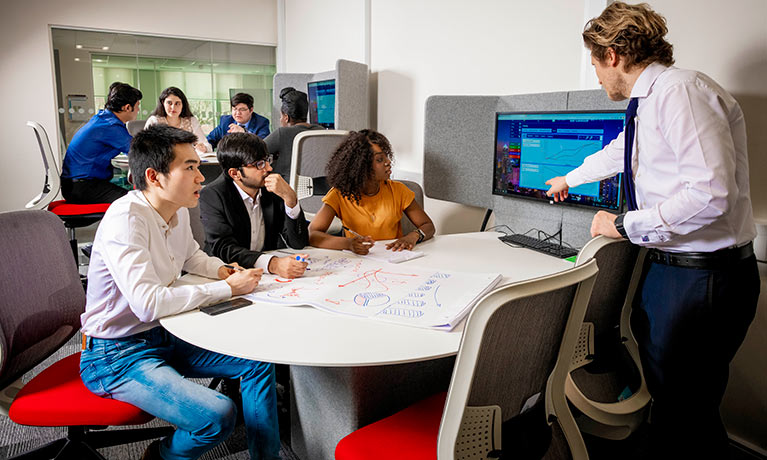 Coventry Business School's Business Simulation Suite utilises the latest business simulation software to give you the opportunity to improve your business skills.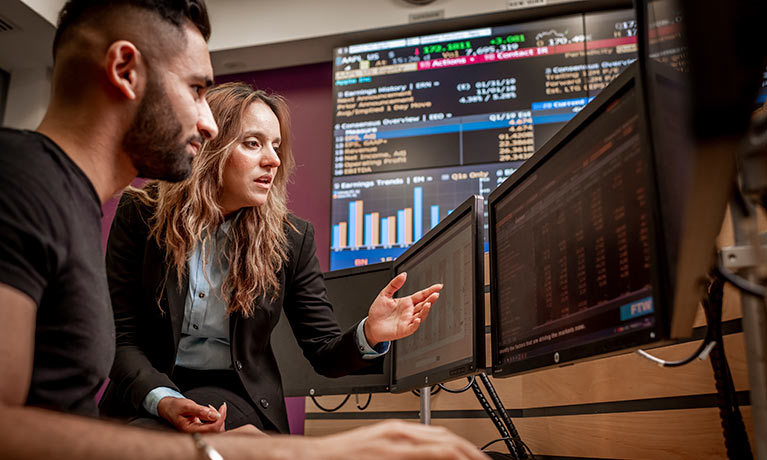 You will have opportunities to practice simulated trading and other finance-related activities using the various types of demo software available on the Trading Floor.
---
Careers and opportunities
Your course has been designed to help you develop your expertise, with the opportunity to gain valuable experience and access a wider professional network throughout.
As an approved CIPD centre, we currently have excellent links with many employers in industries as diverse as travel, infrastructure and logistics.
Coventry University is committed to preparing you for your potential career options and giving you a competitive edge in the graduate job market. The university's Talent Team provide a wide range of support services to help you plan and prepare for your potential future career.
Where our graduates work
Over the past decade, many of our previous students have successfully obtained HRM positions in many public and private organisations. Roles secured include Assistant Recruitment Officer, HR Assistant, HR Advisor, HRD Officer, HR Manager, Payroll Officer, Recruitment Consultant and Training Manager. Other past students have become Business Development Analysts, Marketing and Sales Assistants and Business Centre Managers.
---
How to apply
UK Students

Full-time students applying to start in September should apply for this course through UCAS. Part-time students should apply directly to the university. Read our application pages to find out your next steps to apply.

---

If you'd like further support or more information about your course get in touch with us today.

International Students

Full-time students applying to start in September should apply directly to the university. Read our application pages to find out your next steps to apply.

How to apply

For further support for international applicants applying for an undergraduate degree view our International hub.

You can also download our International guide which contains lots of useful information about our courses, accommodation and tips for travel.

---

Get in touch with us today for further advice and guidance.
You may also like
Coventry University (Coventry)

Business Administration BBA (Hons)
Coventry University (Coventry)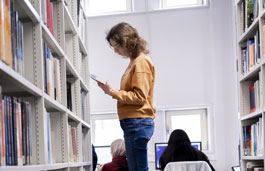 Business Management BA (Hons)
---
---
Disclaimer

Student Contract

By accepting your offer of a place and enrolling with us, a Student Contract will be formed between you and the university. A copy of the 2021/22 Contract can be found here. The Contract details your rights and the obligations you will be bound by during your time as a student and contains the obligations that the university will owe to you. You should read the Contract before you accept an offer of a place and before you enrol at the university.

Tuition fees

The tuition fee for the course that is stated on the course webpage and in the prospectus for the first year of study will apply. We will review our tuition fees each year. For UK and EU students, if Parliament permit an increase in tuition fees, we may increase fees for each subsequent year of study in line with any such changes. Note that any increase is expected to be in line with inflation. Following the UK's exit from the European Union, EU students should be aware that there may be a change to UK laws following the UK's exit, this may change their student status, their eligibility to study part time, and/or their eligibility for student finance. We will act in accordance with the UK's laws in force in relation to student tuition fees and finance from time to time.

For International students the tuition fee that is stated on the course webpage and in the prospectus for the first year of study will apply. We will review our tuition fees each year. For international students, we may increase fees for each subsequent year of study but such increases will be no more than 5% above inflation.

Accreditations

The majority of our courses have been formally recognised by professional bodies, which means the courses have been reviewed and tested to ensure they reach a set standard. In some instances, studying on an accredited course can give you additional benefits such as exemptions from professional exams (subject to availability, fees may apply). Accreditations, partnerships, exemptions and memberships shall be renewed in accordance with the relevant bodies' standard review process and subject to the university maintaining the same high standards of course delivery.

Facilities

Facilities mentioned on this page may not be relevant for every course. Due to the ongoing restrictions relating to COVID-19, some facilities (including some teaching and learning spaces) and some non-academic offerings (particularly in relation to international experiences), may vary from those advertised and may have reduced availability or restrictions on their use.

Placements and study abroad opportunities

Please note that we are unable to guarantee any placement or study abroad opportunities and that all such opportunities may be subject to additional costs (e.g. travel, visas and accommodation etc.), competitive application, availability and/or meeting any applicable visa requirements. To ensure that you fully understand the requirements in this regard, please contact the International Office for further details if you are an EU or International student.

Additional costs

This course may incur additional costs associated with any field trips, placements or work experience, study abroad opportunities or any other opportunity (whether required or optional), which could include (but is not limited to), equipment, materials, bench fees, studio or facilities hire, travel, accommodation and visas).