Popular Music Performance and Songwriting BA (Hons)
Course Code
UCAS Code: W315
International Code: AHU050
Location
Coventry University (Coventry)
Study mode
Full-time
Sandwich
Duration
3 years full-time
4 years full-time with study abroad / professional placement
Start date
September 2022
---
Course overview
Study level: Undergraduate
The first step to becoming a popular musician is to think of yourself as one. Get trained up with our talent-building course and who knows where you'll end up!
This course is a practice-based, 'outward-facing' course that seeks to prepare you to be a versatile, flexible, and adaptable operator within the twenty-first-century music industry.
We are looking to produce critically astute musicians who are confident performers and songwriters, working with today's technologies to make, reproduce, and disseminate music, and who understand the potential income streams available to them in the profession.
Unleash your skills in our Steinberg Certified Training centre where you can build your practical talents and emerge industry-ready.

Global Ready
An international outlook, with global opportunities

Teaching excellence
Taught by lecturers who are experts in their field

Employability
Career ready graduates, with the skills to succeed
Why you should study this course
A focus on creative-based music skills in performance and songwriting which is underpinned by popular music theory.
A vibrant and creative environment, offering you access to professional practices, new research and outstanding graduate support.
To engage effectively with a range of technology in the creation, performance and recording of music, including recording studios and live performance.
Regular opportunities to showcase your performing and songwriting talent in a public context throughout your studies.
To develop your own personal website (e.g. Domain of One's Own) which by the later stages of the course, is intended to be a professional-looking, outward-facing website that demonstrates the breadth of your learning and professional experience.
Performance spaces on-site include a large room with two grand pianos, suitable for small recitals, and The Hub's Square One, a large performance space kitted out with PA, amps, drums and a grand piano.
You will have the opportunity to perform in at least one of the following city's live music venues (subject to availability), which previously has included: Studio 54, The Herbert Art Gallery, Kasbah, The Phoenix, The Cross, Drapers, The Cottage, The Tin, The Litten Tree, Ego Arts and Nexus.
Extensive specialist facilities: a music seminar room with grand piano, PA, amps, drum kit, 5.1 surround sound and directly linked to a control room for recording; music practice rooms with pianos, drums and PA; three band rooms; a 5.1 studio and live room; instrument storage; an iMac music tech suite plus further state-of-the-art recording studios running Pro Tools, Logic, Live, Max and Sibelius on Apple macs.
Visiting master classes which are embedded within the course and which have included: Black Sabbath founder Tony Iommi, singer/songwriter Gwyneth Herbert; composers: Nick Ryan, Derek Nesbitt, Kit Turnbull and Juwon Ogungbe; sonic artist Trevor Wishart; guitarist Sam Cave; avant-garde bass clarinettist, Sarah Watts; composer and multi-instrumentalist Frank Moon; jazz keyboardist and music production composer, Andy Quinn.Masterclass visitors are subject to availability and may change each year.
100%
of our students found this course challenged them to achieve their best work
NSS, 2019
Accredited by

Steinberg Certified Training Centre
Steinberg Certified Trainers and Training Centers help you get the most from your Steinberg products. All partners certified by Steinberg use the latest Steinberg software and have extensive current product and systems knowledge.
If you or your training facility would like to be involved in our Certified Training program, then please contact your local Steinberg representative.
---
What our alumni say
This course provides a great environment that promotes collaboration between people that clearly share your passion. It helped me to improve beyond my expectations to become the skilled musician I am today.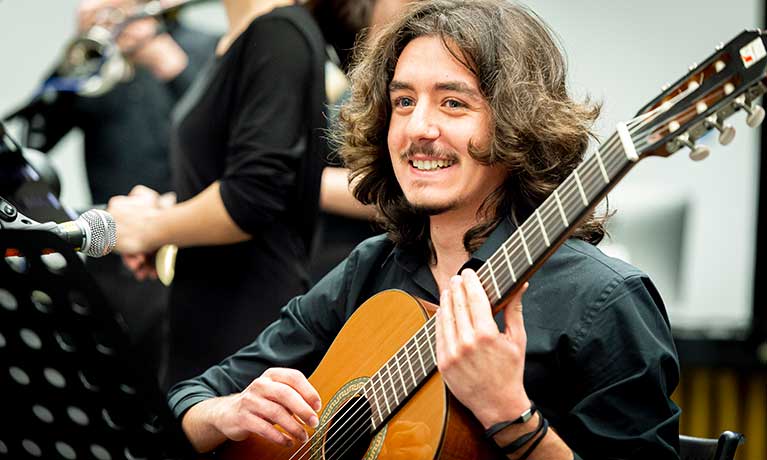 ---
In your first year you will engage in music performance, songwriting and musicianship skills training, supported by contextual reflection. In order to progress your performance skills on your principal instrument/voice you will receive dedicated specialist classes through the Personal Instrumental Learning Plan which you develop throughout the course.
Modules
Taking Notes, Making Music

This module is an introduction to the arranging and performance of covers of existing songs. It aims to concentrate on the practical necessities of music-making and the theories underlying these practices. You will engage in a series of (small group) formative exercises and tasks (within and outside of class sessions) in aspects of band musicianship and popular music song arranging.

Assessment: Portfolio, coursework

The Digital Musician - 20 credits

This module is designed to give you the skills and knowledge necessary to work creatively in the composition and production of music on the computer. You will compose to a range of briefs in order to gain a working understanding of industry standard software such as Logic, Cubase, Pro Tools, and Ableton Live.

Assessment: Portfolio

Music in the Marketplace - 20 credits

This course introduces you to the tools and methods of networking, promoting, and marketing through online music platforms, social media, blogging, and vlogging, as both a national and global phenomenon. Areas investigated may include Instagram, Twitter, Facebook, You Tube, Tunecore, YouNow, as well as Apple Music, Spotify, and Amazon.

Assessment: Portfolio, coursework

Performance and Song Writing - 20 credits

This module expands on the performance and musicianship studies of the first semester and includes an introduction to songwriting. In the course of the module, you will craft and rehearse relevant (typically two) songs, usually in small groups, and one may be an original song, for public performance. You will be expected to support the event management of any public performance. Throughout the module, there will be music/band activities to support your musical development. You will be introduced to the handling of PA systems and can perform at the end of the semester in small groups.

Assessment: Portfolio, coursework

Popular Music: Context and Culture - 20 credits

This module will situate popular music in its wider cultural, political, and historical contexts. The student will study aspects of popular music from its roots, up to and including current contemporary trends, and will explore popular music from both a structural and contextual perspective.

Assessment: Coursework

Studio Recording - 10 credits

This module aims to give you a practical insight into recording, mixing and producing music in the contemporary recording studio whether as a composer or performer.

Assessment: Portfolio, coursework
In the second year of the course there is an emphasis on the application of your music skills. You are introduced to more profession-based scenarios, with more advanced levels of performance and songwriting, underpinned by professional reflection, and the continuation of the Personal Instrumental Learning Plan.
Modules
Band Performance - 20 credits

This module aims to further develop your performance and improvisation skills as well as your band musicianship. The module explores more advanced performance issues such as confidence, projection, and 'communication' as well as continuing to deal with technical and interpretative matters. You will draft, in small groups, a proposal outlining the songs to be performed, the personnel lineup, and the rationale for the selected repertoire.

Assessment: Portfolio, coursework

Writing about Popular Music - 20 credits

This module aims to introduce you to aspects of music journalism, music criticism, and public relations. It aims to provide you with the opportunity to acquire and develop an approach to critical commentary and the communication of ideas particular to popular music.

Assessment: Portfolio

Studio Project - 10 credits

This is designed to give you, in consultation with a tutor, the ability to develop a recording and/or music technology practice-based project that will enable you to pursue a particular area of musical/production interest as a means of developing your professional practice.

Assessment: Portfolio

Applied Performance and Song Writing - 30 credits

This module expands on the previous year's Performance and Songwriting module. However, there will be greater focus on individual creative practice, both as a performer and a songwriter. The module will include classes that aim to develop your 'songwriting voice', both in your lyric writing and musical intentions. In the course of the module, you will (a) craft an original song, (b) prepare a workable lead sheet for it, and (c) provide for arrangement, rehearsal (under their direction), and performance of that song in a public forum — you will be involved in the event-management of the public performance.

Assessment: Portfolio

Music and the Moving Image or Live Sound - 20 credits

This module aims to develop your critical and creative practice in the field of music and the moving image. It will deal principally with films (movies) but may also consider more recent developments in relation to music in the computer game industry and other moving image (video) scenarios. You will engage with all aspects of composition for moving image including sound design, scene-setting, spot-synching and character development.

Assessment: Portfolio

The Online Artist - 10 credits

This module is designed to identify and investigate methods of networking, interfacing, and 'monetising' the student as a 'portfolio musician'. You should apply previously gained knowledge around online presence and entrepreneurship.

Assessment: Coursework

Live Sound - 20 credits

This module utilises prior knowledge of recording technique and practice and acoustics in a Live context. It introduces the technologies and practice surrounding P.A. systems, live event management, Health and Safety considerations, mixing and recording in the live environment, acoustic and electrical considerations and sound diffusion.

Assessment: Coursework
After your second year, you can choose take a Professional Placement Year or Study Abroad Year.
You can opt to go on a Professional Placement Year or Study Abroad Year and if selected, you will be registered onto module which runs for a full academic year between years 2 and 3. You must have a confirmed Professional Placement Year or Study Abroad Year at least two weeks prior to the start of the academic year to participate in the Study Abroad/Professional Placement year, however we encourage international students to confirm their placements earlier to ensure they are able to meet any applicable visa requirements.
In the final year, the aim is to advance your music skills, critical understanding and industry knowledge in order to navigate a career in the music industry, preparing you to operate as an independent artist: a versatile and reflective musician, who can work under pressure and produce a representative body of practical work in performance and songwriting.
Modules
The Music Industry - 10 credits

This module will investigate the processes and strategies critical to successful navigation of the contemporary music industry, examining key areas within which the student will need to operate effectively as an enterprising 'portfolio musician'.

Assessment: Coursework

Popular Music Research Project - 20 credits

The module aims to develop your knowledge of the relationship between the theoretical and practical aspects of popular music, building on areas covered in and knowledge and skills acquired during the course. You will develop a range of research and writing skills that will result in the production, typically, of a 5000 word dissertation.

Assessment: Coursework

Working Briefs - 20 credits

This module provides the opportunity for the student to cultivate the skills and knowledge acquired in Levels 4 and 5. You will be expected to respond creatively to one or more set scenarios under time pressure (usually 1-2 weeks). Typically, you will be asked to write, arrange, perform, and/or record a total of 5-8 minutes of original music. You may be given one or more assignments in total.

Assessment: Portfolio

Music Collaboration - 20 credits

In music, as in all the arts, collaboration is often at the heart of professional work. This module enables you to collaborate outside your immediate music programme. You are expected to collaborate across or beyond the music programmes. You are encouraged either to collaborate across disciplines such as theatre, dance or media production, or to work with outside organisations (such as a local school). Typically this would be in the role of a performer, creative artist, composer, sound designer, music director, teacher, workshop leader.

Assessment: Coursework

Advanced Performance and Song Writing - 20 credits

This module brings the skills and knowledge you have developed in the course of your studies (notably Applied Performance and Songwriting), into a final, substantial portfolio of popular music practice, in preparation for your professional career.

Assessment: Coursework, portfolio
We regularly review our course content, to make it relevant and current for the benefit of our students. For these reasons, course modules may be updated.
---
How you'll learn
We seek to provide you with the opportunity to develop a solid foundation of knowledge, practical experience and a professional portfolio with which you can launch a career within the global field of popular music, related industries, or postgraduate study.
---
Assessment
This course will be assessed using a variety of methods which will vary depending upon the module. Assessment methods include, coursework, tests, essays, practical or project work and presentations/posters.
This course is predominantly assessed by coursework.
The Coventry University Group assessment strategy ensures that our courses are fairly assessed and allows us to monitor student progression towards the achieving the intended learning outcomes. Assessments may include exams, individual assignments or group work elements.
---
Job ready
Demonstrate a professional approach to music making in the areas of performance, songwriting and music production in an international context.
Evaluate and utilise established and experimental approaches to music-making within an international context.
Demonstrate professional competence in a variety of performance, music-creation, re-creation, and presentation modes and contexts, both conventional and unconventional.
Apply analytical, reflective, and critical skills to the evaluation of your own work, and to that of others, in the global music industry.
Manage your own professional development and profile in the music industry.
Demonstrate that you are an enterprising, creative, innovative, and flexible practitioner able to work with diverse communities within a global context.
Work in a professional manner so you can effectively function in a range of roles and responsibilities.
---
International experience opportunities
Music is an international industry. We explore a diverse range of musicians, musical styles and cultures. We have also been fortunate enough to attract a number of guest speakers, including the New York 'cello innovator' (Time Out NY) Madeleine Shapiro and Martin Atkins of cult band, Public Image Ltd.
Students have previously travelled abroad for a year in Cyprus, Spain, Finland, South Korea and Canada. We also try to organise an optional annual overseas fieldtrip (which may be subject to additional costs, availability, application and meeting any applicable visa requirements). Recent students were able to go on a three-day music cultural trip to Vienna, where students took in concerts and the Mozart and Schoenberg museums. We have previously visited Prague and New York, which included seeing the Broadway show Chicago plus a workshop with some of the cast, as well as going to Carnegie Hall.
---
| Requirement | What we're looking for |
| --- | --- |
| A level | BBC |
| GCSE | Minimum 5 GCSE's grade A* - C including English |
| BTEC | DDM |
| IB Diploma | 29 points |
We recognise a breadth of qualifications, speak to one of our advisers today to find out how we can help you.
Portfolio
You may be required to attend a portfolio showcase, activity session or audition or submit a portfolio via email (as is appropriate to your course), either virtually or face to face, as is practical to arrange. Invites for these sessions will be sent directly to your contact email.
Each application will be considered on its merits.
Are you eligible for the Fair Access Scheme?
We believe every student should have the opportunity to dream big, reach their potential and succeed, regardless of their background.
The selection process is friendly, informal and designed to help us assess the candidate's suitability for the course, and whether it is the right course for the candidate. The candidate should demonstrate prior engagement in songwriting/music composition and performance. Candidates will attend* an interview and audition. Candidate's musical skill level should, typically, be at an equivalent to Grade 6 (or above) ABRSM/RSL/LCM on an instrument or voice. Candidates who do not have Grade 6 will be able to demonstrate musical ability equivalent to Grade 6 (e.g. in songwriting/composition) at interview.
Select your region to find detailed information about entry requirements:

You can view our full list of country specific entry requirements on our Entry requirements page.
Alternatively, visit our International hub for further advice and guidance on finding in-country agents and representatives, joining our in-country events and how to apply.
English language requirements
Students whose first language is not English must demonstrate proficiency in the English language equivalent to IELTS 6 with no component lower than 5.5.
If you don't meet the English language requirements, you can achieve the level you need by successfully completing a pre-sessional English programme before you start your course.
For more information on our approved English language tests visit our English language requirements page.
---
Fees and funding
2022/23 Tuition fees
| Student | Full time | Part time |
| --- | --- | --- |
| UK | £9,250 per year | Not available |
| International | £18,050 per year | Not available |
For advice and guidance on tuition fees and student loans visit our Undergraduate Finance page and see The University's Tuition Fee and Refund Terms and Conditions.
We offer a range of International scholarships to students all over the world. For more information, visit our International Scholarships page.
Tuition fees cover the cost of your teaching, assessments, facilities and support services. There may be additional costs not covered by this fee such as accommodation and living costs, recommended reading books, stationery, printing and re-assessments should you need them. Find out what's included in your tuition costs.
---
Facilities
This course also offers extensive specialist facilities, including:
a music seminar room with a grand piano
amps, drum kits
1 surround sound and directly linked to a control room for recording
music practice rooms with pianos, drums and PA
three band rooms
a 5.1 studio and live room
an iMac music tech suite plus further state-of-the-art recording studios running Pro Tools, Logic, Live, Max and Sibelius on Apple macs.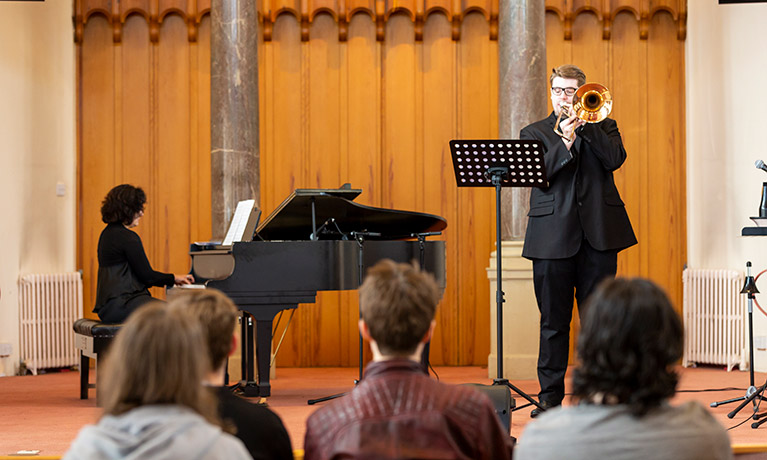 Music seminar room
A great space for our budding musicians, our specialist music seminar room comes with a grand piano, PA, amps, drum kit and 5.1 surround sound, all directly linked to a control room for recording.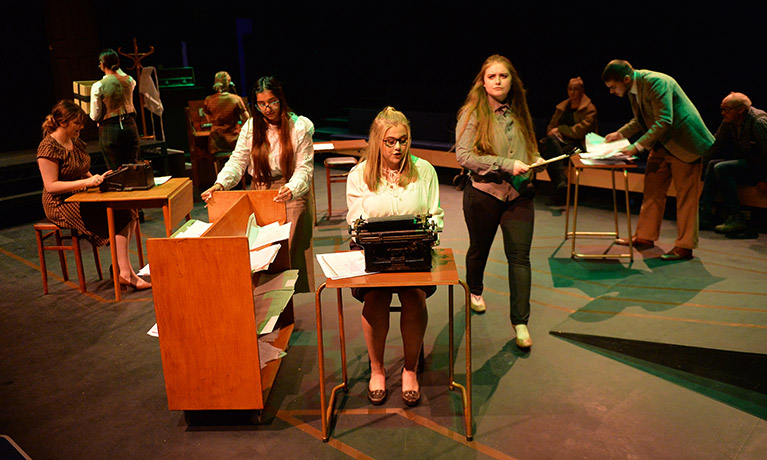 Performance spaces
Our Ellen Terry Building has a dance performance space, two dance studios and a theatre workshop. It also has dressing rooms and storage with around 3,500 costume items and 1,500 accessories.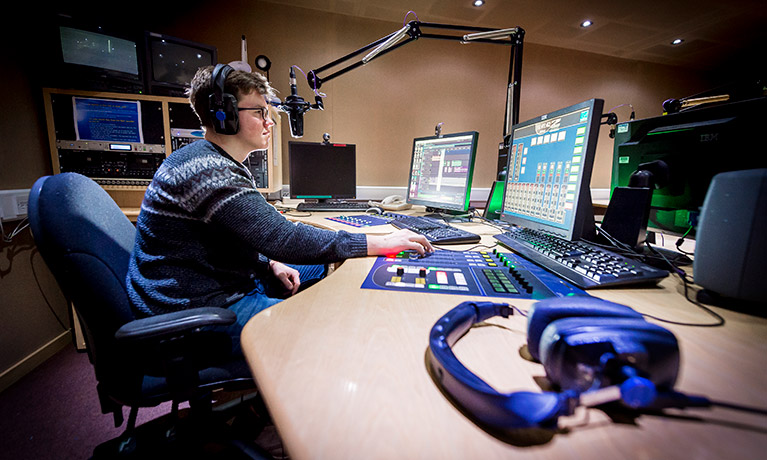 Recording studios
With some of our courses, you can have access to five recording studios, instrument storage, and an iMac music tech suite. We also have state-of-the-art recording studios running Pro Tools, Logic, Live, Max and Sibelius on Apple macs.
---
Careers and opportunities
There is a strong emphasis within the course on future career paths. This is aimed not only to help you to explore what your chosen career path might be, but also to help build a professional level of business skills and knowledge.
Our graduates pursue careers as performers, sound designers and composers. This degree also enables direct progression to suitable courses while others undertake the appropriate qualifications to become teachers in schools and colleges, or they become freelance instrumental or music theory teachers. Graduates also work with community arts organisations or as arts administrators.
Where our graduates work
Notable successes include a leading professional guitarist and author of a series of advanced guitar handbooks, a recording artist who has released three EPs to date, a YouNow live-streamer and songwriter, an examiner for Rockschool, PhD in composition, and a London-based professional drummer doing a PhD.
---
How to apply
UK Students

Full-time students applying to start in September should apply for this course through UCAS. Part-time students should apply directly to the university. Read our application pages to find out your next steps to apply.

---

For further support or more information about your course get in touch with us today.

International Students

Full-time students applying to start in September should apply directly to the university. Read our application pages to find out your next steps to apply.

How to apply

For further support for international applicants applying for an undergraduate degree view our International hub.

You can also download our International guide which contains lots of useful information about our courses, accommodation and tips for travel.

---

Get in touch with us today for further advice and guidance.
You may also like
Coventry University (Coventry)

---
Disclaimer

Student Contract

By accepting your offer of a place and enrolling with us, a Student Contract will be formed between you and the university. A copy of the 2021/22 Contract can be found here. The Contract details your rights and the obligations you will be bound by during your time as a student and contains the obligations that the university will owe to you. You should read the Contract before you accept an offer of a place and before you enrol at the university.

Tuition fees

The tuition fee for the course that is stated on the course webpage and in the prospectus for the first year of study will apply. We will review our tuition fees each year. For UK and EU students, if Parliament permit an increase in tuition fees, we may increase fees for each subsequent year of study in line with any such changes. Note that any increase is expected to be in line with inflation. Following the UK's exit from the European Union, EU students should be aware that there may be a change to UK laws following the UK's exit, this may change their student status, their eligibility to study part time, and/or their eligibility for student finance. We will act in accordance with the UK's laws in force in relation to student tuition fees and finance from time to time.

For International students the tuition fee that is stated on the course webpage and in the prospectus for the first year of study will apply. We will review our tuition fees each year. For international students, we may increase fees for each subsequent year of study but such increases will be no more than 5% above inflation.

Accreditations

The majority of our courses have been formally recognised by professional bodies, which means the courses have been reviewed and tested to ensure they reach a set standard. In some instances, studying on an accredited course can give you additional benefits such as exemptions from professional exams (subject to availability, fees may apply). Accreditations, partnerships, exemptions and memberships shall be renewed in accordance with the relevant bodies' standard review process and subject to the university maintaining the same high standards of course delivery.

Facilities

Facilities mentioned on this page may not be relevant for every course. Due to the ongoing restrictions relating to COVID-19, some facilities (including some teaching and learning spaces) and some non-academic offerings (particularly in relation to international experiences), may vary from those advertised and may have reduced availability or restrictions on their use.

Placements and study abroad opportunities

Please note that we are unable to guarantee any placement or study abroad opportunities and that all such opportunities may be subject to additional costs (e.g. travel, visas and accommodation etc.), competitive application, availability and/or meeting any applicable visa requirements. To ensure that you fully understand the requirements in this regard, please contact the International Office for further details if you are an EU or International student.

Additional costs

This course may incur additional costs associated with any field trips, placements or work experience, study abroad opportunities or any other opportunity (whether required or optional), which could include (but is not limited to), equipment, materials, bench fees, studio or facilities hire, travel, accommodation and visas).