Automotive and Transport Design BA (Hons)
Course Code
UCAS Code: WHG3
International Code: AHU036
Location
Coventry University (Coventry)
Study mode
Full-time
Sandwich
Duration
3 years full-time
4 years full-time with study abroad / professional placement
Start date
September 2022
January 2023
---
Course overview
Study level: Undergraduate
We aim to cover the broadest spectrum of automotive and transport design focusing on design-driven innovations.
Additional key points:
We examine issues of autonomy, sustainability, ergonomics and the user experience and interaction in relation to exterior and interior design, surface and colour applications, lifestyle and future design solutions.
This is an award-winning course which has been running for over 40 years and has a long history of achievement. In 2020, four of our Automotive and Transport Design students have won awards at the 8th SAIC Global Design Challenge.
This course will develop your understanding of the latest developments, drivers and practices of the automotive, transport and mobility designer beyond merely illustration and styling.
You will have the opportunity to learn to create innovative product design solutions in a range of styles and media, which factor in purpose, usability, materials, ecology, desirability, technological feasibility and professional constraints.

Global Ready
An international outlook, with global opportunities

Teaching excellence
Taught by lecturers who are experts in their field

Employability
Career ready graduates, with the skills to succeed
Why you should study this course
We designed this exciting course to give you an opportunity to develop the skills and expertise to produce innovative and visionary designs for all forms of transport. This includes cars, motorbikes, boats, luxury yachts, construction vehicles and vehicle interiors, as well as emerging areas such as electric vehicles and personal mobility devices.
We have current excellent industry links, with diverse employers such as Jaguar Land Rover, Herman Miller, Lotus, Dyson, Aston Martin, Speedo, Ford and Electrolux. These may give you opportunities for 'live' collaborative projects, work placements, industry visits, design competitions and expert advice through regular guest lectures. You can start building your contacts and gain the networking experience to establish yourself as a design professional long before you graduate.
We have gained an international reputation for automotive research and teaching covering design, engineering, business and media. We are a former winner of 'Best Design School' in the World Automotive Design competition. We have hosted major symposiums on the future of transport design, including RINA conferences and the ITS-UK Automotive User Interest Group.
You will be taught by current specialists in automotive, transport and broader industrial design who have expertise in concept, modelling, interior, exterior and design-led development of low carbon vehicles. Their extensive professional experience includes working for well-known companies like General Motors, Daihatsu, Nissan, Ford and JLR. (Please note that staff are subject to change).
We deliberately try to strike a balance between traditional hand-processes and emerging technologies. You'll have the opportunity to participate in workshops for physical and digital model making, while having the opportunity to access state-of-the-art milling, rapid prototyping and 3D printing.
No. 14
Guardian University Guide 2022
I really enjoy being surrounded by peers with a common interest and I'm relishing the opportunity to learn from tutors with industry experience. I feel like by the end I will have the tools to be successful wherever I go.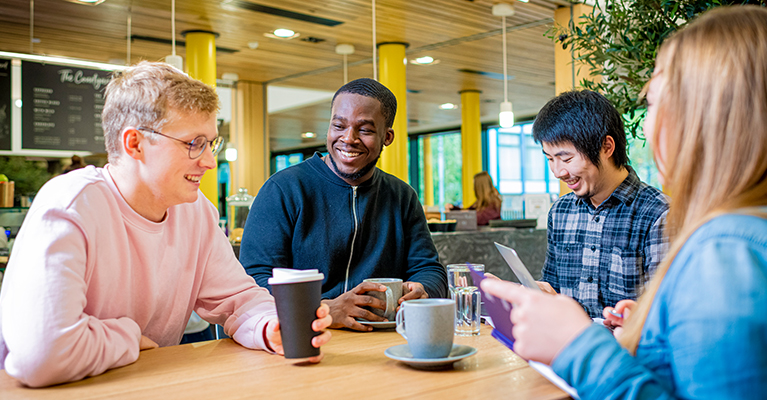 ---
Year 1 is about learning core skills and gradually applying them to increasingly ambitious projects. We aim to develop your 2D skills and apply them to three-dimensional designs solutions. You will have the opportunity to work in groups to develop dialogue and criticism around form-based problem solving and concept creation. Teaching and learning will be supported by a curriculum that aims to cover all areas of design, practical and theoretical, historical and forward looking.
Modules
Form Design and Visual Communication - 20 credits

This module integrates the technical and environmental aspect of the design process and resolution of the design project. The module therefore builds on your technical knowledge and connects that knowledge with advanced application in a major building project.

Assessment: Portfolio

Design Studio Methods and the Industries - 20 credits

This module provides you the opportunity to explore design themes associated with the transportation environment. You will work on a series of short transportation design project briefs to practice creativity and design skills while developing awareness of typical design studio methods. You will experiment with presentation techniques to communicate design outcomes.

Assessment: Coursework

Design Context - 30 credits

During this module you will be introduced to investigation techniques, develop brand awareness and market values within an international context and against different transportation settings. You will be presented with design briefs and visually present design explorations and outcomes. A short, illustrated presentation will be prepared to explain relevant key design trends, influences and brand factors in relation to an identified transport context.

Assessment: Coursework

Design, Function and Users - 30 credits

The focus of this module is on understanding users in order to design effectively and to consider the technical and material factors associated with developing design solutions. You will look at user and functional issues in relation to transport and mobility and showcase engagement with different stages of the design process from conceptual development through to user analysis, occupant and mechanical package and technical specification.

Assessment: Coursework
Year 2 is focused on developing as aspiring designers and creating a professional profile that relates to your career aspirations. You will be working on projects, most of them set and supported by industry partners.
Modules
Design Innovation - 30 credits

In order to develop innovative ideas that are meaningful to users and a continuously changing world, you must be able to investigate and question what already exists in design terms and be prepared to challenge. You will critically explore and develop dialogue around design scenarios and consider the purpose and possibilities for future transport systems/devices from an innovation perspective.

Assessment: Coursework

Design Application - 20 credits

This module has a strong outward facing focus and it is where you can consider industry expectations, communication and develop design professionalism. You will manage an investigation and respond to industry-aligned or client-inspired design briefs and follow the design process through to design solutions that are considered in terms of its functional feasibility, potential brand alignment and user sensibility.

Assessment: Portfolio

Design and the Professions - 30 credits

The aim of this module is to support you in the development of a personal career focused portfolio which represents a cross-section of personal skills, knowledge and capabilities. You will also work on developing a CV, identify relevant networks and prepare rationales around your future career aspirations.

Assessment: Coursework

Design Futures - 30 credits

This module considers design in its wider setting and highlights future scenarios as a platform to explore creative ideas against future ecological, sustainable and social, technological contexts. The module encourages you to question design in its international and cross-cultural setting to bring external perspectives to discussions and design action.

Assessment: Coursework
If you wish to do so, you can opt to take the Work Placement Year module or Study Abroad Year module which both typically run for a full academic year between years 2 and 3 of your course. You are able to progress onto the relevant module if you have successfully completed the first two years of the course (i.e. having accumulated 240 credits) and provided that you confirm your interest in undertaking this option before the end of your second year, typically in August.
While the Professional Enhancement Year and International Enhancement Year modules you undertake are non-credit bearing but do not incur any additional tuition fees, if successfully completed, these modules will appear on your final academic transcript. In addition, if you complete this year, you will also gain an enhanced degree award title as the additional suffix of "With Professional Enhancement" if you've gone on a work placement and "With International Enhancement" if you've gone on a study abroad programme will be added.
The final year gives you the opportunity to apply the learning and the experiences you have made in the preceding years and to create a body of work that showcases your talent and vision to an external audience. You will work on a self-determined final major project.
Modules
Concept Creation - 50 credits

You will identify a range of potential themes for design innovation which respond to current global challenges or anticipated future trends/contexts. The module will involve students agreeing a brief, conducting an in-depth investigation that explores the identified themes, and then go on to produce initial conceptual designs, one of which may lead to an individual and tutor-negotiated major project in the Design Delivery module.

Assessment: Coursework, presentation

Design Delivery - 60 credits

During this project you will deliver an agreed transportation design project which strongly represents your personal creativity, interests and design ability. In order to do this work you will research, develop and present around a single detailed design theme that integrates the skills and learning acquired throughout the course. The detail design development undertaken in this this module will be supported by relevant research and knowledge into areas of aesthetics, user-factors, operational sense, and functional appreciation that responds to identified aspects of cultural political, environmental, technological, social and/or legislative contexts.

Assessment: Coursework, presentation
We regularly review our course content, to make it relevant and current for the benefit of our students. For these reasons, course modules may be updated.
---
How you'll learn
In a typical teaching week, you will have approximately 13 'contact' hours of teaching. This includes a combination of:
medium group teaching: workshops, seminars and lectures
small group teaching: seminar, critiques and tutorials
studio practice and bookable workshop access
The contact hours may be made up of a combination of face-to-face teaching, individual and group tutorials, and online activities.
The School of Art and Design often provides opportunities to engage in external or collaborative activities such as competition/Industry briefs and speakers beyond your course studies. We strongly encourage you to take advantage of these opportunities to support your learning journey.
As an innovative and enterprising institution, the university may seek to utilise emerging technologies within the student experience. For all courses (whether on-campus, blended, or distance learning), the university may deliver certain contact hours and assessments via online technologies and methods.
---
Assessment
This course will be assessed using a variety of methods which can vary depending upon the module.
The Coventry University Group assessment strategy ensures that our courses are fairly assessed and allows us to monitor student progression towards the achieving the intended learning outcomes.
---
Job ready
On successful completion you will have knowledge of:
the processes and practices that contribute to the successful design of appropriate automotive and/or transport designs, including an awareness of the impact of design decisions on issues of intellectual property, social impact and cultural sensitivities.
key issues in the field automotive and/or transport design, including user needs, relevant technologies, drivers of design and factors affecting compliance and responsibility, environmental, social, cultural and sustainability issues.
On successful completion, you will be able to:
utilise and reflect critically upon the drivers for design; to generate a wide range of ideas, concepts, proposals and solutions or arguments independently and /or collaboratively in response to set briefs or self-initiated activity.
apply creative and logical thinking processes to the business of solving automotive and transport design problems and develop ideas through to material outcomes.
analyse the interrelationships within and between aspects of automotive and transport design.
---
International experience opportunities
We firmly believe that a future design career must fit a global context and we encourage you to engage in an international experience during your study. The course has current direct links with universities in China, India, the USA, and Colombia.
Opportunities occur for all students to participate in international trips and exchanges with partnering universities.
Throughout the course, projects will be set with an international focus, which aims to enhance your global experience and broadening your mindset. You may have opportunities to take part in Coventry Online International Learning (COIL) projects working collaboratively across international boundaries.
---
Entry requirements
Haven't met the entry requirements or don't have the right qualifications? You may still be able to progress onto a degree you'd love by studying a foundation or access course.
View our full list of country specific entry requirements on our Entry requirements page. You can also explore our International foundation year courses.
---
Fees and funding
2022/23 Tuition fees
| Student | Full time | Part time |
| --- | --- | --- |
| UK | £9,250 per year | Not available |
| International | £18,050 per year | Not available |
For advice and guidance on tuition fees and student loans visit our Undergraduate Finance page and see The University's Tuition Fee and Refund Terms and Conditions.
We offer a range of International scholarships to students all over the world. For more information, visit our International Scholarships page.
Tuition fees cover the cost of your teaching, assessments, facilities and support services. There may be additional costs not covered by this fee such as accommodation and living costs, recommended reading books, stationery, printing and re-assessments should you need them. Find out what's included in your tuition costs.
---
Facilities
Extensive facilities include:
State of the art robotic milling, rapid prototyping, desktop CNC milling, 3D printing facilities, paint spraying, scanners, two large block material workshops, large scale painting facilities, styling clay workshops and handwork shops.
Specialist design studios with presentation equipment and ample display and pin-up spaces, break out areas for small group work, wireless internet access in all areas, supported by a dedicated print bureau for 2D outputs up to A0 size and several art supplies shops.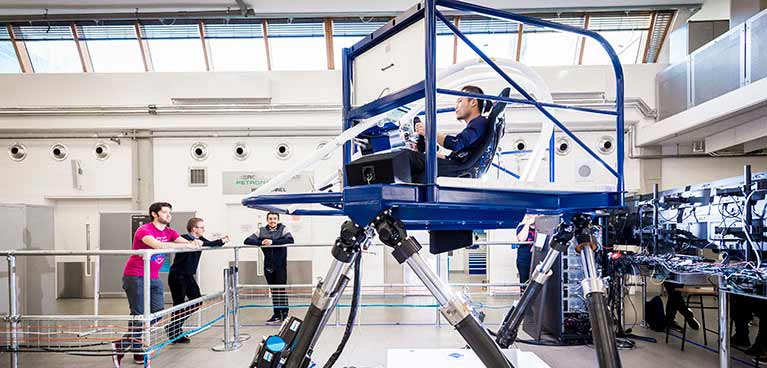 Cruden F1 simulators
Our industry-standard simulators provide a realistic experience of working for a race team in a high-pressure environment. The simulators include the same software and calculations used by professional racing teams.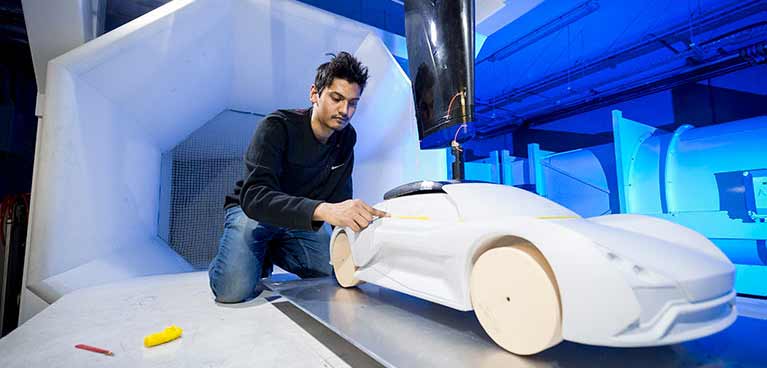 Wind Tunnel
Built and tested by the Mercedes AMG PETRONAS Formula One team, our open jet single return wind tunnel has been designed to accommodate 20 per cent scale open-wheel racing car models, with a maximum air velocity of 45 m/s.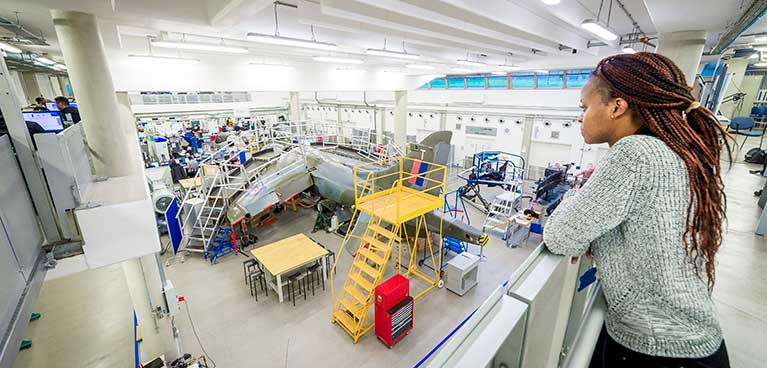 High Performance Engineering Centre (HPEC)
HPEC is home to flight and driving simulators, a chassis design assembly, a vehicle test facility and wind tunnels. It also houses a fleet of CNC manufacturing machines, a full-sized vehicle shaker rig and a composite material laboratory.
---
Careers and opportunities
Professional enhancement is central to our ethos and you will be encouraged to embrace either an industry placement or international study exchange before your final year. Upon successful completion of this course, you should be used to working proactively to generate ideas as an individual or in teams and meeting deadlines.
We will encourage and guide you to enter national and international design competitions, which can enhance your portfolio, expose you to potential employers and increase networking prospects.
Career opportunities in automotive and transport design are vast and varied. You could start your own business, become a design consultant, modeller, illustrator, CAD professional, design manager or marketing professional. Graduates have found opportunities in automotive exterior and interior design, lighting systems design, clay and 'hard' modelling, digital modelling and surfacing, 3D visualisation and animation, colour and materials design, user interface design, lifestyle products and design research.
Where our graduates work
Some of our graduates have gained leading positions in the automotive and transport industry in the UK and all over the world. They are responsible for designing many of the vehicles in circulation today for employers including Aston Martin, Bentley, BMW, Citroen, Ford, GM, Jaguar Land Rover, JCB, Lotus, Mazda, Mercedes Benz, MG-SAIC, Nissan, Porsche, Renault, Rolls Royce, TESLA, Toyota, Qoros, VW and Volvo.
Further study
You can choose to continue your studies at Coventry University with the Automotive Engineering Msc. You may be entitled to an alumni discount on your fees if you decide to extend your time with us by progressing from undergraduate to postgraduate study.
---
How to apply
UK Students

Full-time students applying to start in September should apply for this course through UCAS. Read our application pages to find out your next steps to apply.

Part-time students should apply directly to the university.

---

For further support or more information about your course get in touch with us today.

International Students

Full-time students applying to start in September should apply directly to the university. Read our application pages to find out your next steps to apply.

How to apply

For further support for international applicants applying for an undergraduate degree view our International hub.

You can also download our International guide which contains lots of useful information about our courses, accommodation and tips for travel.

---

Get in touch with us today for further advice and guidance.
Disclaimers

Student Contract

By accepting your offer of a place and enrolling with us, a Student Contract will be formed between you and the university. A copy of the 2021/22 Contract can be found here. The Contract details your rights and the obligations you will be bound by during your time as a student and contains the obligations that the university will owe to you. You should read the Contract before you accept an offer of a place and before you enrol at the university.

Tuition fees

The tuition fee for the course that is stated on the course webpage and in the prospectus for the first year of study will apply. We will review our tuition fees each year. For UK and EU students, if Parliament permit an increase in tuition fees, we may increase fees for each subsequent year of study in line with any such changes. Note that any increase is expected to be in line with inflation. Following the UK's exit from the European Union, EU students should be aware that there may be a change to UK laws following the UK's exit, this may change their student status, their eligibility to study part time, and/or their eligibility for student finance. We will act in accordance with the UK's laws in force in relation to student tuition fees and finance from time to time.

For International students the tuition fee that is stated on the course webpage and in the prospectus for the first year of study will apply. We will review our tuition fees each year. For international students, we may increase fees for each subsequent year of study but such increases will be no more than 5% above inflation.

Accreditations

The majority of our courses have been formally recognised by professional bodies, which means the courses have been reviewed and tested to ensure they reach a set standard. In some instances, studying on an accredited course can give you additional benefits such as exemptions from professional exams (subject to availability, fees may apply). Accreditations, partnerships, exemptions and memberships shall be renewed in accordance with the relevant bodies' standard review process and subject to the university maintaining the same high standards of course delivery.

Facilities

Facilities mentioned on this page may not be relevant for every course. Due to the ongoing restrictions relating to COVID-19, some facilities (including some teaching and learning spaces) and some non-academic offerings (particularly in relation to international experiences), may vary from those advertised and may have reduced availability or restrictions on their use.

Placements and study abroad opportunities

Please note that we are unable to guarantee any placement or study abroad opportunities and that all such opportunities may be subject to additional costs (e.g. travel, visas and accommodation etc.), competitive application, availability and/or meeting any applicable visa requirements. To ensure that you fully understand the requirements in this regard, please contact the International Office for further details if you are an EU or International student.

Additional costs

This course may incur additional costs associated with any field trips, placements or work experience, study abroad opportunities or any other opportunity (whether required or optional), which could include (but is not limited to), equipment, materials, bench fees, studio or facilities hire, travel, accommodation and visas).
---
---