Manufacturing Engineering MEng/BEng (Hons)
Study level:

Undergraduate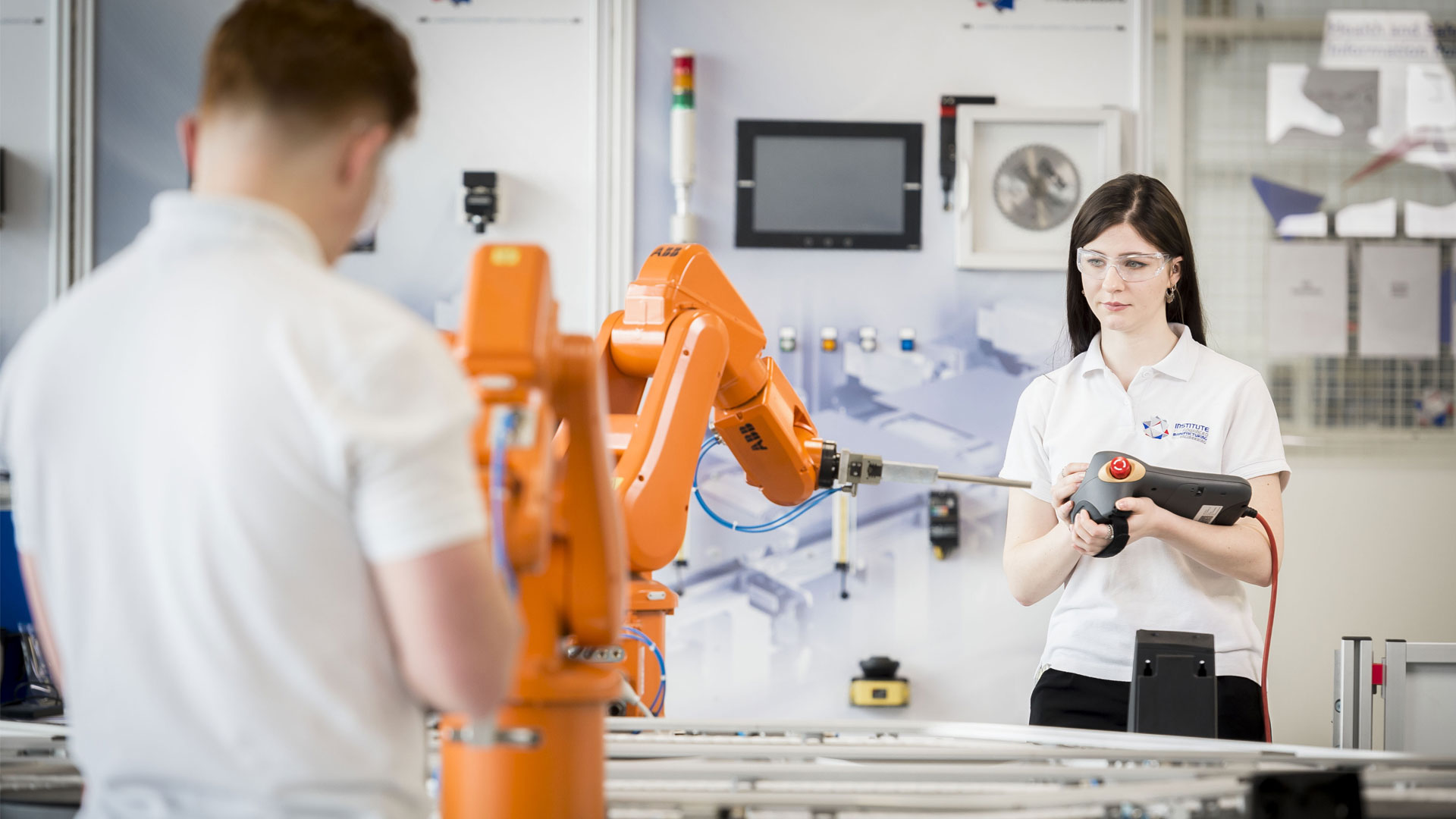 We aim to produce graduates with the versatility and depth of understanding to deal with new and unusual challenges in mechanical engineering, alongside the necessary imagination and creativity to innovate.
Location
Coventry University (Coventry)
Study mode
Full-time
Sandwich
Duration
BEng:3 years full-time4 years sandwich
MEng:4 years full-time5 years sandwich
Start date
September 2023
---
Course overview
Your learning is designed to be grounded in practical real-world application inspired by Unipart's experience.
In 2019, the Manufacturing Engineering degree programme, as part of Coventry University's Institute for Advanced Manufacturing and Engineering (AME), was awarded the Queen's Anniversary prize 2019 for developing industry-ready graduates.
We currently have strong employer links with a range of companies, such as Aston Martin, JLR, Prodrive, MIRA, Triumph Motorcycles, BAE Systems and Rolls Royce.
This degree course also aims to provide you with the opportunity to directly access Unipart's operations, working on some of their 'live' issues in a real-world manufacturing production environment, as well as being able to access the university's modern High Performance Engineering Centre2.
You will have the opportunity to gain industrial experience, apply your knowledge and learning to real 'live' industrial problems in each year of the degree programme2.

Joint Top Modern University for Career Prospects
Guardian University Guide 2021 and 2022

5 QS Stars for Teaching and Facilities
QS Stars University Ratings

Top 5 UK Student City (Coventry)
QS Best Student Cities Index 2023
Why you should study this course
Opportunity to participate in field trips abroad, which have previously included trips to Poland, Bulgaria, China, Belgium and USA2.
Access to industry-standard software, such as Computer Aided Design (CAD), Finite Element Analysis (FAE) and Computer Fluid Dynamics (CFD) mathematic modelling software4.
A dedicated industrial placement tutor will aim to help you with your applications for placements and support you if you choose to spend a year in industry (subject to availability)2. Past placements have included roles in Aston Martin Lagonda, Unipart, Babcock International Group, Cummins, GE-Aviation and GKN.
Access to extensive modern facilities in our High-Performance Engineering Centre, which houses a 20% scale model wind tunnel, composites lab, metrology lab, four-post shaker rig, flow lab, AVL engine test cell, automotive workshop, fatigue and tensile testing (Instron), a full-size Harrier Jet, three further simulators, civil engineering specialist testing equipment, a range of Computerised Numeric Control (CNC) machinery and a laser workshop4.
The 'Faculty on the Factory Floor' initiative should enable you to learn about and experience the latest technology on the manufacturing front line, which includes state-of-the-art robotic automation, forming, joining, analysis and simulation, metrology and product verification technology4.
Accreditation and professional recognition
The degree is accredited1 and recognised by the following bodies:

The Institution of Engineering and Technology (IET)
Manufacturing Engineering MEng is accredited by the Institution of Engineering and Technology (IET) for 2023-24 entry on behalf of the Engineering Council for the purposes of fully meeting the academic requirement for registration as a Chartered Engineer.
Manufacturing Engineering BEng (Hons) is accredited by the Institution of Engineering and Technology (IET) for 2023-24 entry on behalf of the Engineering Council for the purposes of partly meeting the academic requirement for registration as a Chartered Engineer.
---
---
What you'll study
Our main study themes are:
Science and Technology: the course aims to provide essential underpinning science and technology necessary for today's engineer.
Design and Manufacture: the innovative resolution of design and manufacture problems focused on commercially viable solutions.
Manufacturing Analysis: on successful completion you should have learnt to use industry-standard software to model, analyse and validate process and systems.
Sustainability: the course aims to give an understanding of the need for ethical approaches in manufacturing industries and protecting the environment with respect to manufacturing engineering processes and management.
Practical: opportunities to investigate and analyse using laboratory, workshop and computer-based techniques. You will also have the chance to apply your learning to real, 'live' industrial projects throughout the Manufacturing Engineering degree course as part of the 'Faculty on the Factory Floor' initiative, a remit of the Institute for Advanced Manufacturing and Engineering.
In the first year, the curriculum allows you to gain a broad grounding in the discipline where you will develop knowledge and skills to do with quality and metrology, manufacturing and electrical science, engineering materials and manufacturing technology, among others.
Modules
Engineering Materials and Manufacturing Technology – 20 credits

This module is designed to introduce engineering materials and manufacturing processes. Common processes will be analysed which are used to convert metallic and polymeric materials into all types of engineering products from a variety of industrial sectors, for example aerospace, automotive and general engineering. It examines the principles of manufacturing processes and relates them to the material's response to primary shaping methods and secondary processes.

Mechanical Science and Mathematics – 20 credits

This module aims to provide the essential and fundamental knowledge of mechanical science and mathematical methods needed by manufacturing engineering students. The science includes the laws and theory underpinning solid mechanics and thermal analysis relevant to manufacturing. You should learn how to analyse problems using mathematical formulations and to solve these using mathematical tools and techniques.

Part-assembly Manufacturing Project – 20 credits

The aim of this module is to work in small groups to design and evaluate the production process for the manufacture of a part or assembly. Within the project, an analysis of the part from an engineering science and materials perspective will be required to determine any impact on manufacturing processes, for example cost and reliability. The project team will need to ensure effective project management, including managing project risks as well as ensuring Health, Safety and Environmental risks are properly assessed. Then, a suitable manufacturing process and sequence will be designed and a full set of manufacturing documentation.

Quality and Metrology – 20 credits

This module aims to develop an appreciation for the importance of technical quality and metrology and how this is influenced by appropriate management systems. Its goal is to develop your understanding of inspection and metrology principles and their practical applications. It will also establish the use of standards, through the SI unit system and relevant accredited bodies, that provide traceability.

Manufacturing Electrical Science – 20 credits

The module aims to provide a broad, basic introduction to electrical science for manufacturing engineers. It covers the essential techniques of electrical circuit analysis and electromagnetic machines. Common devices employed in manufacturing applications feature. Relevant mathematical techniques are introduced alongside the science.

Quality and Metrology Part-Assembly Extension Project – 20 credits

The aim of this module is to build upon the Part-assembly Manufacturing Project through a project of expanded scope to include Quality and Metrology. You will design an appropriate manufacturing layout and sequence for the chosen component part ensuring an efficient design. A clear measurement and metrology plan will have to be created and relevant measurements conducted to support any recommendations.
In year two, you will develop more advanced knowledge and skills to do with: automation and robotics, design and computer-assisted manufacturing, and design principles for manufacturing, amongst others.
Modules
Engineering Materials and Manufacturing Technology – 20 credits

This module is designed to build and deepen your understanding of the design and behaviour of engineering materials and their interaction and application in the design, manufacture and service of advanced engineering components.

Automation and Robotics – 20 credits

The aim of this module is to introduce automation and robotics and to evaluate the roles that these technologies have within modern manufacturing environments. You will examine underpinning mathematical principles that support automation and robotics as well as basic control principles. Technology crucial to automation and robotics will be examined, for example transfer mechanisms, sensor and instrumentation. The manufacturing and business justification for automation and robotics will be detailed and evaluated. Finally, an appreciation for robots and robot cells will be examined, including programming.

Automated Manufacturing Project – 20 credits

The aim of this module is to build upon the knowledge and skills acquired in Quality and Metrology Part-Assembly Extension Project and integrate the aspects of advanced materials and processes along with automation and robotics. You will critique a manufacturing system for one or more products, particularly around the choice of manufacturing processes and equipment.

Computer Aided Manufacturing – 20 credits

The aim of this module is to introduce industry-standard design and manufacture software and the associated hardware used in producing engineering components. Specifically, you will be required to understand the requirements for a simple component, produce an appropriate design and translate this into a full 3D Engineering model.

Sustainability and the Product Lifecycle – 20 credits

The aim of this module is to evaluate the engineering and management implications of a product portfolio at various stages within the product life cycle. Within the module, you will examine the concept of product lifecycle and its interrelationship with a product portfolio and how this impacts on the various internal and external functions and partners of a manufacturing organisation. Consideration of the complex socio-technical system will be examined as well as the product-service paradigm and its implications on sustainable operations and development worldwide.

Design Principles for Manufacturing – 20 credits

The aim of this module is to introduce the range of tools and techniques that are currently used in order to support innovation in engineering design. You will have the opportunity to explore the integration of these tools and techniques within the product design process. You will undertake a project to go through key aspects of the design process from an initial brief to deliver a viable solution and present their findings accordingly to following industry standard practices.
There's no better way to find out what you love doing than trying it out for yourself, which is why a work placement2 can often be beneficial. Work placements usually occur between your second and final year of study. They're a great way to help you explore your potential career path and gain valuable work experience, whilst developing transferable skills for the future.
If you choose to do a work placement year, you will pay a reduced tuition fee3 of £1,250. For more information, please go to the fees and funding section. During this time, you will receive guidance from your employer or partner institution, along with your assigned academic mentor who will ensure you have the support you need to complete your placement.
Modules
UK work placement – 0 credits

This module2 provides you with an opportunity to reflect upon and gain experience for an approved placement undertaken during your programme. A placement should usually be at least 26 weeks or equivalent; however, each placement will be considered on its own merits, having regard to the ability to achieve the learning outcomes.

International study/work placement – 0 credits

This module2 provides you with an opportunity to reflect upon and gain experience for an approved international study/work placement undertaken during your programme. A work/study placement should usually be at least 26 weeks or equivalent; however, each placement will be considered on its own merits, having regard to the ability to achieve the learning outcomes.
In year three, you will develop more advanced knowledge and skills to do with: supply chains and logistics, lean systems and production control, and engineering materials and manufacturing technology, amongst others.
Modules
Lean Systems and Production Control – 20 credits

The aim of this module is to provide you with the ability to plan and control a competitive manufacturing system. The application of lean techniques into industry over the past years has demonstrated that the removal of waste combined with the focus on customer requirements and value-added tasks can reap great benefits. The module aims to develop the skills and techniques required to design improved methods and layouts for a manufacturing system.

Advanced Manufacturing Systems Project – 20 credits

The aim of this module is to build on the integrated knowledge of the previous two years of study whilst employing the knowledge around the advanced concepts of lean as well as production control. You will design a manufacturing system and supporting production control methods in response to diverse and dynamic customer demand profiles. You will work in groups, although you will have individual responsibility for particular tasks that, when integrated together, will allow the team to succeed.

Individual Manufacturing Engineering Project Proposal and Professional Engineering – 20 credits

This module aims to equip you with the generic skills and knowledge to enable you to contribute effectively in your professional career. You should gain an understanding of how to plan and produce personal development documentation and resources as well as produce a proposal for your final year dissertation as a means to enhance your future employability.

Strategic Analysis and Supply Chain Management in Manufacturing – 20 credits

In this module you will examine international benchmarks for operational and manufacturing excellence, considering the motivation and need for new product developments. Examination of the resource implications and justification will be calculated and optimised. Company-wide change management will be examined including how training, reward and incentive schemes as well as effective management and leadership support strategy implementation.

New Product Development Project – 20 credits

This module is concerned with the introduction of a new product or a variant of an existing one into an existing manufacturing environment. You will further develop the project management and team-working skills instilled earlier in the course to manage the introduction of a product from concept design into the manufacturing arena including consideration of sustainability factors. Wherever possible, products will be specified in conjunction with industry.

Individual Manufacturing Engineering Project – 20 credits

The aim of this module is to demonstrate your ability to implement a research proposal. The research must address a key question or aim and evaluate the results gathered and the degree to which the research question has been answered. Due consideration to limitations and recommendations for future work will be required.
If you meet the criteria, you could choose to take an additional fourth-year master's option, which will deepen your knowledge and expertise.
Modules
Industrial Group Project Initiation – 20 credits

The MEng Group project enables you to engage in a 'real world' industrial problem. Working as part of a team, you will liaise with an industrial client to understand a problem and review and identify where the latest manufacturing concepts and technology can be applied to formulate a solution.

The aim of this module is to provide the project initiation, planning and problem definition phase for you to undertake a substantial Group Project. Successful completion of the module will require methodical planning, record keeping and self-management, effective communication and delivery of report.

Industrial Group Project – 20 credits

This module will enable you, working in a group and in conjunction with industry, to solve 'real world' industrial problems and demonstrate a variety of manufacturing engineering skills. Examples may include successful software applications, system processes, components or product designs. You will incorporate where necessary the most advanced technical and mathematical concepts from both their past knowledge and that acquired during the course. You will develop a professional working relationship with a client and deliver a solution to the industry standard.

Advanced Manufacturing Simulation – 20 credits

This module focuses on computer-based manufacturing simulation, where the model is implemented as part of a computer program, which can then be executed to compute and record the data which describes the simulated manufacturing system's behaviour. You should learn to identify the components and characteristics of manufacturing systems, develop computer-based models to simulate manufacturing systems, analyse performance of manufacturing systems, and apply the modelling techniques on decision making regarding manufacturing systems. You will use specialist software and develop the understanding needed to transfer that knowledge to other software, models, and contexts.

Business Innovation and Sustainability – 20 credits

This module is designed to provide you with the ability to develop and implement business innovation practices within the appropriate frameworks to comply with current and future requirements for sustainability. You will be introduced to and develop a firm understanding of the theory, practices and importance of innovation in business organisations. Aspects of sustainability factors (economic, social, environment) sustainable operations and sustainability challenges will be studied.

Future and Advanced Materials and Technologies (MEng) – 20 credits

The aim of this module is to investigate the use of leading-edge technologies, methods and materials currently used in advanced and high value manufacturing environments. You will learn to critically assess these advanced manufacturing areas in terms of cost, complexity of manufacture and end-of-life consequences (for example remanufacture and recycling). You will also be expected to evaluate future manufacturing concepts (for example 'factory of the future', hybrid processes, smart materials, autonomous decision making) and the development of future-looking strategies, formal investigation processes and techniques for analysing and assessing the feasibility of emerging technologies and materials for manufacture. This module is designed to equip you not only with a strong knowledge and appreciation of advanced manufacturing but also to help develop the appropriate skills to identify and critically evaluate future trends and requirements.

Vision Systems and Sensors in Industry – 20 credits

This module will focus on image processing techniques leading to two-dimensional (2D) machine vision techniques and methodologies for object detection, pose estimation, inspection and measurement. This will be followed by an overview of a range of three-dimensional (3D) machine vision systems that can be employed in industry.
We regularly review our course content, to make it relevant and current for the benefit of our students. For these reasons, course modules may be updated.
---
Our courses are based on a series of lectures, with tutorial sessions, associated practice, laboratory exercises and workshop exercises at both Unipart and the university.
These exercises aim to provide practical, hands-on project work, designed to help solve 'real-life' manufacturing issues at Unipart's manufacturing facility. Previously, past students have optimised product lines and made them more efficient, for example, or analysed defects to find the root cause and proposed cost-effective ways of avoiding defective components.
---
Teaching contact hours
We understand that everyone learns differently, so each of our courses will consist of structured teaching sessions, which can include:
On campus lectures, seminars and workshops
Group work
Self-directed learning
Work placement opportunities2.
If you would like more information, you can request information about teaching hours.
The number of contact hours may vary from semester to semester, however, on average, studying the 3-year Manufacturing Engineering BEng degree programme and for the first 3 years of the Manufacturing Engineering MEng degree programme, it is likely to be around 23 contact hours per week in the first year, around 20 contact hours in the second year, and around 19 hours in the final (third for MEng) year.
In the fourth year of the Manufacturing Engineering MEng degree programme, you will have around 15 contact hours per week, as you should become a more independent learner.
In addition, you will be expected to undertake significant self-directed study, approximately 16-20 hours each week, depending on the demands of individual modules.
As an innovative and enterprising institution, the university may seek to utilise emerging technologies within the student experience. For all courses (whether on-campus, blended, or distance learning), the university may deliver certain contact hours and assessments via online technologies and methods.
In response to the COVID-19 pandemic, we are prepared for courses due to start in or after the 2023/2024 academic year to be delivered in a variety of forms. The form of delivery will be determined in accordance with Government and Public Health guidance. Whether on campus or online, our key priority is staff and student safety.
---
Assessment
This course will be assessed using a variety of methods which will vary depending upon the module.
Assessment methods include:
Formal examinations
Phase tests
Essays
Group work
Presentations
Reports
Projects
Coursework
Exams
Individual assignments
Laboratories
Posters
The Coventry University Group assessment strategy ensures that our courses are fairly assessed and allows us to monitor student progression towards achieving the intended learning outcomes.
---
International experience opportunities
The university is committed to providing a global educational experience and we aim to provide opportunities to participate in several collaborative projects2. Past first-year students visited the Warsaw University of Technology in Poland to undertake workshop and computer aided manufacturing skills in an overseas environment. Other past students have taken part in a collaborative project, developing universal healthcare solutions working with the university's Occupational Therapy students alongside six other institutions from around Europe, participating in international innovation and creativity programmes in Ruse, Bulgaria and Hasselt, Belgium.
We organise a range of overseas field trips, which have previously included: test work at the General Motors (GM) proving ground; a tour of the Ford F150 factory in Detroit, USA; a tour of Hirata, a Japanese Tier 1 automotive supplier for Ford, Chrysler and GM; participation on a certificated training course with Altair on Inspire; and visits to Mahle Powertrain, the University of Michigan and Chrysler Building2.
---
Entry requirements
Typical offer for 2023/24 entry.
---
Fees and funding
2023/24 tuition fees.
Student
Full-time
Part-time
UK, Ireland*, Channel Islands or Isle of Man
£9,250 per year
Not available
EU
£9,250 per year with EU support bursary**
£19,850 per year without EU support bursary**
Not available
International
£19,850 per year
Not available
If you choose to do a work placement2, you should consider travel and living costs to cover this. There is also a tuition fee3 of £1,250 that will cover your academic support throughout your placement year.
For advice and guidance on tuition fees and student loans visit our Undergraduate Finance page and see The University's Tuition Fee and Refund Terms and Conditions.
We offer a range of International scholarships to students all over the world. For more information, visit our International Scholarships page.
Tuition fees cover the cost of your teaching, assessments, facilities and support services. There may be additional costs not covered by this fee such as accommodation and living costs, recommended reading books, stationery, printing and re-assessments should you need them. Find out what's included in your tuition costs.
The following are additional costs not included in the tuition fees:
Any optional overseas field trips or visits: £400+ per trip.
Any costs associated with securing, attending or completing a placement (whether in the UK or abroad).
Travel costs to the Unipart site.
*Irish student fees
The rights of Irish residents to study in the UK are preserved under the Common Travel Area arrangement. If you are an Irish student and meet the residency criteria, you can study in England, pay the same level of tuition fees as English students and utilise the Tuition Fee Loan.
**EU support bursary
Following the UK's exit from the European Union, we are offering financial support to all eligible EU students who wish to study an undergraduate or a postgraduate degree with us full-time. This bursary will be used to offset the cost of your tuition fees to bring them in-line with that of UK students. Students studying a Degree with a Foundation Year with us are not eligible for the bursary.
How do you know if you need to pay UK or international tuition fees?

We carry out an initial fee status assessment based on the information you provide in your application. Your fee status determines your tuition fees, and what financial support and scholarships may be available to you. The rules about who pays UK (home) or international (overseas) fees for higher education courses in England are set by the government's Department for Education. The regulations identify all the different categories of student who can insist on paying the home rate. The regulations can be difficult to understand, so the UK Council for International Student Affairs (UKCISA) has provided fee status guidance to help you identify whether you are eligible to pay the home or overseas rate.

If you meet all the criteria required by any one category, including any residence requirements, your institution must charge you the home rate. You only need to find one category that you fit into.
---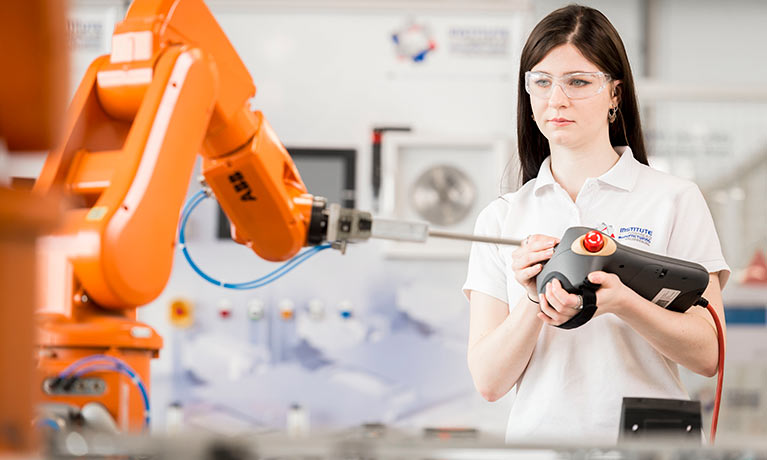 Faculty on the factory floor
AME brings together academia, industry, and research and development in a 'live' manufacturing environment. Our collaboraton with Unipart gives you the opportunity to work with some of the most talented engineering professionals in the UK.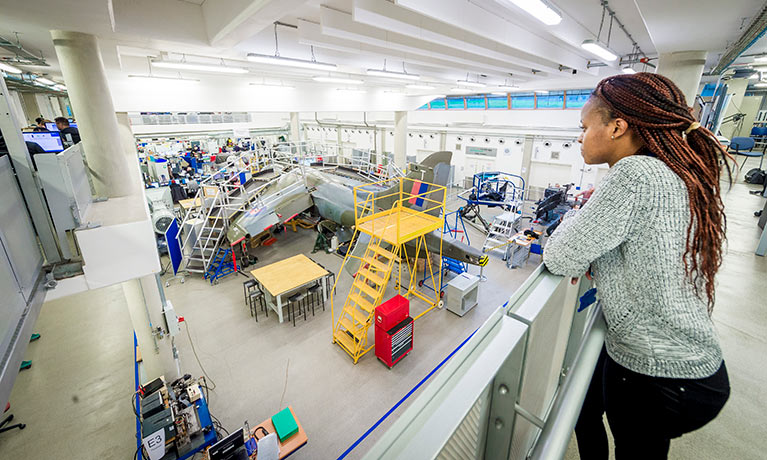 High Performance Engineering Centre (HPEC)
Situated on the ground floor of our Engineering and Computing Building, the centre houses flight and driving simulators, a chassis design assembly and test facility, wind tunnels and a fleet of CNC manufacturing machines.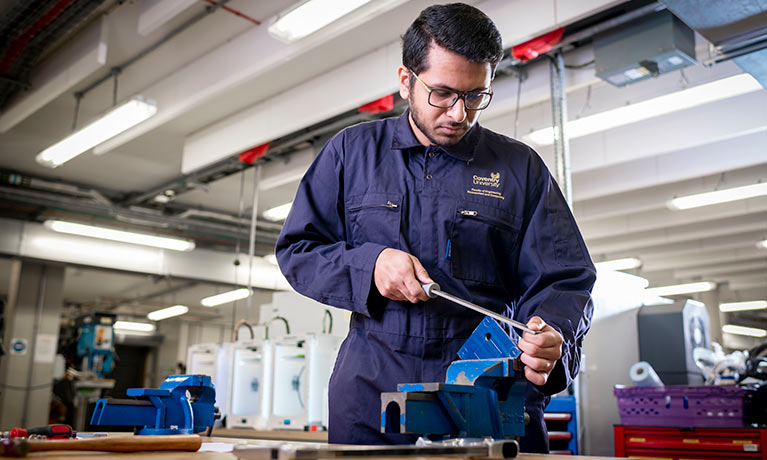 Metals Workshop
Participate in technical work in a hands-on way. The workshop includes lathes, milling machines, fabrication equipment for sheet metal work, CNC machines, work benches, welding lines and a fitting assembly area.

---
Careers and opportunities
Our current collaboration with the Unipart Manufacturing Group aims to ensure this course is highly vocational in nature, designed to produce 'industry ready' graduates, who, on successful completion of this course, are prepared for any role they obtain in industry.
Upon successful completion of the course, you will have gained knowledge of:
The function, materials, manufacturing processes, technologies and assembly of a range of engineering products.
The principles of engineering science and mathematics and their application to design, production, use and service of a range of manufactured products.
Design principles for products and systems that meet technological and business market requirements and constraints.
Operations management, product planning/control methods and quality techniques at different levels of factory and supply chain hierarchy.
Sustainable engineering, business and knowledge management practices within a global context.
Engineering management of people, processes and projects (at tactical and strategic levels).
You will be able to:
Model and analyse innovative engineering systems using appropriate engineering science and mathematical modelling techniques, including computer-based techniques.
Synthesise solutions to iterative and innovative engineering design problems.
Independently research topics, evaluating findings to determine new or novel information that contributes effectively to solving engineering problems.
Justify engineering and commercial decisions for product or operational choices within complex engineering systems across the product lifecycle.
Operate effectively and safely a range of manufacturing related technologies or projects within an industrial context.
Use commercial software in the evaluation of problems and in the determination and optimisation of solutions.
Work effectively and constructively within project teams.
Research and investigate problems individually, generating and justifying approach, analysis, solution and final recommendation to a practical engineering problem.
We aim for you to graduate with comprehensive knowledge of a range of manufacturing principles, having the opportunity to learn the skills needed to apply new technologies to the solution of manufacturing problems in an industry environment.
Coventry University is committed to preparing you for your future career and giving you a competitive edge in the graduate job market. The university's Talent Team provide a wide range of support services to help you plan and prepare for your career.
Where our graduates work
Lotus Cars, Mercedes F1, Aston Martin, BAE, Meggit, Arrrowsmith, Rolls Royce Aero, Quest, Unipart Group to name a few.
---
How to apply
UK students

Full-time students applying to start in September 2023 can apply for this course through UCAS from 6 September 2022. Read our application pages to find out your next steps to apply.

Part-time students should apply directly to the university.

---

If you'd like further support or more information about your course get in touch with us today.

International students

International codes:
BEng: EECU173
MEng: EECU174

Full-time students applying to start in September 2023 should apply directly to the university.

How to apply

For further support for international applicants applying for an undergraduate degree view our International hub.

You can also download our International guide which contains lots of useful information about our courses, accommodation and tips for travel.

---

Get in touch with us today for further advice and guidance.
Disclaimers

Coventry University together with Coventry University London Campus, CU Coventry, CU London, CU Scarborough and Coventry University Online come together to form part of the Coventry University Group (the "University") with all degrees awarded by Coventry University.

1Accreditations

The majority of our courses have been formally recognised by professional bodies, which means the courses have been reviewed and tested to ensure they reach a set standard. In some instances, studying on an accredited course can give you additional benefits such as exemptions from professional exams (subject to availability, fees may apply). Accreditations, partnerships, exemptions and memberships shall be renewed in accordance with the relevant bodies' standard review process and subject to the university maintaining the same high standards of course delivery.

2UK and international opportunities

Please note that we are unable to guarantee any UK or International opportunities (whether required or optional) such as internships, work experience, field trips, conferences, placements or study abroad opportunities and that all such opportunities may be subject to additional costs (which could include, but is not limited to, equipment, materials, bench fees, studio or facilities hire, travel, accommodation and visas), competitive application, availability and/or meeting any applicable travel COVID and visa requirements. To ensure that you fully understand the visa requirements, please contact the International Office.

3Tuition fees

The University will charge the tuition fees that are stated in the above table for the first Academic Year of study. The University will review tuition fees each year. For UK (home) students, if Parliament permit an increase in tuition fees, the University may increase fees for each subsequent year of study in line with any such changes. Note that any increase is expected to be in line with inflation.

For International Students, we may increase fees each year but such increases will be no more than 5% above inflation. If you defer your course start date or have to extend your studies beyond the normal duration of the course (e.g. to repeat a year or resit examinations) the University reserves the right to charge you fees at a higher rate and/or in accordance with any legislative changes during the additional period of study.

4Facilities

Due to COVID-19, some facilities (including some teaching and learning spaces) and some non-academic offerings (particularly in relation to international experiences), may vary from those advertised and may have reduced availability or restrictions on their use.

Student Contract

By accepting your offer of a place and enrolling with us, a Student Contract will be formed between you and the university. A copy of the 2023/24 contract can be found here. The Contract details your rights and the obligations you will be bound by during your time as a student and contains the obligations that the university will owe to you. You should read the Contract before you accept an offer of a place and before you enrol at the university.
---
---