Clearing 2019
Clearing places available on this course
We have limited places available on this course through Clearing.
---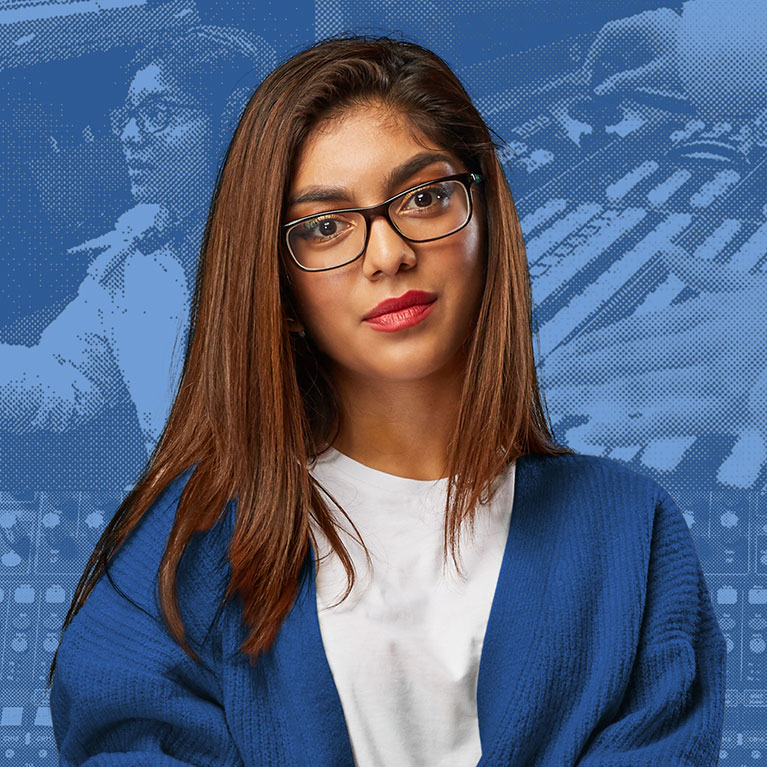 Rise above
As some of my lecturers still work in industry, they understand how the sector is constantly improving and evolving which I find very inspirational.
Unjali, Media Production BA (Hons)
Course code:
Study options:
3 years full-time
4 years sandwich
Location:
Starting:
September 2019
January 2020
Fees:
Faculty:
---
Get in touch
For questions regarding study and admissions please contact us:
We cover the most broad spectrum of transport design examining issues of autonomy, sustainability, ergonomics and the user experience in relation to exterior and interior design, surface and colour applications, lifestyle and future design solutions.
An award-winning course with a long history of achievement, we can offer you access to state-of-the-art facilities, including wind tunnel, robotic milling, laser cutting, rapid prototyping, 3D printing and excellent clay modelling facilities.
Why Coventry University?
An award-winning university, we are committed to providing our students with the best possible experience. We continue to invest in both our facilities and our innovative approach to education. Our students benefit from industry-relevant teaching, and resources and support designed to help them succeed. These range from our modern library and computing facilities to dedicated careers advice and our impressive Students' Union activities.
Global ready
An international outlook, with global opportunities
Employability
Career-ready graduates, with the skills to succeed
Teaching Excellence
Taught by lecturers who are experts in their field
Course essentials
A degree which offers you more, at no extra cost
What our students say...
I really enjoy being surrounded by peers with a common interest and I'm relishing the opportunity to learn from tutors with industry experience. I feel like by the end i will have the tools to be successful wherever I go.
This course aims to develop your understanding of the latest developments, drivers and practices of the automotive, transport and mobility designer beyond merely illustration and styling. You will have the opportunity to learn to create innovative product design solutions in a range of styles and media, which factor in purpose, usability, materials, ecology, desirability, technological feasibility and professional constraints.
You will progress from a general foundation in practical and theoretical automotive and transport design capabilities to more specialist knowledge, culminating with your final project. We focus on both digital and physical 3D modelling, providing you with deeper understanding of digital tools and visualisation techniques. Emphasis is also placed on the development of interpersonal skills to better prepare you to work in teams, as a collaborator, conciliator or leader with patrons, makers, users and specialist interest groups.
86%
of our BA students agree that staff are good at explaining things
NSS, 2016
Modules
Overview
Year One is about learning core skills and gradually applying them to increasingly ambitious projects. We aim to develop your 2D skills and apply them to three-dimensional designs solutions. You will have the opportunity to work in groups to develop dialogue and criticism around form based solutioning. Teaching and learning will be supported by a curriculum that covers all areas of design, practical and theoretical, historical and forward looking.
Modules
Form Design and Visual Communication

Design Studio Methods and the Industries

Design Context

Design, Function and Users
Add+vantage
The focus on preparing students for successful futures sets Coventry apart as a university.
The Add+vantage modules teach a range of work experience and extra-curricular activities that are taken each year, and broaden students knowledge and skills within a work focused environment. There is a very wide range of Add+vantage free-choice subject areas, and they are arranged in themes.
Overview
Year Two is focused on developing as aspiring designers and creating a professional profile that relates to your career aspirations. You will be working on projects, most of them set and supported by industry partners.
Modules
Design Innovation

Design Application

Design and the Professions

Design Futures
Add+vantage
The focus on preparing students for successful futures sets Coventry apart as a university.
The Add+vantage modules teach a range of work experience and extra-curricular activities that are taken each year, and broaden students knowledge and skills within a work focused environment. There is a very wide range of Add+vantage free-choice subject areas, and they are arranged in themes.
Overview
The enhancement year gives you the opportunity to engage with international and professional exchange or internship partners and to gain valuable experience that will support your development in your chosen career path, and as graduates.
Modules
International Enhancement Year

Professional Enhancement Year
Overview
The final year gives you the opportunity to apply the learning and the experiences you have made in the preceding years and to create a body of work that showcases your talent and vision to an external audience. You will work on a self-determined final major project.
Modules
Concept Creation

Design Delivery
Add+vantage
The focus on preparing students for successful futures sets Coventry apart as a university.
The Add+vantage modules teach a range of work experience and extra-curricular activities that are taken each year, and broaden students knowledge and skills within a work focused environment. There is a very wide range of Add+vantage free-choice subject areas, and they are arranged in themes.
We regularly review our course content, to make it relevant and current for the benefit of our students. For these reasons, course modules may be updated.
8th
Our Design and Crafts courses are ranked 8th by Guardian University Guide 2019
This exciting course is designed to provide you the opportunity to develop the skills and expertise to produce innovative and visionary designs for every form of transport imaginable. This includes cars, motorbikes, boats, luxury yachts, construction vehicles and vehicle interiors, as well as emerging areas such as electric vehicles and personal mobility devices.
Our excellent industry links, with diverse employers such as Jaguar Land Rover, Herman Miller, Lotus, Dyson, Aston Martin, Speedo, Ford and Electrolux, for example, provide opportunities for 'live' collaborative projects, work placements, industry visits, design competitions and expert advice through regular guest lectures. You can start building your contacts and gain the networking experience to establish yourself as a design professional long before you graduate.
Coventry University has gained an international reputation for automotive research and teaching covering design, engineering, business and media. A former winner of 'Best Design School' in the World Automotive Design competition, we have hosted major symposiums on the future of transport design, including RINA conferences and the ITS-UK Automotive User Interest Group.
You will be taught by specialists in automotive, transport and broader industrial design with expertise in concept, modelling, interior, exterior and design-led development of low carbon vehicles. Their extensive professional experience includes working for well-known companies like General Motors, Daihatsu, Nissan, Ford and JLR.
The course is informed by and reflects the changing nature of the issues that drive automotive and transport design. Sustainability, social impact of designs, internationalisation, global branding and design in context are changing people's perceptions about diversity in transportation. Such 'drivers of design' are embedded within coursework and we regularly review our curriculum in response to feedback from our many industry connections.
We deliberately strike a balance between traditional hand-processes and emerging technologies. You'll have the opportunity to participate in workshops for physical and digital model making, whilst having the opportunity to access state-of-the-art milling, rapid prototyping and 3D printing.
Coventry University has been awarded the prestigious 'Gold Award' in the 2017 Teaching Excellence Framework (TEF).
90% of students within 'Design Studies' subjects are satisfied with the quality of teaching in the National Student Survey (NSS) 2016.
Links with universities in Europe, Asia, China, North and South America provide opportunities to study abroad and gain an international perspective.
Strong track record for graduate employment – 90% of our graduates go on to work or study within six months of finishing the course, with 90% of those employed in a professional or managerial job (DLHE 2014/15).
Extensive facilities include: state of the art laser cutting, rapid prototyping, desktop CNC milling, 3D printing facilities, paint spraying, scanners, two large block material workshops, large scale painting facilities, styling clay workshops and handwork shops.
Specialist design studios with presentation equipment and ample display and pin-up spaces, break out areas for small group work, wireless internet access in all areas, supported by a dedicated print bureau for 2D outputs up to A0 size and several art supplies shops.
The regular speaker programme makes use of our extensive links with specialists and current practitioners – with presentations from industrial leaders of various disciplines covering design and other areas relevant to our students development and understanding of professional activities.
Past graduates include Christopher Svensson, Design Director - The Americas at Ford Motor Company; William Thorogood - Senior Creative Director at LEGO System A/S; Mark Fetherston, lead designer for Mercedes-Benz; Matt Weaver, Design Director of Infiniti Europe; and leading F1 aerodynamicist John Iley.
Computing suites offer current modelling, animation and analysis software, as well as graphic, modelling and visualisation packages, including Alias, Maya, Adobe Creative Suite, Rhino, Vector works, Showcase, VRED and SRAMSIS and Jack ergonomics software. Our frequently updated software packages are compatible with those currently being used in industry.
Automotive and transport design: Develops your ability to comprehend, evaluate and practise the specialist skills in the subject areas of automotive, transport, bike, boat and vehicle design. We focus on the specific skills and sensitivities required, including the implementation of relevant specialist technologies, human factors, brand identity, sustainability, shape, form, proportion, balance, line and colour. You will engage on projects using universal design processes as practised throughout the international design community. Each project will be initiated with a different 'driver of design' chosen to mirror the whole spectrum of design issues, concerns, opportunities and constraints.


Vehicle architecture, materials and manufacturing: Provides you with the knowledge and understanding necessary to perform critical analysis when developing and implementing new designs. We consider the nature and purpose of key architectural components of a vehicle, such as their function, size and location, as well as their interrelationships. You will analyse the materials and manufacturing processes of the key architectural components in the context of manufacturing volumes, current market trends and legislation. This will involve Life Cycle Assessment (LCA), which is key for future vehicle technology and fuel comparisons, as well as Design for Disassembly (DfD) principles in compliance with Directive on End-of Life Vehicle 2000/53/EC, the first EU waste directive to introduce the concept of Extended Producer Responsibility.


Automotive and transport model making: You will be introduced to 3D sketch modelling using a mixture of materials and techniques as an integral part of the design process. Models may be used to establish the geometry, dimensional parameters and arrangement of parts within a designed object or for the purposes of evaluating functional and/or ergonomic properties. You will have the opportunity to learn to conduct an appropriate appraisal of spatiality, surfacing quality and surface connections and their representation. Free-form design work in 3D will be done using styling clay and virtually using surface modelling software. We will also cover the techniques required for preparing digital model files for physical output through additive (3D printing) and subtractive (milling) methods.


Transport ergonomics: To help develop your understanding of designing for a range of human requirements, you will be introduced to the complex interactions between the mechanical and electronic components which compete for space within all vehicles and their occupants. We consider geometric positioning and fit and physical and cognitive interaction between users and the components and systems of the vehicle. We consider the constraints generated by safety, construction and legislation and the opportunities afforded by emerging HMI (Human Machine Interface) technologies and road vehicle automation/collision avoidance technology.


Marketing, branding and design research: You will have the opportunity to gain an understanding of how the marketing of a product is influential to its acceptance and success and how branding, and the brand value of a vehicle, product or organisation, can be applied directly at the start of a design exercise. You will be introduced to the idea of a design brief and the basic tools of design research, including market trends, benchmarking and positioning diagrams. You will have the opportunity to learn how to undertake user research to inform design decisions, which meet the needs of the vehicle's intended active users, passive occupants and other road/rail/waterway/airspace users.
Design learning is diverse and exploratory but also integrative. At the heart of learning is a core design process which the course is aligned to (the 'Design Studio Methodology'). Instead of building on skills with individual focus the curriculum is presented as a journey of building skills through connected practice.
To implement a 'Design Studio Methodology' projects are used to 'glue' together the different phases, skills and activities around challenges that have a sense of reality e.g. industry linked or inspired. The projects move by Year 2 to being outward facing where portfolio, placement, or employability become the focus. Teaching will be adapted to the needs of the taught material and the ideal group size. We use lectures, group tutorials, one-to-one tutorials, demonstrations, studio based support, self-guided study and online learning tools.
This course will be assessed using a variety of methods which will could vary depending upon the module.
The Coventry University Group assessment strategy ensures that our courses are fairly assessed and allows us to monitor student progression towards the achieving the intended learning outcomes. Assessments may include exams, individual assignments or group work elements.
On successful completion, you should have knowledge of:
The processes and practices that contribute to the successful design of appropriate automotive and/or transport designs, including an awareness of the impact of design decisions on issues of intellectual property, social impact and cultural sensitivities.
Key issues in the field automotive and/or transport design, including user needs, relevant technologies, drivers of design and factors affecting compliance and responsibility, environmental, social, cultural and sustainability issues related to emerging technologies and theories of consumption.
Appropriate aesthetic frameworks and traditions in relation to serially produced artefacts and an understanding of the relationship between aesthetic and functional dimensions.
The principles of 2D, 3D, and digital techniques as appropriate to communicate design intent and detail.
Key research areas, such as automotive and transport heritage, brand identity, market research, emerging technologies, legislative developments in the areas of automotive and transport design.

On successful completion, you should be able to:
Utilise and reflect critically upon the drivers for design; to generate a wide range of ideas, concepts, proposals and solutions or arguments independently and /or collaboratively in response to set briefs or self-initiated activity.
Apply creative and logical thinking processes to the business of solving automotive and transport design problems and develop ideas through to material outcomes.
Analyse the interrelationships within and between aspects of automotive and or transport design, to describe, interpret and evaluate designed artefacts from a range of critical perspectives, taking into account the context of their production, clients, users, consumers and markets and history of design processes.
Employ materials, media, techniques, methods, technologies and tools associated with automotive and transport design through drawing, modelling and computer visualisation methods using skill and imagination.
Know the various means by which one can represent automotive and transport design and judge their fitness for purpose; select and use various 2D, 3D, and digital techniques appropriately to communicate design intent and detail, having gained confidence in their application.
In a typical teaching week, you will have up to 18 'contact' hours of teaching. This generally breaks down as:
Personal tutorial/small group teaching: 4 hours of tutorials each week.
Medium group teaching: 4 hours of medium group lectures and seminars each week.
Large group teaching: 10 hours of lectures and supported studio practice each week.
In addition, you will be expected to undertake a further 20 hours per week of self-directed studying and practical work in your own time.
We firmly believe that a future design career must fit a global context and we encourage you to engage in an international experience during your study. The course has direct links with universities in China, India, the USA, and Colombia.
Opportunities occur for all students to participate in international trips and exchanges with partnering universities.
Throughout the course, projects will be set with an international focus, which aims to enhance your global experience and broadening your mindset. You may have opportunities to take part in online international learning (OIL) projects working collaboratively across international boundaries, for example, an innovative ambulance design in collaboration with Designskolen Kolding, Denmark.
Global ready
Did you know we help more students travel internationally than any other UK university according to data from the experts in higher education data and analysis, HESA?
In 2016/17, we were able to provide a total of 3,482 experiences abroad that lasted at least five days.

Much of this travel is made possible through our Global Leaders Programme, which enables students to prepare for the challenges of the global employment market, as well as strengthening and developing their broader personal and professional skills.
Explore our international experiences
1st for
international experiences
Sending more students overseas than any other UK uni (HESA 2016/17)
3,482
Student experiences
The number of student trips abroad for at least 5 days in 2016/17
21,000
and counting
The number of students we've helped travel internationally so far
12
global programmes
As well as trips, we offer other opportunities like language courses
What our students say...
This course has given me so many different experiences from international placements to designing for different types of transport design. It's given me a broad understanding of the industry and my placement year gave me an understanding of what my employment focus should be.
Clearing places available on this course
See if you have enough points (UCAS tariff 2019)
Don't know your points total? Work it out
Additional requirements may apply
What our students say...
Coventry University's amazing reputation in the automotive industry attracted me to the course. The course gave me the opportunity to evolve and grow into the designer I am today.
Tuition Fees
We pride ourselves on offering competitive tuition fees which we review on an annual basis and offer a wide range of scholarships to support students with their studies. Course fees are calculated on the basis of what it costs to teach each course and we aim for total financial transparency.

For more information, please visit our Finance pages.
UK Scholarships
If you're a truly outstanding undergraduate candidate we may be able to offer you a Coventry University Scholarship.

Coventry University Scholarships are awarded to recognise truly exceptional sports achievement and academic excellence.
EU Scholarships
For the September 2019 intake we're investing in a range of EU Academic Excellence scholarships for high achieving and enterprising students. Fulfil your potential this academic year with Coventry University!
International Scholarships
For the September 2019 intake we're investing in a wide range of Academic Excellence scholarships for high achieving and enterprising international students. Fulfil your potential this academic year with Coventry University!
Course essentials at no extra cost
We're committed to communicating study costs clearly to make sure you're not faced with having to make any unexpected payments.
This is why our 'Flying Start' package provides you with a few course essentials. Your full-time fee for an undergraduate degree will cover the following:
UK field trips
Any mandatory site visits and trips within the United Kingdom.
Key material
This can include core textbooks, software and equipment.
Laser prints
1,000 A4 sides of black and white laser printing credits per year.
Optional year
Pay no tuition fees for optional work placements or study abroad trips.
As well as covering UK field trips, key materials and laser prints, the fees for this course also includes;
Specified core reading material
any mandatory UK residential field trips
any mandatory UK site visits and trips
tuition fee waiver for study abroad year.
The following are additional costs not included in the fees;
Any optional overseas field trips or visits: £350+ per trip
any additional design materials: £50+ per year
EU student fees
EU nationals and their family members starting in the 2019/20 academic year remain eligible for the same fees as home students and the same financial support. Financial support comes from Student Finance England, and covers undergraduate and postgraduate study for the duration of their course, providing they meet the residency requirement.
For tuition fee loans
EU nationals must have resided in the European Economic Area (EEA) or Switzerland for the three years prior to the start of their course. The purpose of that three year residency should not have been mainly for the purpose of receiving full time education.
For maintenance loans
EU nationals must have resided in the UK and Islands for the five years prior to the start of their course. The purpose of that five year residency should not have been mainly for the purpose of receiving full time education.
What our students say...
Coventry University's amazing reputation in the automotive industry attracted me to the course. The course gave me the opportunity to evolve and grow into the designer I am today.
Career prospects
Professional enhancement is central to our ethos and you will be encouraged to embrace either an industry placement or international study exchange before your final year. When you graduate, you should be used to working proactively to generate ideas as an individual or in teams and meeting deadlines.
We will encourage and guide you to enter national and international design competitions which can enhance your portfolio, expose you to potential employers and increase networking prospects.
Career opportunities are vast and varied – you could start your own business, become a design consultant, modeller, illustrator, CAD professional, design manager or marketing professionals. Graduates have found opportunities in automotive exterior and interior design, lighting systems design, clay and 'hard' modelling, digital modelling and surfacing, 3D visualisation and animation, colour and materials design, user interface design, lifestyle products and design research.
Our Creative Futures employment team is on hand to offer tailored career and enterprise support if you wish to gain employment or take advantage of professional practice opportunities within course specific industries. It provides specialist careers information, advice and guidance to all our students from their first year through to final year and beyond graduation, helping them achieve their desired career outcome. Our dedicated enterprise officers also offer valuable assistance on how to begin as a freelancer/entrepreneur.
90%
of our BA graduates are in work or further study six months after the course
DLHE 2014/15
Where our graduates work
Some of our graduates have gained leading positions in the automotive and transport industry in the UK and all over the world. They are responsible for designing many of the vehicles in circulation today for employers including Aston Martin, Bentley, BMW, Citroen, Ford, GM, Jaguar Land Rover, JCB, Lotus, Mazda, Mercedes Benz, MG-SAIC, Nissan, Porsche, Renault, Rolls Royce, TESLA, Toyota, Qoros, VW and Volvo
£17k
Our BA graduates earn an average salary of £17,000 six months after the course (DLHE 2014/15)
What our students say...
Being on this course has changed the way I think about design. I wanted to design top end luxury cars, but I've learnt that designing with restrictions is just as exciting. I want to go into designing and improving transport products for the mass market, improving quality for everyone not just the elite.
Disclaimer
By accepting your offer of a place and enrolling with us, a Student Contract will be formed between you and the University. A copy of the 19/20 Contract can be found here. The Contract details your rights and the obligations you will be bound by during your time as a student and contains the obligations that the University will owe to you. You should read the Contract before you accept an offer of a place and before you enrol at the University.
The University will charge the tuition fees that are stated on the course webpage and in the prospectus for the first year of study. The University will review tuition fees each year. For UK and EU students, if Parliament permit an increase in tuition fees, the University may increase fees for each subsequent year of study in line with any such changes. Note that any increase for UK and EU Students is expected to be in line with inflation. For international students, the University may increase fees for each subsequent year of study but such increases will be no more than 5% above inflation.