Thermal Imaging Cameras
What are they?
The Sustainable Building Futures project can work with your business to help improve energy efficiency by identifying areas within property that are poorly insulated. This will lead to:
lower energy bills;
better energy and environmental management procedures;
less wasted resource.
A thermal image is a picture of the radiation intensity of heat given off by all materials visible in the image. Different intensities are allocated different colours highlighting areas within a building that have higher or lower areas of heat. The photograph on the left below shows a stone floor. When viewed with a thermal camera, the image on the right reveals the under floor heating system beneath.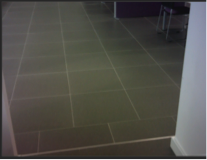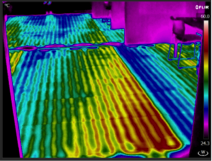 How is it undertaken?
Using the thermal imaging camera the survey ideally takes place early morning or early evening on a convenient day and takes about four hours of on-site investigation. Images will be taken of each elevation, roof and floor as well as any abnormalities in the heating plant and fixed electrical equipment. The construction and condition of the building will be noted and a small number of wireless data logging devices will be positioned to record temperature and humidity profiles across key areas.
Results
Following the visit a report will be created similar to the example below. This will highlight any areas of high heat loss in the building and make practical comments about how thermal performance could be improved. This might for example include developing a plan of retrospective insulation works with costings to calculate payback periods.