Nexus Creative
The Client:
Coventry University is working with traditional and digital marketing communications agency Nexus Creative to develop a bespoke platform to give clients a comprehensive qualitative valuation of their campaigns.
The Challenge:
Nexus Creative is a marketing communications agency established 25 years ago.
As the importance of digital marketing and frequency of disruptive technology within the marketing industry continues to grow, Nexus Creative wanted not only to keep stride with developments – but also to make a leap ahead of the competition.
It decided linking up with academics at Coventry University would help achieve that goal.
At present, the Worcester based business deals with around 400 clients, ranging from local SMEs to large nationally recognised companies.
It had spotted a gap in the market for a single client management system which took data from the social media and digital world, developed it into a relevant database and then used it to market and quantify the return on investment a client had made in real financial terms.
Our Proposed Solution: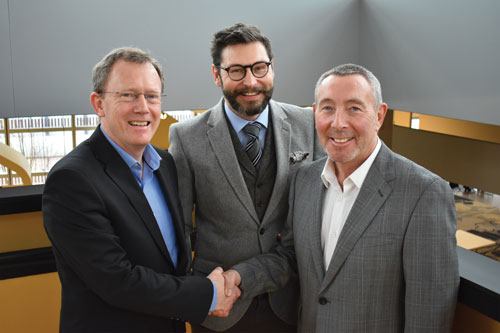 Dr Shane Walker, Associate Head of the School of Enterprise and External Engagement, Faculty of Arts and Humanities, at Coventry University was approached by Nexus to help develop a platform which brings together the unique qualities of the huge variety of client management systems out there.
These include measuring the number of clicks, page views, interactions and engagements but none have access to a reliable measure of qualitative impact.
The aim for the project was to bring together the best qualities of around 50 similar tools already on the market in one place, offering the most cost efficient and least time consuming summary of results.
The system delivers qualitative data on the success of digital marketing campaigns, and will inform new campaigns with enhanced content and improved timely targeting.
When an outline plan for a project was agreed, Nexus Creative approached Innovate UK for a Knowledge Transfer Partnership (KTP) grant, which would give the company and the university two years to turn their vision into a reality.
The funding is expected to grow the company's turnover toward £5 million over the next five years, with Coventry University also sending an honours graduate and expert in digital marketing to the business.
The partnership has already had success in the form of five large companies getting in touch to discuss becoming a partner for the project.
At the end of the two year KTP the University and Nexus Creative will split the intellectual property equally and share the revenues attracted as a result of their hard work.
---
We have a five year business plan in place with the University and are always working with our associate and academic to make the progress we need.

We realised that digital marketing and disruptive technologies would be crucial to building successful business in the future some time ago and it seemed a perfect fit that we would partner up with Coventry University to make our impact on this area.

It is an ambitious project, we are looking to bring together the individual qualities of around 50 different tools, make our product easy to use and affordable for businesses and keep on top of a constantly changing landscape.

"t is our partnership and faith in the people we are working with from Coventry University which made us believe we can really do this and made us go for the KTP grant.
This is a project which could have a major impact on the world of digital marketing for years to come.

Nexus Creative had the vision to see how vital this type of platform could be in an industry experiencing huge growth and we are delighted they came to us to help turn this into a reality.

The feedback so far has been great and we are particularly pleased with the levels of interest we received when looking for a partner to join the programme.

We are looking forward to seeing through the KTP and business plan with Nexus Creative and seeing this great idea come to fruition.