Student wins national award
Piotr Bieluga, an architectural technology graduate from Coventry University, has been recognised for his hard work and dedication by winning a national student award.
Piotr graduated with a first class honours degree in Architectural Technology BSc (Hons) in 2019. He won first prize in the Student Designer Award category at the Association for Project Safety (APS) National Student Awards, held on 4 September 2019.
Piotr's winning project was for Ely Bank Pentref Micro Community - a proposal for a high-tech eco village development.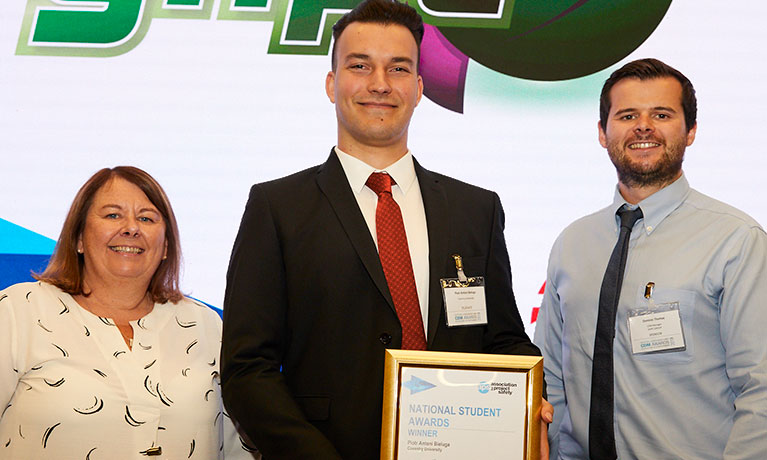 This design project was a challenging brief with a demanding program, situated in a sensitive location near conservation areas of the region. Designing a solution that is responsive to the environment and the site, as well as functional in use and safe to construct, proved to be a complex task.

My approach to this challenge was to take the apparent disadvantages of the site (such as the river flooding over the flood plains that made up half of the site) and turn them into strong aspects of the project using robust technical solutions; for example creating a water dam to harvest clean energy.

By carefully assembling a comprehensive solution to the initial issues whilst resolving problems that appeared throughout the project, it was possible to create an architectural response that fulfilled the brief and expanded on the social, safety and environmental considerations the village was addressing."

Piotr Bieluga, Architectural Technology BSc (Hons)
The award is open to all students studying construction related disciplines including design and health and safety. The award scheme is intended to introduce students to the issues of buildability, maintainability and usability and their responsibilities in terms of construction health and safety risk management.
Architectural Technology third year students were encouraged to enter this competition due to the increasing awareness of the importance of Health and Safety in the construction industry.

Students could choose their own project brief and location for their final year project and Piotr chose to complete his Ely Bank project, which showed excellence in thought about Health and Safety issues as well as sustainability. I'm delighted he was awarded first prize in the national APS competition.

Heather Bibbings, Lecturer in Architectural Technology, Coventry University