Placement helped me get a job
Louise Ayres graduated from Coventry University in 2019 with a degree in Mathematics and Statistics BSc (Hons). She is now working as an Analyst with HMRC at the Government Operational Research Service, the analytical minds behind many of the Government's policies which touch the lives of everyone in the UK.
Louise spoke with us to share her experiences of undertaking a placement year and offer advice for anyone thinking of completing a placement during their studies.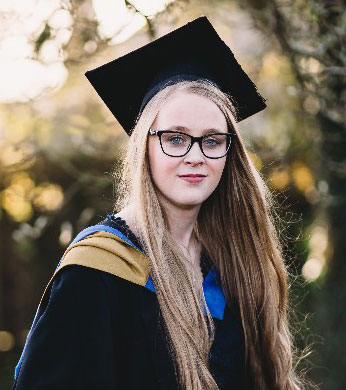 I learnt more skills than I could just from my studies
During my placement I developed a vast amount of real-life applications of technical skills from forecasting and logistic regression to sensitivity analysis. I also had the opportunity to develop a variety of non-analytical skills such as project management, leadership and strong communication, as well as an understanding of the importance of knowledge sharing and retention.
I got to work on a large variety of high profile real-life projects
I had the opportunity to work with a number of key stakeholders and government departments on the Autumn Budget, producing analysis to show the benefits of hiring additional staff. This directly resulted in the funding being agreed with Treasury and recruitment going ahead.
I was given an award for my work as recognition by the Office for Budget Responsibility. It was fantastic to be acknowledged for the role I played within government and truly showed me how best to achieve impact with the correct analysis.
The most unusual placements could be the best place to learn
Before my placement, I had no prior knowledge of tax, nor was I the strongest computer coder! Now I am able to carry out strong complex analysis via coding in statistical softwares, some taught at university, some not. It allowed me to utilise my analytical skill set to understand evaluations of many different activities.
Think of the money!
Who doesn't want to earn money? My placement has given me exposure to real-life databases and very high profile work, which I just wouldn't have had the opportunity to do during my normal studies. The experience has provided me with so much more skills and knowledge, not only supporting my final year of study, but also adding vital experience to my CV.
Since Graduation
So many people have told me in my life I would never pass GCSE's, let alone A-levels. Thankfully, I have proved to everyone that you should never underestimate a determined individual.
On 26th November I graduated with 1st class honours degree in Mathematics and Statistics. I have planned and married my best friend, and am now a proud homeowner with a beautiful puppy. I never thought for a minute I would have all of this at 22.
I also re-joined HMRC as an operational researcher focusing in a new area, further developing my skill-sets. As result of such strong competencies gathered in my placement, I am already on track to getting a promotion in the next few months!
Overall, I believe that my placement played a massive role in me getting my current job. It supported me in developing a skill-set which is extremely desirable across multiple teams, not only in the civil service but also in many private sector organisations.