My placement at DENSO
For his placement, Electronic Engineering BEng (Hons) student Hameed Abdelbaky, worked at the largest UK based manufacturing facility for the leading Japanese automotive company DENSO. His role focused on automation of the manufacturing process and trying to give the company a leading edge in the industry, by utilising the concept of IoT at a factory level.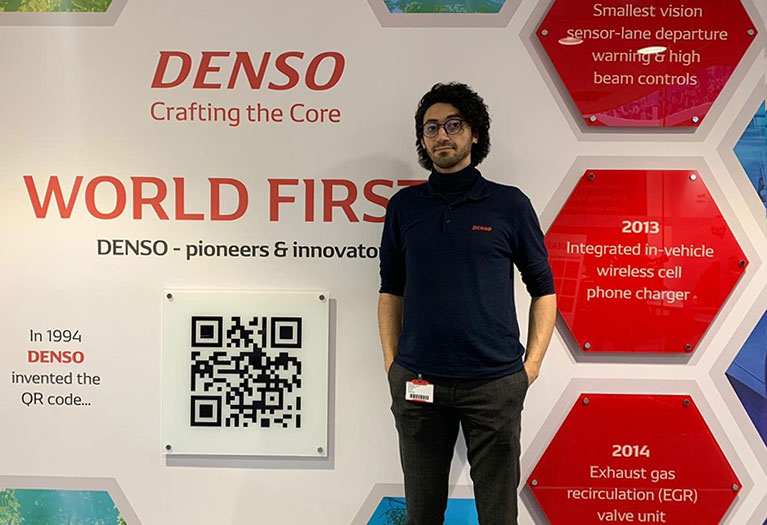 What does your role involve?
My role is the newly established F-IoT (Factory Internet of Things) Engineer. The role is mainly focussed on automation of the manufacturing process and trying to give the company a leading edge in the industry, by utilising the concept of IoT at a factory level.
IoT is currently in high demand in many industries, especially the manufacturing industry. It is, however, still a fairly new concept, so it is important for a company such as DENSO to take the initiative and try to establish itself as an early leader in the field.
How are you utilising your academic studies?
The role of F-IoT Engineer utilises almost everything I have studied on my course to date. I was encouraged during my communication system module to look up research papers related to IoT and learn how it is developing and revolutionising different industries. My course has given me the opportunity and the flexibility to participate in many projects, giving me a realistic approach to working on projects whilst retaining my creative freedom.
My placement role also includes Android development. I benefited a lot from the Add+vantage module Android Development Skills I completed during year 2 of my studies. The creative freedom given to me while studying and working on projects has provided me with the opportunity to utilise my previously learnt 'theoretical' engineering skills in a practical way, which is exactly what the F-IoT Engineer role required.
What do you think you've learnt whilst on placement?
For someone like me who has studied engineering for quite a while, the work environment offered by the placement has instilled a sense of organisation into my life that was needed. Working alongside a diverse group of people from different walks of life and backgrounds has been a great experience, and I'm continually developing my listening skills, putting more effort into taking others' points of view into consideration, and improving the presentation of my own ideas.
The freedom offered by the placement has also helped me to trust myself more; giving me and my team the space to do and manage our work and see the positive results of our work.
What would be your advice to a student considering a placement?
Flexibility. Be open to different placement options. Try not to aim for a specific position or role. Diversifying your options increases your chance of securing a placement.
Determination and persistence. Keep trying. Securing a placement isn't dependent only on your skills and abilities, but also on the needs of the company. So being rejected for a role doesn't mean you don't have what it takes, it could just mean that the company has different needs from what you offer.
Long term vision. A placement is just the beginning of the journey. Take into consideration all the factors that might affect your chances of securing a placement such as market needs, a company's structure or the current external factors of a particular sector.
Everyone has different goals, so think about what you want to get out of a placement. It is more than just a 12 month job experience, so try to consider how a placement year is going to fit into your long term plan. Different placements may offer different types of experiences that can benefit you in more ways than just work-specific knowledge.
And remember, it's never too late!
How did the university's placement team support you?
The faculty of Engineering, Environment and Computing's placement team offered me a great deal of support through the whole process of trying to secure a placement. My employability adviser offered me advice that suited my situation and was relevant to what I needed and to my field. He listened to me, understood my unique situation, and through his knowledge of the placement process and the companies, helped me secure a placement. He reviewed my CVs regularly, provided me with different options, gave me advice on interviews, and guided me generally about what to do to secure a placement.