Moot room
Coventry Law School is very proud to have its very own mock courtroom located centrally on campus, where our students can practise their legal skills in a realistic environment.
Law students can have their teaching sessions in the Moot Room, as well as the opportunity to get involved with our annual Mooting competition complete with gowns and wigs.
What is mooting?
A moot provides the setting of a court, where students act in the role of barristers, based on a legal scenario that they are given in advance. The mooters act in pairs, two for the appellants, and two for the respondents. The moot takes place in the 'Court of Appeal', with between one and three judges presiding and asking questions: in order to effectively answer a judge's question, students need to be able to think on their feet and to know and understand their arguments and authorities inside out.
Court etiquette and dressing appropriately is as important in a moot as it would be in a real life court. Mooters wear full-length gowns and there is a public gallery, to make the moot as realistic as possible.
Mooting competition
Together with the University of Reading, Coventry Law School established the annual Lanchester Rose Cup in 2017. The mooting competition allows our law students to develop their advocacy skills in a mock appeal. Since its establishment The Lanchester Rose Cup has expanded to include Cardiff University and the University of East Anglia. Previous competitions have been sponsored by 43 Temple Row Chambers whereby competition winners are offered a mini-pupillage. Barristers Tom Green and Michael Trevelyan, as well as District Judge Shamim Qureshi have previously sat on the judging panel.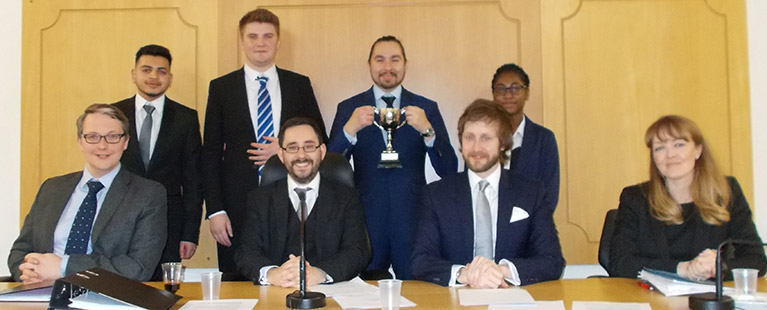 Coventry Law School student winners and judging panel 2017
Coventry Law School students also enter other national mooting competitions such as 'OUP and BPP'. We also invite barristers to provide interactive workshops on advocacy to further support students.
Mooting, in many respects is voluntary, therefore counting as an extra-curricular activity, something that prospective employers look out for. It shows a commitment to your studies and an ability to use your legal knowledge and refine your research and advocacy skills in a practical situation.
For those who wish to go on to take the LPC or BPTC, mooting is a compulsory part of your course, therefore giving you an advantage over your peers as you have prior experience of mooting and the elements involved with it.
As well as adding to employability skills on your CV, mooting can also open up other doors for dedicated students, as you'll have the opportunity to meet judges in later rounds, enabling you to build up a list of contacts.