International Business BA (Hons) top-up
Study level:

Undergraduate
Top-up courses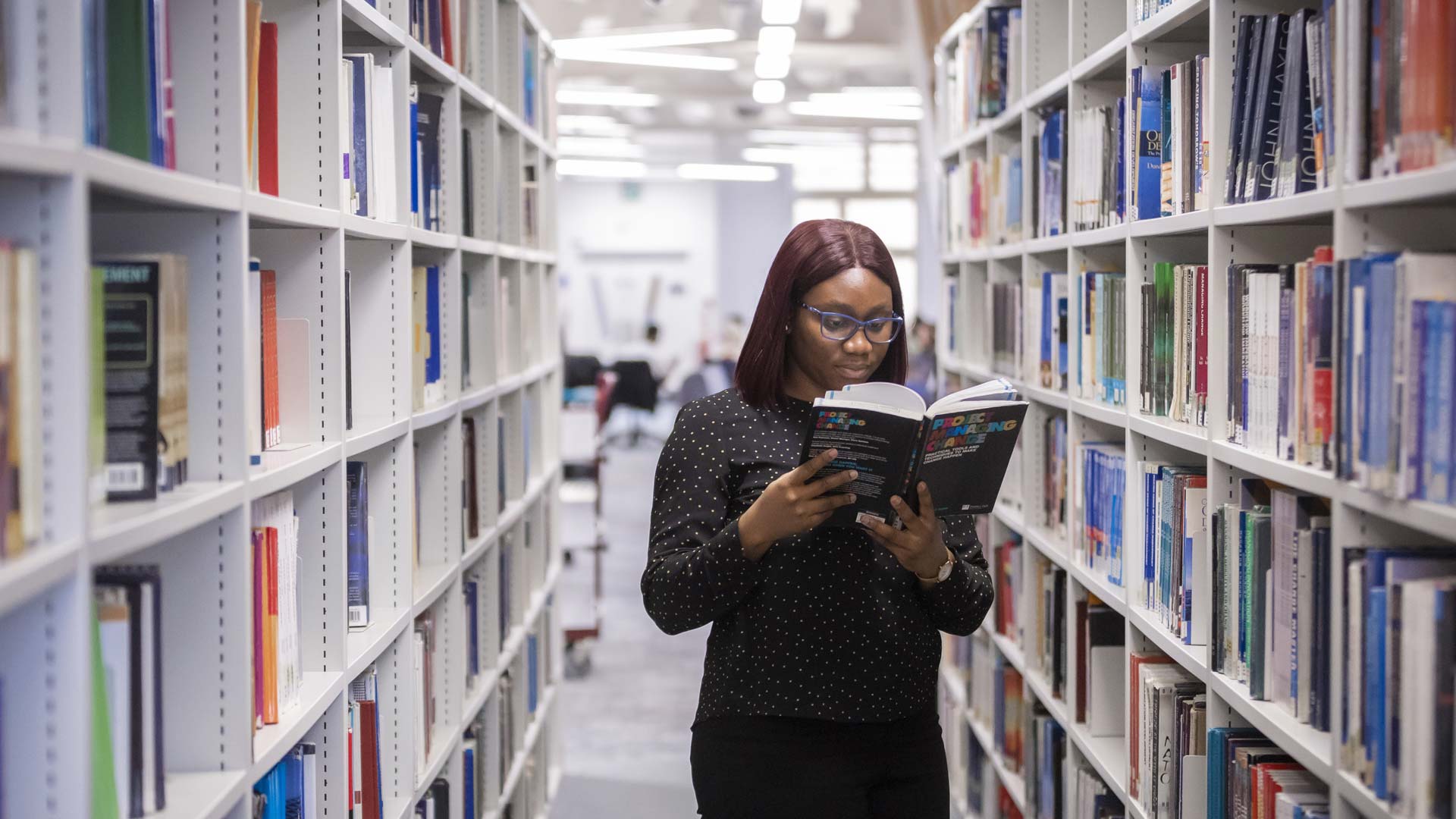 With a focus on strategy and strategy development, this course should allow you to explore skills needed to potentially be a flexible future manager, spot international business opportunities quickly and respond to challenges effectively.
Location
Coventry University (Coventry)
Duration
1 year full-time
2 years full-time
Start date
September 2023
January 2024
May 2024
---
Course overview
Coventry Business School is currently an active member of the Chartered Association of Business Schools (CABS) and the European Foundation for Management Development (EFMD), both of whom are committed to ensuring its members maintain world-class standards of teaching and research.
Our guest speakers programme2 has previously also drawn in prominent speakers from the field of international business in recent times to share their knowledge and experiences with you (subject to availability).
Field trips2 to multinational organisations within a range of sectors and industries. Previous visits have included a visit to Jaguar Land Rover and Manchester United in the UK as well as visits to New York in the United States; Berlin, Germany and Paris, France among others (subject to competitive application, availability, meeting applicable visa requirements, and additional costs may apply).
Accredited by the Chartered Management Institute (CMI)1 this course gives you the option of registering and gaining a Level 5 Certificate, which can enhance your employability skills (subject to registration fees, other requirements and additional costs apply).

Joint Top Modern University for Career Prospects
Guardian University Guide 2021 and 2022

5 QS Stars for Teaching and Facilities
QS Stars University Ratings

Top 5 UK Student City (Coventry)
QS Best Student Cities Index 2023
Why you should study this course
This second or final year direct entry programme aims to develop your comprehensive knowledge and understanding of the international business environment, business strategy and the key functions of business organisations.
Through core modules, we focus on building essential management skills in international logistics, human resource management; international trade management; global markets and entry strategies; and marketing in an international perspective to mention but a few. We aim to offer opportunities to engage with real business issues from highly innovative companies ranging from small and medium enterprises (SMEs) to large multinational corporations, throughout the whole course.
Supporting this international focus is the experience of our current academic staff and the typically internationally diverse makeup of students. You'll be taught by experienced staff, who have worked in positions that include directors and consultants for many large multinational companies not only in the United Kingdom but also abroad (please note staff are subject to change).
Accreditation and professional recognition
This course currently includes the following accreditations and memberships1:

Association for Project Management (APM)
The final year module 'Project Management for Business' is accredited by the Association for Project Management (APM), for the 2022/23 intake, recognising the module's rigour in exploring the subject of project management.
---

Chartered Management Institute (CMI)
This course is currently accredited by the Chartered Management Institute (CMI) for the 2022/23 intake, offering you the option to register and gain a Level 5 Certificate, which can help to enhance your employability skills with a professional qualification (fees apply to become a registered CMI student, and securing a professional qualification is subject to additional costs, availability and meeting any applicable requirements).
---
Memberships
Chartered Association of Business Schools (CABS)
Coventry Business School is currently an active member of the Chartered Association of Business Schools, which has a membership of over 120 business schools and higher education providers, and supports its members in maintaining world-class standards of teaching and research.
European Foundation for Management Development (EFMD)
Coventry Business School is currently an active member of the European Foundation for Management Development, a global membership organisation dedicated to management development, covering over 900 members across 91 countries.
Coventry Business School is recognised by the above memberships for the 2022/23 intake.
---
The below modules are studied in your first year if you enter the course at Level 5 and aim to give you an overview of business in an international context, covering key business areas such as data, management and finance. There is also a module on improving your English skills for business communication and report writing.
Modules
Cross-Cultural Management - 20 Credits

Cross-cultural management is a field that is based on theories and research from cross-cultural psychology, international business, organisational behaviour, and human resources. It also seeks to understand how national cultures affect management practices and aims to increase the effectiveness of global management.

This module helps you develop the necessary skills to work confidently in a culturally diverse environment. It demonstrates why an understanding of different management cultures is necessary for operating effectively in organisations and aims to provide the knowledge and skills to do business in an intercultural or multicultural environment.

Global Business - 20 Credits

Almost all organisations operate within a global setting, those in international business need to be able to work with people and organisations across national boundaries and cultures. This module defines the scope of business in a global context. It is designed to help you recognise the dynamics of international business.

World trade patterns and the functions of international institutions will be examined. The business strategies used by organisations to achieve their international objectives will be brought into the context of the global economic and political environment. Influences in the international business environment will be assessed in relation to the formulation of global business strategies.

English Business Communication and Report Writing Skills - 10 Credits

This module helps students of international business to build their English language awareness and skills so they can communicate successfully within an academic setting. The emphasis is on developing reading, writing, speaking and listening skills to support the study of business courses at the university. There will also be opportunities for you to expand your knowledge of business vocabulary. In this module activities are designed to improve the ability to communicate effectively in English in academic contexts and also foster study skills.

Digital Business, Marketing and E-Commerce - 20 Credits

This module aims to introduce you to digital business management, focused on the e-commerce and e-commerce marketing concepts, by giving an integrative perspective of online commerce. Specifically, it provides you with an understanding of e-commerce, different types of e-commerce global business models (i.e. B2C and B2B), e-commerce information systems (i.e. TPS, MIS, ECRM and DSS), and management of e-commerce issues (i.e., security and trust). In addition this module explores the various aspects of online marketing in relation to a digital business.

Analysing Quantitative Business Data - 20 Credits

The module is designed to introduce you to the concepts of probability and statistical analysis and other quantitative techniques which will prove to be an essential support to your other modules. It will allow you to work on realistic problems, using case materials where relevant, and extensive use of Excel to analyse management data. You will apply concepts and processes outlined in lectures.

Finance and Accounting for International Business

No details available for this module

International Career Development - 10 Credits

This module will enable you to acquire the confidence and appropriate skills to make an effective transition from education to either the global marketplace or further higher education. The module has a dual focus: firstly, you are encouraged to know yourselves, to know what kinds of employment or further education you are suited to; and secondly, you are encouraged to develop an awareness of global employment markets and regional and international potential employers, as well as the international higher education market. Skills gained in this module will enhance your career prospects and optimise your possibilities for finding fulfilling international employment and/or further higher education opportunities.
The below modules are studied in your second year, if you enter the course at Level 5, or in your first year, if you enter the course at Level 6. We will build on knowledge gained from your previous undergraduate studies to provide an overview of international business, examining world trade patterns and the functions of international institutions such as the advertising industry. In your final year, you will also pick two out of three optional modules.
Modules
Principles of Strategy - 20 Credits

Strategic management has now evolved to the point that its primary value is to help the organisation operate successfully in a dynamic, complex environment. To be competitive in this environment, businesses have to become less bureaucratic and more flexible, including the ability to shift from one dominant strategy to another. This strategic flexibility also demands a long-term commitment to the development and nurturing of critical resources in this environment driven by technical and social change.

All managers need to be involved in the strategic management process in order to put together the most effective strategy that achieves better organisational performance, as well as developing and maintaining the firm's position of competitive advantage. Strategy is about identifying and working on key issues for the future of the organisation and involves activities such as: scanning the environment for critical information, suggesting changes to strategies and programs to take advantage of environmental shifts, and working with others to continuously improve work methods, procedures and evaluation techniques. You will seek to learn about the systematic analysis of the factors associated with an organisation's external and internal environment that provide the basis for maintaining optimum management strategies and practices. You will also engage in debate on critical business issues such as corporate values (ethics) and corporate social responsibility (CSR) both at home and on the international scene.

The main aim of the module is to provide you with the concepts, frameworks and techniques of strategic decision making to enable you to assess competitive conditions, evaluate corporate capabilities and identify means for businesses to establish a sustainable competitive advantage in their industry.

Project Management for Business - 20 Credits

Business and organisations are constantly changing. Regardless of whether organisations are planning to expand or rationalise, managing projects that facilitate change are an integral part of ensuring competitive advantage for an organisation. This module is designed to introduce you to the processes of project management in a business environment. It aims to develop your understanding and skills in the use of project management tools and techniques, and in the impact of effective people skills on the outcomes of projects.

English Business Presentation Skills - 10 Credits

This module helps those students of international business to develop their English language knowledge and skills to a level where they can communicate effectively and independently. This is achieved in a context where the language is used for the study of business skills. The emphasis is on developing practical reading, writing, speaking and listening skills to support the study of business-related courses at the university. This module will involve activities designed to increase the range and effectiveness of your use of English language and the development of study and communication skills in a business and academic context.

Entrepreneurship and Innovation - 10 Credits

Sustainable and continuous paths of organisational growth require innovation and diffusion of new technologies that are socially and economically acceptable. This complex process evolves through the interaction of technological, economic and social forces operating at various levels. It also encourages you to develop a critical appreciation of current academic debates on 'entrepreneurship' as well as research evidence on the application of this and other closely related concepts. The module's aim is to enable students to identify entrepreneurial and innovation characteristics and skills. Case studies at organisational, sector and country levels will be extensively used to complement the main theories.

International Leadership - 20 Credits

The aim of this module is to develop a solid knowledge and understanding of leadership. It will seek to assess your own leadership behaviours and potential in the context of organisational working practices and cultures. This module will examine effective leadership and management of human capital, and leadership as a determinant of organisational success within an international context.

The module will assist you to identify factors that influence the choice of leadership styles or behaviours in workplace situations and the subsequent effect on teams. You will explore theories and practices of contemporary leadership and management. Various leadership styles will be canvassed and applied reflexively within the context of international business management.

Optional modules

Choose two from the following three options:

International Logistics - 20 Credits

To develop the skills and knowledge of those regarding the physical distribution channels used to deliver goods in both the industrial and retail contexts. This will include planning at the strategic level and analysis of the operational techniques available to the practitioner. The module will also explore the increase in international logistics trade and the opportunities and threats that can also arise for logistics organisations competing in the international market.

International Business and People Relations - 20 Credits

This is a research-driven module that provides a critical evaluation of the globalisation of human resource management strategies from various perspectives. The module introduces the key concepts for understanding international human resource management, and explores the practice of managing human resources in an international context.

The intercultural factor will also be examined and appraised from an anthropological point of view, emphasising the operational aspect of the organisation of performance efficient systems of work in international settings.

Business Project - 20 Credits

The module requires the application of theory to practice and creativity in the execution of a management report. You are expected to identify and use as a basis of research and analysis, a business case or project related to a real organisation. The chosen project should be in pursuit of addressing a specific need or issue within a real organisation.

You will be expected to communicate your solution using knowledge acquired, and demonstrate the application of intellectual, technical and analytical skills developed. In addition, you should demonstrate the application of a sensible research methodology including project aims, methodology design and overall approach in the execution of the work. Overall, you should evidence the subject or context has been sufficiently understood and evaluated.
We regularly review our course content, to make it relevant and current for the benefit of our students. For these reasons, course modules may be updated.
---
How you'll learn
This course can be studied full-time over either one year or two years, depending on the stage of entry. As well as traditional teaching and learning methods, such as lectures, workshops and seminars, we will use innovative business techniques and tools4, including practical market entry software tools to achieve this.
For example, we aim to expose you to real-life case studies with recent examples including Glastonbury Music Festival and the banking industry. Typically, we also invite a range of guest speakers2 who will share experiences of managing change and growth in their organisations, supply chain and logistics strategies, marketing and trade management operations, business development and more (subject to availability).
This course can be offered on a part-time basis. Whilst we would like to give you all the information about our part-time offering here, it is tailored for each course each year depending on the number of part-time applicants. Therefore, the part-time teaching arrangements vary. Request further information about part-time study.
---
Assessment
This course will be assessed using a variety of methods which will vary depending upon the module.
Assessment methods include:
Formal examinations
Phase tests
Essays
Group work
Presentations
Reports
Projects
Coursework
Exams
Individual Assignments
Laboratories
The Coventry University Group assessment strategy ensures that our courses are fairly assessed and allows us to monitor student progression towards the achieving the intended learning outcomes.
---
International experience opportunities
This course is international by nature drawing on business practice and real-life case studies (where possible) from all over the world2. You may be taught by international business leaders from across the world, who are invited as guest lecturers on modules to share their knowledge and experience. Furthermore, the international experience of the course team means you could benefit from the experience of lecturers in business operations from Asia, Middle East, Europe, Africa to name but a few.
You may also be able to collaborate with students from other international universities on Collaborative Online International Learning (COIL) projects2.
---
Entry requirements
Typical offer for 2023/24 entry.
We recognise a breadth of qualifications, speak to one of our advisers today to find out how we can help you.
Select your region to find detailed information about entry requirements:

You can view our full list of country specific entry requirements on our Entry requirements page.
If you do not have the typical entry requirements, you may want to consider studying this course with an International Foundation Year. Upon successful completion our International Year One - Business Management will provide you with the knowledge and skills you need to progress onto this undergraduate degree.
Alternatively, visit our International hub for further advice and guidance on finding in-country agents and representatives, joining our in-country events and how to apply.
English language requirements
IELTS: 6.0 overall, with no component lower than 5.5.
If you don't meet the English language requirements, you can achieve the level you need by successfully completing a pre-sessional English programme before you start your course.
For more information on our approved English language tests visit our English language requirements page.
---
Fees and funding
2023/24 Tuition fees
Student
Full-time
Part-time
UK, Ireland*, Channel Islands or Isle of Man
£9,250 per year
Not available
EU
£9,250 per year with EU support bursary**
£16,800 per year without EU support bursary**
Not available
International
£16,800 per year
Not available
For advice and guidance on tuition fees3 and student loans visit our Undergraduate Finance page and see The University's Tuition Fee and Refund Terms and Conditions.
We offer a range of International scholarships to students all over the world. For more information, visit our International Scholarships page.
Tuition fees cover the cost of your teaching, assessments, facilities and support services. There may be additional costs not covered by this fee such as accommodation and living costs, recommended reading books, stationery, printing and re-assessments should you need them. Find out what's included in your tuition costs.
*Irish student fees
The rights of Irish residents to study in the UK are preserved under the Common Travel Area arrangement. If you are an Irish student and meet the residency criteria, you can study in England, pay the same level of tuition fees as English students and utilise the Tuition Fee Loan.
**EU support bursary
Following the UK's exit from the European Union, we are offering financial support to all eligible EU students who wish to study an undergraduate or a postgraduate degree with us full-time. This bursary will be used to offset the cost of your tuition fees to bring them in-line with that of UK students. Students studying a Degree with a Foundation Year with us are not eligible for the bursary.
How do you know if you need to pay UK or international tuition fees?

We carry out an initial fee status assessment based on the information you provide in your application. Your fee status determines your tuition fees, and what financial support and scholarships may be available to you. The rules about who pays UK (home) or international (overseas) fees for higher education courses in England are set by the government's Department for Education. The regulations identify all the different categories of student who can insist on paying the home rate. The regulations can be difficult to understand, so the UK Council for International Student Affairs (UKCISA) has provided fee status guidance to help you identify whether you are eligible to pay the home or overseas rate.

If you meet all the criteria required by any one category, including any residence requirements, your institution must charge you the home rate. You only need to find one category that you fit into.
---
Facilities
Our facilities4 include: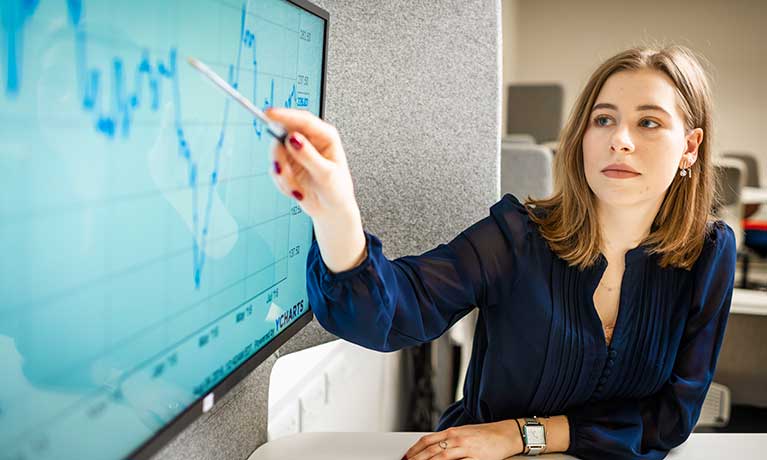 You can use the Business Simulation Suite on specific courses. It aims to provide you with some of the hands-on skills needed to succeed and stand out in business.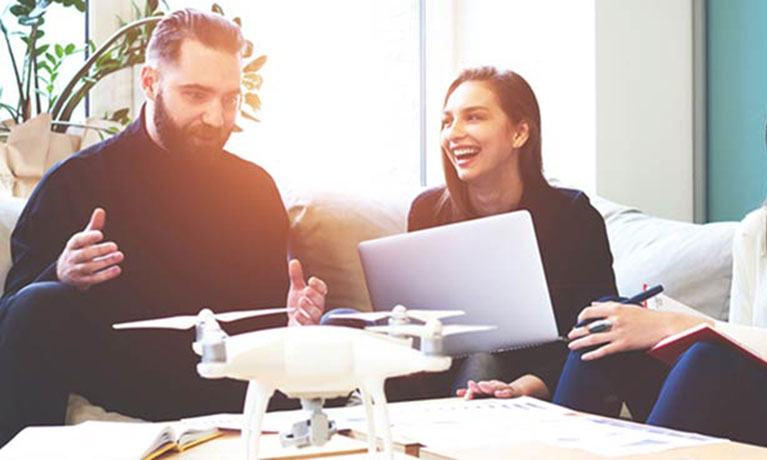 Part of Coventry University Social Enterprise, the Enterprise Hub is an incubation, collaboration and knowledge base in the heart of Coventry. It can advise and support you with new business ideas or entrepreneurial ventures.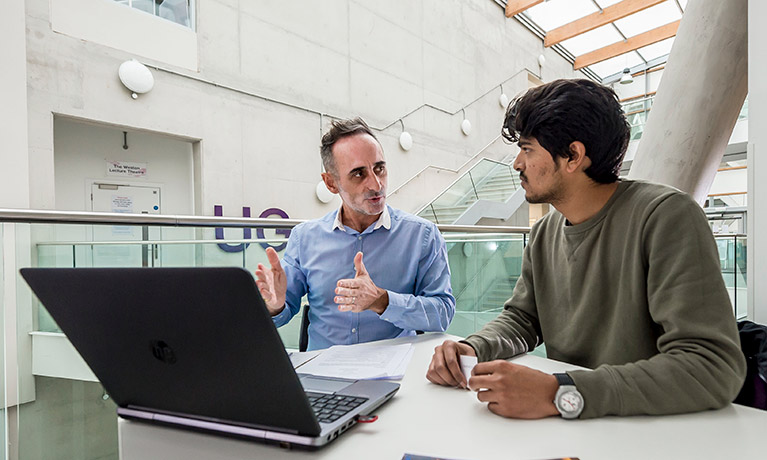 With employability at the forefront of all of our courses, you will have access to our dedicated employability service, the Talent Team, from day one.

---
Careers and opportunities
Coventry University is committed to preparing you for your potential future career options and giving you a competitive edge in the graduate job market. Talent Team, the university's careers and employability team provides a range of support services2 to help you plan and prepare for your potential future career options.
The business world is increasingly internationally focused and this course aims to help you prepare for potential future career options in a range of multinational organisations, businesses, management consultancies and government organisations. The course aims to develop and hone your business skills to build on your understanding of business and management, to help you understand the subject in the international context of today's corporate environment.
You will have the opportunity to develop the intellectual and professional skills needed for performing strategic analysis, choosing strategies and executing these strategies with desired results, as well as the chance to enhance your cross-cultural awareness and competence, interpersonal, communicative and collaborative-working skills, all skills relevant to employers and great value when seeking potential future employment.
Where our graduates work
Previous graduates of our international business courses have found employment positions within generalist HR, general management, specialist pay and reward, people development and employee relations roles.
Further study
You can choose to continue your studies at Coventry University with the International Business Management MSc. You may be entitled to an alumni discount on your fees if you decide to extend your time with us by progressing from undergraduate to postgraduate study.
---
How to apply
UK students

Full-time students applying to start in September 2023 can apply for this course through UCAS from September 6 2022.

Part-time students should apply directly to the university. Read our application pages to find out your next steps to apply.

---

If you'd like further support or more information about your course get in touch with us today.

International students

International codes:
FBLU042

Full-time students applying to start in September 2023 should apply directly to the university.
Read our application pages to find out your next steps to apply.

How to apply

For further support for international applicants applying for an undergraduate degree view our International hub.

You can also download our International Guide which contains lots of useful information about our courses, accommodation, tips for travel and guidance on how to apply.

---

If you'd like further support or more information about your course get in touch with us today.
Disclaimers

Coventry University together with Coventry University London Campus, CU Coventry, CU London, CU Scarborough and Coventry University Online come together to form part of the Coventry University Group (the "University") with all degrees awarded by Coventry University.

1Accreditations

The majority of our courses have been formally recognised by professional bodies, which means the courses have been reviewed and tested to ensure they reach a set standard. In some instances, studying on an accredited course can give you additional benefits such as exemptions from professional exams (subject to availability, fees may apply). Accreditations, partnerships, exemptions and memberships shall be renewed in accordance with the relevant bodies' standard review process and subject to the university maintaining the same high standards of course delivery.

2UK and international opportunities

Please note that we are unable to guarantee any UK or International opportunities (whether required or optional) such as internships, work experience, field trips, conferences, placements or study abroad opportunities and that all such opportunities may be subject to additional costs (which could include, but is not limited to, equipment, materials, bench fees, studio or facilities hire, travel, accommodation and visas), competitive application, availability and/or meeting any applicable travel COVID and visa requirements. To ensure that you fully understand the visa requirements, please contact the International Office.

3Tuition fees

The University will charge the tuition fees that are stated in the above table for the first Academic Year of study. The University will review tuition fees each year. For Home Students, if Parliament permit an increase in tuition fees, the University may increase fees for each subsequent year of study in line with any such changes. Note that any increase is expected to be in line with inflation.

For International Students, we may increase fees each year but such increases will be no more than 5% above inflation. If you defer your course start date or have to extend your studies beyond the normal duration of the course (e.g. to repeat a year or resit examinations) the University reserves the right to charge you fees at a higher rate and/or in accordance with any legislative changes during the additional period of study.

4Facilities

Due to COVID-19, some facilities (including some teaching and learning spaces) and some non-academic offerings (particularly in relation to international experiences), may vary from those advertised and may have reduced availability or restrictions on their use.

Student Contract

By accepting your offer of a place and enrolling with us, a Student Contract will be formed between you and the university. A copy of the 2023/24 contract can be found here. The Contract details your rights and the obligations you will be bound by during your time as a student and contains the obligations that the university will owe to you. You should read the Contract before you accept an offer of a place and before you enrol at the university.
Coventry University (Coventry)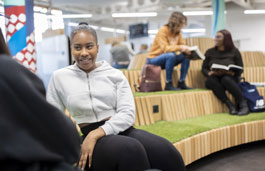 International Business Management BSc (Hons)
Coventry University (Coventry)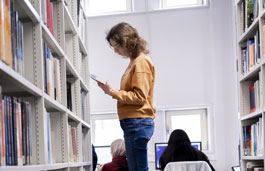 Business Management BA (Hons)
---