Business and Human Resource Management BA (Hons)
Study level:

Undergraduate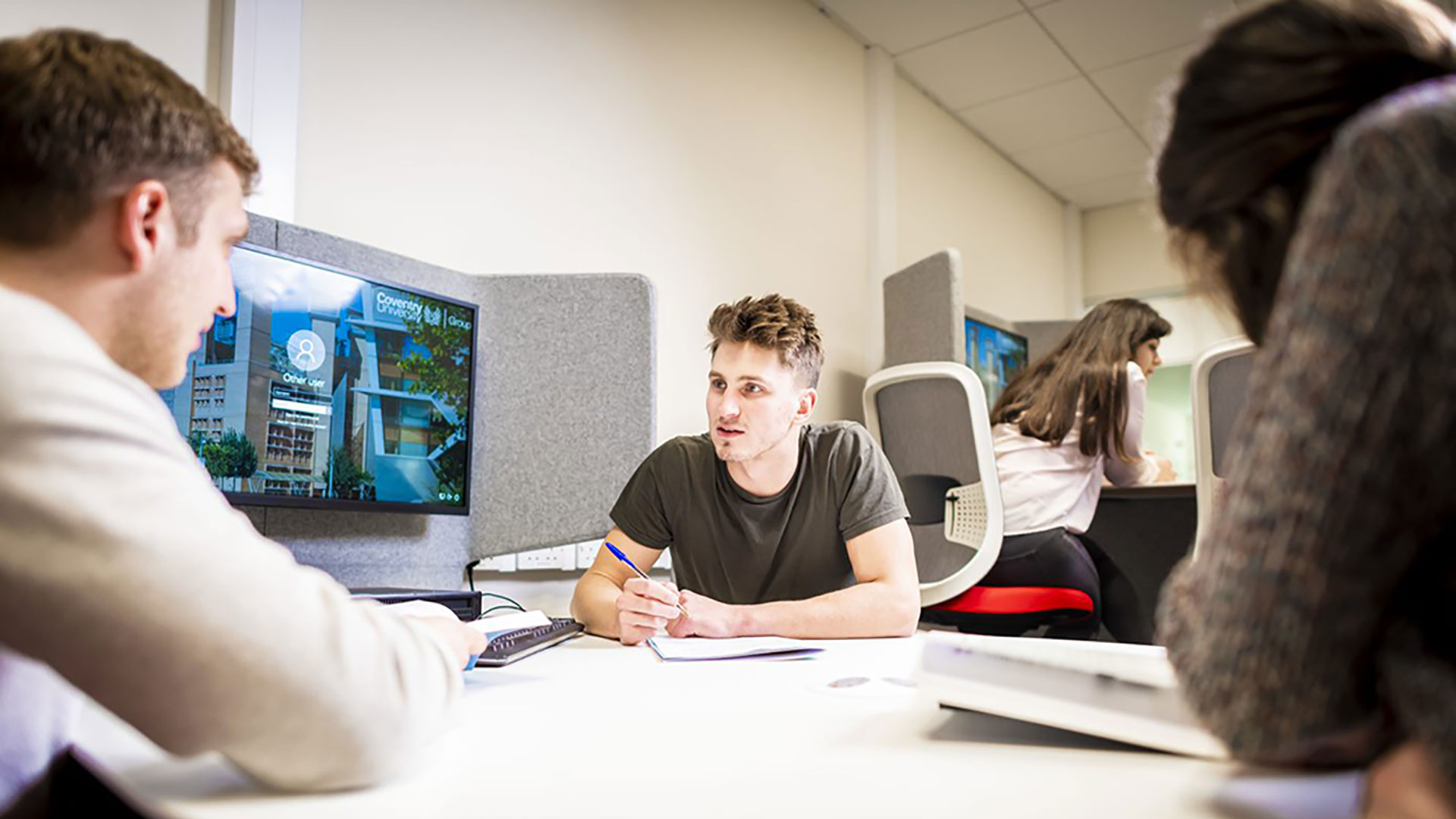 This degree course aims to develop your expertise in broader-based business management and the more specific function of human resource (HR) management. This course focuses on how every organisation's success depends on its ability to recruit, motivate and retain high-quality staff.
Location
Coventry University (Coventry)
Study mode
Full-time
Sandwich
Duration
3 years full-time
4 years sandwich
Start date
September 2023
January 2024
---
Course overview
This course aims to provide you with a distinctive insight into the challenges of managing people at work, and how these can be addressed in a world of fast-paced technological change and increased internationalisation.

Joint Top Modern University for Career Prospects
Guardian University Guide 2021 and 2022

5 QS Stars for Teaching and Facilities
QS Stars University Ratings

Top 5 UK Student City (Coventry)
QS Best Student Cities Index 2023
Why you should study this course
Practice your skills - develop your business skills through a variety of international case studies, problem-based learning, simulated business and human resources activities in our Business Simulation Suite4. The simulation suite is equipped with modern technology, from inter-communication, built-in mics, cameras and the use of virtual reality headsets.
Real-world exposure - industry field trips2 to organisations within a range of sectors and diversified HR functions, past visits include Jaguar Land Rover, Ironbridge, Warwick Castle, Cadbury's and Coventry City Council. You might also be able to attend events to build your professional network2.
Industry insight and professional network development - learn from experienced staff, whose consultancy, training and research links with organisations are deep and wide-ranging (staff are subject to change).
Lecturers at the forefront of HR developments - our research-active staff aim to be able to share the latest thinking, new developments and specific challenges of a changing work environment. We have lecturers who focus on areas such as new ways of working, diversity management, multi-cultural teams, identity, HR professionalisation, the organisation of change and the changing nature of management, social network analysis, shared perceptions, organisational psychology and organisational behaviour (staff subject to change).
Career ready - upon graduation, you should be well prepared to begin your career in HR or to pursue further professional human resource management (HRM) or human resource development (HRD) qualifications, such as the Advanced Chartered Institute of Personnel Development (CIPD) Level 7 or an MA/MSc in Human Resource Management.
Accreditation and professional recognition
The degree is accredited1 and recognised by the following bodies:

This course is accredited at Level 5 of the Chartered Institute of Personnel and Development (CIPD) qualifications framework for the 2023/24 intake1. The CIPD is one of the largest HRM professional bodies. Successful graduates of this course will be awarded CIPD Associate Membership (subject to CIPD's application criteria and approval). This is a globally recognised accreditation and provides you with the opportunity to develop industry standard knowledge, understanding and skills to drive organisational performance. CIPD membership also has an international dimension, as Associate members can benefit from several mutual recognition agreements between the CIPD and other Global HRM professional bodies. For more information, please visit the CIPD website.
---
---
This course has a common first year.
The common first year enables you to work alongside students doing similar courses to you, to widen your knowledge and exposure to other subject areas and professions. You will have the opportunity to collaborate with other students, so you can share your insights and experience which will help you to develop and learn.
If you discover an interest in a specific subject you have studied, upon successful completion of your first year, you could swap degrees with another course in your common first year (subject to meeting progression requirements).
Common first year courses
Advertising and Digital Marketing BA (Hons)
Business Administration BA (Hons)
Business and Marketing BA (Hons)
Business Management BA (Hons)
Enterprise and Entrepreneurship BA (Hons)
Event Management BA (Hons)
International Business Management BSc (Hons)
Marketing BA (Hons)
Sport Management BA (Hons)
Modules
Foundations of Management -20 credits

This module introduces you to the essential building blocks of business and organisational management through a range of theories, concepts and approaches. You can expect to explore the organisational structure, organisational design and business operations before learning about contexts which impact organisations, such as national culture, capitalism, demography and climate change.

Entrepreneurial Thinking - 20 credits

The aim of this module is to enable you to engage critically and creatively with entrepreneurship in the context of responsible management practice. Following an introduction to the key concepts and debates of general entrepreneurial principles, you will actively explore social, economic, and environmental challenges.

Marketing, Digital and Social Media - 20 credits

This module develops your knowledge and understanding of the fundamental concepts in marketing, including digital and social media. You should develop an understanding of the role of marketing within an organisation, and the influence of factors in the external environment on marketing decisions.

Organisation Behaviour - 20 credits

This module explores how people interact with each other in the workplace and the impact that leaders and managers have upon that interaction. It examines the role of people management practices and how these affect individual behaviour in the workplace.

Entrepreneurial Ideation - 20 credits

The aim of this module is to introduce you to the process of entrepreneurial ideation. Entrepreneurial ideation is the creative process of generating, developing, and communicating new ideas. Through authentic and applied assessment, you will be invited to present your ideas to business and organisational leaders2.

Business Decision-Making Using Data Analysis - 20 credits

This module introduces the fundamental concepts and principles of data analytics, and how they can be applied to assess and enhance organisational and functional performance and support decision-making. This module is designed to help you develop an analytical mindset, deepen your understanding, and prepare you to use innovative data analytic tools, techniques, and methods.
In year two, you will continue to develop the skills and knowledge you've learnt. We do this by embedding the following four principles into the curriculum and developing your:
Technical skills – digital fluency, backed with the right academic knowledge
Study skills – to be an adaptive, independent and proactive learner
Professional skills – to have the behaviour and abilities to succeed in your career
Global awareness – the beliefs and abilities to be a resilient, confident and motivated global citizen
Modules
Innovation in Practice - 20 credits

The aim of this module is for you to work collaboratively with organisations to develop innovative solutions to 'wicked problems'. We aim to further enhance the curriculum with guest speaker sessions from entrepreneurs and key organisational leaders2.

Designing a Research Proposal - 20 credits

This module is designed to help equip you with the necessary skills and knowledge to undertake your final year project.

Strategic Reward and Performance Management - 20 credits

This module will provide you with a wide understanding of how performance management and reward strategies interlink and can drive sustained organisation performance, competitive advantage, employee engagement and employee well-being.

Resourcing, Talent Planning and Employer Branding - 20 credits

This module introduces you to the strategic approaches that organisations take, to position themselves as employers in the labour market and to plan effectively so that they are able to meet their current and anticipated organisational skills needs.

Managing Change and the Future of Work - 20 credits

You will explore the theories and frameworks underpinning organisational change and evaluate how new developments in how people work can help deliver change and improve organisational effectiveness for the future.

HR Analytics for Strategic Decision-Making - 20 credits

You will examine how analytics can help organisations to look forward in their decision-making, reducing errors and costs whilst increasing optimisation.
There's no better way to find out what you love doing than trying it out for yourself, which is why a work placement2 can often be beneficial. Work placements usually occur between your second and final year of study. They're a great way to help you explore your potential career path and gain valuable work experience, whilst developing transferable skills for the future.
If you choose to do a work placement year, you will pay a reduced tuition fee3 of £1,250. For more information, please go to the fees and funding section. During this time you will receive guidance from your employer or partner institution, along with your assigned academic mentor who will ensure you have the support you need to complete your placement.
Modules
UK Work Placement– 0 credits

This module2 provides you with an opportunity to reflect upon and gain experience for an approved placement undertaken during your programme. A placement should usually be at least 26 weeks or equivalent; however, each placement will be considered on its own merits, having regard to the ability to achieve the learning outcomes.

International Study/Work Placement – 0 credits

This module2 provides you with an opportunity to reflect upon and gain experience for an approved international study/work placement undertaken during your programme. A work/study placement should usually be at least 26 weeks or equivalent; however, each placement will be considered on its own merits, having regard to the ability to achieve the learning outcomes.
Year three aims to bring you to the level to enter the world of work by consolidating your knowledge and skills from years one and two. You could also work on a large final project in an area of your interest, with the support of a mentor and your Academic Personal Tutor.
Modules
Employment Law - 20 credits

Gain a critical understanding of the regulation by law of the management of workplace relationships and place the legal rules in their broader economic and socio-political context

Employment Relations - 20 credits

You will critically examine how and why work and workplace conflict are regulated at an organisational and societal level, and by whom.

International Human Resources Management - 20 credits

You will critically explore the policies and practices for the management of people across international boundaries, as well as the complex human resource and employment strategies and policies in multinational corporations (MNC).

Project - 40 credits

This module will provide you with the opportunity to apply and develop your research skills and extend your knowledge, understanding and ability to critically analyse a topic in a specialist area of interest. You will choose a research topic related to your programme of study and apply critical analysis skills acquired through this and other modules to research the topic in depth.

Coaching and Mentoring - 20 credits

You will analyse the efficiency and effectiveness of coaching and mentoring interventions and the role of the line manager as coach and mentor.

Corporate Identity, Communication and Reputation - 20 credits

The aim of this module is for you to develop a broad understanding of the theories and concepts used to manage corporate reputation, including the corporate brand, corporate identity and corporate communication strategies. The module also aims to develop your understanding of the role of corporate communications, corporate branding and reputational status in relation to other functions and the strategic development of an organisation. It also explores how organisations use corporate brand management to communicate with stakeholders in a variety of contexts.
We regularly review our course content, to make it relevant and current for the benefit of our students. For these reasons, course modules may be updated.
---
How you'll learn
We want you to take an active role in your learning, not simply sit in a lecture theatre. You will have opportunities to take part in or observe role-play activities in recruitment and selection, negotiations, mock tribunals, problem-solving, managing change issues, and working on the implications for HRM with regards to changes in legislation, policy and employment trends.
Workshops, designed with the CIPD Profession Map of behaviours and skills in mind, aim to provide guided exposure to academic works, with specialist inputs from industry and team-based projects.
This course can be offered on a part-time basis. Whilst we would like to give you all the information about our part-time offering here, it is tailored for each course each year depending on the number of part-time applicants. Therefore, the part-time teaching arrangements vary. Request further information about part-time study.
---
Teaching contact hours
We understand that everyone learns differently, so each of our courses will consist of structured teaching sessions, which can include:
On campus lectures, seminars and workshops
Group work
Self-directed learning
Work placement opportunities2.
If you would like more information, you can request information about teaching hours.
The number of full-time contact hours may vary from semester to semester, however, on average, it is likely to be around 12 contact hours per week in the first and second year dropping to around 8 contact hours per week in the third and final year as you become a more independent learner.
Additionally, you will be expected to undertake a significant self-directed study of approximately 12 hours each week, depending on the demands of individual modules.
Part of university life is undertaking self-directed learning. During a typical week you will have time that allows you to work independently to apply the skills and knowledge you have learnt in taught or facilitated sessions to your projects or assignment briefs. This self-directed learning allows you to use your research skills, consolidate your knowledge or undertake collaborative group work.
As an innovative and enterprising institution, the university may seek to utilise emerging technologies within the student experience. For all courses (whether on-campus, blended, or distance learning), the university may deliver certain contact hours and assessments via online technologies and methods.
In response to the COVID-19 pandemic, we are prepared for courses due to start in or after the 2023/2024 academic year to be delivered in a variety of forms.  The form of delivery will be determined in accordance with Government and Public Health guidance.  Whether on campus or online, our key priority is staff and student safety.
---
Assessment
This course will be assessed using a variety of methods which will vary depending upon the module.
Assessment methods include:
Phase tests
Essays
Group coursework
Individual and group presentations
Reports
Projects
Video pitches
Simulations
Critical Reflections
Role play
The Coventry University Group assessment strategy ensures that our courses are fairly assessed and allows us to monitor student progression towards achieving the intended learning outcomes.
---
International experience opportunities
You will have the opportunity2 to take part in an overseas study trip, or a full year abroad.
This course aims to attract a diverse student and staff body. We also have dedicated teams to help promote and support internship, study and work abroad planning; you are encouraged to consider these opportunities2 from the moment you join our programmes.
Coventry Business School currently has a number of links with multinational organisations and where possible, we aim to include representatives from these organisations in the teaching and learning of this course. You will also be supported in applying to undertake HRM placement opportunities in a number of countries, for example China, United Arab Emirates, India, Nigeria and the USA.
---
Entry requirements
Typical offer for 2023/24 entry.
---
Fees and funding
2023/24 tuition fees.
Student
Full-time
Part-time
UK, Ireland*, Channel Islands or Isle of Man
£9,250 per year
Request fee information
EU
£9,250 per year with EU support bursary**
£16,800 per year without EU support bursary**
Not available
International
£16,800 per year
Not available
If you choose to do a work placement2, you should consider travel and living costs to cover this. There is also a tuition fee3 of £1,250 that will cover your academic support throughout your placement year.
For advice and guidance on tuition fees and student loans visit our Undergraduate Finance page and see The University's Tuition Fee and Refund Terms and Conditions.
We offer a range of International scholarships to students all over the world. For more information, visit our International Scholarships page.
Tuition fees cover the cost of your teaching, assessments, facilities and support services. There may be additional costs not covered by this fee such as accommodation and living costs, recommended reading books, stationery, printing and re-assessments should you need them. Find out what's included in your tuition costs.
The following are additional costs not included in the tuition fees:
Any optional overseas field trips or visits: £400+ per trip.
Any costs associated with securing, attending or completing a placement (whether in the UK or abroad)
*Irish student fees
The rights of Irish residents to study in the UK are preserved under the Common Travel Area arrangement. If you are an Irish student and meet the residency criteria, you can study in England, pay the same level of tuition fees as English students and utilise the Tuition Fee Loan.
**EU support bursary
Following the UK's exit from the European Union, we are offering financial support to all eligible EU students who wish to study an undergraduate or a postgraduate degree with us full-time. This bursary will be used to offset the cost of your tuition fees to bring them in-line with that of UK students. Students studying a Degree with a Foundation Year with us are not eligible for the bursary.
How do you know if you need to pay UK or international tuition fees?

We carry out an initial fee status assessment based on the information you provide in your application. Your fee status determines your tuition fees, and what financial support and scholarships may be available to you. The rules about who pays UK (home) or international (overseas) fees for higher education courses in England are set by the government's Department for Education. The regulations identify all the different categories of student who can insist on paying the home rate. The regulations can be difficult to understand, so the UK Council for International Student Affairs (UKCISA) has provided fee status guidance to help you identify whether you are eligible to pay the home or overseas rate.

If you meet all the criteria required by any one category, including any residence requirements, your institution must charge you the home rate. You only need to find one category that you fit into.
---
Facilities
At Coventry Business School, our facilities4 and technology aim to replicate what you would expect in real-world business environments.
When studying the Business and Human Resource Management course, you will have some teaching in our Business Simulation Suite that facilitates strategic problem-solving in life-like simulated business environments4.
---
Careers and opportunities
The course aims to equip you with varied business knowledge and associated expertise, enabling you to be an effective HR manager and leader in public, private or voluntary organisations, and to pursue an international management career in an HRM or business role.
Upon successful completion, you will:
Have a comprehensive knowledge and understanding of the function of and context in which Human Resource Management operates.
Understand best practice approaches, contemporary theories and empirical evidence concerning the effective management of people within a business environment.
Have the ability to evaluate and present reasoned arguments for adopting different approaches to effectively manage people within various business contexts.
Be able to design a range of human resource processes and procedures e.g. recruitment and selection, performance appraisal, grievance and disciplinary.
Have experience in conducting a range of interviews associated with managing people, including selection, appraisal, counselling, grievance, and exit interviews.
Have developed a broad range of transferrable professional skills, e.g. Individual initiative and enterprise, effective performance within a team environment and interpersonal skills of effective listening, negotiating, persuasion and presentation.
Demonstrate intellectual independence including addressing and resolving legal and related questions, identifying gaps in your own knowledge and acquiring new knowledge, tolerating ambiguity and engaging in critical analysis and evaluation.
This degree aims to provide you with a critical and reflective understanding of HRM and its relationship with the wider international business environment. It could lead to specialist careers in HRM, human resource development and workplace psychology, as well as more general business roles in business analysis, project management or marketing.
Where our graduates work
Our graduates have gone on to work with high-profile organisations such as Virgin Media, Jaguar-Land Rover, Amway, Adecco, Business Launchpad, Encore personnel, Hays, NHS England, Brunel University, Warwick University, 7IM, Travis Perkins, Nissan Westway, KClearHR, Ricoh Europe, Shell Energy, Handelsbanken, Sellafield and KPMG.
---
How to apply
UK students

Full-time students applying to start in September 2023 can apply for this course through UCAS from 6 September 2022. Read our application pages to find out your next steps to apply.

Part-time students should apply directly to the university.

---

If you'd like further support or more information about your course get in touch with us today.

International students

International codes:
FBLU099

Full-time students applying to start in September 2023 should apply directly to the university.

How to apply

For further support for international applicants applying for an undergraduate degree view our International hub.

You can also download our International guide which contains lots of useful information about our courses, accommodation and tips for travel.

---

Get in touch with us today for further advice and guidance.
Disclaimers

Coventry University together with Coventry University London Campus, CU Coventry, CU London, CU Scarborough and Coventry University Online come together to form part of the Coventry University Group (the "University") with all degrees awarded by Coventry University.

1Accreditations

The majority of our courses have been formally recognised by professional bodies, which means the courses have been reviewed and tested to ensure they reach a set standard. In some instances, studying on an accredited course can give you additional benefits such as exemptions from professional exams (subject to availability, fees may apply). Accreditations, partnerships, exemptions and memberships shall be renewed in accordance with the relevant bodies' standard review process and subject to the university maintaining the same high standards of course delivery.

2UK and international opportunities

Please note that we are unable to guarantee any UK or International opportunities (whether required or optional) such as internships, work experience, field trips, conferences, placements or study abroad opportunities and that all such opportunities may be subject to additional costs (which could include, but is not limited to, equipment, materials, bench fees, studio or facilities hire, travel, accommodation and visas), competitive application, availability and/or meeting any applicable travel COVID and visa requirements. To ensure that you fully understand the visa requirements, please contact the International Office.

3Tuition fees

The University will charge the tuition fees that are stated in the above table for the first Academic Year of study. The University will review tuition fees each year. For UK (home) students, if Parliament permit an increase in tuition fees, the University may increase fees for each subsequent year of study in line with any such changes. Note that any increase is expected to be in line with inflation.

For International Students, we may increase fees each year but such increases will be no more than 5% above inflation. If you defer your course start date or have to extend your studies beyond the normal duration of the course (e.g. to repeat a year or resit examinations) the University reserves the right to charge you fees at a higher rate and/or in accordance with any legislative changes during the additional period of study.

4Facilities

Due to COVID-19, some facilities (including some teaching and learning spaces) and some non-academic offerings (particularly in relation to international experiences), may vary from those advertised and may have reduced availability or restrictions on their use.

Student Contract

By accepting your offer of a place and enrolling with us, a Student Contract will be formed between you and the university. A copy of the 2023/24 contract can be found here. The Contract details your rights and the obligations you will be bound by during your time as a student and contains the obligations that the university will owe to you. You should read the Contract before you accept an offer of a place and before you enrol at the university.
---
---