Sociology and Criminology BA (Hons)
Course Code
UCAS Code: LM39
International Code: AHU048
Location
Coventry University (Coventry)
Study mode
Full-time
Part-time
Sandwich
Duration
3 years full-time
4 years sandwich
Flexible part-time
Start date
September 2022
---
Course overview
Study level: Undergraduate
Combining two exciting and complementary disciplines, this fascinating degree explores social issues and problems, focusing on crime, victimisation, justice and punishment.
You will study how crime relates to key sociological issues such as inequality, marginality, identity, power and control.
Consider the individual motivations which cause criminal behaviour in order to gain an understanding of the reasons and consequences of crime.
We have excellent links with local organisations and employers, many of whom provide work placements. Such links currently include the Citizens Advice Bureau and Coventry City Council.

Global Ready
An international outlook, with global opportunities

Teaching excellence
Taught by lecturers who are experts in their field

Employability
Career ready graduates, with the skills to succeed
Why you should study this course
Our course has been designed by experienced teaching staff, qualified educationalists, former criminal justice practitioners, active researchers and experts in areas such as race, gender, media, sexuality and class. Student support is one of our top priorities and you'll be joining a lively, welcoming and friendly community. Opportunities that come with this course include the following:
Choice of optional modules allowing you to tailor your degree to suit your interests in Sociology and Criminology.
We will encourage you to challenge some of the typical preconceptions about the nature of crime and disorder; about who commits crime, the harm it entails and how it is punished. In doing so, you should develop strong analytical abilities, enabling you to cast a perceptive and critical eye on the world and convey your ideas and views effectively.
You will develop an appreciation and understanding of areas like social policy through a range of events and conferences, with academics, practitioners and policy makers. (Subject to availability, additional costs may apply). in the past, students have attended the British Sociological Association Annual Conference and the Coventry University 'Sociology Speaking Seminar Series' and engaged in debate about issues, policy and laws concerning areas such as social justice, media, immigration and current political affairs.
You may also have the opportunity to participate in exciting field trips. Students have previously visited Berlin to explore Post War Germany Memorialisation, Sicily to examine Anti-Mafia Organisations, and Gothenburg to research migration, urban development, music and food culture.
Sociology and Criminology student Olivia Burke talks about her placement and how it's helped her future career.
More than just a degree
I would recommend this course and Coventry University to anyone who is looking for a contemporary learning and assessment style. It really equips you with transferrable skills and the confidence to succeed in any career that you might want.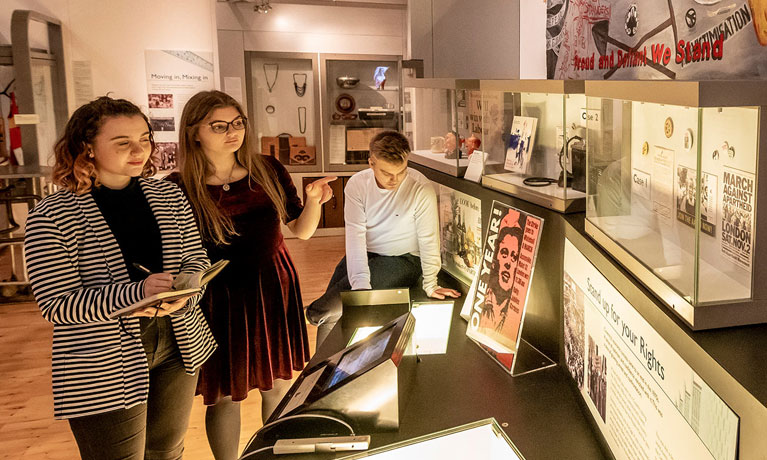 ---
What you'll study
If you have a curious, analytical mind and are interested in crime and its effects on individuals and society at large, this course engages you in challenging and often emotive debates about human behaviour and the societies we live in.
Underpinned by core sociological and criminological theories and research methods, our degree focuses on crime and criminal justice in a broad, social and global context, including its effect on individuals, families, communities and workplaces. We will draw on case studies from around the world, rather than exclusively from Britain, as social and political changes such as migration, employment, war and conflict have an impact on patterns in crime and social relations.
You will explore a range of key contemporary social issues, including: globalisation and development, race and ethnicity, media and culture, family and gender relations. In the Criminology component of the course, you will be introduced to concepts and issues in crime, control and punishment. This is to develop your understanding of the workings of criminal justice institutions such as the police, courts, prisons and probation.
Modules
Understanding Society - 30 credits

This module aims to provide you with an understanding of sociology as an academic discipline in the broadest sense. Key aspects of social life in contemporary societies will be examined.

Assessment: coursework

Race and Racism - 20 credits

The aim of this module is to examine historical and contemporary debates and issues associated with race and racism. The module begins by examining the origins of the construction of 'race' by looking at the legacy of colonialism, imperialism and slavery. We also explore the ways national identities are constructed.

Assessment: coursework

Gender and Society - 20 credits

This module introduces you to studies of gender and society. It offers you the opportunity to explore the ways in which social structures and institutions create and reproduce gender relations and to consider this in relation to the experiences of women, men and people who identify with non-binary, gender fluid and other gender identities.

Assessment: coursework

Crime and Criminality - 20 credits

This module introduces you to the key concepts, issues and theories in criminology, through the examination of different types of crime. You will become familiar with different approaches to the explanation of crime and victimisation and come to see how crime is socially constituted through laws, policy, media, culture and public debates.

Assessment: coursework

Policing and Criminal Justice - 20 credits

This module introduces you to law enforcement and criminal justice which is essential to the development of criminological knowledge. It provides an overview of the institutions, agencies and processes involved in law enforcement, justice and punishment including police, courts, judiciary, prosecution, legal profession, probation and offender management services and prisons.

Assessment: coursework, presentation

Add+vantage - 10 credits

You will also be able to take an Add+vantage module which can allow you to develop your CV by taking credits in an area of study that doesn't have to be related to your degree. The assessment type will depend on the type of Add+vantage module you wish to take.

Assessment: Coursework, exam
In the second year, you will develop your knowledge and understanding of social theory and undertake practical training in social research methods. You will explore the links between crime, inequality, marginality and power, with the option to study specialist modules of your choice.
Modules
Tradition and Controversy in Social Theory - 20 credits

This module aims to provide you with an appreciation of 'classical' social theory - the work of Marx, Weber and Durkheim. Secondly, it explores the development of 'modern' social theory. Thirdly, it allows you to gain some understanding of contemporary debates and controversies.

Assessment: coursework, presentation

Contemporary and Critical Issues in Crime and Justice - 20 credits

This module explores central problems, key debates and contemporary research issues in criminology, alongside the dynamic policy landscape in policing, criminal justice and corrections. You will critically engage with developments in criminological theory, current research problems and debates (and how these are reflected in media and public discourse) and changes in policy and practice.

Assessment: coursework

Researching Social Life - 30 credits

The aim of this module is to develop your understanding of the rationale for and methodological issues associated with research. You will develop skills in critical evaluation of qualitative and quantitative research approaches and question the epistemological and ontological foundations of knowledge and research practice.

Assessment: coursework

History of International Crime - 20 credits

This module provides you with a basic understanding of international organised crime groups. Analysing the historical developments of the traditional criminal organisations (such as the Sicilian mafia, US mafia, Japanese Yakuza, Russian clans) each week, the module will provide knowledge and insight about the nature and the extent of organised crime, the social and legal consequences, the dynamic relationship between organised criminal groups, law enforcement organisations, states and civil societies.

Assessment: coursework

Sex, Sexuality, Power and Oppression - 20 credits

This module explores the relationship between sex, sexuality and political and moral definitions of crime and deviance. Drawing on key theoretical perspectives, it examines a range of issues from the perspective of both victim and perpetrator and explores the relationship between sexuality and social control (e.g. prostitution, pornography and heterosexual and same sex relationships).

Assessment: coursework, presentation

Activism #Theageofempowerment - 20 credits

This course will aim to further our understanding of social movements by examining how they are developed, are sustained, and how they (sometimes) decline. Our study of social movements will move back and forth between abstract concepts and particular case studies of social movements. The goal is for students to examine and critically assess the role of social movements in society.

Assessment: coursework

Add+vantage - 10 credits

You will also be able to take an Add+vantage module which can allow you to develop your CV by taking credits in an area of study that doesn't have to be related to your degree. The assessment type will depend on the type of Add+vantage module you wish to take.

Assessment: coursework, exam
After your second year, this course offers you the option to undertake a Professional Placement or Study Abroad year*.
Past professional placements in the UK have included Prison Support Officers, Student Advocacy and Refugee Worker, Youth Co-ordinators, Rehabilitation Support Workers, Management Trainees, Event Co-ordinators and Marketing Placements.
If you wish to do so, you can opt to either take the Study Abroad Year module or the Professional Placement Year module which typically runs for a full academic year between years 2 and 3 of your course. You are able to progress onto the relevant module if you have successfully completed the first two years of the course (i.e. having accumulated 240 credits) and provided that you confirm your interest in undertaking this option before the end of your second year, typically in August.
While the above modules are non-credit bearing and do not incur any additional tuition fees, if successfully completed, these modules will appear on your final academic transcript.
Modules
Study Abroad

Professional Placement

Add+vantage - 10 credits

You will also be able to take an Add+vantage module which can allow you to develop your CV by taking credits in an area of study that doesn't have to be related to your degree. The assessment type will depend on the type of Add+vantage module you wish to take.

Assessment: Coursework, exam
The final year of the programme provides a wide choice of optional modules so you can pick a specialism of your interest. You will also undertake one (or more depending on your modules) supervised research projects, applying the skills and techniques you acquired in your second year research training. In the past, students have explored issues such as media representations of deviancy, the racialisation of crime, and violence and gender.
Modules
Punishment and Penology - 20 credits

This module explores the history of punishment, considering both custodial and non-custodial sanctions in the context of penal theories, policy and practice. You will gain an understanding of how the experience of punishment can be shaped by social divisions and examine the goals of punishment in order to evaluate the success of modern penal institutions and the problems of crisis, legitimacy and resourcing that they face.

Assessment: coursework, podcast

Portfolio Project - 10 credits

In this module you will create a website based on your achievements on the course as an online portfolio. This might include films, photography and other assessments. It will enable you to think strategically about employment by linking your abilities to actual examples of your work, giving you a chance to describe in job interviews how you are committed to their mission.

Assessment: coursework

Final Project in Sociology or Criminology - 40 credits

This module is designed to enable you to develop, enhance and put into practice the research and analytical skills acquired in your previous years of study. This can take the form of an extended piece of writing, or a new media project such as a documentary film. The final project provides opportunities for the application of knowledge and understanding acquired at levels four and five. You will also develop time-management and independent learning skills relating to the self-directed study essential to the successful completion of the final project.

Assessment: coursework

Digital Worlds - 20 credits

This module offers a critical exploration of various digital sites and social media spaces with a particular focus on how cultures, identities and social divisions play out within them. Themes we explore include: social media and identity; digital inequalities and divides; gaming cultures and communities; and cybercrime and online harassment.

Assessment: coursework

Disability in Society - 20 credits

This module will explore the construction of disability as identity, and the experience of being disabled, through a critical disability studies approach. The module will give students a grounding in disability theory and its application, while challenging them to critically consider the role ableism plays in their own lived experience.

Study Trip - 20 credits

This module aims to give you the opportunity to address and explore issues and themes in history, international relations, sociology, politics and linked disciplines, in an international setting. A number of issues, depending on your degree, will be analysed either in the field study location or in a simulated/online environment. For example, on a field trip to Sicily, issues in history would include the origins and development of Italian organised criminal organisations, themes in politics would include the relationship between politics and the mafia, topics in sociology would include the study of women and various mafia groupings and transnational organised crime.

Assessment: coursework

Deviance and Desire - 20 credits

This module explores the relationship between deviance and desire across societies and the impact on people's lives. We'll explore queer theory and biopower, and the complex relationship between power structures and the multiple social constructions of deviance.

Assessment: coursework

Global Organised Crime

Add+vantage - 10 credits

You will also be able to take an Add+vantage module which can allow you to develop your CV by taking credits in an area of study that doesn't have to be related to your degree. The assessment type will depend on the type of Add+vantage module you wish to take.

Assessment: Coursework, exam
We regularly review our course content, to make it relevant and current for the benefit of our students. For these reasons, course modules may be updated.
---
How you'll learn
We aim to regularly introduce contemporary issues into the classroom. For example, we might discuss topical issues in the news, such as youth crime, the #Me Too movement, terrorism or Brexit. We use real-life case studies and field trips to compare issues and build your knowledge and understanding of crime and society so you can apply what you have learnt.
This course can be studied on a full-time basis for three years or part-time, typically taking between four and six years to complete. It has intakes in September and is taught using a mixture of lectures, small group seminars, personal tutorials and practical 'hands-on' skills workshops. Core course content will be delivered during the lectures, while the associated seminars and workshops offer opportunities for you to explore topics more independently and in more depth.
---
Assessment
This course will be assessed using a variety of methods which could vary depending upon the module. Assessment methods, for both full-time and part-time students may include coursework, tests, essays (including group work elements) and formal examinations.
The Coventry University Group assessment strategy ensures that our courses are fairly assessed and allows us to monitor student progression towards the achieving the intended learning outcomes.
---
Job ready
Upon successful completion of this course you will be able to:
Demonstrate knowledge and understanding of sociological and criminological thought and theory. This includes research methodologies and their application, and the processes that occur during social change. You should also have insightful awareness over key debates on crime, justice and punishment in the context of social institutions, relationships.
Demonstrate competence in interpreting, analysing, evaluating and communicating sociological and criminological information, arguments and research evidence to draw conclusions about the validity of different claims and arguments.
Demonstrate the ability to think reflectively, critically and analytically about key issues.
Use social scientific research techniques to collect and interpret data and present it in a variety of formats suitable for different audiences.
Communicate in a confident, professional manner, both verbally and in writing.
---
International experience opportunities
There are opportunities for overseas fieldtrips, study or placements abroad*. For example, in recent years, students have studied on a range of sociology related (and non-directly sociology related) courses at universities in Sweden, Spain, Italy and the Netherlands.
Our Study Trip* module provides further opportunities for international experiences and has previously led to visits to Kraków , Berlin, Istanbul, Poland and Gothenburg where students have visited a number of significant social, cultural and political spaces. This has included places such as Auschwitz and the military airport of Boccadifalco (additional costs may apply).
For those students who are not engaged in any of the above activities, we also run an International Week, where you will hear from international speakers and view international films among participating in exciting events and activities (subject to availability).
Studying Sociology and Criminology at Coventry University was an amazing experience that wouldn't have been the same anywhere else. I especially appreciated the focus on creativity which allowed me to conduct and present my work in various ways. I had the opportunity to take a placement year abroad and gained lifelong experiences without the gap affecting the completion of my degree.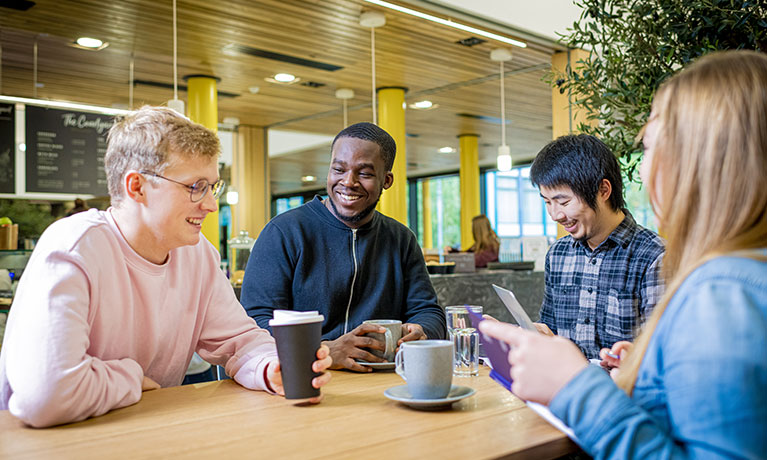 ---
Entry requirements
Haven't met the entry requirements or don't have the right qualifications? You may still be able to progress onto a degree you'd love by studying a foundation or access course.
View our full list of country specific entry requirements on our Entry requirements page. You can also explore our International foundation year courses.
---
Fees and funding
2022/23 Tuition fees
| Student | Full time | Part time |
| --- | --- | --- |
| UK | £9,250 per year | Not available |
| International | £15,300 per year | Not available |
For advice and guidance on tuition fees and student loans visit our Undergraduate Finance page and see The University's Tuition Fee and Refund Terms and Conditions.
We offer a range of International scholarships to students all over the world. For more information, visit our International Scholarships page.
Tuition fees cover the cost of your teaching, assessments, facilities and support services. There may be additional costs not covered by this fee such as accommodation and living costs, recommended reading books, stationery, printing and re-assessments should you need them. Find out what's included in your tuition costs.
---
Facilities
The Faculty of Arts and Humanities is joining two of our school's completely refurbished Art and Design buildings and adding a range of new facilities, and is set to open later in 2022. These will include a hyper studio designed for cross-disciplinary projects; immersive studios with cutting-edge virtual reality and mixed-reality technologies. Our aim is to offer you sector-leading facilities in a unique environment.
The library offers a team of dedicated academic liaison librarians who provide specialist help and support. You'll also have access to subject specific databases of journal articles related to criminology and forensics.
Prison cells
Our Criminology students can use our mock cells to experience the practical aspects of life in prison.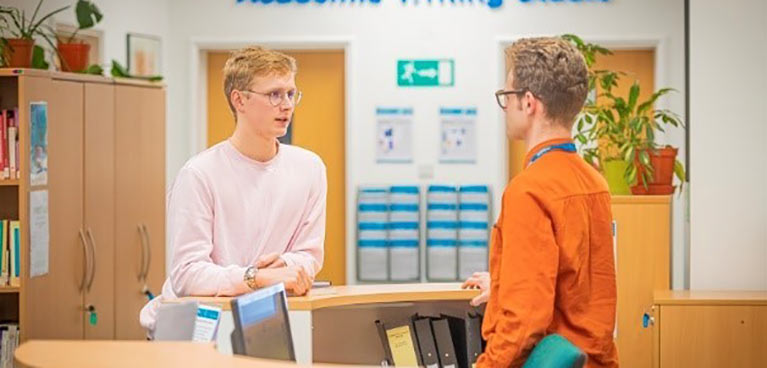 Academic support
No matter which degree you're studying, you'll find a lot of support on campus, including the Centre of Academic Writing and sigma, which offers mathematics and statistics support.
---
Careers and opportunities
Our courses have been designed to provide practical work experience and to give you an opportunity to develop a range of skills and competencies that will help to make you attractive to potential employers.
We're committed to preparing you for your future career and giving you a competitive edge in the graduate job market. The university's dedicated careers and employability support, Talent Team, provide a wide range of support services to help you plan and prepare for your career.
Our employment tutors provide a programme of workshops, embedded learning, lectures, professional experience and one-to-one guidance to support you in developing the transferable skills and enterprising habits required for a successful career.
Where our graduates work
Recent graduates are currently employed in the private sector in industries ranging from banking and finance to media. They also work across the public sector in education, the civil service, police forces, local authorities, charities and Non-Governmental Organisations (NGOs).
Further study
You can choose to continue your studies at Coventry University with the Social Work MA. You may be entitled to an alumni discount on your fees if you decide to extend your time with us by progressing from undergraduate to postgraduate study.
As part of my four-year sandwich course I attended the Universidad Europea de Madrid for a year before completing my final year of study at Coventry University. I also started volunteering at Coventry Haven Women's Aid who are a local charity which helps women who have been affected by domestic abuse. My time at Coventry University has equipped me with more than enough knowledge and experience and given me the best chance to achieve my career goals.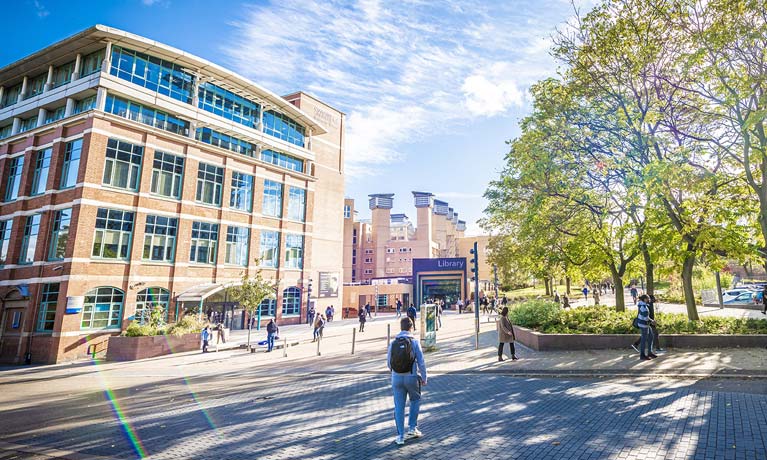 ---
How to apply
UK Students

Full-time students applying to start in September should apply for this course through UCAS. Read our application pages to find out your next steps to apply.

Part-time students should apply directly to the university.

---

For further support or more information about your course get in touch with us today.

International Students

Full-time students applying to start in September should apply directly to the university. Read our application pages to find out your next steps to apply.

How to apply

For further support for international applicants applying for an undergraduate degree view our International hub.

You can also download our International guide which contains lots of useful information about our courses, accommodation and tips for travel.

---

Get in touch with us today for further advice and guidance.
You may also like
Coventry University (Coventry)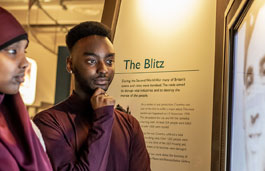 ---
---
Disclaimer

Student Contract

By accepting your offer of a place and enrolling with us, a Student Contract will be formed between you and the university. A copy of the 2021/22 Contract can be found here. The Contract details your rights and the obligations you will be bound by during your time as a student and contains the obligations that the university will owe to you. You should read the Contract before you accept an offer of a place and before you enrol at the university.

Tuition fees

The tuition fee for the course that is stated on the course webpage and in the prospectus for the first year of study will apply. We will review our tuition fees each year. For UK and EU students, if Parliament permit an increase in tuition fees, we may increase fees for each subsequent year of study in line with any such changes. Note that any increase is expected to be in line with inflation. Following the UK's exit from the European Union, EU students should be aware that there may be a change to UK laws following the UK's exit, this may change their student status, their eligibility to study part time, and/or their eligibility for student finance. We will act in accordance with the UK's laws in force in relation to student tuition fees and finance from time to time.

For International students the tuition fee that is stated on the course webpage and in the prospectus for the first year of study will apply. We will review our tuition fees each year. For international students, we may increase fees for each subsequent year of study but such increases will be no more than 5% above inflation.

Accreditations

The majority of our courses have been formally recognised by professional bodies, which means the courses have been reviewed and tested to ensure they reach a set standard. In some instances, studying on an accredited course can give you additional benefits such as exemptions from professional exams (subject to availability, fees may apply). Accreditations, partnerships, exemptions and memberships shall be renewed in accordance with the relevant bodies' standard review process and subject to the university maintaining the same high standards of course delivery.

Facilities

Facilities mentioned on this page may not be relevant for every course. Due to the ongoing restrictions relating to COVID-19, some facilities (including some teaching and learning spaces) and some non-academic offerings (particularly in relation to international experiences), may vary from those advertised and may have reduced availability or restrictions on their use.

Placements and study abroad opportunities

Please note that we are unable to guarantee any placement or study abroad opportunities and that all such opportunities may be subject to additional costs (e.g. travel, visas and accommodation etc.), competitive application, availability and/or meeting any applicable visa requirements. To ensure that you fully understand the requirements in this regard, please contact the International Office for further details if you are an EU or International student.

Additional costs

This course may incur additional costs associated with any field trips, placements or work experience, study abroad opportunities or any other opportunity (whether required or optional), which could include (but is not limited to), equipment, materials, bench fees, studio or facilities hire, travel, accommodation and visas).