English Literature BA (Hons)
Study level:

Undergraduate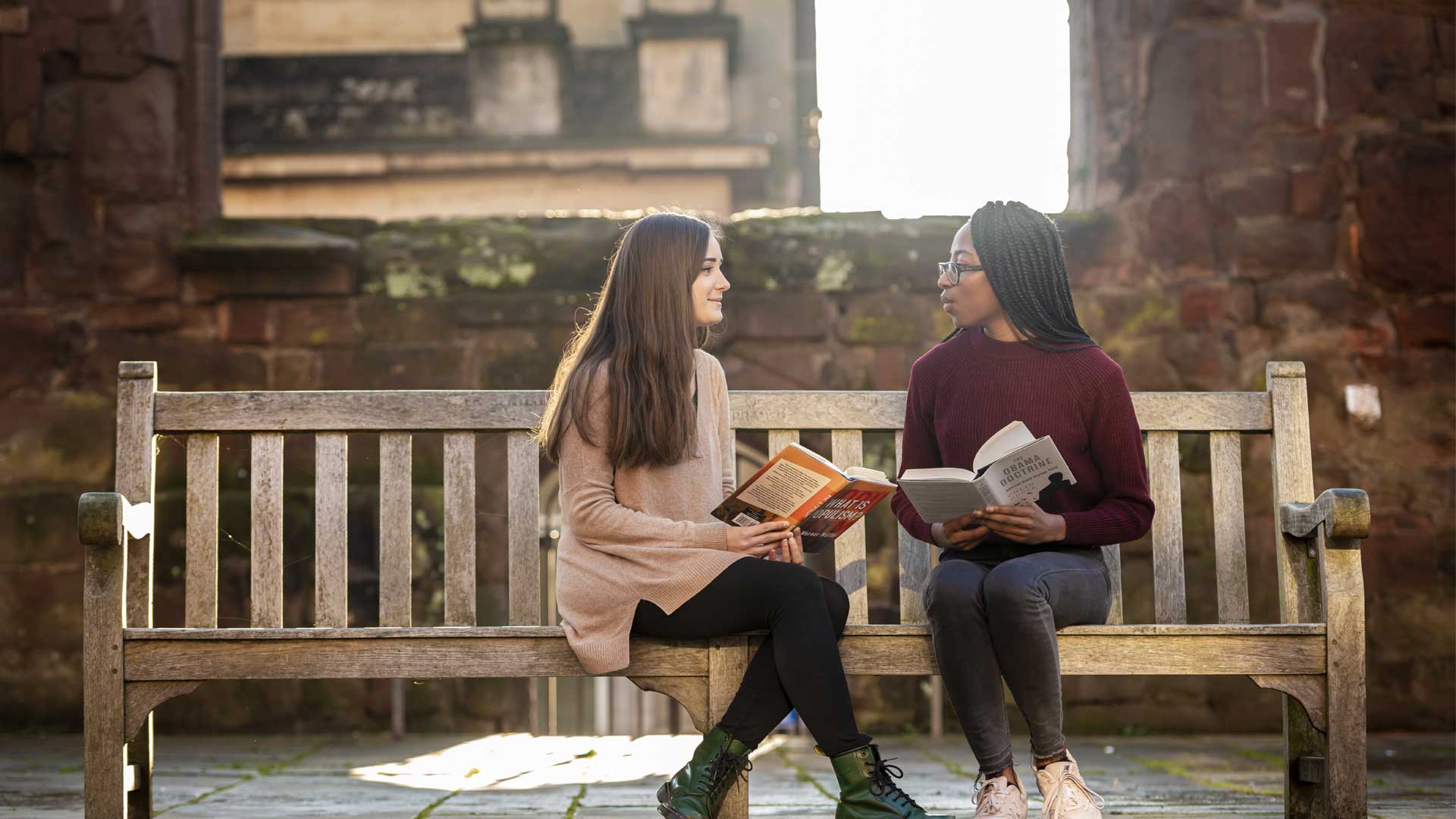 Coventry University's English Literature course offers you the opportunity to study literature of all periods from the Medieval to the present day.
Location
Coventry University (Coventry)
Study mode
Full-time
Part-time
Sandwich
Duration
3 years full-time
4 years sandwich
Flexible part-time
Start date
September 2023
January 2024
---
Course overview
The English Literature BA (Hons) course is for students with a passion for literature who want to further develop their knowledge of the major genres and periods of English literature, as well as explore Anglophone writing and literature in translation from around the world.
Analyse the gothic, fantasy and speculative fictions, African-American literature, Anglophone world literatures, and literatures of the American West.
Discover a wide range of novels, plays and poetry from the ancient to the contemporary, and from the local (the Midlands in the UK) to the global.
This course offers you the chance to spend three years analysing texts and exploring great writing.

Joint Top Modern University for Career Prospects
Guardian University Guide 2021 and 2022

5 QS Stars for Teaching and Facilities
QS Stars University Ratings

Top 5 UK Student City (Coventry)
QS Best Student Cities Index 2023
Why you should study this course
There is a focus on your application of new and cutting-edge theories and ways to analyse texts. Such examples include posthumanism, ecocriticism and critical race theory. This is to help you generate new insights of your own, building on literary history and the interpretations of others. At Coventry, we want to inspire you to keep learning even after graduation.
You may have the opportunity to apply for a work placement to help you explore your potential career path and gain valuable work experience2.
Innovative assessments move beyond the traditional essay and presentation formats to include digital and multimedia projects.
You will seek to develop a dynamic online presence through the creation of an individual website, which will allow you to present prospective employers with an online portfolio of degree-level work.
You will have the opportunity to join a range of societies which aim to develop your interest in literature, film, and theatre, as well as promoting social events2.
Learn more about our Degree Show 2023:
---
What you'll study
This course has a common first year.
The common first year enables you to work alongside students doing similar courses to you, to widen your knowledge and exposure to other subject areas and professions. You will have the opportunity to collaborate with other students, so you can share your insights and experience which will help you to develop and learn.
If you discover an interest in a specific subject you have studied, upon successful completion of your first year, you could swap degrees with another course in your common first year (subject to meeting progression requirements).
Common first year courses
English Language and Literature BA (Hons)
English and Creative Writing BA (Hons)
English Language and TEFL BA (Hons)
English Literature BA (Hons)
In the first year, the curriculum is shared across related courses allowing you to gain a broad grounding in the discipline before going on, in the second and third years, to specialist modules in your chosen field.
Modules
Language, Literature and Writing Through Time - 20 credits

This module offers a chronological introduction to the spoken and written word through time, from the ancient world to contemporary language and literature. It prepares you to think about the historical, intellectual, linguistic, social and cultural conditions of the use of language and production of literature. You will study a range of non-fiction and literary texts.

Key Concepts in English and Languages - 20 credits

This module introduces you to the major conceptual-theoretical frameworks, thinkers and debates that you will need to understand in order to succeed on your chosen degree course. The module encourages an active and engaged approach to questions and ideas in the disciplines of English, Languages and TEFL.

Research Methods - 20 credits

This module introduces you to the range of methods and tools that will support your individual and group research projects throughout your degree course. This includes the Library's physical and digital holdings and services; how to search the internet and online databases; how to design research questions; and how to make notes and manage time effectively.

Digital Worlds - 20 credits

This module develops your awareness of the structure and organisation of 'discourse', i.e. language in use. It considers language in use in a range of contexts including everyday conversations, social media, comedy, and politics, looking beyond literal meaning to consider how interactions are manipulated and identities constructed. Emphasis will be placed on analysing authentic real-world data in context.

Space, Place, Regionalisms, Globalisms - 20 credits

The aims of this module are to respond to the so-called 'spatial turn' in literary and cultural studies by introducing you to a range of theories of place and spatiality, and to cognate ideas of regional and global languages and literatures. You will be encouraged to apply these abstract ideas / contexts to a range of literary and other cultural works (such as films or art).


Group Project: Make a 'Zine! - 20 credits

You will publish an online 'zine enabling you to showcase your first year work using the skills and knowledge you have acquired along the way. The content for the 'zines might include short critical pieces, reflective essays or videos, pedagogical reports, comparative cultural and/or linguistic analyses, poetry or flash fiction. Workshops will help you to develop the necessary skills to successfully record and edit film and audio and create attractive online publications.
In Year two, you will continue to develop the skills and knowledge you've learnt. We do this by embedding the following four principles into the curriculum and developing your:
Technical skills – digital fluency, backed with the right academic knowledge
Study skills – to be an adaptive, independent and proactive learner
Professional skills – to have the behaviour and abilities to succeed in your career
Global awareness – the beliefs and abilities to be a resilient, confident and motivated global citizen
In Year two, you will develop more advanced knowledge and skills to do with: Shakespeare, gender and sexuality and 21st century literature, amongst others.
Modules
Shakespeare's Renaissance - 20 credits

This module introduces you in some detail to a broad range of authors, texts, periods and genres from Medieval mystery plays, to later poems and plays that both influenced and were influenced in turn by William Shakespeare. The module will explore and evaluate the reasons both for seeing Shakespeare as being at the heart of the English Renaissance, and for not seeing him as such.

Age of Revolutions: from Milton to Romanticism - 20 credits

This module introduces you to literature produced during the 'long' eighteenth century (1660-1832). This period witnessed a growing faith in Enlightenment ideals but was also marked by significant upheaval. The module will consider the relationship between the rise of the novel and the rise of capitalism, the fraught dynamics between women writers and an increasingly commercialised literary marketplace, and literary responses to turbulent historical events.

Philosophies of Gender and Sexuality - 20 credits

This module will introduce you to the most important ideas and debates in gender and sexuality. Covering a wide range of texts, including fiction, poetry, essay, film, and philosophy, you will have the opportunity to engage with key concepts of gender and sexuality, and learn to apply them to other forms of writing.

Victorians and Empire - 20 credits

This module introduces you to the literature of, and major critical approaches to, the period 1830-1900. As well as considering canonical and non-canonical British poets and novelists, by situating the Victorian era in a global context, this module aims to better understand the effects of empire upon British, Anglophone and indigenous literature.

Modernisms and Postmodernisms - 20 credits

This module will consider a range of literature that emerged in the twentieth century from across the Anglophone world. You will seek to gain an understanding and knowledge of both traditional critical conceptions of a modernist period and modernist aesthetic, and alternative modernisms, as well as ideas of 'late' modernist work, and modernist inheritance.

21st Century Literature - 20 credits

This module introduces you to a selection of 21st century fiction from different national cultures and traditions. The module explores the ways in which fiction of the 21st century engages with and addresses issues of the new century; for example environmentalism, decolonisation, and multiculturalism.
There's no better way to find out what you love doing than trying it out for yourself, which is why a work placement2 can often be beneficial. Work placements usually occur between your second and final year of study. They're a great way to help you explore your potential career path and gain valuable work experience, whilst developing transferable skills for the future.
If you choose to do a work placement year, you will pay a reduced tuition fee3 of £1,250. For more information, please go to the fees and funding section. During this time you will receive guidance from your employer or partner institution, along with your assigned academic mentor who will ensure you have the support you need to complete your placement.
Modules
UK Work Placement– 0 credits

This module2 provides you with an opportunity to reflect upon and gain experience for an approved placement undertaken during your programme. A placement should usually be at least 26 weeks or equivalent; however, each placement will be considered on its own merits, having regard to the ability to achieve the learning outcomes.

International Study/Work Placement – 0 credits

This module2 provides you with an opportunity to reflect upon and gain experience for an approved international study/work placement undertaken during your programme. A work/study placement should usually be at least 26 weeks or equivalent; however, each placement will be considered on its own merits, having regard to the ability to achieve the learning outcomes.
Year three aims to bring you to the level to enter the world of work by consolidating your knowledge and skills from year one and two. You could also work on a large final project in an area of your interest, with the support of a mentor and your Academic Personal Tutor.
You will be asked to choose optional modules on top of the compulsory module, 'Reading #BlackLivesMatter', to total 120 credits in your final year.
Modules
Reading #BlackLivesMatter - 20 credits

Novelists, poets, and essayists do not merely reflect or represent the current moment; they use their art to shape it, and to change the minds and behaviours of their imagined readers. This module will look at the history of the #BlackLivesMatter movement, and explore how contemporary authors contribute to racial activism through innovations in literary form.

The Existentialist Café: Ethics in a Coffee Cup - 20 credits

French Existentialism is often dismissed as a product of its time; chain-smoking, polo-neck wearing, coffee-drinking introspection in the wake of two World Wars. Despite this, we see manifestations of its tenets time and again across philosophy, culture, politics and art. This module will cover the main themes of the philosophy, as well as delve into the complexities of its texts and thinkers, before exploring interpretations in culture.

The Gothic: Literature, Film and Television - 20 credits

This module surveys Gothic literature and cultural production, from its eighteenth-century origins to the film, television and video games of the twentieth and twenty-first centuries. You will gain a lively appreciation of the Gothic's enduring relevance in times of climate crisis, geopolitical unrest, and rapid technological change. 

Interactive and Video Game Narratives - 20 credits

This module will explore and analyse storytelling in video games and the way in which a player's narrative experience is influenced by gameplay. It will explore narrative forms within video games and the role of the player within a story-driven game world. You do not need to own a game console and all materials will be accessible digitally.

Enlightenment: Literature, Culture and Modernity - 20 credits

This module aims to introduce you to the literature, philosophy, and theory of the Enlightenment exploring both eighteenth-century debates about progress and modernity (and their relationship with conceptions of culture, gender, status, race and nationality) as well as the contemporary significance of ideas about Enlightenment.

Speculative Fiction - 20 credits

This module embraces the great diversity of works of fantasy, gothic and science fiction and will explore their relationship to each other, place them within literary traditions and examine the ways in which such popular writing is essentially intertextual and cross-generic.

Women Writing the American West - 20 credits

The module focuses on a selection of female-authored texts set in the American West. Employing different genres, the narratives express Western identities that offer alternative perspectives to the masculinist colonial discourses of the American West.

Final Project - 40 credits

This module provides an opportunity for you to exercise independent learning and research skills in the final semester of their degree. You will be able to conceive, plan and carry out an individual programme of discipline-specific research under the supervision of a member of staff, leading to the ultimate submission of a final project in the form of a dissertation, portfolio, or artefact, as appropriate.
We regularly review our course content, to make it relevant and current for the benefit of our students. For these reasons, course modules may be updated.
---
Teaching contact hours
We understand that everyone learns differently, so each of our courses will consist of structured teaching sessions, which can include:
On campus lectures, seminars and workshops
Group work
Self-directed learning
Work placement opportunities2.
The number of full-time contact hours may vary from semester to semester, however, on average, it is likely to be around 12 contact hours per week in the first and second year dropping to around 10-12 contact hours per week in the third and final year as you become a more independent learner. 
Additionally, you will be expected to undertake significant self-directed study of approximately 15 hours each week, depending on the demands of individual modules. 
Part of university life is undertaking self-directed learning. During a typical week you will have time that allows you to work independently to apply the skills and knowledge you have learnt in taught or facilitated sessions to your projects or assignment briefs. This self-directed learning allows you to use your research skills, consolidate your knowledge or undertake collaborative group work.
As an innovative and enterprising institution, the university may seek to utilise emerging technologies within the student experience. For all courses (whether on-campus, blended, or distance learning), the university may deliver certain contact hours and assessments via online technologies and methods.
In response to the COVID-19 pandemic, we are prepared for courses due to start in or after the 2022/2023 academic year to be delivered in a variety of forms.  The form of delivery will be determined in accordance with Government and Public Health guidance.  Whether on campus or online, our key priority is staff and student safety.
---
Assessment
This course will be assessed using a variety of methods which will vary depending upon the module.
Assessment methods can include:
Phase tests
Essays
Group work
Presentations
Reports
Projects
Coursework
Individual Assignments
The Coventry University Group assessment strategy ensures that our courses are fairly assessed and allows us to monitor student progression towards achieving the intended learning outcomes.
---
International experience opportunities
This course has a multicultural and international outlook, and we use a range of international texts and authors.
You have the opportunity to undertake a Study Abroad Year or International Placement Year after successful completion of two years of study2.
Studying at Coventry University has been an incredible experience. I have acquired many useful skills and expertise, made remarkable connections and enjoyed myself immensely. The professors have been very forthcoming in providing help and counsel during my studies.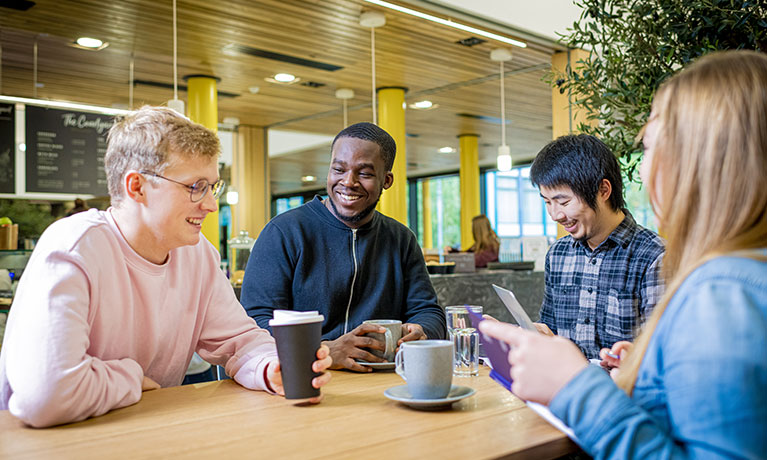 ---
Entry requirements
Haven't met the entry requirements or don't have the right qualifications? You may still be able to progress onto a degree you'd love by studying a foundation course.
View our full list of country specific entry requirements on our Entry requirements page.
Typical offer for 2023/24 entry.
---
Fees and funding
2023/24 tuition fees.
Student
Full-time
Part-time
UK, Ireland*, Channel Islands or Isle of Man
£9,250 per year
Request fee information
EU
£9,250 per year with EU support bursary**
£16,800 per year without EU support bursary**
Not available
International
£16,800 per year
Not available
If you choose to do a work placement2, you should consider travel and living costs to cover this. There is also a tuition fee3 of £1,250 that will cover your academic support throughout your placement year.
For advice and guidance on tuition fees and student loans visit our Undergraduate Finance page and see The University's Tuition Fee and Refund Terms and Conditions.
We offer a range of International scholarships to students all over the world. For more information, visit our International Scholarships page.
Tuition fees cover the cost of your teaching, assessments, facilities and support services. There may be additional costs not covered by this fee such as accommodation and living costs, recommended reading books, stationery, printing and re-assessments should you need them. Find out what's included in your tuition costs.
The following are additional costs not included in the tuition fees:
Any optional overseas field trips or visits: £400+ per trip.
Any costs associated with securing, attending or completing a placement (whether in the UK or abroad)
*Irish student fees
The rights of Irish residents to study in the UK are preserved under the Common Travel Area arrangement. If you are an Irish student and meet the residency criteria, you can study in England, pay the same level of tuition fees as English students and utilise the Tuition Fee Loan.
**EU support bursary
Following the UK's exit from the European Union, we are offering financial support to all eligible EU students who wish to study an undergraduate or a postgraduate degree with us full-time. This bursary will be used to offset the cost of your tuition fees to bring them in-line with that of UK students. Students studying a Degree with a Foundation Year with us are not eligible for the bursary.
How do you know if you need to pay UK or international tuition fees?

We carry out an initial fee status assessment based on the information you provide in your application. Your fee status determines your tuition fees, and what financial support and scholarships may be available to you. The rules about who pays UK (home) or international (overseas) fees for higher education courses in England are set by the government's Department for Education. The regulations identify all the different categories of student who can insist on paying the home rate. The regulations can be difficult to understand, so the UK Council for International Student Affairs (UKCISA) has provided fee status guidance to help you identify whether you are eligible to pay the home or overseas rate.

If you meet all the criteria required by any one category, including any residence requirements, your institution must charge you the home rate. You only need to find one category that you fit into.
---
Facilities
Students will benefit from studying on our well-equipped, modern campus4.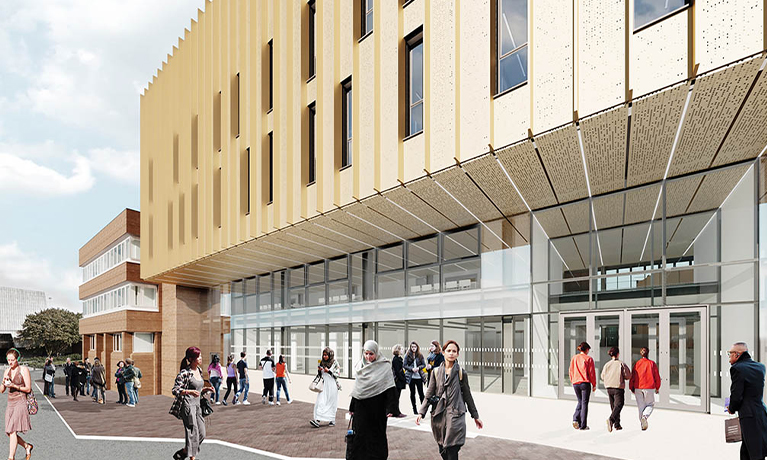 Our new Derbyshire building is planned to open fully in 2023. There will be more space to learn, design and make, including a hyper-studio for students across all disciplines to collaborate on projects together, a gallery space and an events atrium.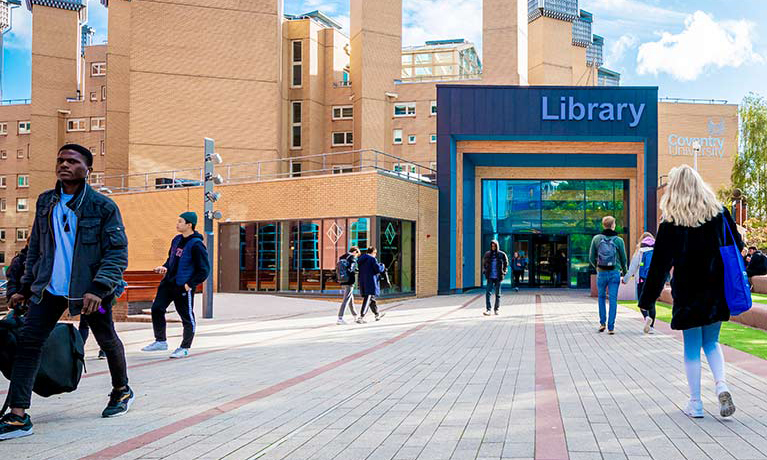 You will benefit from our support designed to help you succeed and our industry-relevant teaching and resources. These include our modern library and computing facilities, dedicated careers advice and Students' Union.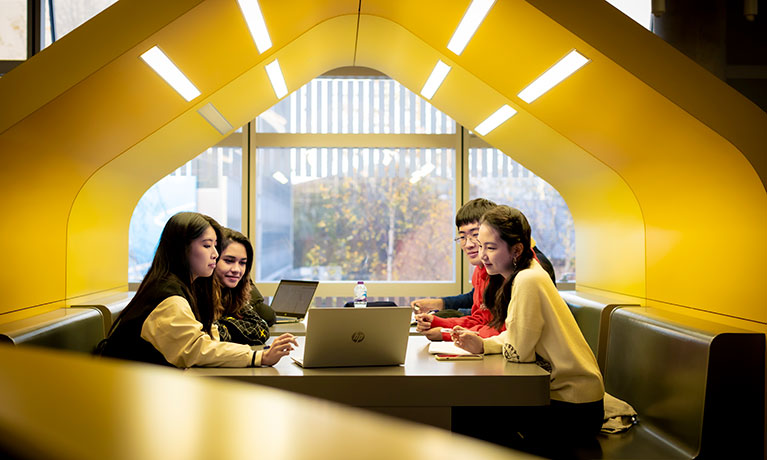 The School of Humanities is home to the Confucius Institute. This is a collaboration created with the Jiangxi University of Finance and Economics, which aims to promote an understanding of the Chinese language and culture.
---
Careers and opportunities
Graduates in English literature go on to a very wide range of employment destinations and are typically well suited to any career in which communication and intercultural skills are paramount.
On successful completion of the course, you should be a globally and interculturally-aware graduate ready to make a dynamic difference in the world. Since our degree aims to develop your ability to use language effectively and appropriately in a range of circumstances, it may open up a wide range of career options over and above the professions associated with English. Such examples include journalism, publishing, marketing, public relations, advertising, teaching, the civil service or the media.
We are committed to preparing you for your future career and to give you a competitive edge in the graduate job market. The university's dedicated employability support, the Talent Team4, provide a wide range of support services to help you plan and prepare for your career.
Further study
You can choose to continue your studies at Coventry University with the English Literature MA. You may be entitled to an alumni discount on your fees if you decide to extend your time with us by progressing from undergraduate to postgraduate study.
---
How to apply
UK students

Full-time students applying to start in September 2023 can apply for this course through UCAS from 6 September 2022. Read our application pages to find out your next steps to apply.

Part-time students should apply directly to the university.

---

If you'd like further support or more information about your course get in touch with us today.

International students

International codes:
AHU106

Full-time students applying to start in September 2023 should apply directly to the university.

How to apply

For further support for international applicants applying for an undergraduate degree view our International hub.

You can also download our International guide which contains lots of useful information about our courses, accommodation and tips for travel.

---

Get in touch with us today for further advice and guidance.
Disclaimers

Coventry University together with Coventry University London Campus, CU Coventry, CU London, CU Scarborough and Coventry University Online come together to form part of the Coventry University Group (the "University") with all degrees awarded by Coventry University.

1Accreditations

The majority of our courses have been formally recognised by professional bodies, which means the courses have been reviewed and tested to ensure they reach a set standard. In some instances, studying on an accredited course can give you additional benefits such as exemptions from professional exams (subject to availability, fees may apply). Accreditations, partnerships, exemptions and memberships shall be renewed in accordance with the relevant bodies' standard review process and subject to the university maintaining the same high standards of course delivery.

2UK and international opportunities

Please note that we are unable to guarantee any UK or International opportunities (whether required or optional) such as internships, work experience, field trips, conferences, placements or study abroad opportunities and that all such opportunities may be subject to additional costs (which could include, but is not limited to, equipment, materials, bench fees, studio or facilities hire, travel, accommodation and visas), competitive application, availability and/or meeting any applicable travel COVID and visa requirements. To ensure that you fully understand the visa requirements, please contact the International Office.

3Tuition fees

The University will charge the tuition fees that are stated in the above table for the first Academic Year of study. The University will review tuition fees each year. For UK (home) students, if Parliament permit an increase in tuition fees, the University may increase fees for each subsequent year of study in line with any such changes. Note that any increase is expected to be in line with inflation.

For International Students, we may increase fees each year but such increases will be no more than 5% above inflation. If you defer your course start date or have to extend your studies beyond the normal duration of the course (e.g. to repeat a year or resit examinations) the University reserves the right to charge you fees at a higher rate and/or in accordance with any legislative changes during the additional period of study.

4Facilities

Due to COVID-19, some facilities (including some teaching and learning spaces) and some non-academic offerings (particularly in relation to international experiences), may vary from those advertised and may have reduced availability or restrictions on their use.

Student Contract

By accepting your offer of a place and enrolling with us, a Student Contract will be formed between you and the university. A copy of the 2023/24 contract can be found here. The Contract details your rights and the obligations you will be bound by during your time as a student and contains the obligations that the university will owe to you. You should read the Contract before you accept an offer of a place and before you enrol at the university.
---
---