Information Technology for Business BSc (Hons)
Course Code
UCAS Code: GN51
International Code: EECU055
Location
Coventry University (Coventry)
Study mode
Full-time
Part-time
Sandwich
Duration
3 years full-time
4 years sandwich
6 years part-time
Start date
September 2022
---
Course overview
Study level: Undergraduate
This dynamic course aims to deepen your understanding of information technology (IT), teaching you the fundamentals of software development and the application required to drive business strategy and competitiveness in an international market.
Rapid technological change and the challenges of global competition have raised the demand for highly skilled professionals who can align corporate objectives with modern business systems and an effective Information Technology (IT) infrastructure.
You will explore topical concerns such as modern web development, business intelligence, programming, big data, cloud computing and simulation.

Global Ready
An international outlook, with global opportunities

Teaching excellence
Taught by lecturers who are experts in their field

Employability
Career ready graduates, with the skills to succeed
This course aims to prepare you to meet the challenges of working in a global marketplace and adapting to technological change. You will explore fundamental elements of business and IT and should be able to deliver effective and competitive business solutions within diverse organisational global contexts.
Course content has been designed to reflect changes occurring in national and international contexts, including the emergence of new technologies, policy design processes and the impact of ethical debate.
Core learning is focused on the following subject areas: application programming; foundations of information systems and technology; use of information systems in a business context; project management; database systems and development; agile development methodology; international compliance; ethical and professional issues.
We focus on developing your technical skills, with the aim to help you to practise and experience programming, virtualisation and cloud technologies within our specialist and general labs. You should also develop key competencies in critical analysis, application of software development, communication with technical and non-technical audiences, intercultural competences, and digital literacy.
---
The first year of the course covers the key themes of programming, operating systems, business, marketing in a digital age, databases, networks and cyber security. It considers the structure and strategies of differing business organisations and some of the processes used in business decision making, particularly around accounting data and business analytics.
Modules
Fundamentals of Business Programming – 15 credits

This module introduces the fundamentals of business programming and algorithm design that will underpin the technical and application content of this undergraduate degree course. You should develop basic skills in programming, by learning the core control structures and problem-solving strategies common to most business programming languages.

Software Design – 10 credits

The purpose of this module is to equip you with the concepts of software-based systems development and principles of software design used by industry. It provides a practical guide to the software development process with associated tools and techniques.

Business Decision Making – 10 credits

This module introduces you to accounting and business analytics methods. You will focus on the three financial statements and learn to analyse the information contained in them in the context of business decision making.

Business Fundamentals – 10 credits

This module provides the basic concepts of what business is and what it entails and the relationship to technology. It will consider the supply chain, and internal and external environmental factors that affect and influence the course and nature of businesses.

Introduction to Operating Systems, Networks and Cyber Security – 15 credits

This module introduces students to the fundamental concepts of modern operating systems (OS), networks and associated security.

Digital Marketing – 15 credits

This module critically evaluates digital marketing concepts and principles. Reviews current technologies used and explores different digital marketing channels. Explores, compares, and contrasts the elements of digital strategy.

Database Systems – 5 credits

This module provides insight and understanding of how data can be modelled, stored, and accessed for use in the real-world.

Activity-Led Learning project 1 – 15 credits

Students are divided into groups and set a project which requires knowledge presented and skills developed in some of the modules studied in Year 1.

Activity-Led Learning project 2 – 15 credits

Students are divided into groups and set a project which requires knowledge presented and skills developed in some of the modules studied in Year 1.

Add+vantage module – 10 credits
The second year covers a range of web technologies, processes and techniques associated with software engineering, usability, computer law ethics, data, tools and techniques for information retrieval, techniques and procedures for planning and managing computer networks.
Modules
Web Development – 20 credits

The module introduces basic concepts in networked application implementation, as well as a range of key contemporary web technologies. It will enable you to deliver interactive, dynamic websites.

Software Development – 20 credits

This module builds on the Year 1 Software Design module, offering development opportunities at a higher level, as well as teaching processes and techniques associated with software engineering.

Network Planning and Management – 20 credits

The module focuses on the fundamentals of network, and the conceptual understanding of the requirements in planning and managements of networks.

People and Computing – 10 credits

This module covers fundamentals in usability, computer law, and professional ethics. The focus is on how people's use of computing can be made effective and useful as well as legal and ethical.

Enterprise Project – 20 credits

This module aims to provide integrative course-based assessment whilst providing you with experience of responding to an industrial brief, drawn directly or derived from our industrial partners; and (where possible) co-supervised by company representatives.

Data Science for Developers – 20 credits

This module provides an insight into how data and information retrieval systems are designed. Based on the Year 1 module Database Systems, it provides an introductory study of database concepts, theory and design aimed at practical use of database and information retrieval tools and techniques.

Add+vantage module – 10 credits
Following your second year, you will have an option to apply for a one-year professional work placement or to study abroad.* Many Coventry University students in the past have chosen to do this, and it is thought to be a great opportunity to put into practice all the skills and knowledge you have acquired on your course so far. Past students have worked include IBM, Siemens Plc, GlaxoSmithKline (GSK), Ericsson Ltd, National Grid and Warwickshire County Council.
If you wish to undertake the optional study abroad/placement year, you will take either the Placement Year module or the Study Abroad Year module which both typically run for a full academic year between years 2 and 3 of your course. You are normally able to progress onto the relevant module if you have successfully completed the first two years of the course (i.e. having accumulated 240 credits) and have a confirmed opportunity two weeks prior to the start of the academic year. However, we encourage international students to confirm their placements earlier to ensure they are able to meet any applicable visa requirements.
Students opting for either the work placement or study abroad module will be registered on a non-credit bearing module. Whilst the modules do not bear credits, they do require completion of marked activities reflecting on your placement/study abroad or work placement experience. Following successful completion of the activities, the module selected will appear on your final academic transcript. Students will thus graduate with 360 credits in total, assuming successful completion of their final year.
Modules
Professional Placement

Study Abroad
In your final year, you will undertake an in-depth individual piece of work; either a piece of analytical research or a practical problem solving exercise; using your consolidated knowledge from the previous stages of study to demonstrate your capability. Where possible, projects are developed in collaboration with commerce or industry, proposed by students after their professional training placement.
Modules
Individual Project Preparation – 10 credits

The aim of this first module is to prepare you for the primary research to take place in your individual project, including topic selection, supervisor allocation, project planning, literature review and completion of the Coventry University Ethics process.

Project Management – 20 credits

This module introduces you to the soft and technical skills of project management, enabling you to understand the concept of project management, where projects come from, business case development and the selection process, with application to various contexts.

Security and Compliance in the Cloud – 20 credits

The trend is for businesses to move their systems to the 'cloud', which raises several crucial issues regarding business continuity and risk management. This module practically examines and investigates this process and shows how cloud systems are designed, configured, secured, and updated to effectively support modern business practices.

Individual Project – 20 credits

The Individual Project allows students to conduct an in-depth investigation on a topic in the domain of Computer Science. This will usually involve the technical development of a tool / product / algorithm or piece of software and its evaluation.

Management of Information Systems – 20 credits

The aim of this module is to give students the knowledge and skills to be able to review and understand the organisational and technical aspects of information systems.

IT Infrastructure Library (ITL) and Service Management – 20 credits

The module takes a strategic look at IT Service management and examines the management and governance of enterprise networks. You will look at how enterprise networks consisting of different, interconnecting technologies, should be managed and improved efficiently to facilitate business requirements.

Add+vantage module – 10 credits
We regularly review our course content, to make it relevant and current for the benefit of our students. For these reasons, course modules may be updated.
---
How you'll learn
Actual teaching contact hours will vary depending on the level of study and the requirements of a particular semester. Teaching methods include:
Lectures
Computer laboratory sessions
Web-based learning
Seminars
Discussions
Tutorials
Personal supervision and support
In addition, you will be expected to undertake significant self-directed study each week, depending on the demands of individual modules. The number of contact hours may vary from semester to semester, however, on average, it is likely to be around 15 contact hours per week in the first and second years, dropping to around 12 contact hours per week in the final year as you become a more independent learner.
Emphasis is placed on an Activity-Led Learning (ALL) approach with group work introduced to help you develop transferrable professional skills, with the aim to prepare you for industry. Projects are used with the aim to help develop your ability to discover, evaluate and generate solutions to information systems problems.
Industry engagement is central to the course to enable you the opportunity to stay abreast of the latest advancements and issues, as well as considering your learning in a contemporary and relevant context. You could work with staff on real-world problems from industry, commerce, and research groups, as you would in professional practice; this means that you could develop professional skills at the same time as you learn the technical content of your degree. We also organise an inspiring programme of guest speakers from industry (subject to availability).
This course can be studied on a full-time or part-time basis. Whilst we would like to give you all the information about our part-time offering here, it is tailored for each course each year depending on the number of part-time applicants. Therefore, the part-time teaching arrangements vary. Please request information about studying this course part-time.
---
Assessment
This course will be assessed using a variety of methods which could vary depending upon the module. Assessment methods include coursework, essays, projects and group work, presentations and practical tests, formal examinations.
The Coventry University Group assessment strategy ensures that our courses are fairly assessed and allows us to monitor student progression towards the achieving the intended learning outcomes.
---
Job ready
On successful completion, you should have knowledge of:
The principles and practice, fundamentals of programming, information technology and systems and software development methodologies and their application to a wide range of global real-world situations.
The operation of business organisations globally and the role and practices of the various business functions.
Established methods for the analysis and design of solutions for business problems and the management of the information technology in a variety of settings.
Managing risk and compliance of business, processes and systems for business continuity, international practice.
Security of information, data, and hardware
On successful completion, you should be able to:
Undertake problem and situational analysis and exercise reasoned judgement in assessing business needs.
Critically evaluate methods for deciding on and implementing information technology solutions to business problems.
Synthesise requirements and opportunities to recommend appropriate information technology policies.
Demonstrate an awareness of professional responsibilities, including an understanding of the associated ethical and legal issues, and the need for continuing professional development.
Research, analyse, synthesise, and critically evaluate independently or collaboratively through the final year project or in group work activity.
Demonstrate working knowledge of the tools, technology, and methods of data processing in a business organisation for business decision making and apply relevant diagnostic and quantitative techniques for analysis.
Use a wide range of local and international information resources to acquire relevant information.
Select and apply methods for building software solutions.
---
International experience opportunities
We encourage all our students to take advantage of the opportunity to widen their international experience. If you wish to study abroad or spend a year on professional placement as a part of your degree, we will provide support in finding a suitable placement*. One year study abroad placements are currently available in Europe or Asia.
---
Typical offer for 2022 entry.
| Requirement | What we're looking for |
| --- | --- |
| A level | BBC to include one from Mathematics, Physics, Chemistry, Further Mathematics, Computer Science, Computing or Design Technology. Excludes General Studies. |
| GCSE | Minimum 5 GCSEs at grade 9-4 including English and Mathematics, or specified equivalents. |
| BTEC | DMM in IT, Business or a technical subject. |
| Access Grades | The Access to HE Diploma to include 30 Level 3 credits in either Maths, Physics, Computer Science or Statistics units. Plus GCSE English Language and Mathematics at grade 4 or above. |
| IB Diploma | 29 points to include IT, Business or a technical subject. |
If you do not have the typical entry requirements, you may want to consider studying this course with a foundation year. We recognise a breadth of qualifications, speak to one of our advisers today to find out how we can help you.
Are you eligible for the Fair Access Scheme?
We believe every student should have the opportunity to dream big, reach their potential and succeed, regardless of their background.
Select your region to find detailed information about entry requirements:
You can view our full list of country specific entry requirements on our Entry requirements page.
If you do not have the typical entry requirements, you may want to consider studying this course with an international foundation year. Upon successful completion our International Foundation Year - Computing will provide you with the knowledge and skills you need to progress onto this undergraduate degree.
Alternatively, visit our International hub for further advice and guidance on finding in-country agents and representatives, joining our in-country events and how to apply.
English language requirements
IELTS: 6.0 overall, with no component lower than 5.5.
If you don't meet the English language requirements, you can achieve the level you need by successfully completing a pre-sessional English programme before you start your course.
For more information on our approved English language tests visit our English language requirements page.
---
Fees and funding
2022/23 Tuition fees
| Student | Full time | Part time |
| --- | --- | --- |
| UK | £9,250 per year | Not available |
| International | £18,050 per year | Not available |
For advice and guidance on tuition fees and student loans visit our Undergraduate Finance page and see The University's Tuition Fee and Refund Terms and Conditions.
We offer a range of International scholarships to students all over the world. For more information, visit our International Scholarships page.
Tuition fees cover the cost of your teaching, assessments, facilities and support services. There may be additional costs not covered by this fee such as accommodation and living costs, recommended reading books, stationery, printing and re-assessments should you need them. Find out what's included in your tuition costs.
---
Facilities
The faculty of Engineering, Environment and Computing boasts modern, multifunctional teaching and research buildings that support hands-on learning. Laboratories and workshops are equipped to commercial and industrial standards and are available to students both in and out of class time (subject to availability).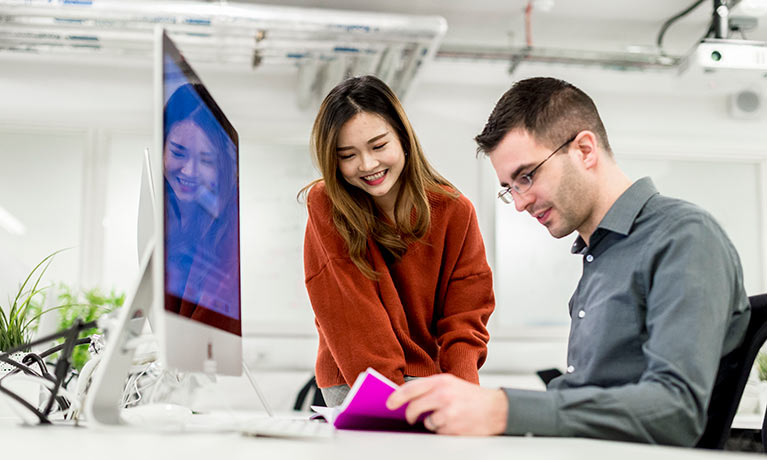 Mac Laboratory
Our Mac laboratory is complete with Apple Mac desktops and a recording studio with green screen. There is also an equipment booking system allowing you to borrow a range of cameras and multimedia production equipment.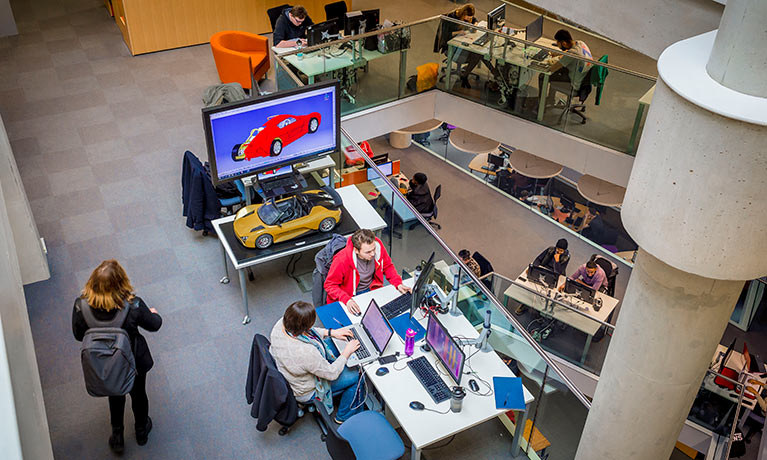 Informal Study Areas
Informal computer access to all the specialist software required for their students during their. There are bookable spaces where students can meet with academics or work in small groups.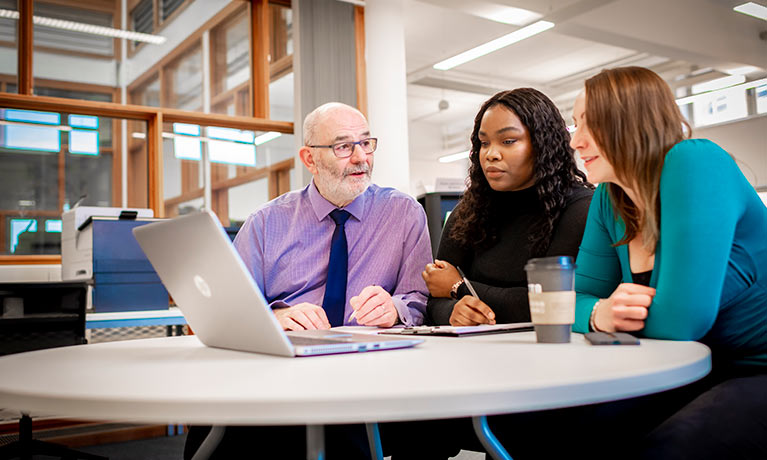 Sigma Centre
An award-winning Mathematics Support Centre which provides a wide range of learning resources in mathematics and statistics. Students can make use of drop-in sessions or one-to-one appointments.
---
Careers and opportunities
The effective use of information technology is crucial to every modern business. On this course, you should not only develop the technical skills and knowledge required to create IT applications, but you should also gain a solid understanding of the business environment in which they operate.
Successful completion of this course is designed to help prepare you for careers in the design, delivery and management of IT systems within a business, although the skills learnt could be applicable in careers such as web development, data analysis, content management, business analysis and project management.
Where our graduates work
Throughout your studies, we focus on developing your technical capabilities and ability to deliver solutions. This, together with analytical, numerical and problem solving skills, has led previous students to secure employment at IBM and Cap Gemini. Organisations such as National Grid and Severn Trent Water also employ information technology business specialists.
---
How to apply
UK Students

Full-time students applying to start in September should apply for this course through UCAS. Part-time students should apply directly to the university. Read our application pages to find out your next steps to apply.

---

If you'd like further support or more information about your course get in touch with us today.

International Students

Full-time students applying to start in September should apply directly to the university. Read our application pages to find out your next steps to apply.

How to apply

For further support for international applicants applying for an undergraduate degree view our International hub.

You can also download our International Guide which contains lots of useful information about our courses, accommodation and tips for travel.

---

Get in touch with us today for further advice and guidance.
You may also like
Coventry University (Coventry)
Computer Science MSci/BSc (Hons)
Coventry University (Coventry)
---
---
Disclaimer

Student Contract

By accepting your offer of a place and enrolling with us, a Student Contract will be formed between you and the university. A copy of the 2021/22 Contract can be found here. The Contract details your rights and the obligations you will be bound by during your time as a student and contains the obligations that the university will owe to you. You should read the Contract before you accept an offer of a place and before you enrol at the university.

Tuition fees

The tuition fee for the course that is stated on the course webpage and in the prospectus for the first year of study will apply. We will review our tuition fees each year. For UK and EU students, if Parliament permit an increase in tuition fees, we may increase fees for each subsequent year of study in line with any such changes. Note that any increase is expected to be in line with inflation. Following the UK's exit from the European Union, EU students should be aware that there may be a change to UK laws following the UK's exit, this may change their student status, their eligibility to study part time, and/or their eligibility for student finance. We will act in accordance with the UK's laws in force in relation to student tuition fees and finance from time to time.

For International students the tuition fee that is stated on the course webpage and in the prospectus for the first year of study will apply. We will review our tuition fees each year. For international students, we may increase fees for each subsequent year of study but such increases will be no more than 5% above inflation.

Accreditations

The majority of our courses have been formally recognised by professional bodies, which means the courses have been reviewed and tested to ensure they reach a set standard. In some instances, studying on an accredited course can give you additional benefits such as exemptions from professional exams (subject to availability, fees may apply). Accreditations, partnerships, exemptions and memberships shall be renewed in accordance with the relevant bodies' standard review process and subject to the university maintaining the same high standards of course delivery.

Facilities

Facilities mentioned on this page may not be relevant for every course. Due to the ongoing restrictions relating to COVID-19, some facilities (including some teaching and learning spaces) and some non-academic offerings (particularly in relation to international experiences), may vary from those advertised and may have reduced availability or restrictions on their use.

Placements and study abroad opportunities

Please note that we are unable to guarantee any placement or study abroad opportunities and that all such opportunities may be subject to additional costs (e.g. travel, visas and accommodation etc.), competitive application, availability and/or meeting any applicable visa requirements. To ensure that you fully understand the requirements in this regard, please contact the International Office for further details if you are an EU or International student.

Additional costs

This course may incur additional costs associated with any field trips, placements or work experience, study abroad opportunities or any other opportunity (whether required or optional), which could include (but is not limited to), equipment, materials, bench fees, studio or facilities hire, travel, accommodation and visas).