Course code:
Study options:
Location:
Starting:
Fees:
2020/21 fees TBC*
2019/20 fees - £9,250
Faculty:
---
Get in touch
For questions regarding study and admissions please contact us:
A Childhood, Youth and Education Studies degree may open the door to a range of rewarding areas of practice working with children and young people.
If you are passionate about achieving the best outcomes for children and young people and you want to learn alongside like-minded people in an innovative learning environment, then the Childhood, Youth and Education Studies degree aims to both excite and challenge you. Our course offers you a flexible learning experience where you will have the opportunity to tailor your learning to develop the knowledge, skills and experience needed to pursue the particular area of work with children and young people you are most passionate about.
Investing in the education of children and young people is essential for the growth of individuals and communities that flourish. The Childhood, Youth and Education Studies degree is designed for people who want to contribute to the learning and development of children and young people in a variety of educational settings. While on the course you will have the opportunity to explore important areas of educational practice, formal and informal, through both in-class learning and practical work experience. You can learn from academics and practice partners who currently collectively have experience across a range of relevant areas of study and practice. Over the course of your studies you will also have the opportunity to take part in a range of exciting international and UK based educational experiences. You can find out more about the international opportunities on offer on Coventry University's Centre for Global Engagement web pages.
100% of our students agreed the course provided opportunities for them to apply what they had learnt (National Student Survey 2017/18).
Why Coventry University?
An award-winning university, we are committed to providing our students with the best possible experience. We continue to invest in both our facilities and our innovative approach to education. Our students benefit from industry-relevant teaching, and resources and support designed to help them succeed. These range from our modern library and computing facilities to dedicated careers advice and our impressive Students' Union activities.
Global ready
An international outlook, with global opportunities
Employability
Career-ready graduates, with the skills to succeed
Teaching Excellence
Taught by lecturers who are experts in their field
Course essentials
A degree which offers you more, at no extra cost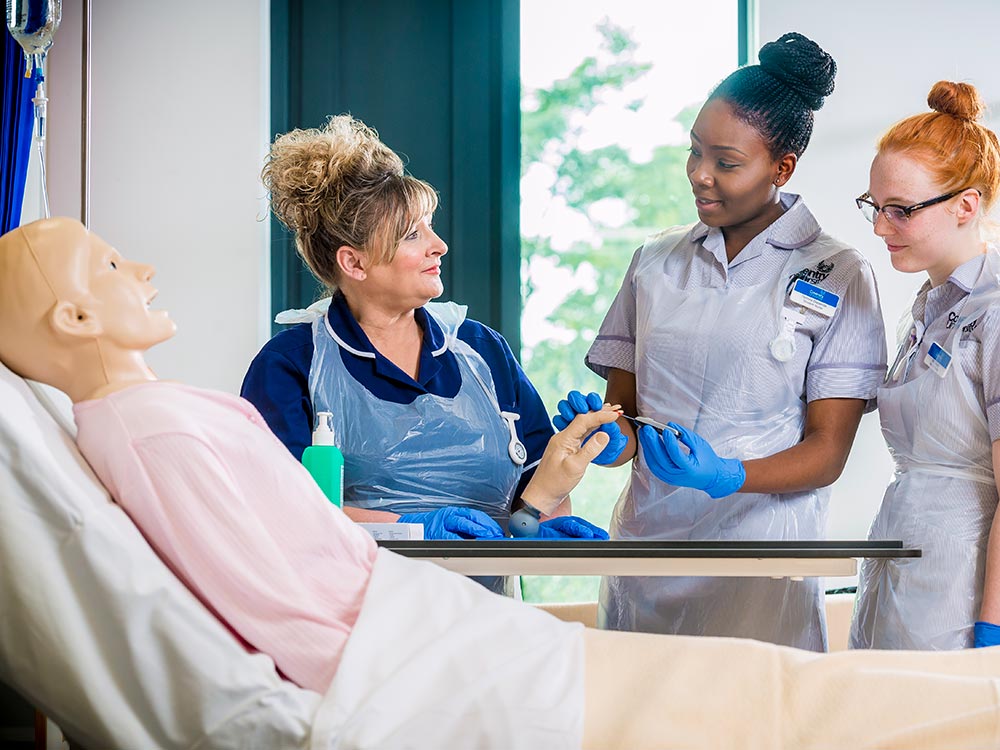 Hospital Wards
We have two fully-equipped mock hospital wards, each containing 4 beds. The wards are built to NHS standards and contain moveable beds, first aid equipment and patient monitoring tools.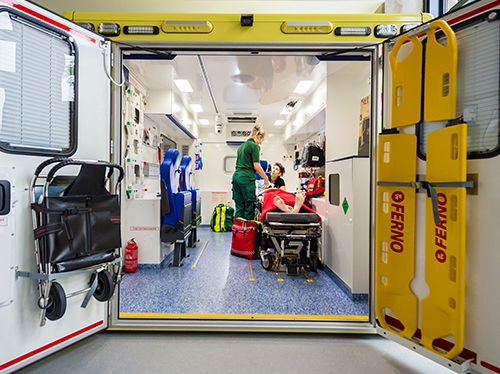 Ambulance
Our facilities include a mock ambulance, which students can use as part of their studies, to help simulate the patient journey. This gives students the opportunity to learn in situations that mirror real life scenarios.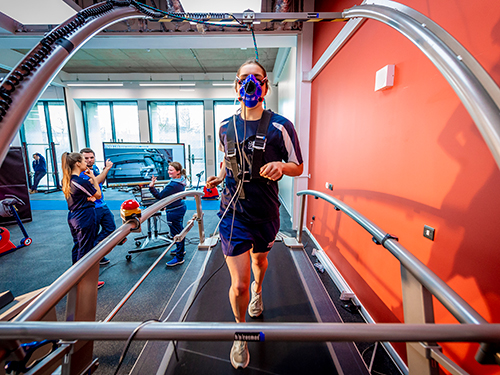 Strength and Conditioning Suite
Our multi-purpose suite is equipped with multiple Olympic lifting platforms, a 20m gait analysis track, an anti-gravity treadmill and even a 3D motion capture system!
What our students say...
Childhood and Youth Studies is the best degree for me as it covers a wide array of areas, including sociology, psychology, safeguarding, mental health, SEN, providing me with a range of future career options to choose from. I strongly believe that the knowledge I have acquired from this degree will support me in my further education and future career goals. I am confident that the skills and experiences I have gained from my various work placements, as part of this degree, will support and propel me far into my career.
The course aims to give you a critical understanding of the most current issues impacting children and young people's learning and development, and help equip you to shape the delivery of services to children and young people in future practice.
Through the course design you will develop a wide range of knowledge, skills and practical experience in areas such as education, health, pastoral support, mentoring, advocacy and group work. You will have the opportunity to develop these areas of learning through a combination of in-class workshop guidance, practical application and practice within supported placement settings.
Please note, study visits, educational experiences and placements are subject to availability, application and additional costs.
We regularly review our course content, to make it relevant and current for the benefit of our students. For these reasons, course modules may be updated.
15th
We are ranked as the 15th best University in the United Kingdom - Guardian University Guide 2020
If you would like an opportunity to help create a better future for the next generation, this exciting course is designed to develop the skills, knowledge, sensitivity and understanding to join one of the many professions which deal with social, psychological and educational issues relating to children and young people.
Our multi-disciplinary approach enables you to explore a diverse range of subjects, such as education, sociology, psychology, health and welfare, safeguarding, and policy and practice. This offers you a far deeper insight into the behaviours, attitudes and influences of children and young people in their communities and society at large.
International perspectives on childhood and youth are threaded throughout the course, enabling you to develop a global understanding of how the education, health, wellbeing and the social mobility of children and young people are promoted by practitioners. In addition to the opportunity of international study visits and an international placement, we strive to ensure all modules feature internationally relevant content. For example, we have explored the health needs of a child or young person in a developing country and how political, social and cultural influences may impact these.
Importantly, you'll have the opportunity to put theory into practice, gaining relevant experience in a range of organisations at home or abroad, which may include charities and social enterprises, together with more traditional settings, like local councils and schools. Past students have undertaken placements working for schools (mainstream and specialist), childcare services, youth projects, social services, homelessness projects and disability support. Our range of international placement settings is currently growing each year, but to-date students have undertaken placements in the Republic of Ireland, the Netherlands, Spain, South Africa and the United States. As well as developing employability skills, this vital practical experience will increase your understanding of how a wide range of organisations work to develop the aspirations, prospects and quality of life of children and young people
We offer a range of international study visit opportunities, for example former students spent a week in Austria visiting the University of Graz, a young women's shelter, a community-based youth club, and two social enterprise projects. In previous years students have visited the Netherlands and South Africa capturing an international perspective on working with children and young people.
This course provides you with an opportunity to progress to a range of professional and postgraduate courses, some with professional body accreditation, including Social Work, Youth Work, Teaching, (PGCE) and Psychology. Past graduates have studied PGCE in Primary Teaching, MSc in Health Psychology, MA in Post 16 Education, MA in Social Work.
The course harnesses a practice readiness approach, whereby two professional placements in a children and young people's setting and support from the employability support and careers team enhances students ability to secure work in a desirable practice area after graduating.
The Alison Gingell Building provides facilities for teaching and research, featuring two full size homes which can be used to for workshops mimicking working scenarios with children, young people and their families.
Access to a course team who currently has first-hand practice experience in various settings, including sociology, psychology, education, social work, careers guidance, youth and community work, in addition to being actively engaged in research and writing in these areas. Please note, the course team is subject to change.
Opportunity to apply for a sandwich year to study or work in the UK or abroad (subject to availability, application and additional fees).
Excellent relationships with practice organisations who work with children and young people across the city and West Midlands region. These currently include local primary & secondary schools, early years settings (nurseries), local authority children's services, youth offending services, youth service and family support.
Guest speakers have previously included experts in areas such as mental health, special educational needs, youth homelessness, child protection, gang violence and children and young people's health needs
Our main study themes are:
Education-Development: An understanding of practices informed by theories of teaching and learning to facilitate education in a variety of contexts.


Policy Context: Develops knowledge and critical insights into the policy context that shapes the provision of services to children and young people, at both national and international levels.


Critical awareness: Develops a critical and research informed awareness of national and international perspectives on children and young people's learning and development.


Interdisciplinary learning: Study within a truly interdisciplinary learning environment, exploring concepts derived from Psychology, Sociology, Youth work and Health.


Societal challenges: Explore a range of challenges and issues faced by children and young people, such as safeguarding, exclusion, discrimination and oppression.


Skills and value base: Develops the knowledge and skills, such as mentoring, advocacy, group work and advice and guidance, consultation all pertinent to working effectively with children and young people to facilitate change and encourage positive outcomes.


Professional experience: You will have the opportunity to gain work experience of 280 hours with an extensive range of providers, including local councils, schools, charities, social enterprises and other services concerned with facilitating learning, and promoting the health and welfare of children and young people.
The course can be studied full-time over three years. In addition, you have the opportunity to undertake a sandwich year either on a work placement or studying abroad.
The current teaching team is drawn from a wide variety of subject areas, such as psychology, education, youth and community work, which will help to enrich your learning experience by offering a range of different professional perspectives. A number of the current teaching team also hold academic and professional qualifications, such as teaching, youth work and social work qualifications.
We have developed a range of interactive online resources and make use of 'flipped learning' approaches, educational apps, blended learning and electronic submission and marking technologies. We also organise practical sessions, in groups and virtually using online documents, incorporating the 'Problem-Based Learning' approach pioneered by Maastricht University, where students, supervised and assisted by a tutor, seek solutions to real-life problems. Other modules have made use of role play as a tool to simulate live practice experience of safeguarding children and young people for example, participating in a simulated professional multi-agency meeting.
You'll have the opportunity to hear from a range of guest speakers (subject to availability). In 2018 and 2019, these included experts in special educational needs, child protection, children and young people's health and youth violence, from a broad range of statutory and voluntary sector organisations within the UK and abroad.
Teaching methods include: lectures, seminars and tutorials.
Meet our staff
Dr. Michael Whelan
Our Senior Lecturer in Childhood and Youth Studies, Michael has a professional background primarily in youth work where he has gained an international perspective on the development of services for young people through his experience working as a qualified youth worker in the Republic of Ireland, Australia and the UK.
Read full profile
This course will be assessed using a variety of methods which can vary depending upon the module. Assessment methods include coursework which may take the form of academic essays, reflective essays, a portfolio assessing placement, oral presentations, and poster presentations.
This course is predominantly assessed by coursework.
The Coventry University Group assessment strategy ensures that our courses are fairly assessed and allows us to monitor student progression towards achieving the intended learning outcomes. Assessments may include exams, individual assignments or group work elements.
On successful completion, you should be equipped with the skills to:
Critically explore and apply various theories and models related to children and young people from a trans-disciplinary perspective.
Explore, evaluate and apply a range of educational approaches and pedagogies used with children and young people in different educational contexts.
Demonstrate knowledge and skills to undertake work with individuals and groups.
Demonstrate a critical understanding of contemporary national and global issues and related policy.
Identify, critically evaluate, design and deliver a range of formal and informal curricula in the education of children and young people.
Demonstrate knowledge and understanding of safeguarding children and young people and its application to work with children and young people.
Understand, reflect, and respond to practice-based issues and experiences using applied research knowledge and skills.
Demonstrate a range of transferable employability skills, including the necessary knowledge and skills to enter practice, to work autonomously and to engage in critically reflective practice and lifelong learning.
In a typical teaching week, you will have up to 10-15 'contact' hours of teaching. This generally breaks down as:
Personal tutorial/small group teaching: You will meet with your Academic Personal Tutor (APT) on a regular basis and at least twice per semester to discuss your progress and raise any issues with which you require support. Your APT is also available for one-to-one appointments upon request during their weekly office hours (subject to availability).
Medium group teaching: 2-4 hours of workshops or seminars each week.
Large group teaching: 8-10 hours of lectures each week.
In addition, you will be expected to undertake a further 10-15 hours of self-directed study e.g. studying and revising in your own time and on average 10-15 hours per week on placement in the first semesters of the second and final year.
Teaching across all subject areas is informed by international perspectives, and each year you will have the opportunity to take part in a range of international field trips. In the past, students have spent a week in South Africa, attending a range of settings in the Townships, including schools and youth clubs. On other occasions, they visited both Stenden University in the Netherlands and University of Graz in Austria. These involved visiting a range of educational and social care projects and attending local lectures to study and experience practice in an international context.
In your third year, your professional experience placement can be done within the UK or internationally. We currently have contacts with a range of placement settings – schools, children's centres, youth clubs and so on – across the globe, in places, such as South Africa, Spain, New York-USA, Malta, Austria, Finland, and the Netherlands (these contacts are subject to change).
We currently have a Student Exchange Agreement with Laurea University in Finland and Calabria in Italy, where you may have an opportunity to choose to work or study. We have also developed a range of associations with institutions across the globe which currently include: The University of Graz in Austria, Stenden University in Netherlands, Stenden University in South Africa, Newton Paiva in Brazil, Laurea and Metropolia Universities in Finland, Calabria University in Italy, St. Petersburg University in Russia, Loyola College in India, and the Belarusian State Pedagogical University (subject to change)
Global ready
Did you know we help more students travel internationally than any other UK university according to data from the experts in higher education data and analysis, HESA?
In 2016/17, we were able to provide a total of 3,482 experiences abroad that lasted at least five days.

Much of this travel is made possible through our Global Leaders Programme, which enables students to prepare for the challenges of the global employment market, as well as strengthening and developing their broader personal and professional skills.
Explore our international experiences
1st for
international experiences
Sending more students overseas than any other UK uni (HESA 2016/17)
3,482
Student experiences
The number of student trips abroad for at least 5 days in 2016/17
21,000
and counting
The number of students we've helped travel internationally so far
12
global programmes
As well as trips, we offer other opportunities like language courses
What our students say
If you're passionate about children and young people then this is an excellent course to enrol onto and gain insightful experiences and a greater knowledge base before heading into practice.
Entry Requirements
University Course Code: HLSU095
A Level
BTEC
IB Diploma
GCSE requirement
BBB - BCC
DDM - DMM
27 points
Minimum 5 GCSEs at A*-C including English Language and Maths
A-Levels
A-Level applicants are required to have three
 A2 Levels. Coventry University may include AS grades within an offer for certain courses (not guaranteed and at the full discretion of Coventry University), but we are not able to accept two AS Levels in place of one A2 Level. In some courses it may be necessary for entrants to have passed specific A2 Levels in nominated subjects. Please see the course pages for more information.
Access Diplomas
The Access to HE Diploma to include 30 Level 3 credits at Merit or higher, plus GCSE English Language and Mathematics at grade A*-C, or specified equivalents.
Coventry University welcomes applicants who have completed, or who are studying, the Access to HE Diploma developed by the Quality Assurance Agency for Higher Education (QAA). Successful completion of the course will require you to gain 60 credits with at least 45 to be achieved at Level 3 (with the remainder at Level 2). In some cases we will require you to have gained Merit or Distinction grades in a number of units or in nominated subjects. For more information on the entry requirements for your chosen course please see the relevant course pages.
BTEC Level 3 Diplomas
The University will accept the BTEC Level 3 Extended Diploma for entry to most courses. In some cases we will require applicants to have studied either certain named modules or a specific named Diploma. The appropriate course page will have full information on the entry requirements. The University also accepts the BTEC Level 3 Subsidiary Diploma and BTEC Level 3 Diploma for entry to degree programmes, provided that they are studied in combination with other qualifications that provide a total volume of study that is equivalent to three A2 Levels. For example, you could be studying a BTEC Level 3 Diploma plus an A2 Level, or a BTEC Level 3 Subsidiary Diploma plus two A2 Levels. Where a specific A2 or BTEC subject is required for entry then you must be offering this as part of your combination of qualifications.
(Please note, course pages are subject to change from time to time).
Please visit our page on European entry requirements for more information about specific country information.
Our International Student Hub offers information on entry requirements for your country, as well as contact details for agents and representatives should you need more advice.
More detail
Select your region to find detailed information about entry requirements:
Our International Student Hub offers information on entry requirements for your country, as well as contact details for agents and representatives should you need more advice.
More detail
Unconditional offers
We want to recruit the best students to Coventry and having assessed applicants' past, current and predicted performance and commitment to the course we feel that it is appropriate to reward consistently high-achieving students with an unconditional offer from a top university. It is a commitment from us with regard to an applicants' potential as an excellent undergraduate and we hope that this will encourage such applicants to join the Coventry community.
Personal statements and references will also be taken into account and, for some degree courses, an interview will form part of the assessment. The criteria for unconditional offers will vary across the University as entry requirements for specific courses differ and not all degree courses will be taking part in the Scheme. The unconditional offer will be confirmed once a selected applicant has made Coventry their firm choice.
Coventry University has assessed that you are capable of achieving excellent grades and we have demonstrated this belief by making you an unconditional offer. This is our commitment to you so then we ask that you reciprocate this commitment by selecting us as your 'firm' choice and activating your unconditional offer.
We will consider other qualifications for a pre-result unconditional offer providing that you have an appropriate proven performance at GCSE (or equivalent) level and predicted grades in line with grades that we expect to see at A-level. Other qualifications that we may consider for a pre-result unconditional offer include: The International Baccalaureate Diploma, BTEC Level 3 qualifications, Cambridge Pre-U and combinations of qualifications (e.g. BTECS plus A-levels).
An unconditional offer is what it says it is. So, if you don't meet your predictions then your place at Coventry is still guaranteed. However, we would hope and expect that you continue to work hard to make the most of your potential and be best prepared to study at university level.
We can't but our experience over the years has shown us that students like you with a track record of high grades and excellent predictions are very likely to achieve those grades. Our assessment takes into account all elements of your application to allow us to take a holistic view of your potential. There is still the opportunity to gain one of the Coventry University Scholarships if you achieve the required grades so there is a financial incentive to aim high. Unconditional offers are only made to individuals who have demonstrated their commitment so we believe their focus and determination is unlikely to waver in the final stages of their qualifications.
No, the unconditional offer is only available to those who will take up their place in 2018.
What our students say
Placements were one of the single most important aspects of my learning journey and it definitely developed my career choices and also my topic ideas for my independent research projects throughout my academic journey too.
Tuition Fees
We pride ourselves on offering competitive tuition fees which we review on an annual basis and offer a wide range of scholarships to support students with their studies. Course fees are calculated on the basis of what it costs to teach each course and we aim for total financial transparency.

For more information, please visit our Finance pages.
2020/21 fees TBC*
2019/20 fees - £9,250 (per year)
---
UK Scholarships
If you're a truly outstanding undergraduate candidate we may be able to offer you a Coventry University Scholarship.

Coventry University Scholarships are awarded to recognise truly exceptional sports achievement and academic excellence.
2020/21 fees TBC*
2019/20 fees - £9,250 (per year)
---
EU Scholarships
For the September 2019 intake we're investing in a range of EU Academic Excellence scholarships for high achieving and enterprising students. Fulfil your potential this academic year with Coventry University!
2020/21 fees TBC*
2019/20 fees - £13,250 (per year)
---
International Scholarships
For the September 2019 intake we're investing in a wide range of Academic Excellence scholarships for high achieving and enterprising international students. Fulfil your potential this academic year with Coventry University!
Course essentials at no extra cost
We're committed to communicating study costs clearly to make sure you're not faced with having to make any unexpected payments.

This is why our 'Flying Start' package provides you with a few course essentials. Your full-time fee for an undergraduate degree will cover the following:
UK field trips
Any mandatory site visits and trips within the United Kingdom.
Key material
This can include core textbooks, software and equipment.
Laser prints
1,000 A4 sides of black and white laser printing credits per year.
Optional year
Pay no tuition fees for optional work placements or study abroad trips.
The following are additional costs not included in the fees:
Any optional overseas field trips or visits: £400+ per trip
EU Student Fees
EU nationals and their family members starting in the 2019/20 academic year remain eligible for the same fees as home students and the same financial support. Financial support comes from Student Finance England, and covers undergraduate and postgraduate study for the duration of their course, providing they meet the residency requirement.
For tuition fee loans
EU nationals must have resided in the European Economic Area (EEA) or Switzerland for the three years prior to the start of their course. The purpose of that three year residency should not have been mainly for the purpose of receiving full time education.
For maintenance loans
EU nationals must have resided in the UK and Islands for the five years prior to the start of their course. The purpose of that five year residency should not have been mainly for the purpose of receiving full time education.
What our students say
This was my chance to make mistakes and learn from them, I was able to put the theory I was learning into practice...what better way to improve your understanding of something?"
Career prospects
The practical nature of the course means upon successful graduation you should have substantial placement experience, practical knowledge and problem-solving skills which will support a move into a range of different child-related professions or to study towards further professional qualifications, such as the PGCE if you would like to enter teaching, or an MA in Social Work if a career as a social worker appeals. There are also opportunities to branch out into other postgraduate courses such as MSc in Psychology, for those interested in pursuing Educational Psychology.
Past students who have successfully completed this course have had the opportunity to enter directly into a range of exciting roles in a range of settings. Examples of these include teaching assistant, SEN support officer, learning mentor, LAC (looked after child) advocate, youth worker, child and family support worker, children and young person's case worker, children's residential worker, as well as potentially setting up your own social enterprise.
Coventry University is committed to helping you to prepare for your future career and giving you the opportunity to develop a competitive edge in the graduate job market. The University's Careers and Employability team provide a wide range of support services to help you plan and prepare for your career.
Where our graduates work
Previous graduates have gone on to be employed in a range of practice settings including primary schools, children's services, family support, residential care and local and national children and young people's charities (for example, British Red Cross and The Children's Society).
What our students say...
The informal education module of the course also greatly improved my creative thinking in terms of finding new ways to aid young people's learning outside of a structured establishment.
Disclaimer
By accepting your offer of a place and enrolling with us, a Student Contract will be formed between you and the University. A copy of the 19/20 Contract can be found here. The Contract details your rights and the obligations you will be bound by during your time as a student and contains the obligations that the University will owe to you. You should read the Contract before you accept an offer of a place and before you enrol at the University.
The University will charge the tuition fees that are stated on the course webpage and in the prospectus for the first year of study. The University will review tuition fees each year. For UK and EU students, if Parliament permit an increase in tuition fees, the University may increase fees for each subsequent year of study in line with any such changes. Note that any increase for UK and EU Students is expected to be in line with inflation. For international students, the University may increase fees for each subsequent year of study but such increases will be no more than 5% above inflation.
Admission to this course is subject to Disclosure and Barring Service (DBS) checks and a successful interview. Find out about the application process.