Psychology MSc
Study level:

Postgraduate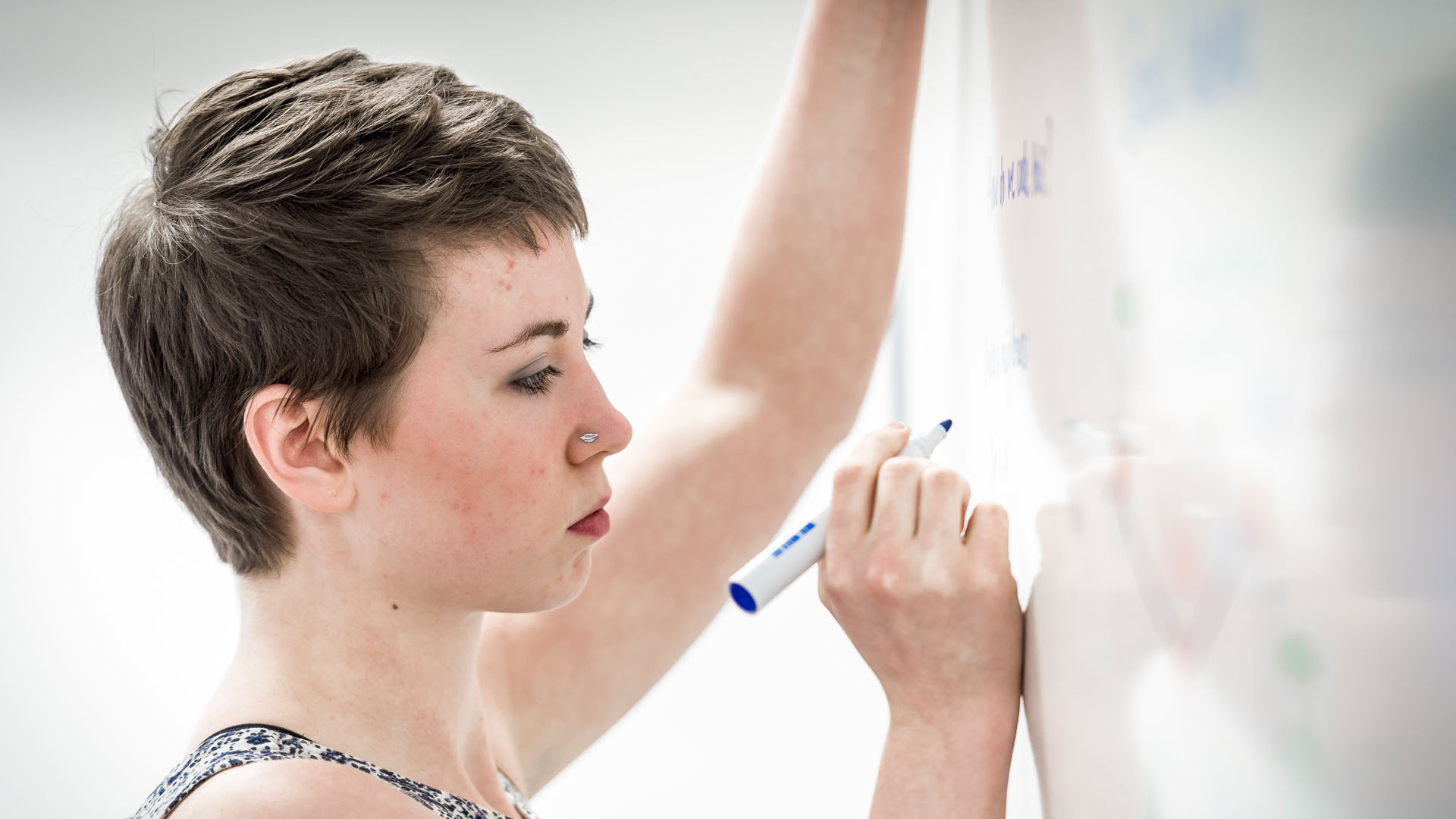 Dive into the human psyche with our Psychology MSc (Conversion Course) for non-psychology graduates wishing to pursue a career as a psychologist or psychology-related roles.
Location
Coventry University (Coventry)
100% online study
Study mode
Full-time
Part-time
Duration
1 year full-time (on-campus)
2 years part-time (online)
Course code
On-campus - HLST308 Online - HLST309

Start date
September 2023
January 2024
---
Course overview
This course is an essential stepping stone for non-psychology graduates seeking a rewarding career as a psychologist with increasing demand for psychologists in various sectors.
Tailored for non-psychology graduates or those with non-accredited psychology degrees.
Flexible study options: Full-time on-campus or part-time 100% online.
Comprehensive exploration of core fields like cognitive, developmental, social, and individual differences psychology, preparing you for various psychology-related careers.
You can study Psychology MSc with us in two different modes, full-time on campus starting in September, or part-time online starting in January.

Joint Top Modern University for Career Prospects
Guardian University Guide 2021 and 2022

5 QS Stars for Teaching and Facilities
QS Stars University Ratings

Top 5 UK Student City (Coventry)
QS Best Student Cities Index 2023
Why you should study this course
Professional Accreditation: Gain eligibility for Graduate Basis for Chartered Membership (GBC) with the British Psychological Society, a crucial step towards becoming a Chartered Psychologist in the UK.
Enhance your skillset: Gain a Level 7 Certificate in Strategic Management and Leadership upon successful completion of our Chartered Management Institute (CMI) accredited module on Organisational Health and Wellbeing.
Inclusive Perspective: Explore diverse human experiences, including gender, sexuality, race, and religion, fostering a comprehensive understanding of human behaviour.
Practical Application: Specialised modules examine psychology's impact in counselling, clinical, forensic, educational, work, and health contexts, preparing you for real-world scenarios.
Teaching Excellence: learn from experienced Chartered Psychologists and research-active academics (staff may be subject to change).
Accreditation and professional recognition
This course is accredited1 and recognised by the following bodies:

British Psychological Society (BPS)
This course is accredited by the British Psychological Society (BPS) for the 2022/23 intake1 and upon successful completion confers eligibility to apply for the Graduate Basis for Chartered Membership (GBC), which is the first step towards becoming a Chartered Psychologist.
We are currently applying for re-accreditation for the 2023/24 intake. If any changes occur with respect to our accreditation or the course content, we will seek to notify applicants and students as soon as possible.
Graduates must achieve a 50% average for all modules contributing to the accredited MSc Psychology Conversion degree (BPS Standards for the Accreditation of the Masters Programme in Psychology). Graduates who do not meet this requirement will exit with a non-accredited award. To achieve the necessary number of credits for all awards (accredited and non-accredited), graduates must achieve the necessary 40% pass mark for all modules contributing to the award.
---

---
I'm delighted to say that I was awarded a 12-week internship at Coventry University working with the sigma Centre. The project looked at how to improve support for higher education neurodivergent students in maths and statistics. My internship involved creating the literature review for the research and thematic analysis on the questionnaire responses. The course has given me the breadth and depth of psychological understanding (developmental, biological, cognitive and social psychology) to enable me to understand the research papers I've been reading.

I used so many of the skills and knowledge that I learnt on the MSc Psychology course – the MSc Psychology team provide such a valuable course. I felt so well equipped to take on my internship due to the content of the MSc Psychology Course.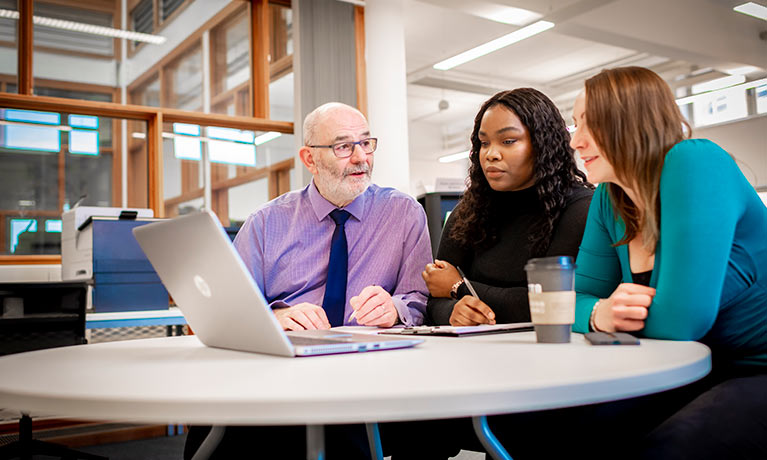 ---
Our one-year full-time (campus) or two-year part-time (100% online) conversion course offers a rewarding experience. Delve into key approaches to psychology and gain practical research skills, culminating in conducting your own independent psychological research project. Moreover, our course includes a specialised CMI-accredited module, tailored to equip you with essential management skills (see Accreditation and professional recognition section).
Modules
Development across the lifespan – 15 credits

Delve into psychological development and age-related changes throughout life. Investigate various topics from infancy to older adulthood, analysing key theories and research findings. Apply psychological concepts to real-world challenges like developmental difficulties, education, and cognitive decline in ageing populations. Consider the role of psychologists and interventions in addressing difficulties at every life stage.

Biological and Cognitive Psychology – 15 credits

This module combines two core areas of psychology, designed to enhance your critical grasp of the biological underpinnings of human behaviour and cognition. Analyse theories, methodologies, and quantitative analysis while delving into contemporary biopsychology and cognition topics. Discover historical advancements in these fields and explore neurological deficits, neuroimaging and real-world applications of research and experimental design. Gain comprehensive insights into the intricacies of human cognition and behaviour.

Social Psychology and Individual Differences - 15 credits

Develop a critical understanding of individual differences in, and social influences on, human behaviour. Learn about theories of personality, intelligence, and emotion and explore their fascinating connection to behaviour through contemporary evidence. Examine the powerful social forces of identity, norms, conformity, and group dynamics in shaping our actions and choices.

The Diversity of Human Experience – 15 credits

This module sheds light on the richness of human experience, delving into aspects of difference and diversity. From culture and gender to sexuality, age, physical ability, neurodiversity, politics, and religion, you'll gain an awareness of the relevance of these differences to effective communication and inclusive interaction. Engage with contemporary topics, debates, theories and evidence to better understand human diversity.

Project Planning and Ethics in Psychology - 15 credits

Learn how to formulate research questions and develop research designs to answer them. You'll be introduced to the British Psychological Society's code of human research ethics, ensuring you are equipped to conduct research ethically. You'll also be guided in gaining ethical approval for your own research project.

Qualitative Research Methods in Psychology - 15 credits

Acquire a solid foundation in qualitative and non-experimental methods used in applied psychology. Dive into various qualitative designs, data collection techniques, and analytical approaches, including thematic analysis, discourse analysis, and Interpretative Phenomenological Analysis. This module is designed so you can learn to analyse, interpret, and report qualitative research while adhering to the BPS ethical code, as well as sharpen your critical thinking skills to evaluate the strengths and weaknesses of different approaches.

Quantitative Research Methods in Psychology - 15 credits

This module offers a solid foundation in quantitative and experimental research methods used in psychology. Discover various quantitative designs and analytical approaches to deepen your critical understanding. Learn techniques for assessing group differences (e.g., t-tests, ANOVA, MANOVA) and relationships (e.g., correlation, regression, multiple regression, mediation, and moderation). Learn to analyse, interpret, and report quantitative research while upholding the highest ethical standards.

Applying Psychology (Professional Routes) - 15 credits

Explore a world of possibilities in this module as we introduce you to diverse applied areas in psychology. Explore routes to professional careers, including Occupational psychology, Forensic psychology, Health psychology, Educational psychology, Clinical psychology, and Counselling psychology. Delve into current field issues and cultivate essential skills for practicing psychologists in each area. Embrace psychological theories and research relevant to each specialisation, guided by a lineup of diverse speakers sharing valuable career insights. Explore UK pathways, international opportunities and alternative career routes.

Independent Psychology Project - 50 credits

Embark on a supervised but independent empirical research project. Integrate and apply the skills honed throughout your MSc course to explore a topic of your interest. Under the guidance of your supervisor, you'll plan, design, administer, and report your unique research project. This experience aims to nurture a critical understanding of the research process, human research ethics and the challenges in conducting research in psychology.

Leading and Creating Organisational Health and Wellbeing - 10 credits

This module offers a comprehensive understanding of effective leadership and people development for enhanced health and wellbeing within organisations. Explore diverse leadership theories, cultural impact and organisational performance in various settings. Dive into contemporary approaches to cultivate healthy work systems, emphasizing coaching and mentoring skills of leaders. Propose recommendations for fostering a positive culture of health and wellbeing in organisational contexts. Reflect on your personal growth and ethical development, fostering continuing professional development. Central to this module is uncovering strategies to promote inclusivity and raise employee performance in modern organisations.
We regularly review our course content, to make it relevant and current for the benefit of our students. For these reasons, course modules may be updated.
Teaching psychology at Coventry University has been the most gratifying life experience. Students love learning about different aspects of human behaviour and can connect their daily lives with the subject area. I have a particular interest and expertise in mindfulness and mental wellbeing. My teaching philosophy surrounds incorporating various elements of the ancient and modern mindfulness movement so that we can achieve the highest learning and life satisfaction.
---
How you'll learn
You can study Psychology MSc with us in two different modes, full-time on campus starting in September, or part-time online starting in January.
Study on campus (full-time)
Immerse yourself in a vibrant campus experience at Coventry University. Our one-year full-time course offers face-to-face learning, creating an interactive and engaging environment for your academic journey.
Interactive learning: Engage in interactive lectures and seminars.
Practical Workshops: Qualitative and quantitative research methods sessions with hands-on practice.
Multimedia Teaching: Experience an innovative multimedia approach to learning, engage in collaborative discussions and access all your learning materials with Aula, our current social learning experience platform, where you can connect with peers online.
Continuous Guidance: Receive support for coursework assignments and academic development. Receive one-to-one support from your assigned project supervisor, and a dedicated pastoral tutor and book appointments with the Course Director.
Study 100% online (part-time)
Our two-year part-time course covers the same content as our on-campus course but is designed to enable you to study at times that suit you.
Accessible anytime, anywhere: pre-recorded lectures and guided videos available 24/7.
Connect with your peers online: our platform provider is currently Aula, a leading social learning experience platform that enables you to connect and learn with your peers online.
Asynchronous presentations: engage in embedded activities and formative assessments at your own pace.
Continuous Guidance: weekly online tutorials for interactive Q&A support, module drop-in sessions and arrange video call meetings with your tutors via Microsoft Teams.
---
Teaching contact hours
On-campus
Semesters 1 and 2: Around 12 hours of compulsory lectures, seminars, or workshops in a typical week.
Semester 3: Approximately 2 hours of compulsory lectures, with additional one-to-one supervision meetings and optional workshops with more self-directed study time dedicated to your independent project.
Optional additional skills sessions and one-to-one meetings with academic tutors
As a full-time student expect significant self-directed study of up to 24 hours per week, including reading and working on assignments.
Online
Weekly engagement with 2-6 hours of compulsory recorded content, depending on the semester and modules.
24/7 access to course materials online for flexible learning.
Optional group tutorials for synchronous contact with tutors and peers.
Expect self-directed study, with up to 18 hours per week advised.
Feedback from previous students suggest they typically spend about 2.5 days a week studying, including engaging with recorded online materials.
In response to COVID-19, we are prepared for courses due to start in or after the 2023/2024 academic year to be delivered in a variety of forms. The form of delivery will be determined in accordance with Government and Public Health guidance. Whether on campus or online, our key priority is staff and student safety.
---
Assessment
This course will be assessed using a variety of methods which will vary depending upon the module. The course is 100% coursework based with all assessments completed individually.
Assessment methods include:
Essays
Problem-based learning coursework
Practical reports
Case study
Video presentation
Annotated bibliography
Independent Research Project
The Coventry University Group assessment strategy ensures that our courses are fairly assessed and allows us to monitor student progression towards achieving the intended learning outcomes.
MSc Psychology is a challenging yet rewarding course that caters for a diverse range of students with very different goals. Whether your dream is to be a professional psychologist, to work in a career related to psychology, obtain that promotion, or simply study psychology out of interest, then this is the course for you. Most, if not all, careers involve working with people and this course is designed to start you on your journey to understanding human behaviour.

I have seen many students excel on the course from a variety of different subject backgrounds, so please do not be worried if you have never studied psychology before. The team and I are here to introduce you to the subject and prepare for the next steps in your career. I have been fortunate to see our graduates progress to teaching roles, PhD placements, professional doctorates, and internships. I am excited to see where your journey might take you.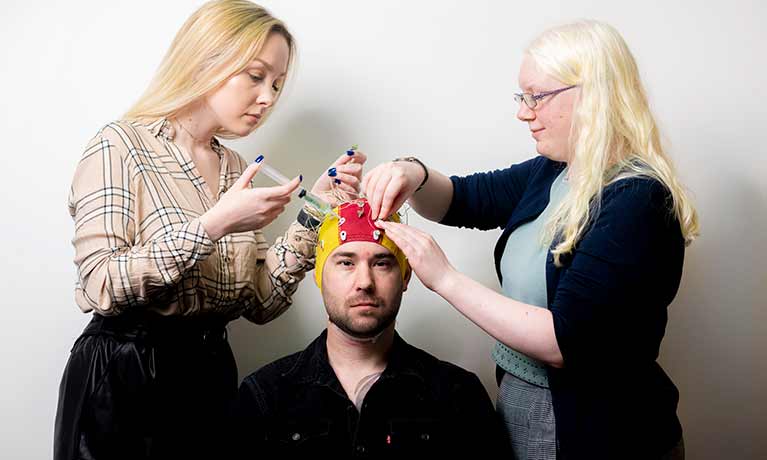 ---
Entry requirements
Typical offer for 2023/24 entry.
Applicants should hold an undergraduate degree with a 2:2 classification (or international equivalent) in any subject.
We recognise a breadth of qualifications; speak to one of our advisers today to find out how we can help you.
Select your region to find detailed information about entry requirements:
You can view our full list of country specific entry requirements on our Entry requirements page.
Alternatively, visit our International hub for further advice and guidance on finding in-country agents and representatives, joining our in-country events and how to apply.
Typical entry requirements
Applicants should hold an undergraduate degree with a 2:2 classification (or international equivalent) in any subject.
English language requirements
IELTS: 6.5 overall, with no component lower than 5.5
If you don't meet the English language requirements, you can achieve the level you need by successfully completing a pre-sessional English programme before you start your course.
For more information on our approved English language tests visit our English language requirements page.
---
Fees and funding
2023/24 tuition fees.
Student
Full-time
Part-time
UK, Ireland*, Channel Islands or Isle of Man
£11,200
Request fee information
EU
£11,200 per year with EU support bursary**
£18,600 per year without EU support bursary**
Not available
International
£18,600
Not available
For advice and guidance on tuition fees3 and student loans visit our Postgraduate Finance page.
We offer a range of International scholarships to students all over the world. For more information, visit our International Scholarships page.
Tuition fees cover the cost of your teaching, assessments, facilities and support services. There may be additional costs not covered by this fee such as accommodation and living costs, recommended reading books, stationery, printing and re-assessments should you need them.
The following are additional costs not included in the tuition fees:
Any optional overseas field trips or visits: £400+ per trip.
Any costs associated with securing, attending or completing a placement (whether in the UK or abroad).
*Irish student fees
The rights of Irish residents to study in the UK are preserved under the Common Travel Area arrangement. If you are an Irish student and meet the residency criteria, you can study in England, pay the same level of tuition fees as English students and utilise the Tuition Fee Loan.
**EU support bursary
Following the UK's exit from the European Union, we are offering financial support to all eligible EU students who wish to study an undergraduate or a postgraduate degree with us full-time. This bursary will be used to offset the cost of your tuition fees to bring them in-line with that of UK students. Students studying a Degree with a Foundation Year with us are not eligible for the bursary.
How do you know if you need to pay UK or international tuition fees?

We carry out an initial fee status assessment based on the information you provide in your application. Your fee status determines your tuition fees, and what financial support and scholarships may be available to you. The rules about who pays UK (home) or international (overseas) fees for higher education courses in England are set by the government's Department for Education. The regulations identify all the different categories of student who can insist on paying the home rate. The regulations can be difficult to understand, so the UK Council for International Student Affairs (UKCISA) has provided fee status guidance to help you identify whether you are eligible to pay the home or overseas rate.

If you meet all the criteria required by any one category, including any residence requirements, your institution must charge you the home rate. You only need to find one category that you fit into.
---
Facilities
The on-campus course will take place at our Coventry University main campus4.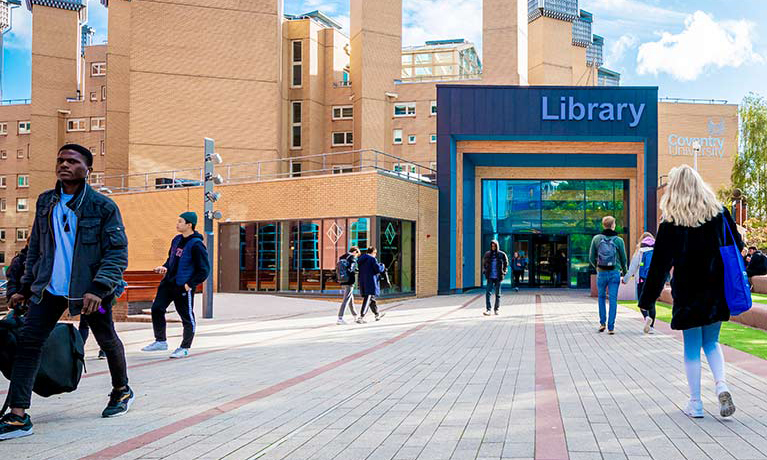 The Lanchester Library is open 24/7, 364 days a year and has 1,400 study spaces, including group and silent areas. It also currently offers more than 550 computers and an additional 120 free-to-loan laptops within the library.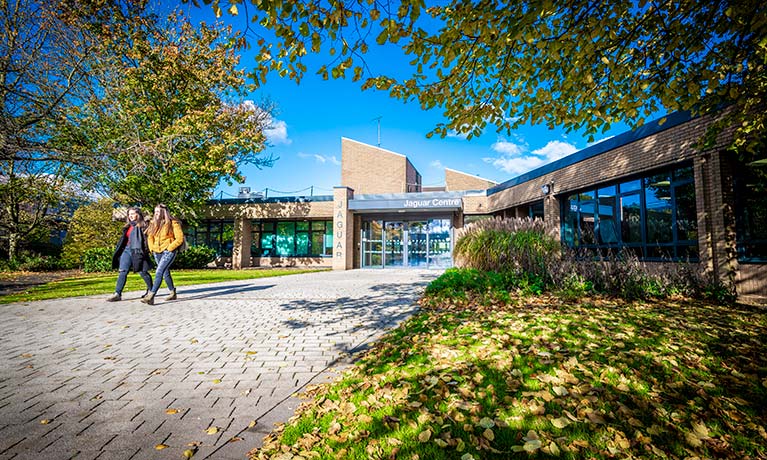 Jaguar Centre
Our refurbished Jaguar Centre has been specifically designed to provide facilities and services to support our postgraduate students including: social spaces, computer suites and separate areas for small group study.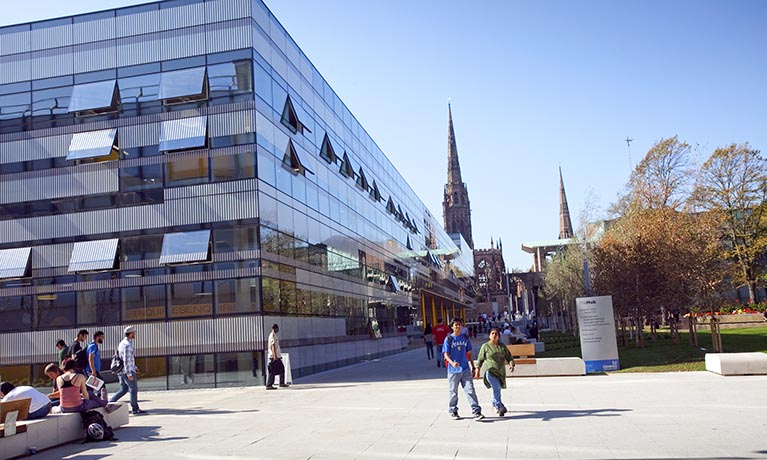 The Hub is the centre of student campus life. It's also home to the Health and Wellbeing Centre, the Spirituality and Faith Centre, the Tank Studio, Student Success Coaches and the Enterprise Hub.
---
Careers and opportunities
The course confers eligibility for the Graduate Basis for Chartered (GBC) Membership with the British Psychological Society, which forms part of the first stage training requirements in becoming a Chartered Psychologist, upon successful completion of the course1.
Upon successful completion of this course, you will gain essential knowledge and skills, providing a strong foundation for potential careers in the field of psychology. These include:
A comprehensive understanding of psychology as a discipline, encompassing core areas, diversity, historical origins, theories, debates, and limitations.
The ability to critically analyse and evaluate psychological research evidence and theory, enabling informed decision-making.
Proficiency in psychological research paradigms, methods, and data analyses, culminating in an independent psychology research project.
Insight into the practical application of psychology to address global real-world challenges, benefiting diverse communities.
A wide range of transferable skills, such as teamwork, numerical reasoning, digital literacy, and effective communication across different media.
Proficiency in self-management strategies, organising time and workloads effectively.
A critical evaluation of principles for leading and fostering a culture of organisational health and wellbeing.
While the course opens avenues to further study and potential careers, specific opportunities may depend on individual aspirations, additional training, and experience.
Our Psychology MSc course opens doors to a diverse array of fulfilling careers. As the demand for psychological professionals grows (NHS Long Term Workforce Plan, 2023), there are career opportunities in a range of different sectors. Graduates may go on to apply for roles as Assistant Psychologists or apprenticeships as Clinical Associates in Psychology.
Gaining Graduate Basis for Chartered Membership of the BPS is your first step towards becoming a professional psychologist, paving the way for further study in specialised fields like clinical, health, counselling, educational, forensic, occupational, or sports psychology. While this course opens the door to these exciting careers, additional training and experience are required to become a Chartered Psychologist (varying depending on your chosen field).
You may also go on to pursue roles in the rapidly growing wider psychological workforce including Cognitive Behavioural Therapists, Psychological Wellbeing Practitioners, or Education Mental Health Practitioners to name just a few (further training may be required).
You'll also develop many transferable skills (e.g. data analysis, evaluating evidence) that are highly valued by employers across a wide range of sectors.
Where our graduates work
Our postgraduate degree may open the doors to a variety of positions. Past graduates have gone to work in teaching, human resources, management, and a children's hospital school, also as a performance analyst, psychological wellbeing practitioner, human rights investigator and child development advisor. Others have chosen to become a trainee educational psychologist, trainee forensic psychologist, trainee clinical psychologist on Doctoral programmes, pursue a PhD and further their academic career as a lecturer or research assistant.
---
How to apply
UK students

To apply to study for a postgraduate course at Coventry University, you can apply online.

---

For further support or more information about your course get in touch with us today.

International students

Full-time international students applying to start in September should apply directly to the university. Read our application pages to find out your next steps to apply.

How to apply

For further support for international applicants applying for postgraduate degree view our International hub.

You can also download our International guide which contains lots of useful information about our courses, accommodation and tips for travel.

---

Get in touch with us today for further advice and guidance.
Disclaimers

Coventry University together with Coventry University London Campus, CU Coventry, CU London, CU Scarborough and Coventry University Online come together to form part of the Coventry University Group (the "University") with all degrees awarded by Coventry University.

1Accreditations

The majority of our courses have been formally recognised by professional bodies, which means the courses have been reviewed and tested to ensure they reach a set standard. In some instances, studying on an accredited course can give you additional benefits such as exemptions from professional exams (subject to availability, fees may apply). Accreditations, partnerships, exemptions and memberships shall be renewed in accordance with the relevant bodies' standard review process and subject to the university maintaining the same high standards of course delivery.

2UK and international opportunities

Please note that we are unable to guarantee any UK or International opportunities (whether required or optional) such as internships, work experience, field trips, conferences, placements or study abroad opportunities and that all such opportunities may be subject to additional costs (which could include, but is not limited to, equipment, materials, bench fees, studio or facilities hire, travel, accommodation and visas), competitive application, availability and/or meeting any applicable travel COVID and visa requirements. To ensure that you fully understand the visa requirements, please contact the International Office.

3Tuition fees

The University will charge the tuition fees that are stated in the above table for the first Academic Year of study. The University will review tuition fees each year. For UK (home) students, if Parliament permit an increase in tuition fees, the University may increase fees for each subsequent year of study in line with any such changes. Note that any increase is expected to be in line with inflation.

For International Students, we may increase fees each year but such increases will be no more than 5% above inflation. If you defer your course start date or have to extend your studies beyond the normal duration of the course (e.g. to repeat a year or resit examinations) the University reserves the right to charge you fees at a higher rate and/or in accordance with any legislative changes during the additional period of study.

4Facilities

Due to COVID-19, some facilities (including some teaching and learning spaces) and some non-academic offerings (particularly in relation to international experiences), may vary from those advertised and may have reduced availability or restrictions on their use.

Student Contract

By accepting your offer of a place and enrolling with us, a Student Contract will be formed between you and the university. A copy of the 2023/24 contract can be found here. The Contract details your rights and the obligations you will be bound by during your time as a student and contains the obligations that the university will owe to you. You should read the Contract before you accept an offer of a place and before you enrol at the university.
Coventry University (Coventry)
Coventry University (Coventry)
Business and Organisational Psychology MSc
---