CUSU Postgraduate Community
A vibrant student community is at the heart of a great student experience.
As a postgraduate at Coventry University we know how important it is for the Students' Union to represent your needs and interests. This is why we set up the Postgraduates' Guild, so that you can access everything that is available to you (at the Students' Union) with ease. You can get involved in many different departments such as Reps, Volunteering, Democracy, Societies and Sports. You can also get involved in Postgraduate specific social events.
This October we are hosting the Postgraduate and Mature Students' Welcome Brunch. This is an opportunity for new and existing postgraduates to get to know each other in an informal setting. It is also open to family members and we will have a face painting stall for children who attend.
We will have social events aimed at Postgraduates' throughout the year so make sure you keep checking the CUSU website for further details.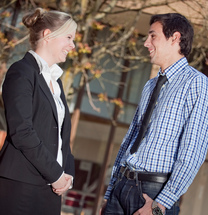 Reps
Having great course representation is really important if you want to get the most out of your studies!
Each year our student Reps solve over 750 course related issues across all faculties. You can be part of this success by joining on to be a student Rep, not only will you be part of the Reps community but you can add valuable leadership experience to your skillset.
You will have the opportunity to network with university staff and also receiving training in running formal meetings.
Students' Union Advice Centre

SUAC offers free, independent and impartial advice to all Coventry University Students. They have weekly drop in sessions available or you can book an appointment. They can advise on a wide range of issues from housing, consumer law, cheating/plagiarism, housing and consumer law.
More details can be found on CUSU's Advice Centre webpage.
Sports
As well as the regular sports sessions we run for all students we also run postgraduate specific activities. For example we have a Postgraduate Yoga session on a weekday lunchtime and a Postgraduate Futsal session on a week day evening.
Societies
Joining a society is a great way to get to know other students with a similar interest to you. We have a huge variety of societies from academic societies to faith and cultural societies to mountaineering and special interests.
You can find the one that is right for you from our list of societies.
The CUSU Postgraduate Community is run by you for you! It has been created to foster a vibrant and active postgraduate community and to ensure your Students' Union can address your diverse needs.
Volunteering
Whether it is getting involved in the local community on a one-off basis or getting involved in regular weekly volunteering activities we have something to suit everyone, whatever time you are able to commit.
For any questions on any of the above please contact pgguild.su@coventry.ac.uk.