Paramedics Simulation Day
Student paramedics faced a series of emergency situations including a car crash, stabbing and child's drowning during a simulation day.
Our 2nd year Paramedic Science students put their clinical and management skills to the test during a range of scenarios at West Midlands Fire Service's Safeside centre in Birmingham.
Safeside features a life-size model village incorporating roads, shops, alleyways and a canal, as well as a bus, fire engine, ambulance and cars.
These locations became the scene for a series of emergency drills to help the Paramedic students put their skills into practice in as real an environment as possible.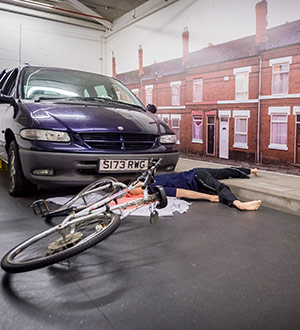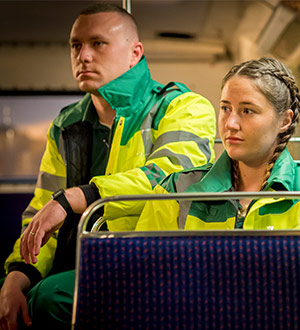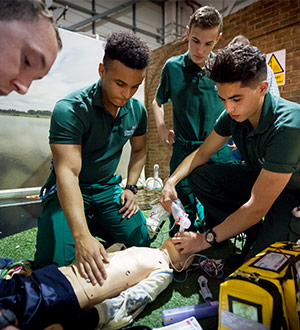 Simulations included:
a potential overdose with a mix of medication and alcohol
a drowning
a road traffic collision with multiple casualties
a stabbing and a case of chest pain associated with drug use.
The environments tested our students' reactionary skills by placing them in situations that each required a different approach, for instance treating a patient in a dark alley or on the top deck of the bus.
As well as medical mannequins, actors, service users and students were used in the roles of patients, and also played other people at the emergency scene, such as an abusive bystander or a worried parent.
This added to the real-life experience for our students, allowing them to gauge their own reactions and how they would adapt them to the situation at hand.
Students really took to the day, enacting each scenario with the professionalism required.
Gaining experience of an emergency situation which is as close to real life as possible while in a safe environment is an incredibly important part of the course, and provides a real boost to students' confidence.
We will be able to build on the simulation experiences currently available to our students in our new state-of-the-art Alison Gingell Building.
---
We were in groups of four. One person was the leader at each scenario and made the primary survey and assessed the situation and then they assigned the rest of us our roles and responsibilities.

One of the scenarios was a patient having a heart attack on the top floor of a double decker bus. We had to treat them but it was complicated as we also had to think about how we would extricate the patient from the bus and if there were other people around.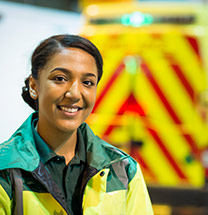 ---
"Another scenario was a child who had drowned in a canal. We had to give them advance life support. The child's father was played by an actor. It was very difficult as he was screaming and erratic and we really had to make sure we could focus on the treatment we were giving the child.
We also had a stabbing scenario where someone was injured in an alleyway. We had to make a decision whether to go into the alleyway or not. We had to think about our own safety in what was potentially a dangerous situation.
The scenario I found the hardest was also the one I learnt the most from. It was a road traffic collision where one person was trapped in a car, another had been crushed by their bike and someone was on the ground with catastrophic bleeding. We had to prioritise who to treat – and it was very difficult. It was all about communication.
It was a really good day. It's so realistic. The volunteer actors are so good.
It's so important to experience days like this. What you learn in the classroom is good – but you need to be able to apply it in a realistic environment. It's very different practising what you learn in a classroom to being out on the road. This is as close as you can get to a real life situation, with people around you screaming and the other unexpected and difficult things you might encounter."
Zoe McIntosh, 2nd year paramedic science student