Georgina McAllister
RESEARCH SUBJECT AND INTERESTS
Conflict transformation
Critical pedagogy
Peoples knowledge
Collective agency
My project title is 'Cultivating Resilience at the Conflict Margins. Agroecology as a Tool for Everyday Peace Formation?'.
In so-called post-conflict environments, where liberal peacebuilding lays the groundwork for a cessation of violence by imposing a structural peace, most rural realities are in fact insufficiently different from their pre-conflict state. With social-ecological fragility further compounding a lack of rural opportunity, persistent grievances can become violent flashpoints. There remains an urgent need to reconcile the demands of peacebuilding with these rural realities, to create more equitable outcomes which underpin a sustainable peace. Centred on communities of practice in Zimbabwe, this research explores the extent to which agroecology, with its emphasis on strengthening knowledge and social networks for collective natural resource management, builds cohesion and trust as articulated through everyday experiences. Drawing on the links between critical enquiry and co-learning in conferring resilience and agency, it investigates how conflict-affected communities employ these participatory strategies as a set of non-threatening and situated tools to navigate complexity and negotiate change. In evidencing conflict transformation through the lens of agroecology, this research will make a unique contribution to scholarship.
Supervisory Team:
Andrew Adam-Bradford (Director of Studies)
Julia Wright
Alpaslan Özerdem
BIOGRAPHY
With an NGO background since the early 1990s, George's experience spans both humanitarian and development sectors in Europe, the Middle East, South East Asia, Pacific and sub-Saharan Africa. George has a 1st class BA Hons from Peace Studies in Bradford, and a Masters in Post-War Reconstruction & Development from York. At this point she developed an interest in creating more inclusive and sustainable forms of community engagement, which view the environment and its hosts as part of the long-term solution. This invariably drew her to agroecology. Co-founding UK NGO GardenAfrica in 2001, George has been co-developing innovative plant-based livelihoods approaches with farmers and civil society organisations which explore strategies to stimulate localised economic opportunity while navigating social-ecological change.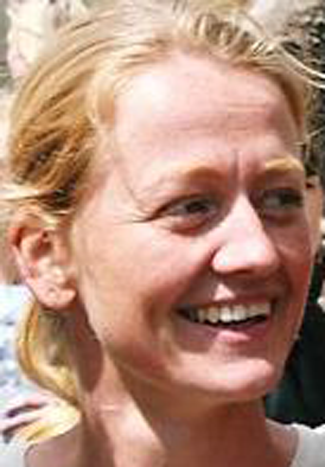 PhD Student

Building: Ryton Gardens
Email:mcallisg@uni.coventry.ac.uk