Transnational Research Doctoral Degree (TNRD)
Start dates: September, January or May*
Duration: 4 years full-time or 6 years part-time
Based in Dubai, one of the world's most exciting cities, you will have the opportunity to pursue a Transnational Research Doctoral Degree from a leading UK university and the renowned Emirates Aviation University (EAU).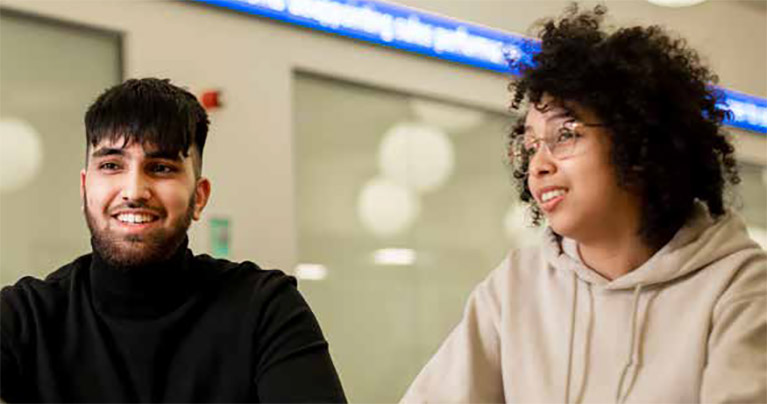 This structured, cohort-based Coventry University doctorate with Emirates Aviation University provides you with a strong subject-specific knowledge basis and doctoral researcher training through a range of modules and workshops.
A supervisory team involving Coventry University and Emirates Aviation University academic staff offers a variety of perspectives and expertise in support of your research – further enhanced by a community of peers and the learning hub facilities provided at Emirates Aviation University.
You will be supported by a Coventry-based supervisory team, dedicated online research workshops and academic resources, while benefiting from additional co-supervision, support and facilities provided by EAU.
Key programme features:
Cumulative submission of the thesis in nine submissions
Significant taught elements, including four 15 credit master's level modules delivered online
Comprehensive induction and researcher development training tailored to an international, at-distance cohort
A trained, specialist TNRD supervisor
Management Pathways
Coventry University's Centre for Business in Society (CBIS) undertakes cutting-edge research to promote responsibility and to change behaviours through understanding the impact of organisations' activities, behaviours and policies so as to achieve better outcomes for economies and societies. CBIS is home to 35 specialist researchers, a dedicated research support team, many of the Faculty of Business and Law's professoriate and a range of associate researchers.
Applied Mathematics Pathways
Coventry University Applied Mathematics consists of Fluid Mechanics, Data Science, Machine Learning, Mathematical and Statistical Modelling and Applications to Information Theory and Internet of Things.
It is represented by research staff from the School of Computing Electronics and Mathematics sitting in two research centres (Fluid and Complex Systems and a nascent centre in Data Science and High-Performance Computing) as well as the university's Institute for Future Transport and Cities.
Much of the research in applied mathematics is based around the study of the emergent behaviour of complex systems, by this in turbulent fluid flows, understanding the dynamical behaviour of a swarm of insects, the hidden patterns in big data, etc. Coventry University has a wide experience of high level research in these areas.
Coventry University has been voted 'Modern University of the Year' three times running by The Times and Sunday Times Good University Guide (2014, 2015 and 2016). The university was ranked 15th in the Guardian University Guide 2020 and has a global reputation for high quality teaching and research with impact. Almost two-thirds (61%) of our research was judged 'world leading' or 'internationally excellent' in the Research Excellence Framework (REF) 2014.
Coventry University's research strategy is underpinned by a £250m investment. This includes a dedicated Coventry Doctoral College and Centre for Research Capability Development which delivers high quality professional support for researchers, from PhD to Professor.
We have expertise in distance learning, teaching and research, with a dedicated doctoral supervisory team at Coventry and a full range of online research workshops and resources to support your development as a postgraduate researcher. You can also benefit from complementary co-supervision, sector and regional expertise and candidate support provided by Emirates Aviation University.
Emirates Aviation University (EAU) is the Middle East's leading educational institution for
aeronautical engineering, aviation management, business management, aviation safety and security studies. EAU is the education arm of the Emirates Group, a name known worldwide for its commitment to the highest standards of quality in every aspect of its business. An experienced faculty, multi-national student body and our purpose-built campus in the heart of Dubai ensures a vibrant and effective learning environment.
A minimum of a 2:1 first degree in a relevant discipline/subject area
Plus a minimum 60% overall module average
Plus a minimum 60% mark in the Project element, or equivalent
or
A master's degree in a relevant subject area, with overall marks at minimum merit level (60%)
Plus the dissertation or equivalent element in the master's must also have been attained with a mark at minimum merit level (60%)
English Language: IELTS 7.0 overall, with all components at 6.5 or above, or equivalent.
Send an expression of interest to Emirates Aviation University (EAU) at eau.admissions@emirates.com.
You will need to provide:
An expression of interest
Bachelor and master's qualifications and transcripts in English
A personal statement
A summary of the your research interests
An IELTS or equivalent English language certificate
Once expressions of interest have been endorsed by EAU, candidates must apply to Coventry University via its online applications system. Doctoral research projects for the Management pathway will be offered within one of the following predefined themes:
Sustainable Production and Consumption
Economic Development and Inclusive
Economies
Economic and Financial Studies
Data, Organisations and Society
Doctoral research projects for the Applied Mathematics pathway will be offered within the following predefined themes:
Data Sciences
Machine Learning
Internet of Things
Statistical and Mathematical Modelling
You must receive Emirates Aviation University's endorsement prior to applying for this Transnational Research Degree at Coventry University.
For initial enquiries and expressions of interest, please contact:
Dr Daoud Kassem
EAU Dean of Postgraduate Studies
daoud.kassem@emirates.com

For the doctoral pathways and research projects at Coventry University:
Applied Mathematics pathway
Prof. Damien Foster, academic lead for Coventry University
damien.foster@coventry.ac.uk
Management pathway
Prof. Qile He, academic lead for Coventry University
qile.he@coventry.ac.uk
*Subject to minimum candidate numbers for each pathway and intake.