Nursing Studies BSc (Hons) top-up
Course Code
International Code: HLSU233
Location
Coventry University (Coventry)
Duration
1 year full-time
---
Course overview
Study level: Undergraduate
Top-up Courses
This course is designed for international students with a Diploma-level General Nursing registration in their own country who wish to further their understanding of UK nursing practice.
Following successful completion of the course, you may apply to register with the Nursing and Midwifery Council (NMC) (additional costs apply, please visit the NMC website for further information and requirements).
Our multi-million-pound Alison Gingell Building features mock hospital wards, critical care settings and midwifery suite.
Study key issues in nursing practice in the UK, leadership and management.

Global Ready
An international outlook, with global opportunities

Teaching excellence
Taught by lecturers who are experts in their field

Employability
Career ready graduates, with the skills to succeed
Why you should study this course
The Nursing Studies BSc (Hons) Top-Up course is designed for international students who have completed a nursing registration equivalent to Diploma-level studies in their own country and wish to study full-time at Coventry University to explore the knowledge base which underpins UK nursing practice.
You will study key issues in nursing practice in the UK, leadership and management. Following successful completion of the course many students apply to register with the Nursing and Midwifery Council (NMC) (additional costs apply, please visit the NMC website for further information and requirements).
This academic programme provides opportunities to explore the knowledge base which underpins nursing practice and to share learning with nurses from other parts of the world. The course comprises of five mandatory modules and one optional module. Successful completion of six modules will lead to the award of Nursing Studies BSc (Hons) Top-Up.
The opportunity for academic development within this course should enable you to contrast approaches to nursing practice between your country of origin and the UK. The course design should enable some integration with UK nursing students and international students from around the world.
1st
for Student Satisfaction in the Midlands in Nursing
The Complete University Guide 2023
---
What you'll study
The course comprises 6 double modules of 20 credits. Students are expected to study on a full-time basis over one year. 
The year is made up of five mandatory modules, followed by your choice of one optional module (out of three optional modules for the September intake, and two optional modules for the January intake).
Modules
Principles of Professional Nursing Practice - 20 credits

This module is specifically designed to meet the needs of international nurses undertaking the Nursing Studies course. It therefore recognises the particular needs regarding cultural, educational and professional acclimatisation. It will sensitively address your individual needs in relation to your previous professional and educational experience; build on and value these. The focus of the module will therefore be on principles underpinning professional nursing practice incorporating the concepts surrounding Evidence-Informed Practice and developing the skills of independent lifelong learning as a professional requirement. It will concentrate on developing related skills including information technology, information literacy in preparing you for further learning.

Assessment: coursework

Leadership and Change in Public Service Management - 20 credits

This module will examine current leadership and organisational theories in order to promote a critical appraisal of management principles applied to public service settings. The module is also designed to evaluate the role of public sector governance and how the use of quality improvement initiatives impact on the users' experience. Specific emphasis is placed on enabling you to develop their ability to explore, analyse and participate in change within the practice of your own speciality/profession. The intention is to combine these elements so that you are encouraged to integrate your experience of professional practice with the wider environment of public services.

Assessment: coursework

Health Assessment - 20 credits

The aim of this module is to provide you with the underpinning knowledge, principles, skills and techniques to enable you to undertake comprehensive holistic health assessment. The module is designed for those working in a variety of practice settings, who work in an autonomous capacity and whose assessments lead up to and include medical diagnosis.

Assessment: coursework, test

Reviewing Research for Professional Practice - 20 credits

This module enables you to examine a body of research evidence and develop skill in critically reviewing selected literature of relevance to health studies or professional practice. The conduct of the review will enable you to build upon and enhance your skills and knowledge base in research and project management. In so doing you will be prepared to foster research-based innovation and change in practice. In turn this has the potential to underpin personal development, enhancement of information and knowledge resources and processes, along with improvements in quality within your practice setting.

Assessment: coursework

The Scope of Public Health - 20 credits

This module aims to provide an understanding of the scope, nature and elements of multidisciplinary public health in order to increase awareness of the collective perspective in enhancing the health of populations. It will examine underpinning theory and its application to contemporary public health practice including the issues surrounding health needs assessment in determining public health priorities for action.

Health Promotion - 20 credits

This module is designed to enable you to appreciate the complexity of health promotion as a concept by examining the underpinning theory and to provide a rigorous analysis of a range of interventions and approaches aimed at promoting health. The module will encourage an understanding of effective health promotion and explore factors influencing health at both the individual and structural levels. The module is intended for anyone seeking to develop an in-depth understanding of the predominant theories and principles of health promotion, and their application to practice, whether or not they are employed in a healthcare setting.

(September intake only)

Assessment: coursework

Pain Management - 20 credits

The module is designed for healthcare professionals working with people in pain. The module content recognises a range of pain types across varied client groups in both hospital and community settings. Participants from different clinical and professional backgrounds can analyse the evidence base for effective pain management in order that they become competent practitioners in meeting bio-psychosocial needs of patients with pain. Inadequate knowledge continues to be one of the major barriers to pain management, inadequacies in the curriculum have been reported in a variety of health professions across different countries. The recent British Pain Society (2018) guidance for pain education into pre-registration curricula for healthcare professionals in the UK is incorporated. The module facilitates practitioners to rise to the individual challenges of pain management in their own sphere of clinical practice.

(September intake only)

Assessment: coursework

Competence and Skills for General Nursing - 20 credits

Overseas Nurses, who wish to enter the Nursing and Midwifery Council (NMC) professional register, are required to undertake testing at an approved centre, which takes the form of a multiple choice test and Observed Structured Clinical Examinations (OSCE). This module will prepare nurses to enter the NMC test with enhanced confidence. It builds on existing knowledge and skills related to professional values, communication and interpersonal skills, informed decision-making for nursing practice, leadership and team working and enables you to develop and apply these in a UK professional nursing context. The use of OSCEs features prominently in teaching and formative assessment opportunities along with the summative assessment to mirror the NMC approach.

(September and January intake)

Assessment: coursework

End of Life Care - 20 credits

This module has been developed to meet the needs of health and social care workers working with people approaching the end of their lives. It aims to equip such practitioners with knowledge, skills and confidence to practice within all contexts where end of life care is delivered. The module encourages you to analyse the principles of palliative care and apply them to your specific area of clinical practice.

(January intake only)

Assessment: coursework
We regularly review our course content, to make it relevant and current for the benefit of our students. For these reasons, course modules may be updated.
---
How you'll learn
The modules will be taught by a variety of teaching methods including lectures, seminars and workshops. Each module comprises around 200 hours which includes around 50 hours of teaching contact hours and students are encouraged to spend around 150 hours of self-guided study.
Assessment
You will be assessed using various methods, which will vary by module, but may include: written examination, written assignments, presentations and observed clinical structured examination (OSCE).
---
Job ready
Successful completion of the course gives you the opportunity to apply to register with the UK Nursing and Midwifery Council (NMC) (additional costs apply, please visit the NMC website for further information and requirements).
---
Select your region to find detailed information about entry requirements:

You can view our full list of country specific entry requirements on our Entry requirements page.
Alternatively, visit our International hub for further advice and guidance on finding in-country agents and representatives, joining our in-country events and how to apply.
You must have achieved the equivalent of a Diploma level in General Nursing from country of origin plus a minimum of 6 months clinical experience as a registered nurse in your home country. Must have some IT capability to manage course requirements. A successful individual interview with the Course Director will also be required.
English language requirements
IELTS: 6.5 overall, with no component lower than 5.5.
If you don't meet the English language requirements, you can achieve the level you need by successfully completing a pre-sessional English programme before you start your course.
For more information on our approved English language tests visit our English language requirements page.
---
Fees and funding
2022/23 Tuition fees
| Student | Full time | Part time |
| --- | --- | --- |
| International | £15,300 per year | Not available |
For advice and guidance on tuition fees and student loans visit our Undergraduate Finance page and see The University's Tuition Fee and Refund Terms and Conditions.
We offer a range of International scholarships to students all over the world. For more information, visit our International Scholarships page.
Tuition fees cover the cost of your teaching, assessments, facilities and support services. There may be additional costs not covered by this fee such as accommodation and living costs, recommended reading books, stationery, printing and re-assessments should you need them. Find out what's included in your tuition costs.
---
Facilities
Our multi-million-pound Alison Gingell Building features a range of mock healthcare settings, including hospital wards, ambulance, therapy suites and community houses.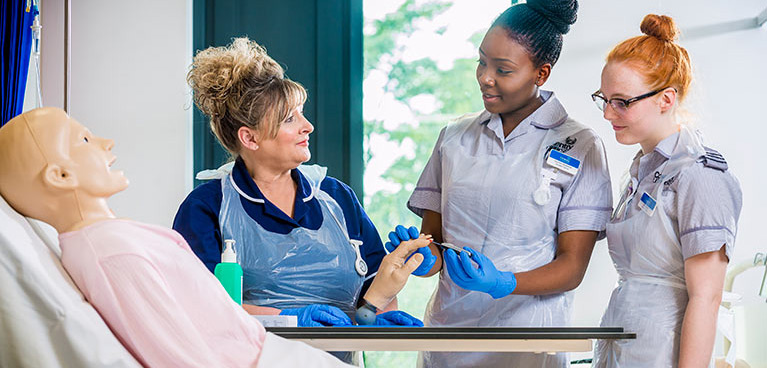 Mock hospital wards
Our mock hospital wards and critical care settings give you the chance to experience patient scenarios in a real-world environment.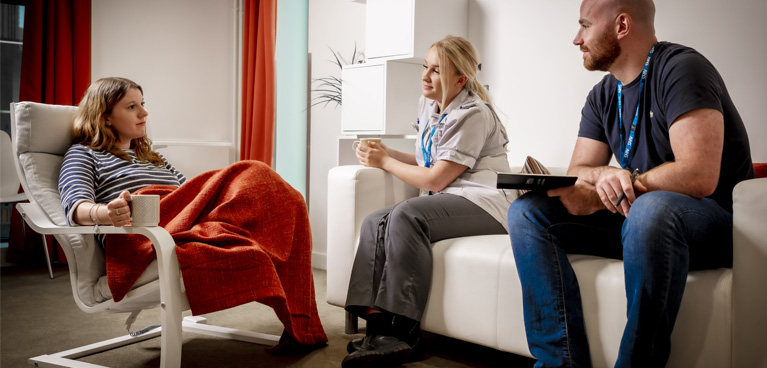 Community houses
Learn how to work with patients outside of a hospital setting in our simulated, two full-size community homes, specifically built for teaching.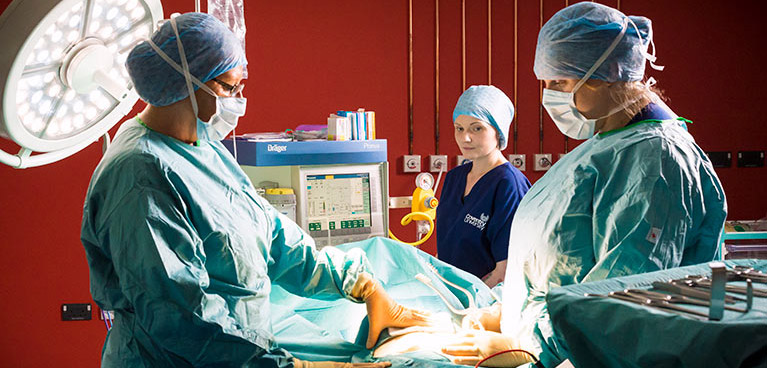 Mock operating theatre
Our Alison Gingell building includes a full-size mock operating theatre, containing scrub sinks and theatre lights.
---
Careers and opportunities
This degree course aims to enable graduates to study at master's level either within the UK or overseas, as well as providing the opportunity to further your career options in nursing or the global healthcare arena.
Where our graduates work
A number of graduates choose to apply for NMC UK nurse registration on completion of this course*, however please note NMC UK registration is NOT part of this course. Others on returning to their own country apply for senior nurse positions following successful completion.
Further study
You can choose to continue your studies at Coventry University with the Nursing MSc. You may be entitled to an alumni discount on your fees if you decide to extend your time with us by progressing from undergraduate to postgraduate study.
---
How to apply
International Students

Full-time students applying to start in September should apply directly to the university. Read our application pages to find out your next steps to apply.

How to apply

For further support for international applicants applying for an undergraduate degree view our International hub.

You can also download our International Guide which contains lots of useful information about our courses, accommodation, tips for travel and guidance on how to apply.

---

If you'd like further support or more information about your course get in touch with us today.
Disclaimers

Student Contract

By accepting your offer of a place and enrolling with us, a Student Contract will be formed between you and the university. A copy of the 2021/22 Contract can be found here. The Contract details your rights and the obligations you will be bound by during your time as a student and contains the obligations that the university will owe to you. You should read the Contract before you accept an offer of a place and before you enrol at the university.

Tuition fees

The tuition fee for the course that is stated on the course webpage and in the prospectus for the first year of study will apply. We will review our tuition fees each year. For UK and EU students, if Parliament permit an increase in tuition fees, we may increase fees for each subsequent year of study in line with any such changes. Note that any increase is expected to be in line with inflation. Following the UK's exit from the European Union, EU students should be aware that there may be a change to UK laws following the UK's exit, this may change their student status, their eligibility to study part time, and/or their eligibility for student finance. We will act in accordance with the UK's laws in force in relation to student tuition fees and finance from time to time.

For International students the tuition fee that is stated on the course webpage and in the prospectus for the first year of study will apply. We will review our tuition fees each year. For international students, we may increase fees for each subsequent year of study but such increases will be no more than 5% above inflation.

Accreditations

The majority of our courses have been formally recognised by professional bodies, which means the courses have been reviewed and tested to ensure they reach a set standard. In some instances, studying on an accredited course can give you additional benefits such as exemptions from professional exams (subject to availability, fees may apply). Accreditations, partnerships, exemptions and memberships shall be renewed in accordance with the relevant bodies' standard review process and subject to the university maintaining the same high standards of course delivery.

Facilities

Facilities mentioned on this page may not be relevant for every course. Due to the ongoing restrictions relating to COVID-19, some facilities (including some teaching and learning spaces) and some non-academic offerings (particularly in relation to international experiences), may vary from those advertised and may have reduced availability or restrictions on their use.

Placements and study abroad opportunities

Please note that we are unable to guarantee any placement or study abroad opportunities and that all such opportunities may be subject to additional costs (e.g. travel, visas and accommodation etc.), competitive application, availability and/or meeting any applicable visa requirements. To ensure that you fully understand the requirements in this regard, please contact the International Office for further details if you are an EU or International student.

Additional costs

This course may incur additional costs associated with any field trips, placements or work experience, study abroad opportunities or any other opportunity (whether required or optional), which could include (but is not limited to), equipment, materials, bench fees, studio or facilities hire, travel, accommodation and visas).
You may also like
Coventry University (Coventry)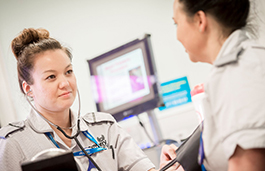 Coventry University (Coventry)

Children and Young People's Nursing BSc (Hons)
---