Global Financial Planning BSc (Hons)
Study level:

Undergraduate
This course prepares you for a professional career in financial services such as personal financial planning, investment advice, pensions, insurance, and wealth management.
Location
Coventry University (Coventry)
Study mode
Full-time
Sandwich
Duration
3 years full-time
4 years sandwich
Start date
September 2023
January 2024
---
Course overview
Demand for personal financial planning looks set to increase due to factors such as increasing life expectancy, and the growing complexity of financial services and products. A global shortage of qualified advisers means graduates with financial planning skills are likely to be highly sought after. Our course prepares you for this burgeoning career choice.

Joint Top Modern University for Career Prospects
Guardian University Guide 2021 and 2022

5 QS Stars for Teaching and Facilities
QS Stars University Ratings

Top 5 UK Student City (Coventry)
QS Best Student Cities Index 2023
Why you should study this course
By studying this course, you will have the opportunity to:
Prepare for professional qualifications – the degree is mapped against the Chartered Institute of Securities and Investment's Diploma in Investment Advice (IAD), a mandatory qualification for those who wish to offer financial advice in the UK and abroad.
Develop practical skills in our Bloomberg Trading Floor4 – develop your skills in our Trading Floor, which is currently one of the largest academic trading floors in Europe, featuring 42 dual screen Bloomberg terminals. You'll also have the opportunity to gain the Bloomberg Market Concepts Certificate, on successful completion of a short course2.
Tailor your studies – many of our economics and finance courses share a common first year. This gives you the flexibility to decide the direction you want to take your degree after you have received a thorough grounding in economic and financial concepts, and principles (subject to meeting progression requirements).
Gain real-world exposure – prepare for a future career in financial planning with a work placement2.
Access our sigma Maths and Stats Support Centre – access maths and statistics support through drop-in sessions with experienced staff2.
Accreditation and professional recognition
Accreditation for the degree is being renewed as we are making some changes to our modules. This exciting new course is subject to approval from the Chartered Institute of Insurance (CII)1.
Additional certificates
As part of the degree you will have the option to work towards two additional certifications (outside of your study modules):
[1] Bloomberg Market Concepts Certificate: Optional certification to help our students stand out and demonstrate their understanding of financial markets, central banking and the application of economic indicators, as well as hone their skills in utilising Bloomberg terminal functionalities for a fast moving market.
[2] Bloomberg ESG Certificate: Optional certification for students to demonstrate their understanding of the Environmental, Social and Governance factors, and their implications for strategy development and regulatory compliance.
---
This course has a common first year.
The common first year enables you to work alongside students doing similar courses to you, to widen your knowledge and exposure to other subject areas and professions. You will have the opportunity to collaborate with other students, so you can share your insights and experience which will help you to develop and learn.
If you discover an interest in a specific subject you have studied, upon successful completion of your first year, you could swap degrees with another course in your common first year (subject to meeting progression requirements).
Common first year courses
Banking and Finance BSc (Hons)
Business and Finance BSc (Hons)
Business Economics BSc (Hons)
Economics BSc (Hons)
Finance and Investment BSc (Hons)
Financial Economics BSc (Hons)
Modules
Entrepreneurial Thinking - 20 credits

The aim of this module is to enable you to engage critically and creatively with entrepreneurship in the context of responsible management practice. Using a variety of tools, you will be supported to develop a self-awareness of your own entrepreneurial mindset(s), competencies and skillsets. During the module, you will be able to share your own experiences with those of other practitioners from business, role play different entrepreneurial archetypes, and peer review their enterprising traits and entrepreneurial competencies.

Principles of Microeconomics 1 - 20 credits

This module is designed to provide you with an understanding of the basic concepts, principles and analytical methods of microeconomics. It aims to provide the microeconomic theory necessary for intermediate and other specialised economics and finance modules, as well as enable the student to understand and apply economic theory to policy issues and the real economy.

Principles of Macroeconomics 2 - 20 credits

This module is designed to provide you with an understanding of the basic concepts, principles and analytical methods of macroeconomics. It aims to provide the macroeconomic theory necessary for intermediate and other specialised economics and finance modules, as well as enabling you to understand and apply economic theory to policy issues and the real economy.

Mathematics and Statistics - 20 credits

This module aims to provide you with the quantitative skills required for the study of economics and finance.

Principles of Finance - 20 credits

This module seeks to empower you by teaching the key areas of personal finance, including personal financial planning, budgeting, saving, managing credit, investing, retirement planning, and tax planning. This knowledge will help you manage your finances, and make confident and informed financial decisions, thereby increasing your financial control, satisfaction and well-being.

Business Accounting - 20 credits

This module is designed to develop your understanding of the language, concepts, models and techniques commonly used in financial and management accounting. You will be introduced to the published financial statements that business organisations produce on a regular basis, and the tools that can be used to interpret these and evaluate financial performance.
In the second year, you will begin to specialise in financial topics, including principles of finance, financial services, psychology in finance and economics of banking and finance.
Modules
Designing a Research Proposal - 20 credits

The aim of this module is to provide you with the opportunity to identify current or global challenges in the environment and present ideas to address those issues in a proactive manner. You will develop an awareness and a critical understanding of key research methodologies within your chosen area of study and design a proposal for researching the relevant contemporary issues.

Financial Services - 20 credits

The purpose of this module is to provide you with an understanding of the functions and operation of retail financial services in the UK. This includes key financial products, regulation of financial services, financial inclusion, FinTech, financial crimes, risks, and current issues and trends. You will learn about the workings of the equity and bond markets, gain quantitative skills to price stocks and bonds, and develop a critical understanding of theories in finance.

Econometrics and Data Analysis - 20 credits

This module aims to introduce you to data analysis using econometrics with a particular emphasis on principles and applications of the Classical Linear Regression Model and violations of its underlying assumptions. The module will introduce you to practical, real-world applications of regression analysis methods. The module further provides the necessary knowledge and skills required for those students wishing to take Applied Econometrics in Stage 3.

Financial Regulation - 20 credits

This module enables you to understand the structure of the UK financial regulatory environment, appreciate the regulatory infrastructure of UK financial services, the key legislations in financial regulation, the mandates and functions of the key regulatory bodies and the role of ethics in professional practice. It also examines the main areas of advice, the process of advice, the qualification and training requirements of financial advisers, and their roles and responsibilities in advising clients.

Psychology in Finance - 20 credits

This module aims to introduce you to the key insights from research in behavioural finance. It is designed to provide an overview of an emerging body of literature that attempts to understand the effect of cognitive bias and social psychology on asset valuation and hence, pricing. Behavioural finance recognises that investor behaviour is not necessarily driven by rational considerations but by several aspects of human psychology. You will develop the understanding of these techniques and concepts by applications in trading games, forecasting exercises and computer simulations designed to record the degree of bias in responses, and suggest techniques to combat such bias.

Investment and Taxation - 20 credits

This module examines key investment theories (e.g. modern portfolio, capital asset pricing), investment goals and objectives, factors that affect investment performance (such as the relationship between risk and return, asset allocation, taxation, and rebalancing), risk profiling, different asset classes, different investment approaches (active versus passive), and the importance of rebalancing.
There's no better way to find out what you love doing than trying it out for yourself, which is why a work placement2 can often be beneficial. Work placements usually occur between your second and final year of study. They're a great way to help you explore your potential career path and gain valuable work experience, whilst developing transferable skills for the future.
If you choose to do a work placement year, you will pay a reduced tuition fee3 of £1,250. For more information, please go to the fees and funding section. During this time you will receive guidance from your employer or partner institution, along with your assigned academic mentor who will ensure you have the support you need to complete your placement.
Whilst we would like to give you all the information about our placement/study abroad offering here, it is often tailored for each course every year and depends on the length of placement or study abroad opportunities that are secured. Therefore, the placement and study abroad arrangements vary per course and per student. Request further information about going on a placement or study abroad year2.
Modules
UK Work Placement – 0 credits

This module2 provides you with an opportunity to reflect upon and gain experience for an approved placement undertaken during your programme. A placement should usually be at least 26 weeks or equivalent; however, each placement will be considered on its own merits, having regard to the ability to achieve the learning outcomes.

International Study/Work Placement – 0 credits

This module2 provides you with an opportunity to reflect upon and gain experience for an approved international study/work placement undertaken during your programme. A work/study placement should usually be at least 26 weeks or equivalent; however, each placement will be considered on its own merits, having regard to the ability to achieve the learning outcomes.
Year three aims to bring you to the level to enter the world of work by consolidating your knowledge and skills from years one and two. You could also work on a large final project in an area of your interest, with the support of a supervisor.  
Modules
Project - 40 credits

This module aims to provide you with the opportunity to apply and develop your research skills and to extend your knowledge, understanding and ability to critically analyse a topic in a specialist area of interest. You will choose a research topic related to your programme of study and apply critical analysis skills acquired through this and other modules, to research the topic in depth. You will receive academic support through a series of group supervisions and you'll be allocated a project supervisor. The module includes two routes:

Route 1: An individual research-based dissertation
Route 2: An individual work-based project report

Investment and Risk Analysis - 20 credits

This module aims to develop the understanding and application of techniques of investment analysis and performance measurement. The module focuses on providing the necessary tools to measure and evaluate investment performance and the skill evidenced by the efficient use of risk. The module also provides you with an understanding of the characteristics of, and methods used, in the valuation of, bond and equity financial investments. Teaching will focus on practical problem-solving exercises, using wherever possible, real-world financial data.

Financial Planning - 20 credits

This module focuses on financial planning, and examines its importance, process, and determinants of its demand. It provides you with an opportunity to gain practical skills in financial planning, so that you can tap into increasing career opportunities. Using a case study, you will prepare a financial plan, which involves analysing a client's financial situation, identifying goals and objectives, compiling personal financial statements, undertaking cashflow modelling, calculating shortfalls and recommending solutions to meet goals and objectives.

Insurance and Pensions - 20 credits

This module examines the use of insurance products to hedge against three risks in life: premature death and disability, inadequate income in retirement and longevity risk. It focuses on how life insurance products (such as life insurance, critical illness, income protection) can be used to hedge against premature death and disability, pension plans to ensure adequate income in retirement and annuity to hedge against longevity risk.

The module also examines why personal risk management is the foundation of financial planning, and why individuals need to have a greater understanding of insurance and pensions, as a result of changing welfare and occupational pension provision.

Choose one from:

Applied Econometrics - 20 credits
The aim of this module is to strengthen your understanding of econometric models and techniques relevant to empirical analysis and policy evaluation applied to a wide range of economic and financial problems. The module will equip you with the advanced knowledge and skills to design, undertake, and evaluate quantitative empirical work within economics, finance and business.

Corporate Financial Management - 20 credits
The overall aim of this module is to provide you with a specialist understanding of the scope and nature of the financial management issues that exist within modern corporations. The module covers the major strands of financial management theory such as working capital management, financing of the firm, and risk management, and seeks to apply the theory to real-world applications.

Corporate Governance and Business Ethics - 20 credits
The aim of this module is to provide you with a thorough understanding of a number of key advanced topics of corporate governance theory including research and practice (incorporating associated reporting and regulation, the role of monitors, and issues of independence and ethics). It will also develop your ability to critically analyse the academic literature and current issues, to integrate and synthesise topics in order to participate in current debates and suggest potential insights for development.

International Finance - 20 credits
The International Finance module aims to provide you with an understanding of the international dimension of finance and how these impact businesses. By the end of this module, you should appreciate the workings and operation of currency derivatives markets, the international money and capital markets and the principles of currency risk management.

Portfolio Management - 20 credits
This module examines how portfolios are structured, monitored and managed for maximum effectiveness. It aims to develop your understanding and ability to apply asset allocation, portfolio strategies, international diversification and performance evaluation techniques.
We regularly review our course content, to make it relevant and current for the benefit of our students. For these reasons, course modules may be updated.
---
How you'll learn
Innovative teaching, learning and assessment methods are used in the course such as preparing a financial plan based on a case study, undertaking cashflow modelling and risk profiling.
You will be taught in one of the largest educational trading floors in Europe, running Bloomberg trading terminals4 and giving access to a wealth of live and historical trading market data.
Typically, a module involves interactive lecture(s) weekly, delivered synchronously online or on campus, followed by a range of active learning sessions such as seminars and workshops.
In addition, you will meet other students on the course and your tutors weekly during term time, to engage in community-building activities, receive support and raise concerns relating to the course.;
The assessment strategy is designed to be efficient and manageable and consists of authentic assessments, very similar to those tasks you can expect to complete in your future careers.
---
Teaching contact hours
We understand that everyone learns differently, so each of our courses will consist of structured teaching sessions, which can include:
On campus lectures, seminars and workshops
Group work
Self-directed learning
Work placement opportunities2.
If you would like more information, you can request information about teaching hours.
Part of university life is undertaking self-directed learning. During a typical week you will have time that allows you to work independently to apply the skills and knowledge you have learnt in taught or facilitated sessions to your projects or assignment briefs. This self-directed learning allows you to use your research skills, consolidate your knowledge or undertake collaborative group work.
As an innovative and enterprising institution, the university may seek to utilise emerging technologies within the student experience. For all courses (whether on-campus, blended, or distance learning), the university may deliver certain contact hours and assessments via online technologies and methods.
In response to the COVID-19 pandemic, we are prepared for courses due to start in or after the 2023/2024 academic year to be delivered in a variety of forms. The form of delivery will be determined in accordance with Government and Public Health guidance. Whether on campus or online, our key priority is staff and student safety.
---
Assessment
This course will be assessed using a variety of methods which will vary depending upon the module.
Assessment methods include:
Formal examinations
Tests
Essays
Group work
Presentations
Reports
Projects
Coursework
Exams
Individual assignments
The Coventry University Group assessment strategy ensures that our courses are fairly assessed and allows us to monitor student progression towards achieving the intended learning outcomes.
---
International experience opportunities
You will have the opportunity to take part in an overseas study trip, or a full year abroad2. Coventry University aims to give you the global opportunities needed to become a truly global graduate, enhancing your employability on a global scale.
In the past, our students have had the opportunity to visit universities in China and Malaysia to study alongside students, see how finance is taught internationally, appreciate the issues in different countries and broaden their perspectives.
Closer to home, you may have the opportunity to participate in European field trips2 which, in the past, have included events such as the annual Tax Week initiative or the annual Audit Week, both of which are conducted in collaboration with European universities, and see students work collaboratively on related projects2.
A meeting with a financial planner changed my life and inspired me to retrain to become a financial planner. This is a great career because you can make a difference to people's lives and look after your own future. If you want to help people and earn a good living, the Global Financial Planning BSc is a fantastic degree, because it gives you the knowledge and skills to take advantage of the abundant opportunities in financial services, and a professional qualification (Diploma in Investment Advice).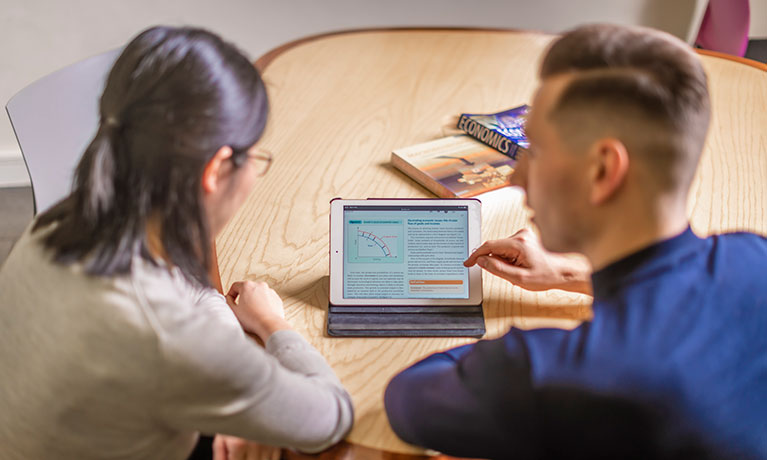 ---
Entry requirements
Typical offer for 2023/24 entry.
---
Fees and funding
2023/24 tuition fees.
Student
Full-time
Part-time
UK, Ireland*, Channel Islands or Isle of Man
£9,250 per year
Not available
EU
£9,250 per year with EU support bursary**
£16,800 per year without EU support bursary**
Not available
International
£16,800 per year
Not available
If you choose to do a work placement2, you should consider travel and living costs to cover this. There is also a tuition fee3 of £1,250 that will cover your academic support throughout your placement year.
For advice and guidance on tuition fees and student loans visit our Undergraduate Finance page and see The University's Tuition Fee and Refund Terms and Conditions.
We offer a range of International scholarships to students all over the world. For more information, visit our International Scholarships page.
Tuition fees cover the cost of your teaching, assessments, facilities and support services. There may be additional costs not covered by this fee such as accommodation and living costs, recommended reading books, stationery, printing and re-assessments should you need them. Find out what's included in your tuition costs.
*Irish student fees
The rights of Irish residents to study in the UK are preserved under the Common Travel Area arrangement. If you are an Irish student and meet the residency criteria, you can study in England, pay the same level of tuition fees as English students and utilise the Tuition Fee Loan.
**EU support bursary
Following the UK's exit from the European Union, we are offering financial support to all eligible EU students who wish to study an undergraduate or a postgraduate degree with us full-time. This bursary will be used to offset the cost of your tuition fees to bring them in-line with that of UK students. Students studying a Degree with a Foundation Year with us are not eligible for the bursary.
How do you know if you need to pay UK or international tuition fees?

We carry out an initial fee status assessment based on the information you provide in your application. Your fee status determines your tuition fees, and what financial support and scholarships may be available to you. The rules about who pays UK (home) or international (overseas) fees for higher education courses in England are set by the government's Department for Education. The regulations identify all the different categories of student who can insist on paying the home rate. The regulations can be difficult to understand, so the UK Council for International Student Affairs (UKCISA) has provided fee status guidance to help you identify whether you are eligible to pay the home or overseas rate.

If you meet all the criteria required by any one category, including any residence requirements, your institution must charge you the home rate. You only need to find one category that you fit into.
---
Facilities
We have a range of facilities available to support our finance and investment students in putting the theories you are taught into practice4.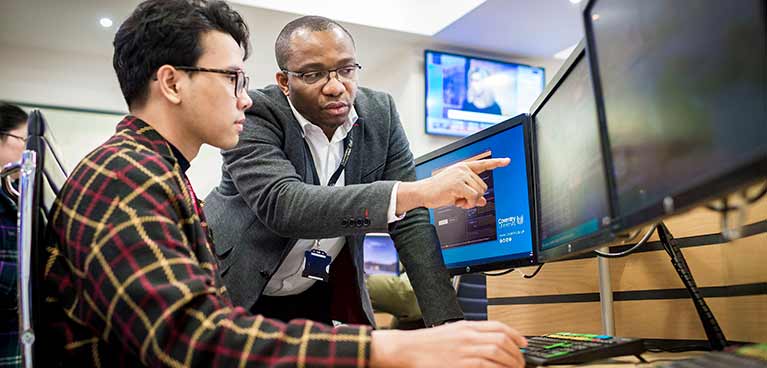 The Trading Floor is an invaluable facility which allows you to get hands-on with industry-standard software. Housing 42 dual-screen Bloomberg terminals, the facility can add a dynamic practical element to your course.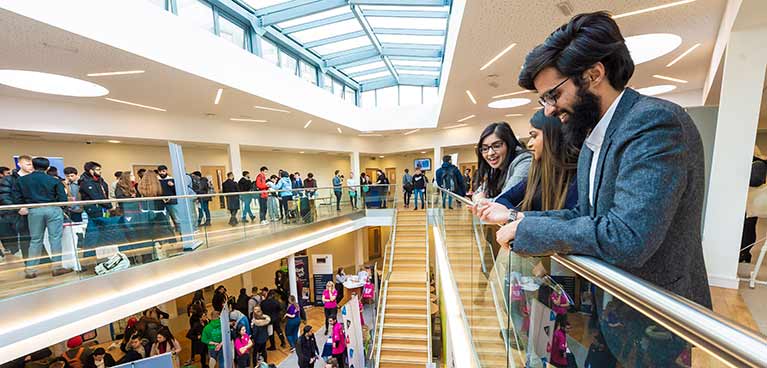 Employability is at the forefront of all our accounting and finance courses. Our dedicated Talent Team are also on hand to help. They can assist you in applying for work placements, graduate level jobs and offer skills development workshops, and also organise networking events to introduce you to potential employers and industry contacts.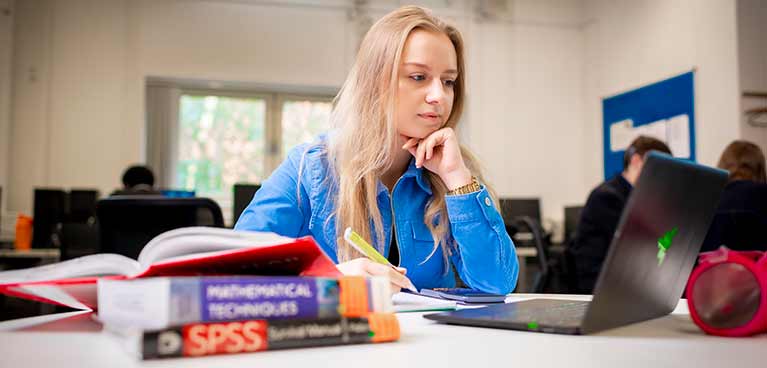 The sigma Centre is housed in our Lanchester Library and offers maths and statistics support through drop-in sessions and bookable appointments. It is the ideal place to help you navigate any issues you might have while studying an accounting and finance degree.
---
Careers and opportunities
Upon successful completion, you will be able to:
Use a range of transferable skills such as writing clear and concise reports based on evidence and logic, making effective use of information technology, confident delivery of presentations, creative problem solving,financial skills and, self-motivation.
Communicate technical financial concepts in a clear manner to a range of relevant stakeholders.
Apply financial theories and appropriate mathematical and quantitative techniques to solve financial planning problems.
Carry out independent research on a financial planning or finance topic using appropriate theories and analytical tools.
Understand the importance and relevance of personal finance and financial services to individuals and businesses.
Demonstrate an understanding of the importance of financial planning, the complex international environment in which financial planners operate, and the impact of social, economic, and legislative factors.
Prepare financial plans, including analysing financial situations, identifying goals and objectives, compiling personal financial statements, undertaking cashflow modelling, calculating shortfalls and recommending solutions to meet goals and objectives.
Demonstrate the ability to apply financial planning knowledge and skills in core areas relating to personal risk management, investment planning and retirement planning.
Upon successful completion, you should be well placed to pursue potential future career options with financial institutions, including investment advisory services, commercial banks, brokerage firms, insurance companies; and finance companies. You could also explore potential options in the finance departments of non-financial corporations, non-profit institutions and governmental agencies.
Coventry University is committed to preparing you for your potential future career options and giving you a competitive edge in the graduate job market. You will have the support of the faculty's dedicated Talent Team which has an extensive network of employers with a range of internship possibilities2. The Talent Team will also support you (subject to availability) with workshops and guidance on the various aspects of the employment process such as preparing your CV, interview practice and mock assessment centres, as well as hosting employer events, which should allow you to network with potential future employers offering graduate roles, internships and placements.
Previous employer events have hosted a number of speakers from different organisations to give careers advice including KPMG, NatWest, McKinsey & Company and Fidelity International.
Where our graduates work
Our previous graduates have obtained roles in financial consultancy, investment analysis and wealth management for companies including Microsoft, IBM, Tesco Graduate Scheme, Toys R Us and PricewaterhouseCoopers (PwC).
Further study
Alternatively, you may decide to pursue postgraduate study opportunities by studying courses such as Accounting and Financial Management MSc or Finance MSc at Coventry Business School, which could further enhance your employability. You may be entitled to an alumni discount on your fees if you decide to extend your time with us by progressing from undergraduate to postgraduate study. 
Please note that further study opportunities are subject to competitive application, availability, meeting any applicable visa requirements and additional costs may apply.
---
How to apply
UK students

Full-time students applying to start in September 2023 can apply for this course through UCAS from 6 September 2022. Read our application pages to find out your next steps to apply.

Part-time students should apply directly to the university.

---

If you'd like further support or more information about your course get in touch with us today.

International students

International codes:
FBLU090

Full-time students applying to start in September 2023 should apply directly to the university.

How to apply

For further support for international applicants applying for an undergraduate degree view our International hub.

You can also download our International guide which contains lots of useful information about our courses, accommodation and tips for travel.

---

Get in touch with us today for further advice and guidance.
Disclaimers

Coventry University together with Coventry University London Campus, CU Coventry, CU London, CU Scarborough and Coventry University Online come together to form part of the Coventry University Group (the "University") with all degrees awarded by Coventry University.

1Accreditations

The majority of our courses have been formally recognised by professional bodies, which means the courses have been reviewed and tested to ensure they reach a set standard. In some instances, studying on an accredited course can give you additional benefits such as exemptions from professional exams (subject to availability, fees may apply). Accreditations, partnerships, exemptions and memberships shall be renewed in accordance with the relevant bodies' standard review process and subject to the university maintaining the same high standards of course delivery.

*In the event that there is any delay in obtaining approval, we will run Finance and Investment BSc (Hons) for 2023/2024 which receives 55 credits from the Chartered Institute of Insurance (CII) towards the Diploma in Financial Planning Investment (CISI)

2UK and international opportunities

Please note that we are unable to guarantee any UK or International opportunities (whether required or optional) such as internships, work experience, field trips, conferences, placements or study abroad opportunities and that all such opportunities may be subject to additional costs (which could include, but is not limited to, equipment, materials, bench fees, studio or facilities hire, travel, accommodation and visas), competitive application, availability and/or meeting any applicable travel COVID and visa requirements. To ensure that you fully understand the visa requirements, please contact the International Office.

3Tuition fees

The University will charge the tuition fees that are stated in the above table for the first Academic Year of study. The University will review tuition fees each year. For UK (home) students, if Parliament permit an increase in tuition fees, the University may increase fees for each subsequent year of study in line with any such changes. Note that any increase is expected to be in line with inflation.

For International Students, we may increase fees each year but such increases will be no more than 5% above inflation. If you defer your course start date or have to extend your studies beyond the normal duration of the course (e.g. to repeat a year or resit examinations) the University reserves the right to charge you fees at a higher rate and/or in accordance with any legislative changes during the additional period of study.

4Facilities

Due to COVID-19, some facilities (including some teaching and learning spaces) and some non-academic offerings (particularly in relation to international experiences), may vary from those advertised and may have reduced availability or restrictions on their use.

Student Contract

By accepting your offer of a place and enrolling with us, a Student Contract will be formed between you and the university. A copy of the 2023/24 contract can be found here. The Contract details your rights and the obligations you will be bound by during your time as a student and contains the obligations that the university will owe to you. You should read the Contract before you accept an offer of a place and before you enrol at the university.
---