Architecture BSc (Hons)
Study level:

Undergraduate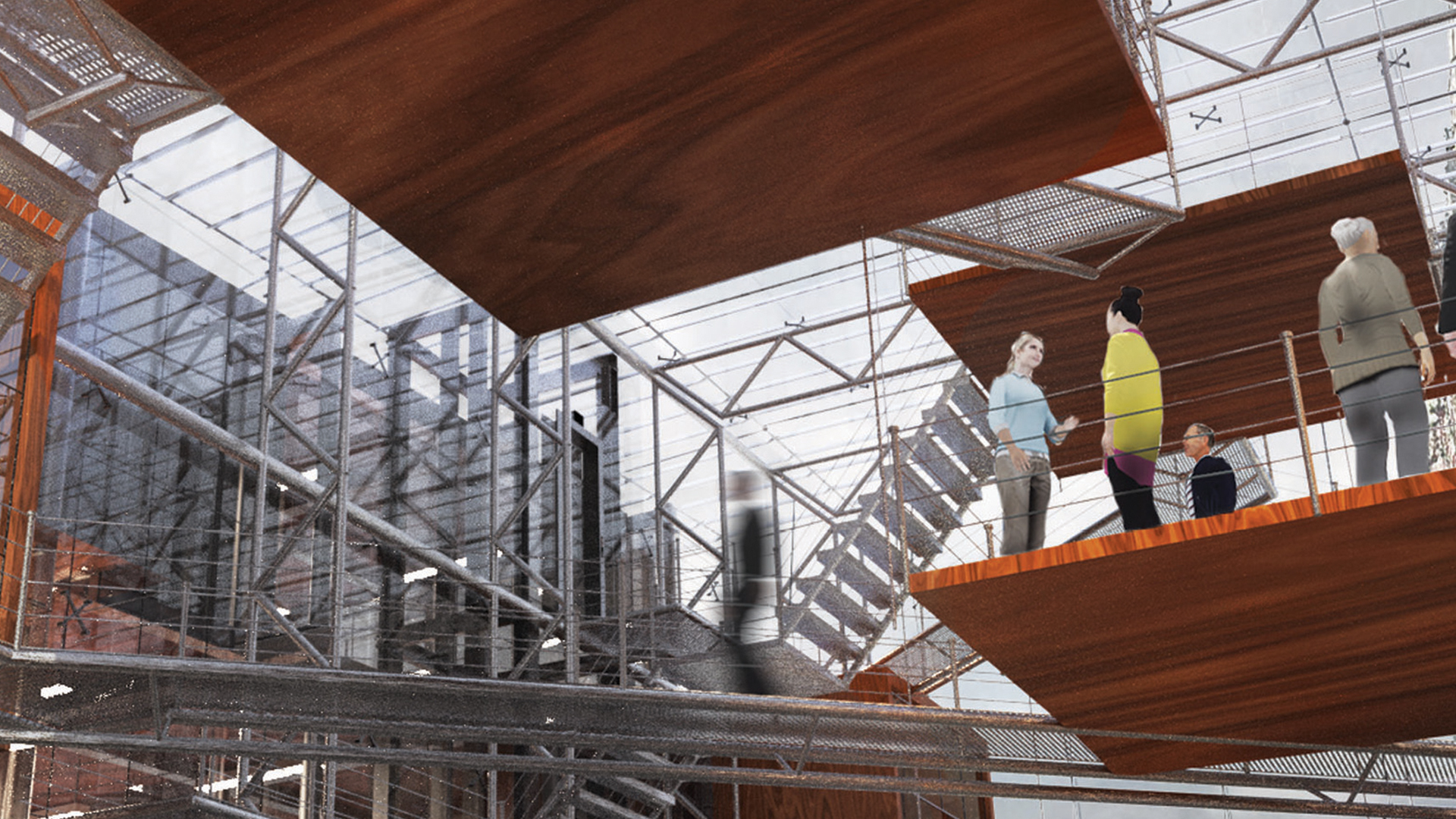 Architecture remains one of the most enjoyable and rewarding professions; in designing new spaces and buildings around our everyday lives and needs, you will be challenged intellectually, artistically and creatively.
Location
Coventry University (Coventry)
Study mode
Full-time
Sandwich
Duration
3 years full-time
4 years sandwich
Start date
September 2023
---
Course overview
You can make a major positive contribution to society by shaping our environment and surroundings, leaving a lasting impact and legacy.
Professionally accredited by the Royal Institute of British Architects (RIBA1), this course adopts a hands-on approach to learning with a focus on imagination, communication and context. We run skills sessions to support drawing and model making as an integral part of studio work.
Coventry is ranked as the 17th Best University in the UK for Architecture in the Guardian University Guide 2023. Our graduates can be found working in leading architectural practices, including Aedas RHWL, Faulkner Browns Architects, C.F. Møller Architects and Schmidt Hammer Lassen.

Joint Top Modern University for Career Prospects
Guardian University Guide 2021 and 2022

5 QS Stars for Teaching and Facilities
QS Stars University Ratings

Top 5 UK Student City (Coventry)
QS Best Student Cities Index 2023
Why you should study this course
This innovative course has been designed to respond to the challenges of the environmental, economic and social climate of the early 21st century. Coventry is a vibrant, connected city, internationally known for its Centre of Trust, Peace and Social Relations.
Based in the School of Art and Design, the course instinctively draws expertise from the wide range of creative disciplines on offer. We believe in collaboration – merging studies in art, history and theory, studio and tectonics – providing opportunities to connect with architects, engineers and built environment professionals.
Centred around studio practice, teaching will encompass design, technology, cultural contexts and communication, together with professional practice. We will aim to develop your understanding of the relationship between global issues, local context and the reality of architecture.
You will be taught by current staff with significant professional experience, having previously worked in Austria, Argentina, Ghana, Uganda, Nepal and the UK. They have worked in conservation, healthcare, education and housing on commercial, residential, community-led participatory projects, and some are competition winning architects! (staffing subject to change)
We currently have strong links with a growing network of West Midlands practices including IDP Group and Design Buro, many of whom provide input to course management and development as current members of our Architecture Advisory Board.
We work with the RIBA West Midlands through the student mentoring scheme which provides potential placement opportunities for students, and are part of the new initiative 'Learn It, Earn it' which connects students directly with practitioners through a series of talks each year. These industry connections also provide potential opportunities for professional placements and collaborative projects. Previously, students have worked with organisations including Theatre Absolute, The Centre for Peace and Reconciliation and Coventry Canal Trust4.
17th
Guardian University Guide 2023
Accreditations and professional recognition
This course is accredited1 and recognised by the following bodies:

Architects Registration Board (ARB)
This course is accredited by ARB for the 2023/2024 intake. If there are any changes to the accreditation of this course, we would notify applicants and students as soon as possible.
---

Royal Institute of British Architects (RIBA)
This course is accredited by RIBA for the 2023/2024 intake. If there are any changes to the accreditation of this course, we would notify applicants and students as soon as possible.
---
Coventry Degree Show 2023
The Coventry Degree Show is an annual event to celebrate and showcase our graduating students' work.
Explore the work of our talented students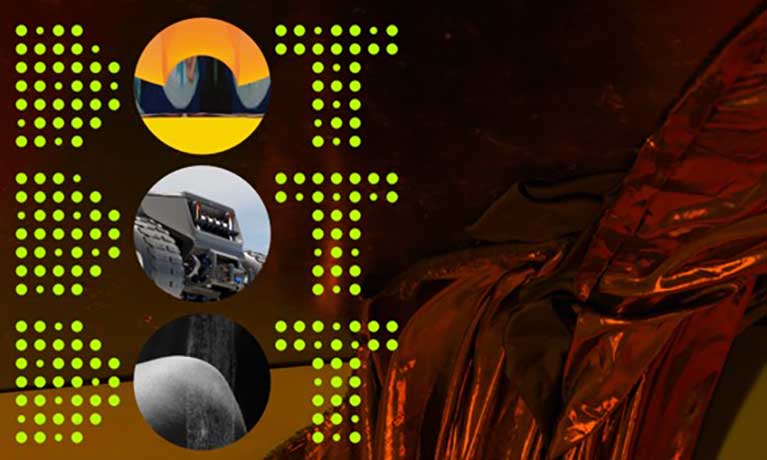 ---
The first year introduces you to the fundamentals of architecture including design, technology, communication and cultural context, with a look at the history and theory of architecture. We will teach you methods of hand drawing, sketching, model making and orthographic drawing as generators of creative exploration.
Modules
Construction and Environmental Fundamentals - 20 credits

This module integrates the environmental aspect of the design process and practices in combination with architectural design.

Experimental Design and Communication - 40 credits

This module introduces you to basic elements of architectural design which integrates learning across different subjects and disciplines. You will learn to communicate your design ideas and proposals through freehand sketching and drawing, modelling and a range of other graphic techniques. You will undertake a series of design exercises to explore the relationship of place, space and human needs to architectural form. Responding to simple briefs and the context of a site, you will lead to small scale architectural proposal which relates to cultural context, materials, construction and environmental aspects of building.

Spatial Design - 30 credits

This module enables you to develop a comprehensive architectural proposal. Exploring the design process and theoretical concepts, you will apply your knowledge and awareness of architecture in relationship to environmental design, human wellbeing, technology and construction.

Material Cultures and Histories - 20 credits

This module explores architectural and urban history through selected themes and periods. It focuses on the changing patterns of urban settlements and their buildings, as seen within the context of the broader political, social, economic, and cultural conditions, while considering the impact of new materials and technology on architectural production.

Digital Skills 1 – 10 credits

This module builds on your manual drawing and representation skills. You will begin to explore representation which balances physical and digital environments. This will include information digitalisation, digital representation, digital drawing, modelling, collating and post editing.
In the second year, you will have the opportunity to consider the importance of the tectonics of architecture and explore the wider holistic contextual implications of emerging contemporary urban planning. You should start to make informed choices about materials, structure and environmental design, using 3D modelling and digital drawing software as a tool for architectural exploration.
Modules
Assembly and Environmental Systems – 20 credits

This module is designed to expand knowledge of construction technology, environmental design and building materials that cohesively contribute to successful building design, through the study of larger scale buildings, including the design of single and multi-storey framed structures. You will also develop environmental knowledge with the aim of creating sustainable spaces, adapted to the needs of the user and executed to the appropriate standards of architectural design.

Urban Design and Communication- 40 credits

The module introduces you to the urban design discipline and the investigation of the architecture of the city to identify those factors that contribute to the transformation of urban environments. The focus will be on large-scale proposals that respond to the site and context while introducing urban placemaking and master-planning and the relevant communication and representation skills. Urban design theories and themes will be analysed with a particular focus on sustainable developments and environmental strategies.

Residential Design – 30 credits

This module enables you to investigate and test alternative forms of housing. You will design a housing building typology which relates to public/community related secondary. You will record, understand and evaluate a site and its context, using a wide variety of methods and criteria to build a relationship between the building user and the public realm.

Architectural and Cultural Critiques – 20 credits

The module explores modern concepts in the architectural production of the post-industrial world. It is an introduction to a variety of theoretical positions in architecture, landscape and urban design with a focus on the 20th and 21st centuries.

Digital Skills 2 – 10 credits

This module explores advanced applications of digital opportunities in order to generate, analyse and prototype architectural design propositions. You will be introduced to a range software and methodologies which subsequently allow complex modelling and analysis of proposed architectural projects against a range of environmental, sustainability, wellbeing and buildability criteria.
There's no better way to find out what you love doing than trying it out for yourself, which is why a work placement2 can often be beneficial. Work placements usually occur between your second and final year of study. They're a great way to help you explore your potential career path and gain valuable work experience, whilst developing transferable skills for the future.
If you choose to do a work placement year, you will pay a reduced tuition fee3 of £1,250. For more information, please go to the fees and funding section. During this time you will receive guidance from your employer or partner institution, along with your assigned academic mentor who will ensure you have the support you need to complete your placement.
Modules
UK Work Placement– 0 credits

This module2 provides you with an opportunity to reflect upon and gain experience for an approved placement undertaken during your programme. A placement should usually be at least 26 weeks or equivalent; however, each placement will be considered on its own merits, having regard to the ability to achieve the learning outcomes.

International Study/Work Placement – 0 credits

This module2 provides you with an opportunity to reflect upon and gain experience for an approved international study/work placement undertaken during your programme. A work/study placement should usually be at least 26 weeks or equivalent; however, each placement will be considered on its own merits, having regard to the ability to achieve the learning outcomes.
The final year consolidates the modules taught in the previous years and provides an opportunity to undertake a comprehensive design project that incorporates the core subjects of design, technology and environment and reflects your own emerging design philosophy.
You will focus on the whole design process on a brief directly related to the city of Coventry and the urban fabric. For example, past students have worked on a Council House for the city and the Centre of Peace and Reconciliation.
Modules
Design, Planning and Ethics – 30 credits

This module brings together learning about how architecture operates in professional practice in the UK and using the overall framework of RIBA stages 0 and 1 to prepare a design brief for an urban strategy. You will be exploring how to set up and run an architecture practice in the UK taking into consideration the relevant ethical, legal and management principles as well as formulating and defining a project-specific design brief.

Contemporary Debates and Research – 20 credits

This module discusses contemporary and potential future trends of design in relation to societal perspectives. The module is designed to enable a sustained and in-depth investigation into your specialist area of interest negotiated with tutors.

Interdisciplinary Collaborative Project -10 credits

This module provides you with the opportunity to collaborate with students from the built environment and construction engineering courses in the School of Energy, Construction and Environment in a group project module. You will develop a practical understanding of some of the key stages involved in a building project by taking part in a project-specific simulated role play scenario. You will be representing the role of architects amongst other built environment professions. You will learn how to manage a project and use Building Information Modelling as an industry standard tool. Typical scenarios will look at aspects of a project from its initial design inception through to its tender submission and presentation by working in interdisciplinary groups.

Comprehensive Design – 40 credits

Architectural design is a complex and challenging process which requires the ability to creatively synthesise and integrate a diverse range of knowledge and skills. The portfolio from this module will include a broad range of work demonstrating your ability to create an integrated architectural solution. You will be asked to develop the design of a specific building in terms of the structural, constructional and environmental strategies that underpin its design.

Applied Construction and Environmental Sciences – 20 credits

The module builds on your technical knowledge and connects that knowledge with advanced application in a major building project. You will carry out research into systems, techniques and materials, and will apply these investigations to create a complex building that is sound and creative in terms of environmental, structural and constructional competence.
We regularly review our course content, to make it relevant and current for the benefit of our students. For these reasons, course modules may be updated.
---
We understand that everyone learns differently, so each of our courses will consist of structured teaching sessions, which can include:
On campus lectures, seminars and workshops
Group work
Self-directed learning
Work placement opportunities2.
The number of full-time contact hours may vary from semester to semester, however, on average, it is likely to be around 12 contact hours per week in the first and second year dropping to around 10-12 contact hours per week in the third and final year as you become a more independent learner.
Additionally, you will be expected to undertake significant self-directed study of approximately 15 hours each week, depending on the demands of individual modules.
Part of university life is undertaking self-directed learning. During a typical week you will have time that allows you to work independently to apply the skills and knowledge you have learnt in taught or facilitated sessions to your projects or assignment briefs. This self-directed learning allows you to use your research skills, consolidate your knowledge or undertake collaborative group work.
As an innovative and enterprising institution, the university may seek to utilise emerging technologies within the student experience. For all courses (whether on-campus, blended, or distance learning), the university may deliver certain contact hours and assessments via online technologies and methods.
In response to the COVID-19 pandemic, we are prepared for courses due to start in or after the 2023/2024 academic year to be delivered in a variety of forms.  The form of delivery will be determined in accordance with Government and Public Health guidance. Whether on campus or online, our key priority is staff and student safety.
---
Assessment
This course will be assessed using a variety of methods which will vary depending upon the module. Assessment methods may include:
practical or project work,
coursework,
essays,
individual assignments,
presentations,
group work.
The Coventry University Group assessment strategy ensures that our courses are fairly assessed and allows us to monitor student progression towards the achieving the intended learning outcomes.
---
International experience opportunities
International study visits2 for each year are embedded in learning and form the basis of comparison with us. Past destinations have included Barcelona, Valencia, Rome, Paris and Berlin. Students in the past have had the opportunity to visit neighbourhoods with local architects who have detailed insights into the cultural and historical stories of place, to large scale public buildings such as the Opera House in Valencia.
You may have an opportunity to spend a year studying or working abroad. We currently have direct links with countries in Europe and beyond, including practices and universities in Canada, USA, Germany, Netherlands and Spain. Previous students have gone to work with practices including Schmidt Hammer Lassen in Copenhagen and Singapore. We are currently exploring opportunities for digital overseas learning in Iraq and Malaysia2.
---
Entry requirements
Typical offer for 2023/24 entry.
| Requirement | What we're looking for |
| --- | --- |
| UCAS points | 128 |
| A level | ABB |
| GCSE | 5 GCSEs at grade 4 / C or above to include Art and Design, English and Mathematics. |
| BTEC | DDD |
| IB Diploma | 34 points |
| Access to HE | Considered on an individual basis. |
We recognise a breadth of qualifications, speak to one of our advisers today to find out how we can help you.
Portfolio
You may be required to attend a portfolio showcase, activity session or audition or submit a portfolio via email (as is appropriate to your course), either virtually or face to face, as is practical to arrange. Invites for these sessions will be sent directly to your contact email.
Each application will be considered on its merits.
Are you eligible for the Fair Access Scheme?
We believe every student should have the opportunity to dream big, reach their potential and succeed, regardless of their background. Find out more about our Fair Access Scheme.
Select your region to find detailed information about entry requirements:

You can view our full list of country specific entry requirements on our Entry requirements page.
Alternatively, visit our International hub for further advice and guidance on finding in-country agents and representatives, joining our in-country events and how to apply.
If you do not have the typical entry requirements, you may want to consider studying this course with an international foundation year. Upon successful completion our International Foundation Year - Art, Design and Media will provide you with the knowledge and skills you need to progress onto this undergraduate degree.
English language requirements
IELTS: 6.0 overall, with no component lower than 5.5.
If you don't meet the English language requirements, you can achieve the level you need by successfully completing a pre-sessional English programme before you start your course.
For more information on our approved English language tests visit our English language requirements page.
---
Fees and funding
2023/24 tuition fees.
Student
Full-time
Part-time
UK, Ireland*, Channel Islands or Isle of Man
£9,250 per year
Not available
EU
£9,250 per year with EU support bursary**
£19,850 per year without EU support bursary**
Not available
International
£19,850 per year
Not available
If you choose to do a work placement2, you should consider travel and living costs to cover this. There is also a tuition fee3 of £1,250 that will cover your academic support throughout your placement year.
For advice and guidance on tuition fees and student loans visit our Undergraduate Finance page and see The University's Tuition Fee and Refund Terms and Conditions.
We offer a range of International scholarships to students all over the world. For more information, visit our International Scholarships page.
Tuition fees cover the cost of your teaching, assessments, facilities and support services. There may be additional costs not covered by this fee such as accommodation and living costs, recommended reading books, stationery, printing and re-assessments should you need them. Find out what's included in your tuition costs.
The following are additional costs not included in the tuition fees:
Any optional overseas field trips or visits: £400+ per trip.
Any costs associated with securing, attending or completing a placement (whether in the UK or abroad)
*Irish student fees
The rights of Irish residents to study in the UK are preserved under the Common Travel Area arrangement. If you are an Irish student and meet the residency criteria, you can study in England, pay the same level of tuition fees as English students and utilise the Tuition Fee Loan.
**EU support bursary
Following the UK's exit from the European Union, we are offering financial support to all eligible EU students who wish to study an undergraduate or a postgraduate degree with us full-time. This bursary will be used to offset the cost of your tuition fees to bring them in-line with that of UK students. Students studying a Degree with a Foundation Year with us are not eligible for the bursary.
How do you know if you need to pay UK or international tuition fees?

We carry out an initial fee status assessment based on the information you provide in your application. Your fee status determines your tuition fees, and what financial support and scholarships may be available to you. The rules about who pays UK (home) or international (overseas) fees for higher education courses in England are set by the government's Department for Education. The regulations identify all the different categories of student who can insist on paying the home rate. The regulations can be difficult to understand, so the UK Council for International Student Affairs (UKCISA) has provided fee status guidance to help you identify whether you are eligible to pay the home or overseas rate.

If you meet all the criteria required by any one category, including any residence requirements, your institution must charge you the home rate. You only need to find one category that you fit into.
---
Facilities
The Faculty of Arts and Humanities newly refurbished buildings are planned to open in 2023. These will include a hyper studio designed for cross-disciplinary projects; immersive studios with cutting-edge virtual reality and mixed-reality technologies. Our aim is to offer you sector-leading facilities in a unique environment.
Our digital and industrial workshops include 3D rapid prototyping, laser cutters and milling machines. These facilities are available to all students on our courses at no extra cost. These are subject to availability4.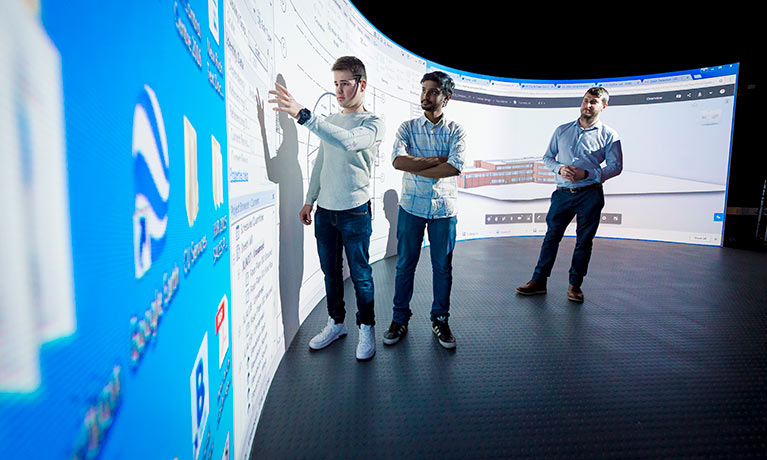 Simulation Centre
You will have access to our Simulation Centre, which incorporates best practice building information modelling (BIM). Using a 3D model, the centre is designed so that you can view and walk through your project to add value, realise efficiencies and ensure every member of the construction team understands what is required of them and when.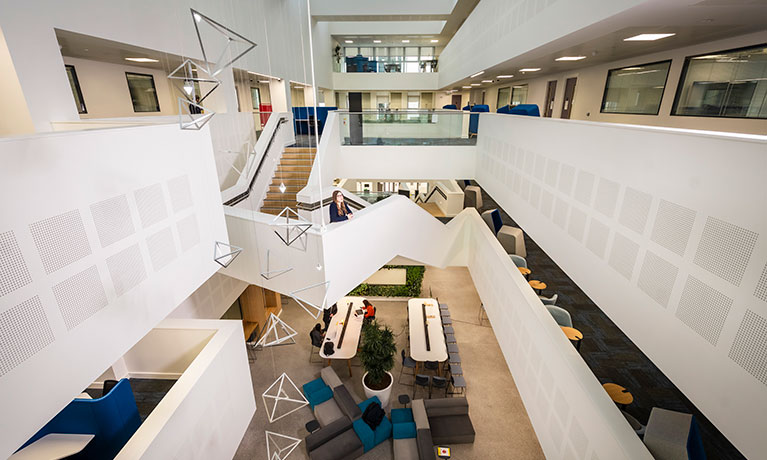 Informal study areas
Our open access spaces provide students with informal computer access to all the specialist software required for their studies at any time. There are bookable spaces where students can meet with academics or work in small groups.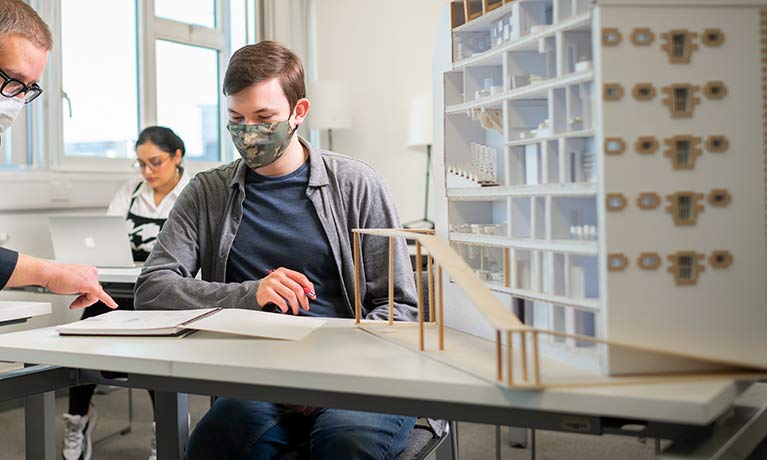 Architectural Studio
The multi-functional Architectural Technology Studio space acts both as a teaching and tutorial room. It houses 40 high spec computers which include Revit, Sketchup and AutoCAD. An informal area is available for group discussions, tutorials and making models.
---
Careers and opportunities
When you graduate from this course you should be well suited to working in a range of architectural practices and other design industries, such as interior or graphic design.
Careers could include working as an architect, architectural technologist or interior and spatial designer. A degree in Architecture can prove useful in related roles, such as a building surveyor, town planner, commercial/residential surveyor, teacher or lecturer, buildings inspector, conservation officer, landscape architect, planning and development surveyor or structural engineer. You may choose to further your professional or academic education.
On successful completion of this course, you will:
understand the principles of constructional, structural and environmental systems and strategies, and the regulatory requirements in which an architectural project is designed and constructed
demonstrate knowledge and understanding of: significant themes and developments in the history and theory of architecture, engineering and the arts; the interrelationship between architecture and the fine arts; the relevance and impact of wider policy, legislation and theory, including social, and economic factors; the duties of architects to the client and wider society
understand the primary functions of shelter, including security and comfort, and apply knowledge of the available technologies to support these in a sustainable manner to an architectural design
understand the cost control mechanisms which operate during the development of a project
demonstrate knowledge of architectural practice management and understanding of influences by the regulatory and legislative frameworks, industry trends and professional multi-disciplinary inter-relationships.
Where our graduates work
Recent graduates have gone on to work in Coventry, London, Newcastle, Bristol and further afield.
Further study
You can choose to continue your studies at Coventry University with the Architecture MArch. You may be entitled to an alumni discount on your fees if you decide to extend your time with us by progressing from undergraduate to postgraduate study.
---
How to apply
UK students

Full-time students applying to start in September 2023 can apply for this course through UCAS from 6 September 2022. Read our application pages to find out your next steps to apply.

Part-time students should apply directly to the university.

---

If you'd like further support or more information about your course get in touch with us today.

International students

International codes:
AHU076

Full-time students applying to start in September 2023 should apply directly to the university.

How to apply

For further support for international applicants applying for an undergraduate degree view our International hub.

You can also download our International guide which contains lots of useful information about our courses, accommodation and tips for travel.

---

Get in touch with us today for further advice and guidance.
Disclaimers

Coventry University together with Coventry University London Campus, CU Coventry, CU London, CU Scarborough and Coventry University Online come together to form part of the Coventry University Group (the "University") with all degrees awarded by Coventry University.

1Accreditations

The majority of our courses have been formally recognised by professional bodies, which means the courses have been reviewed and tested to ensure they reach a set standard. In some instances, studying on an accredited course can give you additional benefits such as exemptions from professional exams (subject to availability, fees may apply). Accreditations, partnerships, exemptions and memberships shall be renewed in accordance with the relevant bodies' standard review process and subject to the university maintaining the same high standards of course delivery.

2UK and international opportunities

Please note that we are unable to guarantee any UK or International opportunities (whether required or optional) such as internships, work experience, field trips, conferences, placements or study abroad opportunities and that all such opportunities may be subject to additional costs (which could include, but is not limited to, equipment, materials, bench fees, studio or facilities hire, travel, accommodation and visas), competitive application, availability and/or meeting any applicable travel COVID and visa requirements. To ensure that you fully understand the visa requirements, please contact the International Office.

3Tuition fees

The University will charge the tuition fees that are stated in the above table for the first Academic Year of study. The University will review tuition fees each year. For UK (home) students, if Parliament permit an increase in tuition fees, the University may increase fees for each subsequent year of study in line with any such changes. Note that any increase is expected to be in line with inflation.

For International Students, we may increase fees each year but such increases will be no more than 5% above inflation. If you defer your course start date or have to extend your studies beyond the normal duration of the course (e.g. to repeat a year or resit examinations) the University reserves the right to charge you fees at a higher rate and/or in accordance with any legislative changes during the additional period of study.

4Facilities

Due to COVID-19, some facilities (including some teaching and learning spaces) and some non-academic offerings (particularly in relation to international experiences), may vary from those advertised and may have reduced availability or restrictions on their use.

Student Contract

By accepting your offer of a place and enrolling with us, a Student Contract will be formed between you and the university. A copy of the 2023/24 contract can be found here. The Contract details your rights and the obligations you will be bound by during your time as a student and contains the obligations that the university will owe to you. You should read the Contract before you accept an offer of a place and before you enrol at the university.
---
---