Interior Architecture and Design BA (Hons)
Study level:

Undergraduate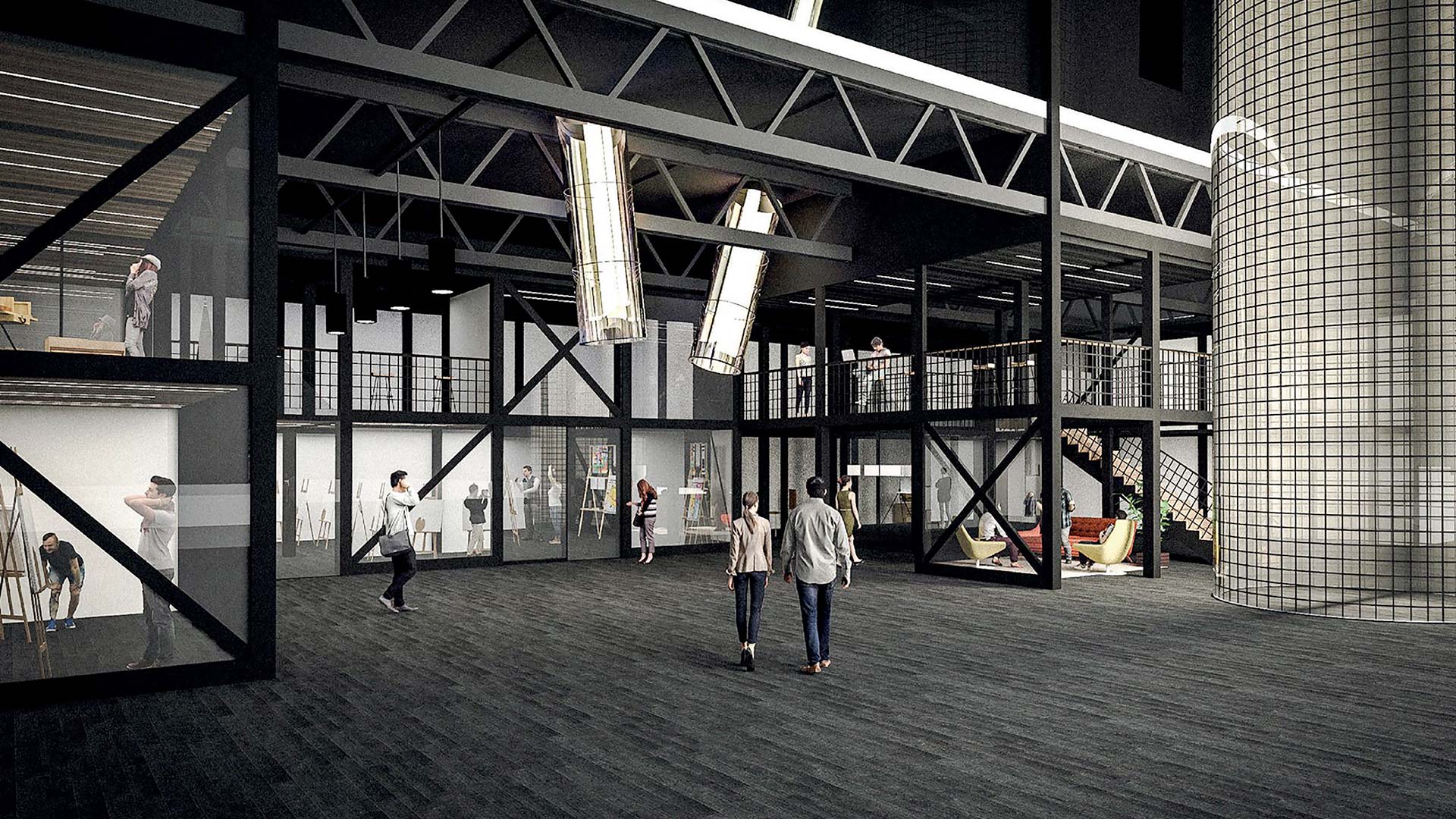 From conceptualisation through 2D visualisation and 3D modelling to animation, our course will teach you the skills you need to pursue a successful career in industry.
Location
Coventry University (Coventry)
Study mode
Full-time
Sandwich
Duration
3 years full-time
4 years sandwich
Start date
September 2023
---
Course overview
The course encourages conceptual thinking beyond the mundane but always marries designs to reality. This ensures students find employment across the many sectors of interior architecture, whether in retail, hospitality and leisure, workplace design, civic and culture or exhibition design.
Creativity: You will be challenged to develop innovative and experimental solutions, transforming spaces through material understanding and user insights.
Making: An emphasis on making, both physical and virtual, underpins the course and ensures that graduates are both digitally fluent and materially sensitive.
Employability: You will be supported to develop the skills, knowledge and resilience required to enter industry. You will build a sophisticated design portfolio over the course of your studies, with the aim of giving you access to opportunities for employment or further study.

Joint Top Modern University for Career Prospects
Guardian University Guide 2021 and 2022

5 QS Stars for Teaching and Facilities
QS Stars University Ratings

Top 5 UK Student City (Coventry)
QS Best Student Cities Index 2023
Why you should study this course
Studio Culture: Our studio-based course will allow you to explore, create, collaborate and develop the skills required to design innovative spaces, supported by peers and guided by experienced practitioners. (Staff subject to change).
Analogue & Digital: We deliberately strike a balance between traditional hand-processes and emerging technologies. You will participate in workshops for drawing, and model making, along with CAD, 3D computer modelling and animation. Traditional workshops sit alongside facilities for laser cutting, CNC milling and 3D printing4.
International Network: Our students go on to find employment in a variety of fields and professions including Interior Architecture, Lighting Design, Exhibition Design, Concept Design, Theatre and Stage Design and Project Management. Gain an international perspective with our international collaborative institutions, who provide opportunities for shared learning and the potential for travel and study abroad2. Our visiting speaker programme makes use of our extensive alumni and industry network2.
Sustainability: In a finite world you will be in a great position to help lead the world with sustainable solutions to architectural problems. Adaptive reuse of buildings as opposed to demolition and rebuild, will become a must and Interior Architects and Designers will be highly sought after.
Professional Accreditation and Awards: The course has been accredited by The Society of British & International Interior Designers (SBID) as a Centre of Excellence1. Our students have won awards at national exhibitions and events including Free Range and New Designers.
10th
Coventry University ranked No.10 for Interior Design
Guardian University Guide 2023
Accreditation and professional recognition

The Society of British & International Interior Design (SBID)
This course is accredited by The Society of British & International Interior Design (SBID) for the 2023/24 intake. Please visit the SBID website for further information.
---
Coventry Degree Show 2023
The Coventry Degree Show is an annual event to celebrate and showcase our graduating students' work.
Explore the work of our talented students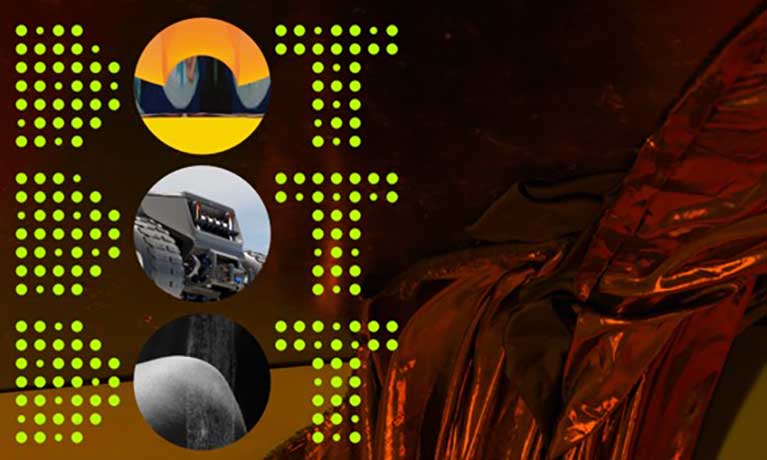 ---
In the first year, the curriculum allows you to gain a broad grounding in the discipline where you will develop knowledge and skills to do with creating spaces, digital skills and tools, and materials, among others.
Modules
Drawing and Making Spaces - 20 credits

This module will introduce you to the fundamental drawing and making skills, tools and media used in the development and communication of ideas in spatial practice.

Creative Exploration - 20 credits

This module will aim to challenge you to apply your newly acquired technical skills within a specific context.

The Language of Space - 20 credits

This module will invite you to observe, analyse and appreciate designed structures and spaces, contextualising their practice within the continuum of architecture past and present.

Digital Skills 1 - 20 credits

This module will introduce you to the digital skills, tools and media used in the development and communication of ideas in spatial practice.

Materials and Structures - 20 credits

This module will invite you to gain a greater understanding of the materials, processes and elements used to build, finish and furnish sustainable structures and spaces.

Designing Spaces - 20 credits

This module will challenge you to apply your developing skills and understanding to the design of a space for a specified user.
In year two, you will continue to develop the skills and knowledge you've learnt. We do this by embedding the following four principles into the curriculum and developing your:
Technical skills – digital fluency, backed with the right academic knowledge
Study skills – to be an adaptive, independent and proactive learner
Professional skills – to have the behaviour and abilities to succeed in your career
Global awareness – the beliefs and abilities to be a resilient, confident and motivated global citizen
Modules
Branded Spaces - 20 credits

This module will introduce you to the considerations and complexities involved in designing branded spaces.

Digital Skills 2 - 20 credits

This module will introduce you to advanced digital skills, tools and media used in the development and communication of ideas in spatial practice.

Professional Development - 20 credits

This module aims to guide you through the process of portfolio building in preparation for upcoming professional/international opportunities2.

Research and Analysis - 20 credits

This module will introduce you to the various sectors found within the Interior Architecture and Design profession.

Creative Consolidation - 20 credits

This module will introduce you to methods of conceptualising and ideation leading to the manifestation and realisation of 3D spatial solutions.

Collaborative Design - 20 credits

This module will challenge you to work collaboratively to develop comprehensive spatial responses to an external brief.
There's no better way to find out what you love doing than trying it out for yourself, which is why a work placement2 can often be beneficial. Work placements usually occur between your second and final year of study. They're a great way to help you explore your potential career path and gain valuable work experience, whilst developing transferable skills for the future.
If you choose to do a work placement year, you will pay a reduced tuition fee3 of £1,250. For more information, please go to the fees and funding section. During this time you will receive guidance from your employer or partner institution, along with your assigned academic mentor who will ensure you have the support you need to complete your placement.
Modules
UK Work Placement – 0 credits

This module provides you with an opportunity to reflect upon and gain experience for an approved placement2 undertaken during your programme. A placement should usually be at least 26 weeks or equivalent; however, each placement will be considered on its own merits, having regard to the ability to achieve the learning outcomes. 

International Study/Work Placement – 0 credits

This module provides you with an opportunity to reflect upon and gain experience for an approved international study/work placement2 undertaken during your programme. A work/study placement should usually be at least 26 weeks or equivalent; however, each placement will be considered on its own merits, having regard to the ability to achieve the learning outcomes.
Year three aims to bring you to the level to enter the world of work by consolidating your knowledge and skills from year one and two. You could also work on a large final project in an area of your interest, with the support of a mentor and your Academic Personal Tutor.
Modules
Final Major Project: Definition and Direction - 20 credits

This module is an exploratory module, where you will be encouraged and guided into finding information helping to define your Final Major Project.

Final Major Project: Investigation - 20 credits

This module engages you in the evaluation and validation of information generated and discovered for your project. You will explore a range of tasks and identify design opportunities.

Final Major Project: Conceptual Synthesis - 20 credits

This module is a discovery module. You will formulate, test, and crystallise concepts to give direction and meaning to design decisions and proposals.

Final Major Project: Development - 20 credits

This module is based on making final design decisions. Ideas, drawings and processes are tested and scrutinised. Concept ideas are realised and construction techniques implemented.

Final Major Project: Resolution - 40 credits

This module is the culmination of the learning experienced during the course. You will integrate research outcomes, concept decisions and design outcomes to inform a major piece of Interior Architecture and Design work.
We regularly review our course content, to make it relevant and current for the benefit of our students. For these reasons, course modules may be updated.
More than just a degree
Coming to University for the first time is very daunting and you never know what to expect. However, the first day of the Interior Architecture and design course was great. The tutors really made me feel welcome and part of a team and I had great opportunities to meet new people on the course, who are now my lifelong friends. The work was really interesting and allowed us to use and explore out imaginations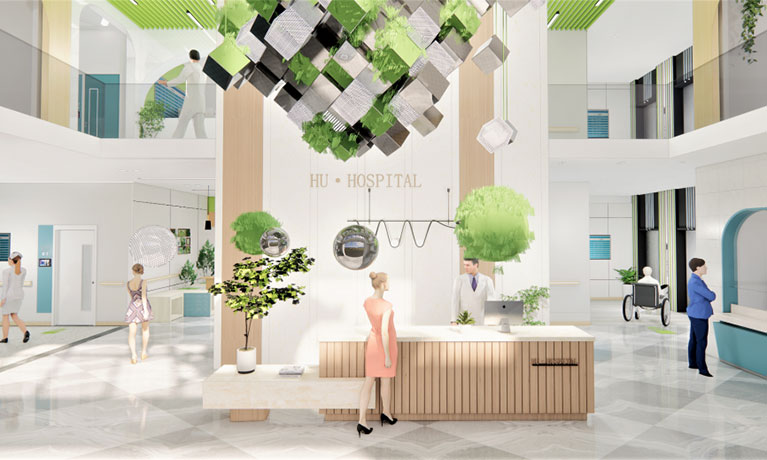 ---
How you'll learn
The School of Art and Design teaching and learning mirrors the needs of the creative industries ensuring that our graduates are equipped with the skills and attributes to become industry specialists, leaders and innovators to drive social responsibility and design global change.
The ability to be entrepreneurial, innovative and embrace change underpins our Art and Design courses. Our studio and workshop culture ensures you are socially responsible in our creative community and develop critical thinking in research and making processes. Our global initiatives will give you skills to become collaborative communicators and make you culturally competent in the ever-changing world of Art or Design2.
As the creative arena is an ever-evolving space, being curious and adaptable learners is key to our school's graduates. You will learn how to recognise your strengths and learning needs, how to self-reflect and grow. Throughout your course you will identify areas of personal development that will help drive your projects and improve your career aspirations.
---
Teaching contact hours
We understand that everyone learns differently, so each of our courses will consist of structured teaching sessions, which can include:  
On campus lectures, seminars and workshops  
Group work  
Self-directed learning  
Work placement opportunities2. 
The number of full-time contact hours may vary from semester to semester, however, on average, it is likely to be around 12 contact hours per week in the first and second year dropping to around 10-12 contact hours per week in the third and final year as you become a more independent learner.  
Additionally, you will be expected to undertake significant self-directed study of approximately 15 hours each week, depending on the demands of individual modules.  
Part of university life is undertaking self-directed learning. During a typical week you will have time that allows you to work independently to apply the skills and knowledge you have learnt in taught or facilitated sessions to your projects or assignment briefs. This self-directed learning allows you to use your research skills, consolidate your knowledge or undertake collaborative group work.
As an innovative and enterprising institution, the university may seek to utilise emerging technologies within the student experience. For all courses (whether on-campus, blended, or distance learning), the university may deliver certain contact hours and assessments via online technologies and methods. 
In response to the COVID-19 pandemic, we are prepared for courses due to start in or after the 2023/2024 academic year to be delivered in a variety of forms.  The form of delivery will be determined in accordance with Government and Public Health guidance.  Whether on campus or online, our key priority is staff and student safety. 
---
Assessment
You will be assessed using a variety of methods which could vary depending upon the module. In the School of Art & Design we design our assessment methods to replicate the creative industry ways of working. This ensures that you have the chance to learn skills for future career opportunities.
Assessment methods may include reports, practical coursework and presentations as part of individual assignments or group work elements.
The Coventry University assessment strategy aims to ensure that our courses are fairly assessed and allows us to monitor student progression towards achieving the intended learning outcomes.
---
International experience opportunities
Coventry School of Art and Design has a typically multicultural population, and you may have the opportunity to work alongside students from all over the globe.
There may be global opportunities for students to apply for a study exchange with students on a similar course in overseas universities2. We have direct links with countries beyond Europe, including universities in China, Indonesia, Singapore and Egypt.
Throughout the course, projects will be set with an international focus, with the aim of enhancing your global experience and broadening your mindset. Recent examples include a collaborative online international learning (COIL) project with universities in Singapore and Egypt. To gain a deeper insight into the industry, you will also be given opportunities to enter international competitions, such as Planning and Visual Education (PAVE) and competitions arranged by The Society of British & International Interior Designers (SBID).
Interior Architecture and Design is about us. It's how we interact with the world, how we connect to the world, how we live and love, how we find shelter, how we indulge in leisure and how we find succour and solace in culture. Ever since we walked into caves, interior architecture and design has been the background to our lives. Often unnoticed, interiors have sustained and protected us from harm and the vagaries of life. That is why I am an interior designer.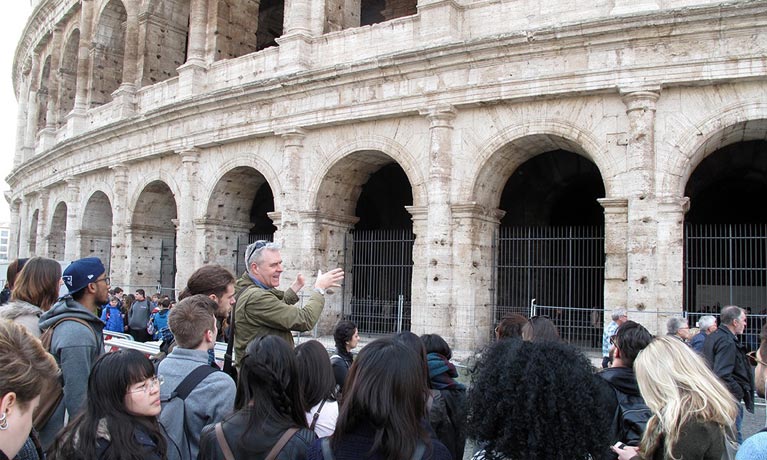 ---
Entry requirements
Haven't met the entry requirements or don't have the right qualifications? You may still be able to progress onto a degree you'd love by studying a foundation course.
View our full list of country specific entry requirements on our Entry requirements page.
Typical offer for 2023/24 entry.
By studying Interior Design at Coventry University, I have obtained the necessary knowledge to apply later in my professional career. It gave me opportunities and skills that allowed me to design confidently and choose a career path most suitable for me. Wonderful tutors with in-depth career knowledge taught me the importance of design in our daily lives. The tutors understood every student's individual needs and differences, which created a safe, comfortable, and enjoyable place to attend and be involved with.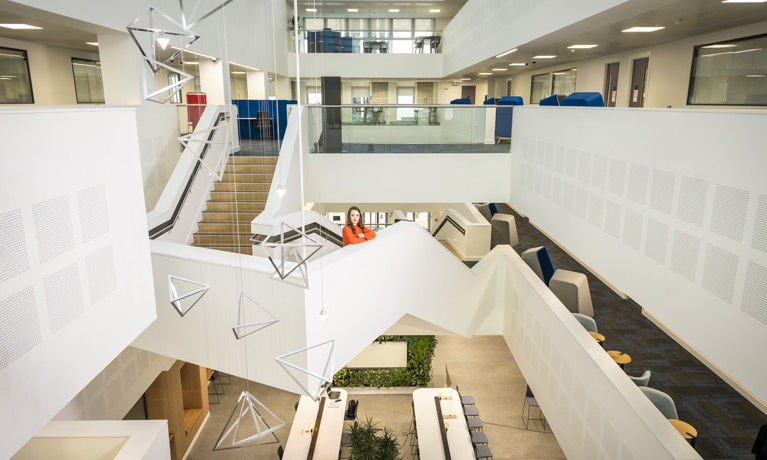 ---
Fees and funding
2023/24 tuition fees.
Student
Full-time
Part-time
UK, Ireland*, Channel Islands or Isle of Man
£9,250 per year
Not available
EU
£9,250 per year with EU support bursary**
£19,850 per year without EU support bursary**
Not available
International
£19,850 per year
Not available
If you choose to do a work placement2, you should consider travel and living costs to cover this. There is also a tuition fee3 of £1,250 that will cover your academic support throughout your placement year.
For advice and guidance on tuition fees and student loans visit our Undergraduate Finance page and see The University's Tuition Fee and Refund Terms and Conditions.
We offer a range of International scholarships to students all over the world. For more information, visit our International Scholarships page.
Tuition fees cover the cost of your teaching, assessments, facilities and support services. There may be additional costs not covered by this fee such as accommodation and living costs, recommended reading books, stationery, printing and re-assessments should you need them. Find out what's included in your tuition costs.
The following are additional costs not included in the tuition fees:
Any optional overseas field trips or visits: £400+ per trip.
Any costs associated with securing, attending or completing a placement (whether in the UK or abroad)
*Irish student fees
The rights of Irish residents to study in the UK are preserved under the Common Travel Area arrangement. If you are an Irish student and meet the residency criteria, you can study in England, pay the same level of tuition fees as English students and utilise the Tuition Fee Loan.
**EU support bursary
Following the UK's exit from the European Union, we are offering financial support to all eligible EU students who wish to study an undergraduate or a postgraduate degree with us full-time. This bursary will be used to offset the cost of your tuition fees to bring them in-line with that of UK students. Students studying a Degree with a Foundation Year with us are not eligible for the bursary.
How do you know if you need to pay UK or international tuition fees?

We carry out an initial fee status assessment based on the information you provide in your application. Your fee status determines your tuition fees, and what financial support and scholarships may be available to you. The rules about who pays UK (home) or international (overseas) fees for higher education courses in England are set by the government's Department for Education. The regulations identify all the different categories of student who can insist on paying the home rate. The regulations can be difficult to understand, so the UK Council for International Student Affairs (UKCISA) has provided fee status guidance to help you identify whether you are eligible to pay the home or overseas rate.

If you meet all the criteria required by any one category, including any residence requirements, your institution must charge you the home rate. You only need to find one category that you fit into.
---
Facilities
The Faculty of Arts and Humanities is joining two of our school's completely refurbished Art and Design buildings, which are planned to fully open in 2023, adding a range of new facilities4.
These will include a hyper studio designed for cross-disciplinary projects; immersive studios with cutting-edge virtual reality and mixed-reality technologies. Our aim is to offer you sector-leading facilities in a unique environment.
Our current digital and industrial workshops are of industry-standard quality and house 3D rapid prototyping, laser cutters and milling machines. These facilities are available to all students on our courses at no extra cost. These are subject to availability.
We also have a ceramic and small-metal-working workshop, a large digital print bureau, and clay modelling studios where you can realise your creative artistic and design solutions.
The fashion workshops have digital embroidery machines, digital printers and a printmaking workshop that includes etching, screen printing and a rare, one of only three in existence in the UK, letterpress studio.
In our Mac and PC CAD labs, you can become digitally literate in presentation and design skills using the Adobe suite of software. You can also learn other software packages including Alias, Toom Boom, Revit, and Maya that maybe relevant to your studies.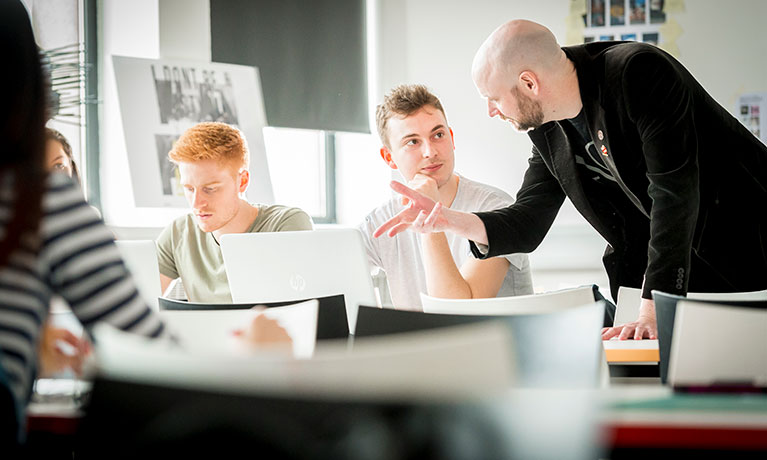 You will have access to presentation equipment and our print bureau at the Ink Well. Here you can print up to A0 size, perfect for presenting your design skills.
---
Careers and opportunities
On successful completion of the course, you will be able to:
Apply creative and logical thinking processes to the business of solving spatial and interior design problems and develop ideas through to material outcomes and construction.
Analyse the interrelationships within and between aspects of interior design; to describe, interpret and evaluate designed spaces from a range of critical perspectives, considering the context of their construction, clients, users, brand issues, markets and history of design processes.
Engage in integrated design practice based on the acquisition, understanding and application of the skills and working methods typical of interior architects and designers.
Realise a range of practical, creative and theoretical projects, analyse design problems and provide appropriate design solutions; initiate projects, meet deadlines, liaise with commercial collaborators, make presentations, research and synthesise information, produce reports and evaluate the design and research work of self and others.
Demonstrate skills associated with professional practice; time management, project management, professional level communication, self-promotion, interview technique, information gathering and use of information and communication technology as appropriate.
Employ materials, media, techniques, methods, technologies and tools associated with interior architecture and design through drawing, modelling, computer visualisation and animation methods using skill and imagination.
Utilise the various means by which one can represent interior design and judge their fitness for purpose; select and use various 2D, 3D, and digital techniques appropriately to communicate design intent and detail.
With the skills you learn and the confidence, we instil in our students. Alumni are now working all over the globe from LA to Cairo, Dubai, Berlin, Hong Kong, Beijing, Shanghai, to Jakarta, Kuala Lumpur and Singapore. Some have gone on to work for multi- national companies such as Gensler or GES. Whilst others have branched out on their own as consultants and freelancers.
The variety and the many sectors of Interior Architecture and Design as a profession, mean you could work in leisure and hospitality, museum design, education design, retail design or even as a concept designer.
Where our graduates work
Recent graduates have gone on to become interior designers for companies including:
Creation Shopfitters
Furnish Studio
Gensler
GES
GMP Design
HÅLLNING
Hirsch Bedner Associates
Identity
Imagination
Rhino Interiors Group
Further study
You can choose to continue your studies at Coventry University with the Interior Design MA or Design Management MA. You may be entitled to an alumni discount on your fees if you decide to extend your time with us by progressing from undergraduate to postgraduate study.
My work placement was a great opportunity to gain an understanding of how the industry works, and it prepared me so much for the final year. If you can do it, do it.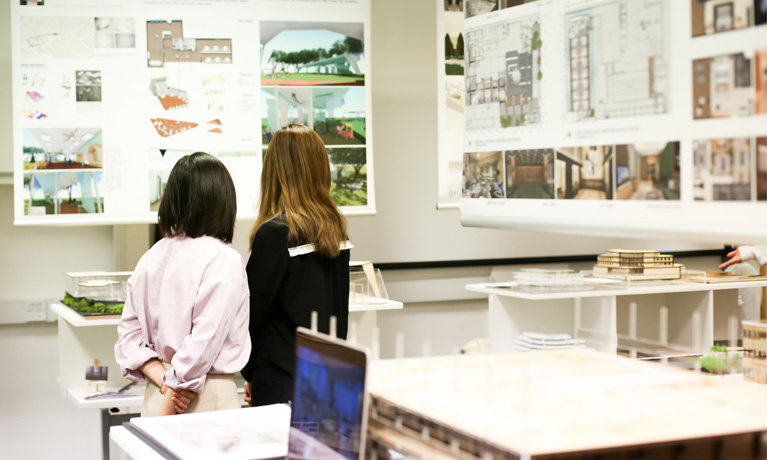 ---
How to apply
UK students

Full-time students applying to start in September 2023 can apply for this course through UCAS from 6 September 2022. Read our application pages to find out your next steps to apply.

Part-time students should apply directly to the university.

---

If you'd like further support or more information about your course get in touch with us today.

International students

International codes:
AHU121

Full-time students applying to start in September 2023 should apply directly to the university.

How to apply

For further support for international applicants applying for an undergraduate degree view our International hub.

You can also download our International guide which contains lots of useful information about our courses, accommodation and tips for travel.

---

Get in touch with us today for further advice and guidance.
Disclaimers

Coventry University together with Coventry University London Campus, CU Coventry, CU London, CU Scarborough and Coventry University Online come together to form part of the Coventry University Group (the "University") with all degrees awarded by Coventry University.

1Accreditations

The majority of our courses have been formally recognised by professional bodies, which means the courses have been reviewed and tested to ensure they reach a set standard. In some instances, studying on an accredited course can give you additional benefits such as exemptions from professional exams (subject to availability, fees may apply). Accreditations, partnerships, exemptions and memberships shall be renewed in accordance with the relevant bodies' standard review process and subject to the university maintaining the same high standards of course delivery.

2UK and international opportunities

Please note that we are unable to guarantee any UK or International opportunities (whether required or optional) such as internships, work experience, field trips, conferences, placements or study abroad opportunities and that all such opportunities may be subject to additional costs (which could include, but is not limited to, equipment, materials, bench fees, studio or facilities hire, travel, accommodation and visas), competitive application, availability and/or meeting any applicable travel COVID and visa requirements. To ensure that you fully understand the visa requirements, please contact the International Office.

3Tuition fees

The University will charge the tuition fees that are stated in the above table for the first Academic Year of study. The University will review tuition fees each year. For UK (home) students, if Parliament permit an increase in tuition fees, the University may increase fees for each subsequent year of study in line with any such changes. Note that any increase is expected to be in line with inflation.

For International Students, we may increase fees each year but such increases will be no more than 5% above inflation. If you defer your course start date or have to extend your studies beyond the normal duration of the course (e.g. to repeat a year or resit examinations) the University reserves the right to charge you fees at a higher rate and/or in accordance with any legislative changes during the additional period of study.

4Facilities

Due to COVID-19, some facilities (including some teaching and learning spaces) and some non-academic offerings (particularly in relation to international experiences), may vary from those advertised and may have reduced availability or restrictions on their use.

Student Contract

By accepting your offer of a place and enrolling with us, a Student Contract will be formed between you and the university. A copy of the 2023/24 contract can be found here. The Contract details your rights and the obligations you will be bound by during your time as a student and contains the obligations that the university will owe to you. You should read the Contract before you accept an offer of a place and before you enrol at the university.
---
---