Mathematics and Physics BSc (Hons)
Course Code
UCAS Code: G120
International Code: EECU048
Location
Coventry University (Coventry)
Study mode
Full-time
Sandwich
Duration
3 years full-time
4 years sandwich
Start date
September 2022
---
Course overview
Study level: Undergraduate
Our Mathematics and Physics BSc (Hons) explores both traditional and modern concepts in the field of mathematics and physics.
Mathematics and physics are both exciting subjects sharing a common history. Both fields go hand in hand and can help to model real world situations to find new solutions to problems. In addition, both fields are important in training for developmental logical and constructive thought.
The BSc (Hons) in Mathematics and Physics aims to provide an understanding of fundamental scientific phenomena and logic. You should learn to translate this understanding into mathematical and computational models, which are then solved using a variety of tools. This scientific process should produce successful graduates who are particularly well trained at problem solving beyond the various fields presented in the course.
It is expected that upon successful completion of the course you will have gained a strong grounding in mathematical thinking as well as a good understanding of how mathematics may be used to solve physical and practical problems.
As well as providing an excellent grounding in science, we adopt a practical approach to applied mathematics, which should help you to gain experience in the use of computer software and computational methods. The course provides opportunities for you to develop sophisticated analytical skills, together with the reporting and presentation skills required to communicate arguments and conclusions effectively.
Studying mathematics and physics could help you to develop skills in logical thinking and statistical or strategic knowledge, which should demonstrate to potential future employers your advanced numerical and analytical ability.

Global Ready
An international outlook, with global opportunities

Teaching excellence
Taught by lecturers who are experts in their field

Employability
Career ready graduates, with the skills to succeed
Why you should study this course
You'll have access to our computing facilities, which should enable you to gain experience using mathematical software packages, like MAPLE and MATLAB. You'll also receive one-to-one assistance from sigma (subject to availability), Coventry University's Centre for Excellence in Mathematics and Statistics Support.
You'll be taught by active researchers in applied mathematics and statistics with expertise in fluid dynamics, complex systems (staff are subject to change), who will share their research findings through teaching and supervising projects.
We encourage you to adopt an international perspective with opportunities to conduct Online International Learning (OIL) activities with students from around the world, participate in field trips overseas or spend a year studying abroad in Europe, America or Australia*.
If your studies are followed by appropriate training and experience you should be on track to meet the academic requirements for registration as a Chartered Mathematician with the Institute of Mathematics and its Applications (IMA). Please check with the awarding body for more details.
Travel inspired my studies
Connor Riddlesden has worked, studied and experienced no less than three international trips in three years. Here he shares his experiences.
Read Connor's story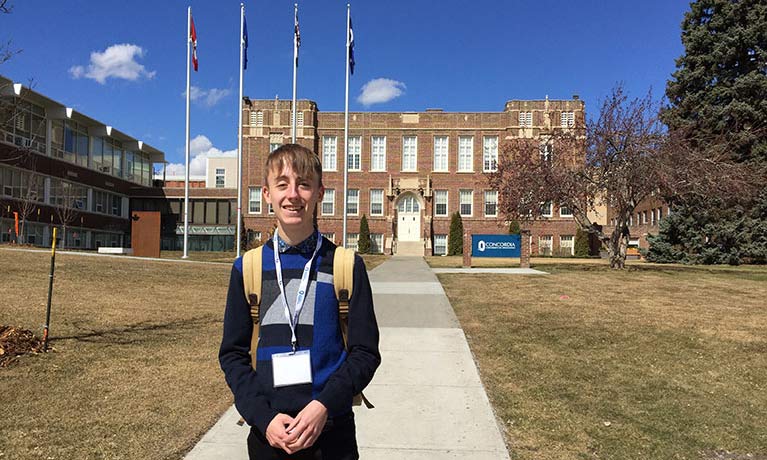 How my placement helped me get a job with HMRC
Louise shares her experiences of undertaking a placement year and offer advice for anyone thinking of completing a placement during their studies.
Read Louise's story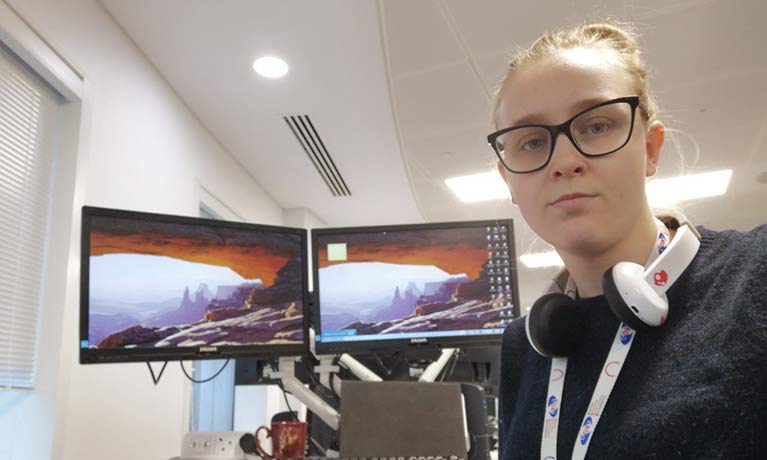 ---
The first year lays the foundation for the study of mathematics and physics, including topics such as algebra, calculus, mechanics, waves and optics.
Throughout your studies, you will have opportunities to participate in a series of skills development sessions which should improve your digital literacy, as well as presentation and writing skills, particularly in a mathematical context. We will aim to familiarise you with a range of computational software related to the fields of mathematics and statistics, such as LaTeX, Excel and Python.
Modules
Waves, Optics and Probability - 20 credits

This module provides a foundational study of waves, optics, and probability. It aims to explore the necessary theory, methods and concepts of probability distributions and different types of waves.

Algebra – 20 credits

This module provides core algebra for those undertaking degrees in the mathematics area. The aim of this module is to consolidate the different A levels and equivalent qualifications, and develop the material studied there to provide the underpinning for Year 2 modules.

Calculus – 20 credits

This module provides core calculus for those undertaking degrees in the mathematics area. The primary aim of this module is to consolidate the material covered in the different A levels and equivalent qualifications, explore some of the advanced concepts needed for an extensive study of mathematics required for study in Year 2.

Mechanics – 20 credits

This module aims to develop ability to apply mathematical models to describe and predict the motion of bodies as well as to introduce you to experimental verification of the theoretical framework of Newtonian mechanics.

Introduction to Real and Numerical Analysis – 20 credits

This module provides a foundation for the study of real and numerical analysis. The mathematical analysis part aims to provide you with a rigorous foundation in the analysis of sequences, series, and continuous functions. The numerical analysis part introduces a variety of numerical methods, most of which support the theoretical material by providing a numerical approach.

Professional and Academic Skills 1 – 10 credits

This module gives you the necessary skills to become a confident and independent learner and develop your professional competencies, including personal development planning, and mathematical programming.

Add+vantage module – 10 credits
The second year is constructed on knowledge acquired during the previous year and will provide you with the opportunity to dive into more technical and complex concepts of mathematics and physics.
Modules
Further Algebra and Calculus – 20 credits

The primary aims of this module is to provide underpinning mathematical methods and an introduction to abstract algebra, providing a first serious exposure to axiomatically defined mathematical structures - showing how they can be applied to combinatorial problems.

Quantum Physics – 20 credits

In this module, the basics of quantum mechanics starting from the notion of the wave function through the Schrödinger equation to its solutions in simple potentials is developed. You will be introduced to the general structure of quantum mechanics, as well as to its applications.

Professional and Academic Skills 2 – 10 credits

This module provides the focus for you to continue developing your professional competencies including personal development planning and reflection, independent learning, report writing, and presentation skills.

Thermo and Statistical Physics – 20 credits

In this module, you will learn how macroscopic thermodynamic phenomena arise from the statistics of systems with very many constituent particles.

Electromagnetism – 20 credits

Starting from electrostatic force and energy, this module introduces concepts of vector calculus used for simple scalar and vector field calculations. Electric fields in dielectric materials, steady electric currents and simple DC circuits are then discussed.

Differential Equations – 20 credits

The module provides concepts and methods of solution of systems ordinary differential equations, including linear and nonlinear systems, qualitative theory, phase space, phase portraits, trajectories, and an introduction to the bifurcation theory for parametrized equations.

Add+vantage module – 10 credits
Following your second year, you will have an option to apply for a one-year professional work placement or study abroad in a partner institution.
Previous sandwich year opportunities have been offered by GlaxoSmithKline pharmaceuticals, Jagex Game Studios, The Warner Bros, National Grid, Morgan Stanley financial services, E.ON, Cummins, TATA and Birmingham Airport.
If you wish to undertake the optional study abroad/placement year, you will take either the Placement Year module or the Study Abroad Year module which both typically run for a full academic year between years 2 and 3 of your course. You are normally able to progress onto the relevant module if you have successfully completed the first two years of the course (i.e. having accumulated 240 credits) and have a confirmed opportunity two weeks prior to the start of the academic year. However, we encourage international students to confirm their placements earlier to ensure they are able to meet any applicable visa requirements.
Students opting for either the work placement or study abroad module will be registered on a non-credit bearing module. Whilst the modules do not bear credits, they do require completion of marked activities reflecting on your placement/study abroad or work placement experience. Following successful completion of the activities, the module selected will appear on your final academic transcript. Students will thus graduate with 360 credits in total, assuming successful completion of their final year.
Modules
Professional Placement

Study Abroad
The final year gives you the opportunity to study further topics such as advanced fluid dynamics and cosmology. You will also engage in a dissertation project carrying out in-depth investigations in a field that interests you. Recent topics have covered areas such as graphs generated from music or text, network analysis and traffic modelling.
Modules
Advanced Algebra and Analysis – 10 credits

This module provides an introduction of asymptotic methods and further development of analytical skills in finding approximate solutions to integrals and ordinary and partial differential equations using asymptotic methods.

Individual Project – 20 credits

This module forms a major individual study at the honour's level. The project will build upon the knowledge and skills developed in previous modules. It aims to develop the skills of enquiry, research and innovation and enhance your critical and communication skills.

Atomic and Molecular Physics - 20 credits

This course is focused on atomic structure and the interaction between atoms and fields. It covers electronic transitions, atomic spectra, excited states, binding of atoms into molecules, molecular degrees of freedom.

Professional and Academic Skills 3 – 20 credits

This module will provide a focus for further development of professional and academic skills to include independent learning and writing skills.

Optional modules (2 from the following):

Choose two from the following:

Cosmology - 20 credits
The purpose of this module is to introduce the physics of the universe at large (solar system and beyond) scales. The mathematical framework of tensor calculus will be used to provide a simple account of the relevant aspects of general relativity.
Partial Differential Equation - 20 credits
Partial differential equations (PDEs) are used to understand real world phenomena. This module looks at advanced ways of analysing nonlinear PDEs.
Thermodynamics and Statistical Physics - 20 credits
In this module, you will learn how macroscopic thermodynamic phenomena arise from the statistics of systems with very many constituent particles.
Fluid Dynamics - 20 credits
This is an introductory module to fluid dynamics. The module aims to build and develop the fundamentals for incompressible flows of fluids. The theory is applied to a range of problems including irrotational flow, viscous flow, and boundary layers.
We regularly review our course content, to make it relevant and current for the benefit of our students. For these reasons, course modules may be updated.
---
How you'll learn
Throughout the course, we try to place great emphasis and explore practical skills development; some of your time being spent on computer laboratory sessions, which may involve the use of mathematical software to solve mathematical problems. We also run example classes covering things such as reviewing solutions to exercises.
Actual teaching contact hours will vary depending on the level of study and the requirements of a particular semester. In a typical week your contact hours will be divided amongst personal tutorials and small group teaching; medium group teaching (for example seminars, tutorial sessions, lab sessions and workshops); and large group teaching (lectures).
In addition, you will be expected to undertake significant self-directed study each week depending on the demands of individual modules. The number of contact hours may vary from semester to semester, however, on average, it is likely to be around 18 contact hours per week in the first year, reducing by approximately 3 hours per week per year as you become a more independent learner.
---
Assessment
This course will be assessed using a variety of methods which could vary depending upon the module. Assessment methods include formal examinations, coursework, including tests and group work and practical work, for example presentations.
The Coventry University Group assessment strategy ensures that our courses are fairly assessed and allows us to monitor student progression towards the achieving the intended learning outcomes.
---
Job ready
On successful completion of the course, you will have gained an understanding of:
The logical construction of a mathematical argument.
The application of mathematics to construct models and their resolution, with an appreciation of the validity of the model and the use of approximation.
The use a range of analytic and descriptive techniques.
The strengths and weaknesses of selected mathematical software and a selected programming or scripting languages and their use to extend capabilities.
A range of real-world applications of mathematics.
Understanding, reproducing, and generalising logical mathematical reasoning.
Organising and interpreting information and results from mathematical models.
Formulating physical theories in mathematical terms, the solution of the resulting equations, either analytically or numerically, and the physical interpretation of the solutions.
Use of specialist modern information technology packages and a programming language confidently.
Use of a wide range of information resources to acquire relevant information.
---
International experience opportunities
If you have a desire to gain international experience, there are opportunities to spend a year studying abroad*. In the past, students have been able to study mathematics in St Marcus University in California, University of Malta, Stockholm University in Sweden, also universities in the Netherlands, Germany, and Australia. Courses in all these Universities are delivered in English.
The opportunity for a placement year means that we will aim to support you in applying for an internship anywhere in the world*. Past students have gone to work in countries such as Malaysia, Belgium, and Spain.
---
Typical offer for 2022 entry
| Requirement | What we're looking for |
| --- | --- |
| A level | BBB to include Mathematics at grade B or above. Excludes General Studies. |
| GCSE | Minimum 5 GCSEs at grade 9-4 including English and Mathematics, or specified equivalents. |
| BTEC | Assessed on an individual basis |
| IB Diploma | 29 points to include 5 points in Mathematics at Higher level |
We recognise a breadth of qualifications, speak to one of our advisers today to find out how we can help you.
Are you eligible for the Fair Access Scheme?
We believe every student should have the opportunity to dream big, reach their potential and succeed, regardless of their background.
Typical offer for 2022 entry
Select your region to find detailed information about entry requirements:
You can view our full list of country specific entry requirements on our Entry requirements page.
Alternatively, visit our International hub for further advice and guidance on finding in-country agents and representatives, joining our in-country events and how to apply.
English language requirements
IELTS: 6.0 overall (with no component lower than 5.5.)
If you don't meet the English language requirements, you can achieve the level you need by successfully completing a pre-sessional English programme before you start your course.
For more information on our approved English language tests visit our English language requirements page.
---
Fees and funding
2022/23 Tuition fees
| Student | Full time | Part time |
| --- | --- | --- |
| UK | £9,250 per year | Not available |
| International | £15,950 per year | Not available |
For advice and guidance on tuition fees and student loans visit our Undergraduate Finance page and see The University's Tuition Fee and Refund Terms and Conditions.
We offer a range of International scholarships to students all over the world. For more information, visit our International Scholarships page.
Tuition fees cover the cost of your teaching, assessments, facilities and support services. There may be additional costs not covered by this fee such as accommodation and living costs, recommended reading books, stationery, printing and re-assessments should you need them. Find out what's included in your tuition costs.
---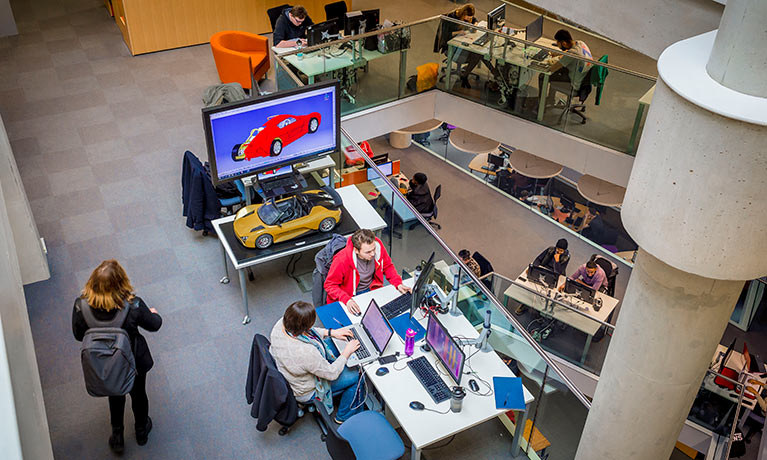 Informal study areas
You will have plenty of computer access to all the specialist software required for your studies. There are also bookable spaces where students can meet with academics or work in small groups.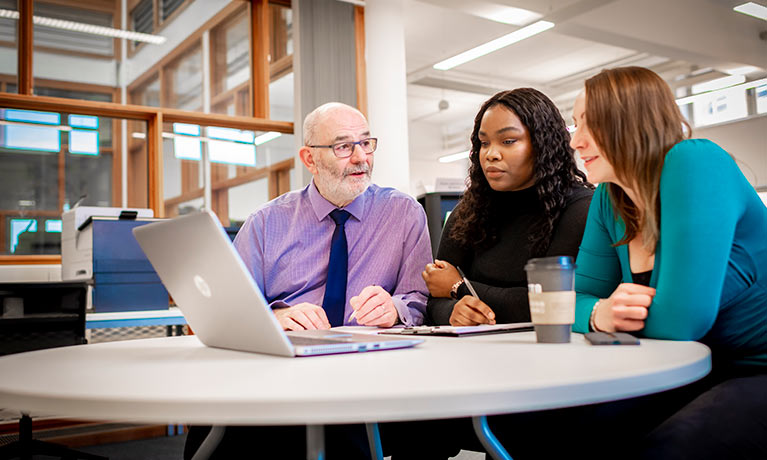 sigma Centre
The sigma Centre is an award-winning mathematics support centre, which provides a wide range of learning resources in mathematics and statistics. Students can make use of drop-in sessions or one-to-one appointments.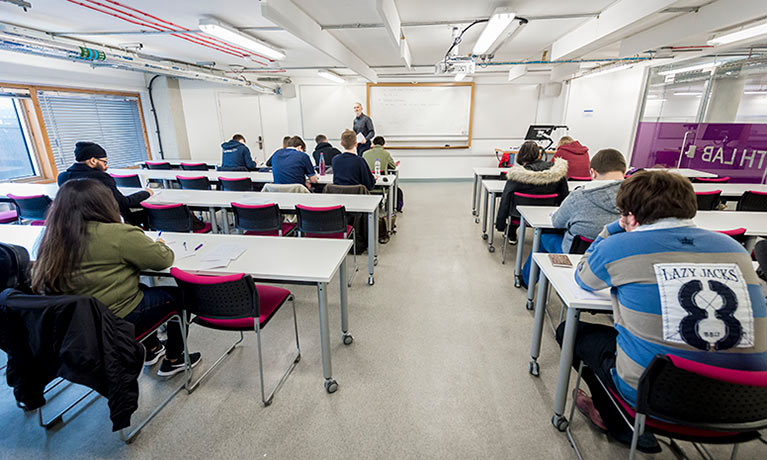 Mathematics laboratory
Set out like a traditional classroom with a large whiteboard, it is the only teaching room in the Engineering and Computing Building laid out in this way, designed to suit the teaching style required for this subject.
---
Careers and opportunities
Successful completion of a mathematics and physics degree could give you a significant advantage in the job market, which could open up a wide range of potential future career opportunities in industry, accountancy, banking, computer analysis, marketing, industrial design, management, and scientific research. You could be employed in a wide variety of roles, for example, as an actuarial analyst, actuary, forensic accountant, operational researcher, research scientist, teacher, statistician or stockbroker.
Where our graduates work
Previous students have worked as Analysts at Southern trains, Continental, Ricardo, IBM, Warner Bros, Scottish Power, National Grid, Lumesse, GSK, Pfitzer, E.ON and Cummins.
Recent graduates have embarked on Finance Graduate Schemes as a customer services analyst, graduate actuary, information analyst and trainee accountant for companies like E-On, National Grid, Thames Water, NHS, Hodge Lifetime Solutions and Prime Accountants. Others have also used their qualifications to progress into teaching careers, as well as postgraduate study to obtain MSc, MPhil and PhD qualifications.
Further study
You can choose to continue your studies at Coventry University with our Data Science MSc. You may be entitled to an alumni discount on your fees if you decide to extend your time with us by progressing from undergraduate to postgraduate study.
---
How to apply
UK Students

Full-time students applying to start in September should apply for this course through UCAS. Part-time students should apply directly to the university. Read our application pages to find out your next steps to apply.

---

If you'd like further support or more information about your course get in touch with us today.

International Students

Full-time students applying to start in September should apply directly to the university. Read our application pages to find out your next steps to apply.

How to apply

For further support for international applicants applying for an undergraduate degree view our International hub.

You can also download our International Guide which contains lots of useful information about our courses, accommodation and tips for travel.

---

Get in touch with us today for further advice and guidance.
You may also like
Coventry University (Coventry)

Data Science MSci/ BSc (Hons)
Coventry University (Coventry)

Mathematics and Statistics BSc (Hons)
Coventry University (Coventry)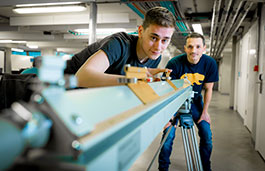 ---
---
Disclaimer

Student Contract

By accepting your offer of a place and enrolling with us, a Student Contract will be formed between you and the university. A copy of the 2021/22 Contract can be found here. The Contract details your rights and the obligations you will be bound by during your time as a student and contains the obligations that the university will owe to you. You should read the Contract before you accept an offer of a place and before you enrol at the university.

Tuition fees

The tuition fee for the course that is stated on the course webpage and in the prospectus for the first year of study will apply. We will review our tuition fees each year. For UK and EU students, if Parliament permit an increase in tuition fees, we may increase fees for each subsequent year of study in line with any such changes. Note that any increase is expected to be in line with inflation. Following the UK's exit from the European Union, EU students should be aware that there may be a change to UK laws following the UK's exit, this may change their student status, their eligibility to study part time, and/or their eligibility for student finance. We will act in accordance with the UK's laws in force in relation to student tuition fees and finance from time to time.

For International students the tuition fee that is stated on the course webpage and in the prospectus for the first year of study will apply. We will review our tuition fees each year. For international students, we may increase fees for each subsequent year of study but such increases will be no more than 5% above inflation.

Accreditations

The majority of our courses have been formally recognised by professional bodies, which means the courses have been reviewed and tested to ensure they reach a set standard. In some instances, studying on an accredited course can give you additional benefits such as exemptions from professional exams (subject to availability, fees may apply). Accreditations, partnerships, exemptions and memberships shall be renewed in accordance with the relevant bodies' standard review process and subject to the university maintaining the same high standards of course delivery.

Facilities

Facilities mentioned on this page may not be relevant for every course. Due to the ongoing restrictions relating to COVID-19, some facilities (including some teaching and learning spaces) and some non-academic offerings (particularly in relation to international experiences), may vary from those advertised and may have reduced availability or restrictions on their use.

Placements and study abroad opportunities

Please note that we are unable to guarantee any placement or study abroad opportunities and that all such opportunities may be subject to additional costs (e.g. travel, visas and accommodation etc.), competitive application, availability and/or meeting any applicable visa requirements. To ensure that you fully understand the requirements in this regard, please contact the International Office for further details if you are an EU or International student.

Additional costs

This course may incur additional costs associated with any field trips, placements or work experience, study abroad opportunities or any other opportunity (whether required or optional), which could include (but is not limited to), equipment, materials, bench fees, studio or facilities hire, travel, accommodation and visas).