Course Code
UCAS Code: G100
International Code: EECU046
Location
Coventry University (Coventry)
Study mode
Full-time
Sandwich
Duration
3 years full-time
4 years sandwich
Start date
September 2022
---
Course overview
Study level: Undergraduate
If you're curious about numbers and how they're used practically in the 'real world', a Mathematics BSc can lead you down many career paths.
Mathematics is an ancient subject which, from its earliest days, has underpinned much of daily life, in finance, commerce, science, technology, engineering and even philosophy – from understanding the structure of the universe and predicting earthquakes to interpreting error-correcting codes on digital devices and enabling us to stream music and video.
Mathematics has shaped our view of the world, used by physicists, engineers, statisticians, analysts, and economists as a tool to model real world situations to find new and novel solutions to problems. Coventry University has a long tradition of teaching mathematics with a strong emphasis on its applications in practical situations. Accredited by the Institute of Mathematics and its Applications (IMA), this course meets the educational requirements towards gaining Chartered Mathematician status, the first of two stages to do so.
You will also be given the opportunity to participate in the School Centred Initial Teacher Training (SCITT) programme. As a SCITT trainee, you will have the chance to spend time during the second and third year of your degree teaching and learning alongside expert practitioners. You could work with a selected partner school within the Coventry SCITT. Students who undertake this pathway must decide during their first year of their degree if they wish to opt into the Secondary School Experience pathway. The selection process involves interview and teaching session. Subject to passing these, students will then follow the training pathway. The Initial Teacher Training (ITT) is assessed against national QTS standards benchmarked by SCITT. Those who choose not to participate will follow the normal course structure.

Global Ready
An international outlook, with global opportunities

Teaching excellence
Taught by lecturers who are experts in their field

Employability
Career ready graduates, with the skills to succeed
Why you should study this course
Our extensive faculty links with potential employers, including National Grid, MathWorks, Unipart, Rolls-Royce and Jaguar Land Rover, help us to maintain an excellent track record for graduate employability.
You'll have the opportunity to access our computing facilities, which enable you to gain experience using mathematical software packages, like MAPLE and MATLAB®.
You'll have the option to access one-to-one assistance from Sigma, the university's internationally renowned Centre for Excellence in Mathematics and Statistics Support, which previously won the Times Higher Education (THE) award for Outstanding Support for Students.
You will be taught by a teaching team which currently includes active researchers in applied mathematics with expertise in fluid dynamics and complex systems, who share their research findings through teaching and supervising projects.
100%
of our Mathematics BSc (Hons) students go on to work and / or study within 15 months after the course.
DiscoverUni 2021
Accreditation and Professional Recognition
This course is accredited and recognised by the following bodies:

Institute of Mathematics and its Applications (IMA)
Meets the educational requirements of Chartered Mathematician status, awarded by the Institute of Mathematics and its Applications (IMA). This represents the first stage of two and you will need to undertake further training and experience in employment. Please check with the awarding body for more details.
The University's accreditation with IMA shall be up for renewal in 2021/22. We anticipate that our application for re-accreditation will be successful. If any changes occur with respect to our accreditation related to these courses, we will seek to notify applicants and students as soon as possible.
---
Studying Maths at Coventry is very fun, and every day is interesting. The content has encouraged me to always create my best work. I have discovered new aspects of Mathematics whilst also building on my previous knowledge. There are plenty of spaces to study, alone or with friends, in a comfortable working environment.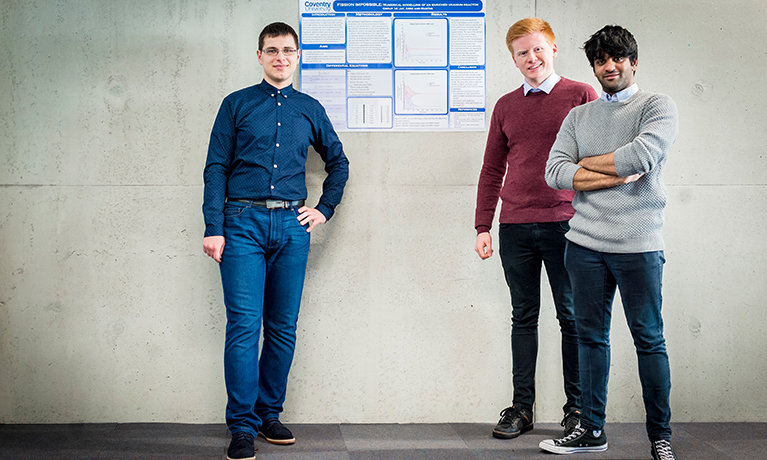 ---
Your first year lays the foundation for the more advanced study of mathematics, consolidating previous learning and exploring some of the advanced concepts in algebra, calculus, statistics, mathematical modelling, and numerical analysis. You should also develop associated academic and professional skills, including personal development planning.
Modules
Statistics - 20 credits

This module builds a foundation for the study of statistics. It provides a foundational study of probability, and then builds on this to develop the necessary theory, methods and concepts that are needed to study statistics at a higher level.

Algebra - 20 credits

This module provides core algebra for those undertaking degrees in the mathematics area. The aim of this module is to consolidate the different A levels and equivalent qualifications, and develop the material studied there to provide the underpinning for Year 2 modules.

Calculus - 20 credits

This module provides core calculus for those undertaking degrees in the mathematics area. The primary aim of this module is to consolidate the material covered in the different A levels and equivalent qualifications, explore some of the advanced concepts needed for an extensive study of mathematics required for study in Year 2.

Mathematical Modelling - 20 credits

The aims of this module are to introduce ideas of mathematical modelling.

Introduction to Real and Numerical Analysis - 20 credits

This module provides a foundation for the study of real and numerical analysis. The mathematical analysis part aims to provide you with a rigorous foundation in the analysis of sequences, series, and continuous functions. The numerical analysis part introduces a variety of numerical methods, most of which support the theoretical material by providing a numerical approach.

Professional and Academic Skills 1 - 10 credits

his module gives you the necessary skills to become a confident and independent learner and develop your professional competencies, including personal development planning, and mathematical programming.

Add+vantage – 10 credits

You will also be able to take an Add+vantage module which can allow you to develop your CV by taking credits in an area of study that doesn't have to be related to your degree. The assessment type will depend on the type of Add+vantage module you wish to take.

Assessment: Coursework and exam
In the second year you will develop the mathematics which you started to study in year one, concentrating on a core of theoretical and applicable mathematics from algebra and calculus, and at this stage you will have the option of retaining a strand of statistical study or of developing more advanced methods in calculus.
Modules
Further Algebra and Calculus - 20 credits

The primary aims of the module are to provide underpinning mathematical methods and an introduction to abstract algebra (including some number theory), providing a first serious exposure to axiomatically defined mathematical structures and showing how they can be applied to combinatorial problems.

Real and Complex Analysis - 20 credits

This module concentrates on two key areas of mathematics. The first part develops theory of real functions and formalises the mathematics underpinning it. The second part looks at calculus of complex functions.

Discrete Mathematics - 20 credits

This module intends to introduce basic facts on discrete Mathematics and Stochastic processes.

Differential Equations - 20 credits

The module provides concepts and methods of solution of systems ordinary differential equations, including linear and nonlinear systems, qualitative theory, phase space, phase portraits, trajectories, and an introduction to the bifurcation theory for parametrized equations.

Professional and Academic Skills 2 - 10 credits

This module provides the focus for you to continue developing your professional competencies including personal development planning and reflection, independent learning, report writing, and presentation skills.

Add+vantage – 10 credits

You will also be able to take an Add+vantage module which can allow you to develop your CV by taking credits in an area of study that doesn't have to be related to your degree. The assessment type will depend on the type of Add+vantage module you wish to take.

Assessment: Coursework and exam

Optional modules

1 from the following:

Variational Methods and Numerical Analysis – 20 credits
This module consists of study of the mathematical techniques of Variational Methods with the application to problems in physics. This involves situations where the maximum or minimum of a function are themselves a function and not a number.
Linear Statistical Models – 20 credits
This module will introduce two of the most used statistical techniques, multiple regression, and analysis of variance (ANOVA). The ideas of statistical inference and statistical modelling will be thoroughly explored and expanded. A statistical package will be used throughout.
Operational Research Techniques – 20 credits
Operational Research concerns the application of certain mathematical methods that are useful for solving a variety of decision-making problems. The techniques developed also aim to improve the efficiency of processes and management of complex systems.
Following successful completion of your second year, you will have an option to apply for a one-year professional work placement or study abroad in a partner institution.
The final year continues the above themes and provides a wider choice of options from modules such as quantum mechanics, cryptography, cosmology, and financial maths.
All students have the option to choose either a substantial project (on a mathematical topic with the support of an individual supervisor) or a taught module that involves project-based work.
Modules
Advanced Algebra and Analysis - 20 credits

This module provides an introduction of asymptotic methods and further development of analytical skills in finding approximate solutions to integrals and ordinary and partial differential equations using asymptotic methods.

Optimisation - 20 credits

This module discusses the mathematics behind optimisation problems with discrete and continuous variables and with as well as without constraints.

Project - 20 credits

This module forms a major individual study at the honours level. You will take the responsibility of managing such a study through all its stages. The project will develop the skills of enquiry, research and innovation and enhances the critical and communication skills of the student.

Advanced Linear Algebra and its Applications – 10 credits

The aim of this module is to develop your knowledge of further topics in linear algebra and their applications, and to develop independent learning, teamwork, and presentation skills.

Add+vantage – 10 credits

You will also be able to take an Add+vantage module which can allow you to develop your CV by taking credits in an area of study that doesn't have to be related to your degree. The assessment type will depend on the type of Add+vantage module you wish to take.

Assessment: Coursework and exam

Optional modules

1 from the following:

Advanced Partial Differential Equations – 20 credits
Partial differential equations (PDEs) are used to understand real world phenomena. This module looks at advanced ways of analysing nonlinear PDEs.
Financial Mathematics – 20 credits
The first aim of this module is to introduce you to the main instruments that are traded in the financial marketplace and to their practical uses for investment, hedging and speculation. The second and major aim is to equip you with an understanding of mathematical models and solution techniques that are currently used in the newly emerging field of financial engineering.
Fluid Dynamics – 20 credits
This is an introductory module to fluid dynamics. The module aims to build and develop the fundamentals for incompressible flows of fluids. The theory is applied to a range of problems including irrotational flow, viscous flow and boundary layers.

and one from the following:

Cryptography and Information Theory – 20 credits
This module provides you with a fundamental knowledge of contemporary mathematical communication theory, ranging from entropy as a measure of information, through robust methods of encoding data via error correcting codes, to means of making messages secure by encryption.
Cosmology – 20 credits
The purpose of this module is to introduce the physics of the universe at large (solar system and beyond) scales. The mathematical framework of tensor calculus will be used to provide a simple account of the relevant aspects of general relativity.
Advanced Topics in Statistics – 20 credits
This module introduces several important topics in the areas of advanced statistics, and where appropriate, relevant statistical software will be used.
We regularly review our course content, to make it relevant and current for the benefit of our students. For these reasons, course modules may be updated.
---
How you'll learn
Throughout the course, great emphasis is placed on practical skills development; some of your time being spent on computer laboratory sessions, which may involve the use of mathematical software to solve mathematical problems. We also run example classes covering things like going over solutions to exercises.
You will have opportunities to work with staff on real-world problems from industry, commerce, and research groups, as you would in professional practice. This provides opportunities to develop professional skills at the same time as you learn the technical content of your degree. In the past, projects have included asymptotic methods, chaotic systems, and mathematics education.
We will encourage you to attend employer presentations organised by the university and we also run our own sessions (subject to availability), which have previously covered government operational research and included some of our past students talking about their job roles and careers.
Actual teaching contact hours will vary depending on the level of study and the requirements of a particular semester. In a typical week your contact hours will be divided amongst personal tutorials and small group teaching; medium group teaching (for example seminars, tutorial sessions, lab sessions and workshops); and large group teaching (lectures).
In addition, you will be expected to undertake significant self-directed study each week depending on the demands of individual modules. The number of contact hours may vary from semester to semester, however, on average, it is likely to be around 18 contact hours per week in the first and second years, dropping by around 3 contact hours per week in the final year as you become a more independent learner.
---
Assessment
This course will be assessed using a variety of methods which could vary depending upon the module. Assessment methods may include formal examinations, coursework, including tests and group work and practical work, for example presentations.
The Coventry University Group assessment strategy ensures that our courses are fairly assessed and allows us to monitor student progression towards the achieving the intended learning outcomes.
---
Job ready
On successful completion, you will have knowledge of:
The logical construction of a mathematical argument.
The application of mathematics to construct models and their resolution, with an appreciation of the validity of the model and the use of approximation.
To use a range of analytic and descriptive techniques.
The strengths and weaknesses of selected mathematical software and a selected programming or scripting languages and their use to extend capabilities. A range of real-world applications of mathematics.
On successful completion, you will be able to:
Understand, reproduce, and generalise logical mathematical reasoning.
Organise and interpret information and results from mathematical models.
Analyse problems and construct an appropriate formulation and solution with relatively little guidance or support.
Use specialist modern information technology packages and a programming language confidently.
Use a wide range of information resources to acquire relevant information.
---
International experience opportunities
If you have a desire to gain international experience, there are opportunities to spend a year studying abroad. In the past, students have chosen to study mathematics in St Marcus University in California, University of Malta, Stockholm University in Sweden, also universities in the Netherlands, Germany, and Australia. Courses in all these Universities are delivered in English.
The opportunity for a sandwich placement means we will also support you in finding an internship anywhere in the world and in seeking financing for that experience. Past students have gone to work in countries such as Malaysia, Belgium, and Spain.
---
Typical offer for 2022 entry.
| Requirement | What we're looking for |
| --- | --- |
| A level | BBB to include Mathematics at grade B or above. Excludes General Studies. |
| GCSE | Minimum 5 GCSEs at grade 9-4 including English and Mathematics, or specified equivalents. |
| BTEC | Assessed on an individual basis. |
| International Baccalaureate Diploma Programme | 29 points to include 5 points in Mathematics at Higher level. |
We recognise a breadth of qualifications, speak to one of our advisers today to find out how we can help you.
Are you eligible for the Fair Access Scheme?
We believe every student should have the opportunity to dream big, reach their potential and succeed, regardless of their background.
Select your region to find detailed information about entry requirements:
You can view our full list of country specific entry requirements on our Entry requirements page.
Alternatively, visit our International hub for further advice and guidance on finding in-country agents and representatives, joining our in-country events and how to apply.
English language requirements
IELTS: 6.0 overall, with no component lower than 5.5.
If you don't meet the English language requirements, you can achieve the level you need by successfully completing a pre-sessional English programme before you start your course.
For more information on our approved English language tests visit our English language requirements page.
---
Fees and funding
2022/23 Tuition fees
| Student | Full time | Part time |
| --- | --- | --- |
| UK | £9,250 per year | Not available |
| International | £15,950 per year | Not available |
For advice and guidance on tuition fees and student loans visit our Undergraduate Finance page and see The University's Tuition Fee and Refund Terms and Conditions.
We offer a range of International scholarships to students all over the world. For more information, visit our International Scholarships page.
Tuition fees cover the cost of your teaching, assessments, facilities and support services. There may be additional costs not covered by this fee such as accommodation and living costs, recommended reading books, stationery, printing and re-assessments should you need them. Find out what's included in your tuition costs.
---
Facilities
The faculty of Engineering, Environment and Computing boasts modern, multifunctional teaching and research buildings that support hands-on learning. Laboratories and workshops are equipped to commercial and industrial standards and are available to students both in and out of class time (subject to availability).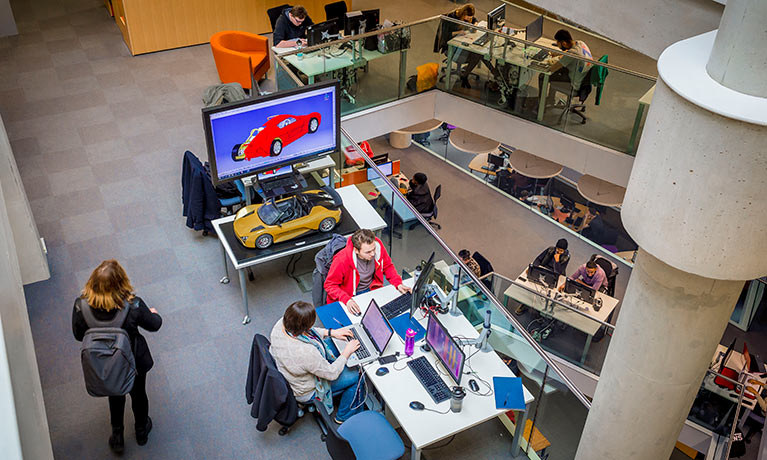 Informal study areas
You will have plenty of computer access to all the specialist software required for your studies. There are also bookable spaces where students can meet with academics or work in small groups.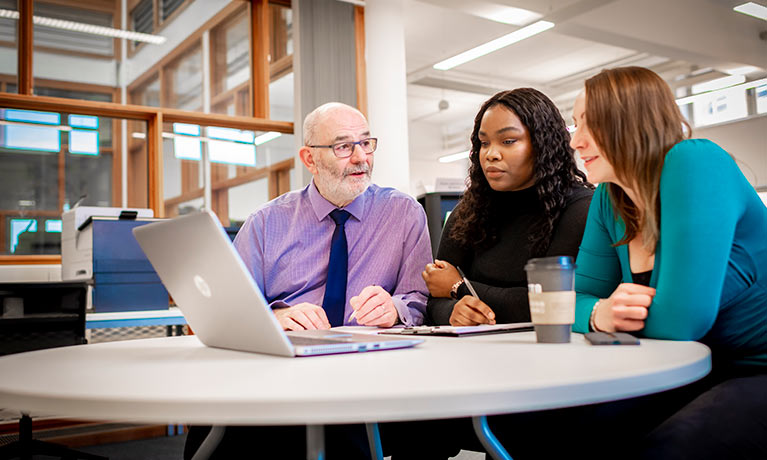 sigma Centre
The sigma Centre is an award-winning mathematics support centre, which provides a wide range of learning resources in mathematics and statistics. Students can make use of drop-in sessions or one-to-one appointments.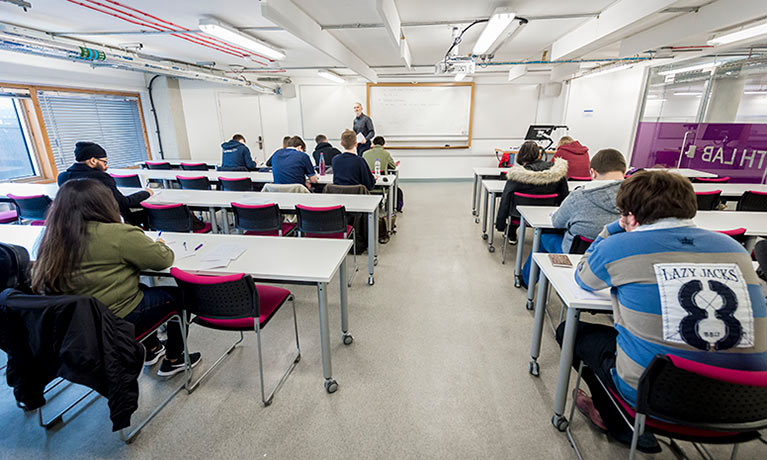 Mathematics laboratory
Set out like a traditional classroom with a large whiteboard, it is the only teaching room in the Engineering and Computing Building laid out in this way, designed to suit the teaching style required for this subject.
---
Careers and opportunities
Studying maths should develop skills in logical thinking and strategic knowledge, demonstrating to employers your advanced numerical and analytical ability, both of which are rare and in demand on the graduate job market.
A mathematics degree can open a wide range of career opportunities in industry, accountancy, banking, computer analysis, marketing, industrial design, management, and scientific research. You could be employed in a wide variety of roles, for example, as an actuarial analyst, actuary, forensic accountant, operational researcher, research scientist, teacher, statistician, or stockbroker.
For those who combined their studies with Initial Teacher Training, on successful completion of the course, students who wish to continue to become qualified teachers can seek employment with a secondary school and following a year of employment with the school could become eligible as a newly Qualified Teacher.
Where our graduates work
Previous students have worked as Financial Analyst at IBM, Gaming Financial Analyst for Warner Bros, Finance Assistant at Scottish Power, Business Performance Process Analyst at National Grid, Power analyst at E.ON, Customer Service Analyst for Cummins.
Recent graduates have embarked on Finance Graduate Schemes, as a customer services analyst, graduate actuary, information analyst and trainee accountant for companies like E-On, National Grid, Thames Water, NHS, Hodge Lifetime Solutions and Prime Accountants. Others have also used their qualifications to progress into teaching careers, as well as postgraduate study to obtain MSc, MPhil, and PhD qualifications.
---
How to apply
UK Students

Full-time students applying to start in September should apply for this course through UCAS. Part-time students should apply directly to the university. Read our application pages to find out your next steps to apply.

---

If you'd like further support or more information about your course get in touch with us today.

International Students

Full-time students applying to start in September should apply directly to the university. Read our application pages to find out your next steps to apply.

How to apply

For further support for international applicants applying for an undergraduate degree view our International hub.

You can also download our International Guide which contains lots of useful information about our courses, accommodation and tips for travel.

---

Get in touch with us today for further advice and guidance.
You may also like
Coventry University (Coventry)

Data Science MSci/BSc (Hons)
---
---
Disclaimer

Student Contract

By accepting your offer of a place and enrolling with us, a Student Contract will be formed between you and the university. A copy of the 2021/22 Contract can be found here. The Contract details your rights and the obligations you will be bound by during your time as a student and contains the obligations that the university will owe to you. You should read the Contract before you accept an offer of a place and before you enrol at the university.

Tuition fees

The tuition fee for the course that is stated on the course webpage and in the prospectus for the first year of study will apply. We will review our tuition fees each year. For UK and EU students, if Parliament permit an increase in tuition fees, we may increase fees for each subsequent year of study in line with any such changes. Note that any increase is expected to be in line with inflation. Following the UK's exit from the European Union, EU students should be aware that there may be a change to UK laws following the UK's exit, this may change their student status, their eligibility to study part time, and/or their eligibility for student finance. We will act in accordance with the UK's laws in force in relation to student tuition fees and finance from time to time.

For International students the tuition fee that is stated on the course webpage and in the prospectus for the first year of study will apply. We will review our tuition fees each year. For international students, we may increase fees for each subsequent year of study but such increases will be no more than 5% above inflation.

Accreditations

The majority of our courses have been formally recognised by professional bodies, which means the courses have been reviewed and tested to ensure they reach a set standard. In some instances, studying on an accredited course can give you additional benefits such as exemptions from professional exams (subject to availability, fees may apply). Accreditations, partnerships, exemptions and memberships shall be renewed in accordance with the relevant bodies' standard review process and subject to the university maintaining the same high standards of course delivery.

Facilities

Facilities mentioned on this page may not be relevant for every course. Due to the ongoing restrictions relating to COVID-19, some facilities (including some teaching and learning spaces) and some non-academic offerings (particularly in relation to international experiences), may vary from those advertised and may have reduced availability or restrictions on their use.

Placements and study abroad opportunities

Please note that we are unable to guarantee any placement or study abroad opportunities and that all such opportunities may be subject to additional costs (e.g. travel, visas and accommodation etc.), competitive application, availability and/or meeting any applicable visa requirements. To ensure that you fully understand the requirements in this regard, please contact the International Office for further details if you are an EU or International student.

Additional costs

This course may incur additional costs associated with any field trips, placements or work experience, study abroad opportunities or any other opportunity (whether required or optional), which could include (but is not limited to), equipment, materials, bench fees, studio or facilities hire, travel, accommodation and visas).