Course Code
UCAS Code: F800
International Code: EECU062
Location
Coventry University (Coventry)
Study mode
Full-time
Part-time
Sandwich
Duration
3 years full-time
4 years sandwich
Flexible part-time
Start date
September 2022
---
Course overview
Study level: Undergraduate
Covering physical landscapes, the natural environment and global change, our Geography BSc (Hons) course can show you how our world is changing.
This course focuses on the dynamics of physical landscapes and their links with people and places. We will cover the natural environment – landforms, glaciers, rivers and coasts, together with the atmosphere, hydrosphere, biosphere and geosphere.

Global Ready
An international outlook, with global opportunities

Teaching excellence
Taught by lecturers who are experts in their field

Employability
Career ready graduates, with the skills to succeed
Why you should study this course
Coventry University has taught geography for over 40 years.
Current research expertise in flood risk, storm water management, sea level change, quaternary environmental change, and ecological monitoring and management.
Excellent support for, and track record, in employability.
Opportunities to participate in challenging and exciting residential field trips each year, exploring the UK and overseas*.
Large range of optional modules allows you to tailor your degree to suit your interests with topics such as environmental change and management, hazards, biodiversity and conservation, planning and sustainability, Geographical Information Systems and remote sensing.
To augment field trip experiences, you will be taught in the Simulation Centre, which is among the most advanced interactive people training and development centres in the UK. Its cutting-edge technology which is unique in the UK, its Learning Curve interactive screen and real-life scenarios using specially-trained actors, can not only improve skills but help develop new ways of working in otherwise inaccessible environments.
100%
of Geography BSc (Hons) students agreed they were satisfied with the quality of the course
Discover Uni, 2021
Accredited by:

Royal Geographical Society (with IBG)
This course is accredited by Royal Geographical Society (with IBG) up to and including the September 2022 intake.
---
Memberships
Royal Geographical Society (with IBG)
You will be enrolled for student membership of the Royal Geographical Society (with IBG) for the duration of your course, which includes a subscription to Geographical Magazine and access to their facilities in London, a programme of talks, as well as information and advice on career planning. Staff and students have presented talks at the annual RGS conference. Students are active members of the RGS Ambassador scheme, which promotes the subject by giving talks at schools.
Watch the video below to get a taste of one of our field trip experiences.
---
What you'll study
Our geography degrees are designed to help develop your knowledge of the spatial organisation and evolution of the human and physical environment, within the broad field of geographical and geoscientific inquiry.
In all three years, you will be encouraged to develop your practical, analytical and problem-solving skills, with appropriate training in how to conduct robust independent research in the laboratory and in the field, as well as detailed critical analysis and methods of reporting.
The first year of the course encompasses the study of people and place, spatial patterns, globalisation, economic, development, political social and cultural geographies, as well as landscape, climate change, and meteorology. For example, we will examine how processes of globalisation have impacted people across the planet and in the UK.
You will also have opportunity to learn to apply qualitative and quantitative techniques and have certified training in Geographical Information Systems (GIS) software to map and visualise geographical issues.
Modules
Earth Surface Environments - 20 credits

This module introduces the varied environments on Earth's surface. The physical environment is considered, with an examination of different types of landscape and landform and the interrelated processes that have led to their formation.

Geosystems - 20 credits

This module provides an innovative and interdisciplinary study of Earth System Science by offering an introduction to the geological, geomorphological and climatic processes affecting the Earth over different time and spatial scales; both in the geological past and at the present time.

A Globalising World - 20 credits

This module aims to introduce you to the nature and spatial outcome of global processes in the human environment. Established and new theories of globalisation are explored. Theories of place, space and culture are considered.

People and Place - 20 credits

This module provides an introduction to selected key topics within contemporary Human Geography. This is achieved through providing you with a foundation in selected sub-disciplines within Human Geography including; cultural, social, economic, and development geography.

Fundamentals of Geographical Research - 30 credits

The aim of this module is to introduce you to and develop your research skills. It recognises the value of developing key research and practical skills that underpin geographical enquiry, including numerical and qualitative skills that are vital when it comes to conducting academic research, a knowledge of spatial principles and interpretation.

Add+vantage - 10 credits

You will also be able to take an Add+vantage module which can allow you to develop your CV by taking credits in an area of study that doesn't have to be related to your degree. The assessment type will depend on the type of Add+vantage module you wish to take.

Assessment: coursework, exam
In the second year of the course you will explore in more depth the physical geography themes studied in the first year, for example climate change, river and coastal processes and biodiversity and ecology. Skills in research, data collection and analysis will be taught in class and put into practice on an international field trip. You will also have the opportunity to select one specialised optional module to further your specific interests in GIS, hydrometeorological hazards or contemporary environmental issues.
Modules
Biogeography and Environmental Change - 20 credits

This module introduces the discipline of Biogeography, which relates to the study of factors governing the spatial distribution, both current and historical, of species, and of the ecosystems in which they occur.

Climate Change: The Science and Symptoms - 20 credits

Often described by politicians as the biggest threat to humanity, climate change is viewed by many as the most pressing issue facing the world today. This module aims to examine in detail the science of climate change so that the student can begin to formulate their own critical opinion of the subject.

Fieldwork and Research Applications - 30 credits

This aim of this module to further develop research methods and skills in geography specifically focusing on developing the skills and understanding necessary to undertake a final year research project. The module is designed to challenge you to think critically, independently and as part of a team.

Rivers and Coasts - 20 credits

This module aims to provide you with an understanding of the processes operating in both fluvial and coastal systems, and their management. The module examines the basic compartments of the hydrological cycle as well as a study of contemporary fluvial management issues.

Add+vantage - 10 credits

You will also be able to take an Add+vantage module which can allow you to develop your CV by taking credits in an area of study that doesn't have to be related to your degree. The assessment type will depend on the type of Add+vantage module you wish to take.

Assessment: coursework, exam

Applied GIS and Remote Sensing – 20 credits

This module is concerned with geo-referenced datasets of various types; their integration, analysis and presentation. The aim of this module is to convey understanding in the principles of geo-referenced data: the theory, acquisition, processing methods and presentation.

Contemporary Environmental Issues - 20 credits

This module aims to provide knowledge and understanding about a range of key contemporary environmental issues and an appreciation of the debates relating to those issues. The module explores four current issues with both global and local impacts.

Hydrometeorological Hazards – 20 credits

This module aims to examine the processes that are responsible for hydrometeorological hazards and their impacts on society. The detailed nature of the atmospheric, hydrological and physical processes associated with such hazards, the origin, triggering mechanism and distribution will be explored, along with an examination of their inter-relatedness, statistical frequency and probability.
Following your second year, you will have an option to apply for a one-year professional work placement or study abroad in a partner institution*.
If you wish to undertake the optional study abroad/placement year, you will take either the Placement Year module or the Study Abroad Year module which both typically run for a full academic year between levels 5 and 6 of your course. You are normally able to progress onto the relevant module if you have successfully completed the first two years of the course (i.e. having accumulated 240 credits) and have a confirmed opportunity two weeks prior to the start of the academic year, however we encourage international students to confirm their placements earlier to ensure they are able to meet any applicable visa requirements.
Students opting for either the work placement or study abroad module will be registered on a non-credit bearing module. While the modules do not bear credits, they do require completion of a marked activities reflecting on your placement/study abroad or work placement experience. Following successful completion of the activities, the module selected will appear on your final academic transcript. Students will thus graduate with 360 credits in total, assuming successful completion of their final year.
Modules
Professional Placement

Study Abroad
In your final year, we aim to deepen your understanding of environmental systems and problems, such as assessing environmental hazards in different climates, and applying this knowledge during an international field trip*. You will be able to select more specialised options, including past climate and environmental change, biodiversity and conservation, planning and sustainability, and develop further skills in GIS.
You will also be required to carry out an independent piece of research for your dissertation. For example, former students have investigated sea level change in Scotland, evaluated lake reconstructions from south-east Asia, developed ways of assessing the value of alternative water management techniques, calculated the carbon storage potential of green roofs and assessed the potential for improving landscape connectivity for endangered species.
Modules
Applied Geomorphology: Theory and Practice – 20 credits

This module is concerned with understanding how knowledge of physical geography is used to manage [sub-] surface geomorphological processes in urban and agrarian environments. It provides practical support for environmental and engineering decision-making, from project planning to site investigation and design.

Research Dissertation – 30 credits

The aim of this module is to enable you to develop your research skills by conducting primary or secondary research focused on a specific problem of relevance to your discipline. You will use different methods and research skills to effectively communicate research novelties and ideas to the academic and non-academic communities.

International Fieldwork for Physical Geography - 20 credits

This module aims to critically examine issues of topical concern in the physical geography of the overseas field location, while simultaneously extending your fieldwork skills and grasp of contemporary methodologies and techniques.

Add+vantage - 10 credits

You will also be able to take an Add+vantage module which can allow you to develop your CV by taking credits in an area of study that doesn't have to be related to your degree. The assessment type will depend on the type of Add+vantage module you wish to take.

Assessment: coursework, exam

Biodiversity and Conservation – 20 credits

This module aims to cover the key elements of conservation theory, highlighting some of the factors resulting in habitat and species loss and outlining different conservation approaches which are effective at these levels. This is complemented by case study material, which provides an insight into the practical application of conservation theory by drawing on examples of conservation programmes and projects from both the UK and overseas.

Geo Informatics – 20 credits

Geoinformation is an all-encompassing term for data that can be visualised and analysed using Geographic Information Systems (GIS) and Remote Sensing. All manner of data can be utilised with GIS and Remote Sensing, from techniques able to simply visualise the Earth's surface to more advanced methods capable of mapping and analysing a large range of spatial data sources.

Quaternary Climate and Environmental Change – 20 credits

The underlying theme of this module will be to develop a keen awareness of how to scrutinise current predictions of future climate change, and how responses to predicted change are informed by an understanding of the past. It explores the various forms of evidence that can be used to establish the history and scale of environmental change during the Quaternary, both remotely and in the field.

Shaping Places: Planning, Sustainable, Environment – 20 credits

The aim of the module is to explore planning and sustainability in relation to the built and natural environment. Using a range of historical and contemporary case studies in the UK and Global contexts, the module will examine debates around urban development, key concepts relating to urban design and issues pertaining to sustainability and the environment.
We regularly review our course content, to make it relevant and current for the benefit of our students. For these reasons, course modules may be updated.
---
How you'll learn
Actual teaching contact hours will vary depending on the level of study and the requirements of a particular semester. In a typical week your contact hours will be divided amongst:
Personal tutorials and small group teaching.
Medium group teaching (e.g. seminars, tutorial sessions, lab sessions and workshops).
Large group teaching (lectures).
In addition, you will be expected to undertake significant self-directed study each week depending on the demands of individual modules. The number of contact hours may vary from semester to semester, however, on average, it is likely to be around 12-14 contact hours per week.
---
Assessment
This course will be assessed using a variety of methods which will could vary depending upon the module. Assessment methods include coursework reports, essays, practicals, presentations, posters, formal examinations and project work.
The Coventry University assessment strategy endeavours to ensure that our courses are fairly assessed and allows us to monitor student progression towards the achieving the intended learning outcomes.
---
Job ready
On successful completion, you will have knowledge of:
The nature, practical value and application of geography and the earth sciences and their concepts, methods and techniques.
The constitution and character of space, place and landscape.
Concepts of spatial and temporal scale, variation and change in the human and physical worlds.
Reciprocal relationships between physical and human aspects of environments and landscapes.
Patterns, processes and consequences of uneven development, difference and inequality.
Nature, mitigation and management of contemporary environmental problems and hazards.
On successful completion, you will be able to:
Plan, design and execute a piece of rigorous research or enquiry using appropriate methods and strategies of acquiring, interpreting and analysing information.
Conduct field and laboratory work together with data collection and associated investigative and analytical skills.
Recognise the moral and ethical issues involved in debates and inquiries.
Show awareness of how skills and training can be applied to work of a geographical nature.
Observe, contextualise and analyse information through field and laboratory studies.
Demonstrate a range of transferable professional skills including: intellectual and problem-solving skills; effective team work; initiative and responsibility your own learning and development; self-reflection; time management and personal organisation, including working to deadlines; excellent communication skills, both orally and in writing.
---
International experience opportunities
Geography is a global subject and international themes are core to our teaching. As such, much of our teaching relies on using case studies from overseas and your lecturers will draw on case studies related to their research from around the world. For example, previous cohorts have considered ecological monitoring and management in southern Africa and in the case of South America looked at the impacts of dams on natural river flows, biodiversity, infrastructure management and flood risk.
There are exciting international field trips* in your second and final year. You will have the opportunity to gain field skills to better understand biogeography and ecology, and different natural hazards. Final year students will also be provided with the opportunity to travel abroad to investigate topics such as flooding, ecological succession, habitat management, evidence of land movement over time, and environmental reconstruction from sediments.
---
Typical offer for 2022 entry.
| Requirement | What we're looking for |
| --- | --- |
| A level | BBC |
| GCSE | Minimum 5 GCSE's graded 9-4 / A* - C including English and Mathematics |
| BTEC | DMM |
| IB Diploma | 29 points |
We recognise a breadth of qualifications, speak to one of our advisers today to find out how we can help you.
Are you eligible for the Fair Access Scheme?
We believe every student should have the opportunity to dream big, reach their potential and succeed, regardless of their background.
Typical offer for 2022 entry
Select your region to find detailed information about entry requirements:
You can view our full list of country specific entry requirements on our Entry requirements page.
Alternatively, visit our International hub for further advice and guidance on finding in-country agents and representatives, joining our in-country events and how to apply.
English language requirements
If you don't meet the English language requirements, you can achieve the level you need by successfully completing a pre-sessional English programme before you start your course.
For more information on our approved English language tests visit our English language requirements page.
---
Fees and funding
2022/23 Tuition fees
| Student | Full time | Part time |
| --- | --- | --- |
| UK | £9,250 per year | Not available |
| International | £15,950 per year | Not available |
For advice and guidance on tuition fees and student loans visit our Undergraduate Finance page and see The University's Tuition Fee and Refund Terms and Conditions.
We offer a range of International scholarships to students all over the world. For more information, visit our International Scholarships page.
Tuition fees cover the cost of your teaching, assessments, facilities and support services. There may be additional costs not covered by this fee such as accommodation and living costs, recommended reading books, stationery, printing and re-assessments should you need them. Find out what's included in your tuition costs.
---
Facilities
The faculty's £50m Engineering and Computing Building and new £25m Beatrice Shilling Building are designed to support hands-on learning. Our Sir John Laing Building also houses a variety of industry-standard labs and equipment.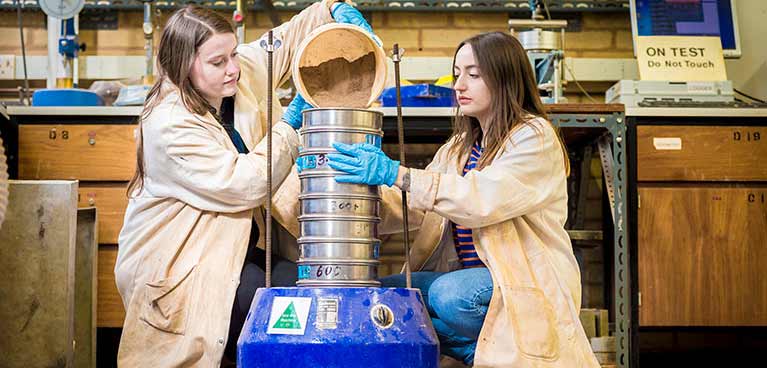 Geotechnics Laboratory
This specialist lab contains triaxial cells, direct shear box apparatus, a dimensional compression oedometer, California Bearing Ratio apparatus, soil classification equipment and Marshall test apparatus for asphalt mixes.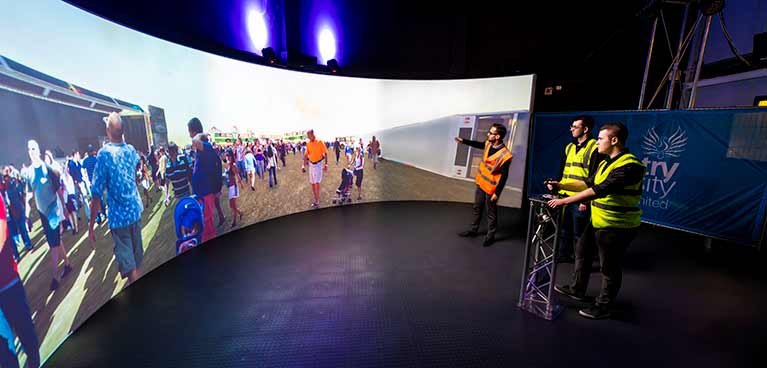 Simulation Centre
Our Simulation Centre uses an interactive screen and real-life scenarios to create a 'virtual' training environment. Role-play exercises are part of the course to help prepare you for situations in the workplace.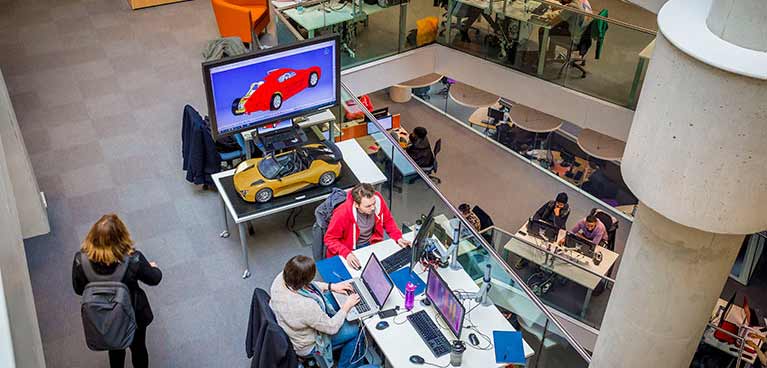 Informal Study Areas
You will have access to a range of informal study areas. These include hot-desk computers, with access to specialist software you may need for studying, and bookable spaces where you can meet with academics or work in small groups.
---
Careers and opportunities
Successful geography graduates should possess a number of skills that are highly valued by employers. They should be literate and numerate, experienced in solving complex problems and developing solutions for multiple stakeholders through the collection and analysis of information. As such, excellent employment prospects should be available to graduates.
Coventry University is committed to preparing you for your future career and giving you a competitive edge in the graduate job market. The university's Talent Team provide a wide range of support services to help you plan and prepare for your career.
Where our graduates work
Recent graduates are working for the Environment Agency, environmental departments of local authorities, environmental consultancies, such as Halcrow Group Ltd and Middlemarch Environmental, the Met Office, the Metropolitan Police, various research institutes and utility companies, such as Severn Trent Water. Others have gone on to pursue postgraduate study, teacher training and other professional qualifications.
---
How to apply
UK Students

Full-time students applying to start in September should apply for this course through UCAS. Part-time students should apply directly to the university. Read our application pages to find out your next steps to apply.

---

If you'd like further support or more information about your course get in touch with us today.

International Students

Full-time students applying to start in September should apply directly to the university. Read our application pages to find out your next steps to apply.

How to apply

For further support for international applicants applying for an undergraduate degree view our International hub.

You can also download our International Guide which contains lots of useful information about our courses, accommodation and tips for travel.

---

Get in touch with us today for further advice and guidance.
You may also like
Coventry University (Coventry)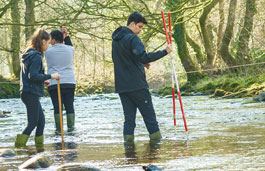 Coventry University (Coventry)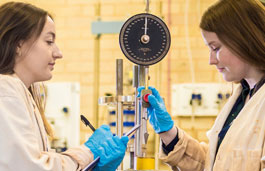 Geography and Natural Hazards BSc (Hons)
Coventry University (Coventry)
Disaster and Emergency Management BSc (Hons)
---
---
Disclaimer

Student Contract

By accepting your offer of a place and enrolling with us, a Student Contract will be formed between you and the university. A copy of the 2021/22 Contract can be found here. The Contract details your rights and the obligations you will be bound by during your time as a student and contains the obligations that the university will owe to you. You should read the Contract before you accept an offer of a place and before you enrol at the university.

Tuition fees

The tuition fee for the course that is stated on the course webpage and in the prospectus for the first year of study will apply. We will review our tuition fees each year. For UK and EU students, if Parliament permit an increase in tuition fees, we may increase fees for each subsequent year of study in line with any such changes. Note that any increase is expected to be in line with inflation. Following the UK's exit from the European Union, EU students should be aware that there may be a change to UK laws following the UK's exit, this may change their student status, their eligibility to study part time, and/or their eligibility for student finance. We will act in accordance with the UK's laws in force in relation to student tuition fees and finance from time to time.

For International students the tuition fee that is stated on the course webpage and in the prospectus for the first year of study will apply. We will review our tuition fees each year. For international students, we may increase fees for each subsequent year of study but such increases will be no more than 5% above inflation.

Accreditations

The majority of our courses have been formally recognised by professional bodies, which means the courses have been reviewed and tested to ensure they reach a set standard. In some instances, studying on an accredited course can give you additional benefits such as exemptions from professional exams (subject to availability, fees may apply). Accreditations, partnerships, exemptions and memberships shall be renewed in accordance with the relevant bodies' standard review process and subject to the university maintaining the same high standards of course delivery.

Facilities

Facilities mentioned on this page may not be relevant for every course. Due to the ongoing restrictions relating to COVID-19, some facilities (including some teaching and learning spaces) and some non-academic offerings (particularly in relation to international experiences), may vary from those advertised and may have reduced availability or restrictions on their use.

Placements and study abroad opportunities

Please note that we are unable to guarantee any placement or study abroad opportunities and that all such opportunities may be subject to additional costs (e.g. travel, visas and accommodation etc.), competitive application, availability and/or meeting any applicable visa requirements. To ensure that you fully understand the requirements in this regard, please contact the International Office for further details if you are an EU or International student.

Additional costs

This course may incur additional costs associated with any field trips, placements or work experience, study abroad opportunities or any other opportunity (whether required or optional), which could include (but is not limited to), equipment, materials, bench fees, studio or facilities hire, travel, accommodation and visas).