Course code:
Study options:
3 years full-time
4 years sandwich
Location:
Starting:
September 2019
January 2020
Fees:
Faculty:
---
Get in touch
For questions regarding study and admissions please contact us:
From digital marketing and social media, to traditional print, studying for a Business and Marketing BA can lead to an exciting career.
Within our fiercely competitive and global economy, marketing is now central to commercial success. Businesses and organisations across every sector – private, public and non-profit – need to determine and differentiate their brand, communicating effectively who they are and what they do to past, present and potential customers.
This professionally accredited course is designed to help you the confidence and business acumen necessary to develop, position and build businesses in the most strategically effective way. We aim to provide a solid understanding of business analysis, planning, and management, alongside specialist marketing skills, such as understanding customer behaviour, developing creative solutions and how to promote competitive advantage.
Our status as a Chartered Institute of Marketing (CIM) accredited Study Centre means this degree provides exemption from the CIM Certificate in Professional Marketing, as well as the first module of the CIM Diploma in Professional Marketing via the Graduate Gateway scheme.
Why Coventry University?
An award-winning university, we are committed to providing our students with the best possible experience. We continue to invest in both our facilities and our innovative approach to education. Our students benefit from industry-relevant teaching, and resources and support designed to help them succeed. These range from our modern library and computing facilities to dedicated careers advice and our impressive Students' Union activities.
Global ready
An international outlook, with global opportunities
Employability
Career-ready graduates, with the skills to succeed
Teaching Excellence
Taught by lecturers who are experts in their field
Course essentials
A degree which offers you more, at no extra cost
Accreditations and Professional Recognition
This course is accredited and recognised by the following bodies:
Chartered Institute of Marketing (CIM)
European Foundation for Management Development (EFMD)
Chartered Association of Business Schools (CABS)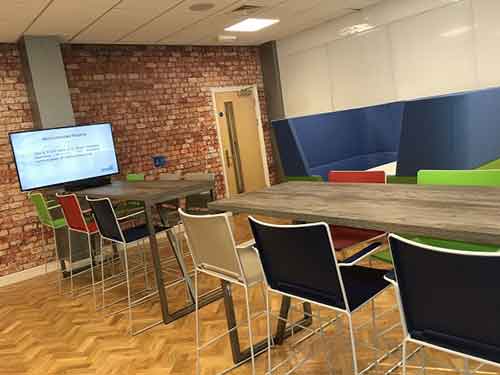 Designed to build creative minds, the DigiComm Lab is equipped with the latest industry-standard marketing and advertising software and devices to support your creative development.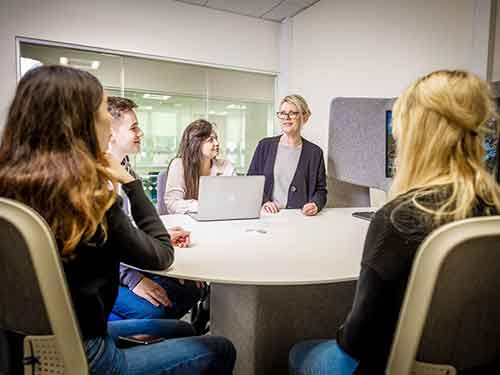 Coventry Business School's Business Simulation Suite utilises the latest business simulation software to give students the opportunity to improve their business skills.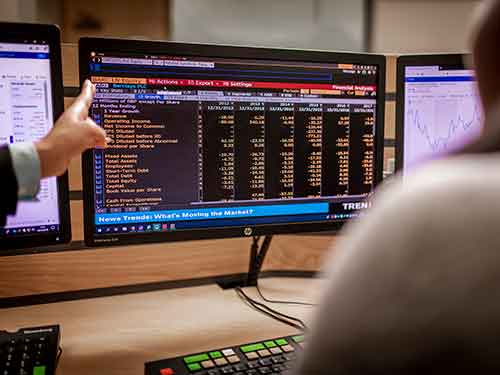 Students have opportunities to practice simulated trading and other finance-related activities using the various types of demo software available in the Trading Floor.
The study of marketing is grounded in understanding customer needs, the environment that a company is operating within, the competitors and their offerings and then developing the most appropriate marketing mix to satisfy customer needs profitably. By integrating the two disciplines of business and marketing, we aim to provide a solid foundation of business knowledge with a clear marketing focus.
There will be opportunities to develop your expertise in key areas that underpin business and marketing, such as consumer behaviour, financial management for business, digital business and responsible business strategy. As the course develops, you will be able to tailor your studies by choosing from the optional modules available which may suit your interests or career aspirations.
One of the major attractions of studying business and marketing is the broad range of practical and transferrable skills you can develop – creative, analytical, interpersonal and communications. For example, the 'Marketing Management' module will give hands-on experience of developing marketing plans and strategy, whilst the 'Digital Business' module focuses on responsible decision making and the range of tools and techniques that are used to support this.
Modules
Overview
All our Marketing degrees share a common first semester designed to develop your understanding of business in general and the holistic nature of marketing. We focus on developing your knowledge of the underpinning core principles of business, marketing and advertising, introducing you to market research, marketing planning and communications, enabling you to become more strategic and specialised in subsequent years.
Modules
Marketing Research and Data Analysis

Marketing Principles and Practice

Employment and academic skills

Introduction to Integrated Marketing Communications

Organising For Business

Financial Management for Business
Add+vantage
The focus on preparing students for successful futures sets Coventry apart as a university.
The Add+vantage modules teach a range of work experience and extra-curricular activities that are taken each year, and broaden students knowledge and skills within a work focused environment. There is a very wide range of Add+vantage free-choice subject areas, and they are arranged in themes.
Overview
In your second year, you will have the opportunity to further develop your career pathway in business and marketing, having the opportunity to develop expertise in a variety of marketing subject areas.
Modules
Marketing Management

Consumer Behaviour

Career Preparation

Marketing Insight

Digital Business

Management and Leadership in Marketing
Add+vantage
The focus on preparing students for successful futures sets Coventry apart as a university.
The Add+vantage modules teach a range of work experience and extra-curricular activities that are taken each year, and broaden students knowledge and skills within a work focused environment. There is a very wide range of Add+vantage free-choice subject areas, and they are arranged in themes.
Overview
After your second year, you have an opportunity to take a sandwich year, studying abroad or go on professional placement.
Overview
The culmination of your studies will be the completion of an independent research project (dissertation) in a specialist area. There will be support on a 1:1 basis by an academic supervisor with expertise in your topic area; past topics covered have included branding, organisational behaviour, HR management, advertising and entrepreneurship, as examples.
Modules
Contemporary Marketing Issues

Marketing Strategy

Career Development

Responsible Business Strategy

Advanced Marketing Study (Dissertation) or Advanced Marketing Study (Portfolio)

Global Marketing
Innovation and Change
Enterprise and Entrepreneurship
Add+vantage
The focus on preparing students for successful futures sets Coventry apart as a university.
The Add+vantage modules teach a range of work experience and extra-curricular activities that are taken each year, and broaden students knowledge and skills within a work focused environment. There is a very wide range of Add+vantage free-choice subject areas, and they are arranged in themes.
We regularly review our course content, to make it relevant and current for the benefit of our students. For these reasons, course modules may be updated.
15th
We are ranked as the 15th best University in the United Kingdom
Guardian University Guide 2020
Operating in a rapidly changing and increasingly complex global environment, businesses are a fundamental part of modern society, supplying the products and services we need. Graduates who not only understand the operations of modern business, but can also spot and capitalise on market opportunities are therefore in high demand.
Our course allows you to study a broad range of business subjects together with more focused marketing-specific topics. We will explore consumer behaviour and analysis, and learn how this insight and more can be used to inform the planning and implementation of marketing programmes. We cover the full marketing mix – from digital marketing and social media to traditional print – and consider brand and corporate communications.
The business modules aim to expand your skills and knowledge of the development and operation of business markets, entrepreneurship and the management of key resources, including human capital, financial management, strategic management, corporate social responsibility and organisational change.
As an accredited Chartered Institute of Marketing (CIM) Centre, you gain key exemptions for professional qualifications with the CIM and have the option to complete the CIM Professional Diploma in Marketing in the six to nine months following the completion of your degree.
As experienced practitioners, our staff have spent time in industry prior to joining academia, in roles such as marketing executives, managers and directors of private and public sector organisations. They aim to bring knowledge of all the latest marketing tools and techniques – like Google Analytics and the online content creation tools currently proving popular in digital marketing. Some are recognised both nationally and internationally in their respective fields of specialism, publishing their research in the highest quality academic journals, including Journal of Marketing Management, Journal of Business Research, Psychology and Marketing and Journal of Consumer Behaviour to name but a few.
Combining theory and practice, this course benefits from a focus on practical marketing skills. There will be group projects to develop advertising campaigns and hone your analytical skills using simulation games, such as the Cesim SIMBrand marketing management game designed to develop your understanding and command of the marketing planning process.
To monitor emerging sector trends and challenges, there is a high degree of practitioner input. Guest speakers from industry are invited to give talks about their experiences, which in recent years, has included speakers from McCann Erickson, ITV Studios, Millward Brown, Marstons and the Mixed Reality Studio among others.
Opportunity to spend a year on a business placement in the UK or overseas. Previous examples have included IBM, Microsoft, Hewlett Packard, Procter and Gamble, L'Oreal, Warner Brothers, 3M, BMW, Disney, Rolls Royce and Peugeot.
Industry field trips, for example, to Jaguar Land Rover and the Cadbury World exhibition tour (included a talk from the Marketing team at Cadbury's), as well as professional exhibitions like the Digital Marketing Show.
Use of a digital communications lab – the DigiComm Lab. This is equipped with industry-standard software, including Adobe Comp, Adobe Slate, Adobe Voice, Behance, WordPress and social media platforms.
The CIM Graduate Gateway award offers direct entry to top-up to CIM's Professional Diploma in Marketing (one module exemption) immediately after your degree or in the three to five years following.
Research-inspired teaching from staff that are active in the areas of branding and guest speakers such as Brandz Global Director and esteemed visiting professors.
Chance to spend a year studying abroad – past students have studied in China and Belgium
Excellent track record for graduate employability – 92% of students in work or continuing their studies after six months (DLHE 2014/15), an average of 82% of those employed in a professional level role.
Your main study themes are:
Business: We will cover a wide range of topics from business management to entrepreneurship, HRM, supply chain and managing organisational change.
Marketing: We will study concepts such as consumer behaviour, marketing research and strategy, as well as specialist options like digital marketing, global marketing and services and retail marketing.
Communications: You will be able to choose options such as brand and corporate communications, which will teach you how to determine and analyse business problems and devise actions for success.
Research: You will be expected to learn how to conduct both primary and secondary research and put your skills into practice by undertaking an independent and in-depth study of a marketing or business topic of your choice. This will form the basis of your final-year dissertation.
This course is available on a three-year full-time basis or a four-year sandwich basis, where between Years Two and Three there is one year of work experience or study abroad at a partner Institution.
Theory and practice-based lectures and seminars will develop your knowledge of a range of marketing topics, supported by a suite of industry-based software and hardware. Learning and teaching incorporates lectures, seminars, tutorials, presentations, projects, workshops, simulation games and practical DigiComm Lab sessions, where you can use web design software, practice web platforms and blogging techniques to develop your skills in manipulating new media for marketing and advertising applications.
We organise guest lectures by marketing professionals from industry and academia and a dedicated employment week, which involves sessions in marketing and careers to help advance students' preparations and prospects for employment. Marketing topics covered by recent guest speakers have included McCann Erickson's PR Account Director on a day in the life of an advertising agency and ITV Global studios' Marketing Director on working in TV and working towards your dream job.
There are a range of field trips both nationally and internationally. For example, in the past, we have visited China, Malaysia and Dubai. These visits not only help you to bond with your fellow students, but also provide exposure to industry on a global scale and develop your intercultural competencies.
The Faculty's Business Future team can assist you in finding a suitable placement, which will enable you to put your studies into practice, gaining valuable experience of the world of work on a much more significant scale than vacation or part‐time work. Past students have worked for the likes of IBM, L'Oreal, Rolls Royce and Warner Brothers. In addition, your academic personal tutor (APT) will review and discuss your progress with you and will be available for advice throughout your time on the course
This course will be assessed using a variety of methods which will could vary depending upon the module. Assessment methods include formal examinations, coursework, written reports, presentations and workplace simulations.
The Coventry University Group assessment strategy ensures that our courses are fairly assessed and allows us to monitor student progression towards the achieving the intended learning outcomes. Assessments may include exams, individual assignments or group work elements.
On completion, you should have knowledge of:
The essential principles and practice of marketing and advertising.
How an organisation interacts with its external environment, its customers and stakeholders.
The holistic nature of a business organisation and the financial management of organisations.
Key business management functions and the strategic management of business in different forms and contexts.

On completion, you should be able to:
Apply appropriate business concepts, models or techniques to analyse marketing problems.
Source, analyse and apply appropriate marketing information to support decision making.
Present ideas and findings and communicate effectively to an audience in written, verbal or electronic format, using appropriate business media and IT applications.
Identify and analyse relevant sources of marketing information and research techniques across different contexts and cultures.
Appreciate current contemporary issues including sustainability, ethics and CSR in marketing and digital marketing.
Effectively use specialist tools in digital and social media marketing using appropriate software.
Apply appropriate techniques to solve a range of different business management problems, including those of a financial nature.
In a typical week you will have up to 14 contact hours of teaching and this will break down as:
Personal tutorial/small group teaching: 2 hours of tutorials each week
Medium group teaching: 8 hours of practical classes, workshops or seminars each week
Large group teaching: 4 hours of lectures each week
Additionally, you will be expected to complete between 22–24 hours each week reading, studying and revising in your own time.
You will have the opportunity to gain an international experience in many ways. Coventry is a multicultural university, so our diverse student and staff body helps to facilitate a multicultural learning environment. However, the fundamental nature of this course is also international in its outlook, drawing on marketing and business best practice from around the world.
We have long-running partnerships with KH Leuven in Belgium, School for Higher and Professional Education (SHAPE) in Hong Kong and PSB Academy in Singapore. We run a number of collaborative Online International Learning (OIL) projects on the course, which enables you to work with students across the world on a live project tackling a specific marketing challenge in global virtual and multicultural teams. In the past, students have worked with peers in the USA, South America, India and many European countries undertaking business challenges as part of the international X-Culture competition.
Throughout the course there will be opportunities to visit relevant companies to gain a real life experience of marketing, both at home and abroad. Previous cohorts of students have visited Leuven in Belgium, Dubai and Malaysia to experience other cultures and take part in marketing activities in international teams.
Global ready
Did you know we help more students travel internationally than any other UK university according to data from the experts in higher education data and analysis, HESA?
In 2016/17, we were able to provide a total of 3,482 experiences abroad that lasted at least five days.

Much of this travel is made possible through our Global Leaders Programme, which enables students to prepare for the challenges of the global employment market, as well as strengthening and developing their broader personal and professional skills.
Explore our international experiences
1st for
international experiences
Sending more students overseas than any other UK uni (HESA 2016/17)
3,482
Student experiences
The number of student trips abroad for at least 5 days in 2016/17
21,000
and counting
The number of students we've helped travel internationally so far
12
global programmes
As well as trips, we offer other opportunities like language courses
Entry Requirements
University Course Code: FBLU009
A Level
BTEC
IB Diploma
GCSE requirement
ABB-BBB

DDM
31-30 points

Minimum 5 GCSEs at A*-C including English, Maths, or specified equivalents
A-Levels
A-Level applicants are required to have three
 A2 Levels. Coventry University may include AS grades within an offer for certain courses, but we are not able to accept two AS Levels in place of one A2 Level. In some courses it may be necessary for entrants to have passed specific A2 Levels in nominated subjects. Please see the course pages for more information.
Access Diplomas
The Access Diploma to include 30 Level 3 credits at Merit, plus GCSE English Language at grade C, or specified equivalents.
Coventry University welcomes applicants who have completed, or who are studying, the Access to HE Diploma developed by the Quality Assurance Agency for Higher Education (QAA). Successful completion of the course will require you to gain 60 credits with at least 45 to be achieved at Level 3 (with the remainder at Level 2). In some cases we will require you to have gained Merit or Distinction grades in a number of units or in nominated subjects. For more information on the entry requirements for your chosen course please see the relevant course pages.
BTEC Level 3 Diplomas
The University will accept the BTEC Level 3 Extended Diploma for entry to most courses. In some cases we will require applicants to have studied either certain named modules or a specific named Diploma. The appropriate course page will have full information on the entry requirements. The University also accepts the BTEC Level 3 Subsidiary Diploma and BTEC Level 3 Diploma for entry to degree programmes, provided that they are studied in combination with other qualifications that provide a total volume of study that is equivalent to three A2 Levels. For example, you could be studying a BTEC Level 3 Diploma plus an A2 Level, or a BTEC Level 3 Subsidiary Diploma plus two A2 Levels. Where a specific A2 or BTEC subject is required for entry then you must be offering this as part of your combination of qualifications.
Please visit our page on European entry requirements for more information about specific country information.
Our International Student Hub offers information on entry requirements for your country, as well as contact details for agents and representatives should you need more advice.
More detail
Select your region to find detailed information about entry requirements:
Our International Student Hub offers information on entry requirements for your country, as well as contact details for agents and representatives should you need more advice.
More detail
Unconditional offers
We want to recruit the best students to Coventry and having assessed applicants' past, current and predicted performance and commitment to the course we feel that it is appropriate to reward consistently high-achieving students with an unconditional offer from Coventry University. It is a commitment from us with regard to an applicants' potential as an excellent undergraduate and we hope that this will encourage such applicants to join the Coventry community. Personal statements and references will also be taken into account and, for some degree courses, an interview will form part of the assessment. The criteria for unconditional offers will vary across the University as entry requirements for specific courses differ and not all degree courses will be taking part in the Scheme.
We will consider other qualifications for a pre-result unconditional offer providing that you have an appropriate proven performance at GCSE (or equivalent) level and predicted grades in line with grades that we expect to see at A-level. Other qualifications that we may consider for a pre-result unconditional offer include: The International Baccalaureate Diploma, BTEC Level 3 qualifications, Cambridge Pre-U and combinations of qualifications (e.g. BTECS plus A-levels).
An unconditional offer is what it says it is. So, if you don't meet your predictions then your place at Coventry is still guaranteed. However, we would hope and expect that you continue to work hard to make the most of your potential and be best prepared to study at university level.
We can't but our experience over the years has shown us that students with a track record of high grades and excellent predictions are very likely to achieve those grades. Our assessment takes into account all elements of your application to allow us to take a holistic view of your potential. There is also the opportunity to apply to one of the Coventry University Scholarships if you achieve the required grades so there is a financial incentive to aim high. Unconditional offers are only made to individuals who have demonstrated their commitment so we believe their focus and determination is unlikely to waver in the final stages of their qualifications.
No, the unconditional offer is only available to those who will take up their place in 2019.
Tuition Fees
We pride ourselves on offering competitive tuition fees which we review on an annual basis and offer a wide range of scholarships to support students with their studies. Course fees are calculated on the basis of what it costs to teach each course and we aim for total financial transparency.

For more information, please visit our Finance pages.
UK Scholarships
If you're a truly outstanding undergraduate candidate we may be able to offer you a Coventry University Scholarship.

Coventry University Scholarships are awarded to recognise truly exceptional sports achievement and academic excellence.
EU Scholarships
For the September 2019 intake we're investing in a range of EU Academic Excellence scholarships for high achieving and enterprising students. Fulfil your potential this academic year with Coventry University!
International Scholarships
For the September 2019 intake we're investing in a wide range of Academic Excellence scholarships for high achieving and enterprising international students. Fulfil your potential this academic year with Coventry University!
Course essentials at no extra cost
We're committed to communicating study costs clearly to make sure you're not faced with having to make any unexpected payments.
This is why our 'Flying Start' package provides you with a few course essentials. Your full-time fee for an undergraduate degree will cover the following:
UK field trips
Any mandatory site visits and trips within the United Kingdom.
Key material
This can include core textbooks, software and equipment.
Laser prints
1,000 A4 sides of black and white laser printing credits per year.
Optional year
Pay no tuition fees for optional work placements or study abroad trips.
Additional costs not included in the fees
Any optional overseas field trips or visits: £400+ per trip
CIM Professional Diploma in Marketing
EU student fees
EU nationals and their family members starting in the 2019/20 academic year remain eligible for the same fees as home students and the same financial support. Financial support comes from Student Finance England, and covers undergraduate and postgraduate study for the duration of their course, providing they meet the residency requirement.
For tuition fee loans
EU nationals must have resided in the European Economic Area (EEA) or Switzerland for the three years prior to the start of their course. The purpose of that three year residency should not have been mainly for the purpose of receiving full time education.
For maintenance loans
EU nationals must have resided in the UK and Islands for the five years prior to the start of their course. The purpose of that five year residency should not have been mainly for the purpose of receiving full time education.
Career prospects
A business and marketing degree provides you with a critical and reflective understanding of marketing and its relationship with the wider international business environment. It could lead to specialist careers in advertising, digital marketing and project coordination, as well as more general roles in business analysis, project management or sales management.
Our course is accredited by the CIM for the Graduate Gateway. This means that in the final year of your degree you can also work towards achieving the CIM Professional Diploma in Marketing so can graduate with two qualifications, significantly enhancing your career prospects.
Designed to prepare you for work, the course offers lots of opportunities to participate in live cases with clients, work experience (short and long-term as part of a sandwich year) and paid internships. We have strong partnerships with a number of employers, including Coventry Council, Jaguar Land Rover, Millward Brown and the Chartered Institute of Marketing.
Field trips are embedded into each year of study, some industry-focused to provide first-hand experiences of marketing in action, others designed to build your professional or interpersonal skills, for example, to encourage team bonding initially and then develop team working skills.
In addition, careers-based modules in digital marketing, brand communications, services marketing and creative advertising and a range of other areas are embedded into the course to help build transferrable skills which will enhance your employability.
You will have the support of dedicated Personal Employment Tutors, who are industry trained, and our well-established Employment Unit with an extensive network of employers with a wide range of internship possibilities. The employment unit also supports you with workshops and guidance on the various aspects of the employment process such as preparing your CV, interview practice and mock assessment centres. In the final year, we also host an Employment Dinner inviting a range of guest speakers from industry and professional bodies.
Coventry University is committed to preparing you for your future career and giving you a competitive edge in the graduate job market. The University's Careers and Employability team provide a wide range of support services to help you plan and prepare for your career.
Where our graduates work
Some of our graduates have gone on to a range of careers in Marketing, Advertising, PR, Brand management, Marketing Research, Digital Marketing, sales and general management with a wide range of large and small organisations such as IBM, Hewlett Packard, Rolls Royce, Procter and Gamble, Jaguar Land Rover, Silverstone, McCann Erickson, Volkswagen, South African Airlines, Millward Brown, Chime Communications. Other students have gone on to postgraduate academic study.
Disclaimer
By accepting your offer of a place and enrolling with us, a Student Contract will be formed between you and the University. A copy of the 19/20 Contract can be found here. The Contract details your rights and the obligations you will be bound by during your time as a student and contains the obligations that the University will owe to you. You should read the Contract before you accept an offer of a place and before you enrol at the University.
The University will charge the tuition fees that are stated on the course webpage and in the prospectus for the first year of study. The University will review tuition fees each year. For UK and EU students, if Parliament permit an increase in tuition fees, the University may increase fees for each subsequent year of study in line with any such changes. Note that any increase for UK and EU Students is expected to be in line with inflation. For international students, the University may increase fees for each subsequent year of study but such increases will be no more than 5% above inflation.