Bioleaching technology for the recovery of metals from Electronic Waste
The Industry Partner
N2S are based in Bury St Edmunds & Mansfield, they are the UK's market leader in IT lifecycle services which include WEEE (Waste Electrical & Electronic Equipment) compliant IT Recycling and Data Destruction services (accredited by the National Cyber Security Centre (NCSC).
N2S are passionate about increasing the circular economy of IT equipment in two ways; through encouraging resale/re-use and innovating environmentally friendly processes for extracting of metals from redundant technology.
The Challenge
E-waste (electronic equipment waste) is the most rapidly growing waste stream in the world, with over 50million tonnes generated globally each year. Millions of people across the world are thought to work informally recycling these materials through open burning, exposing themselves and the environment to toxic fumes which then find their way into the water supply and food chain, poisoning animals and humans.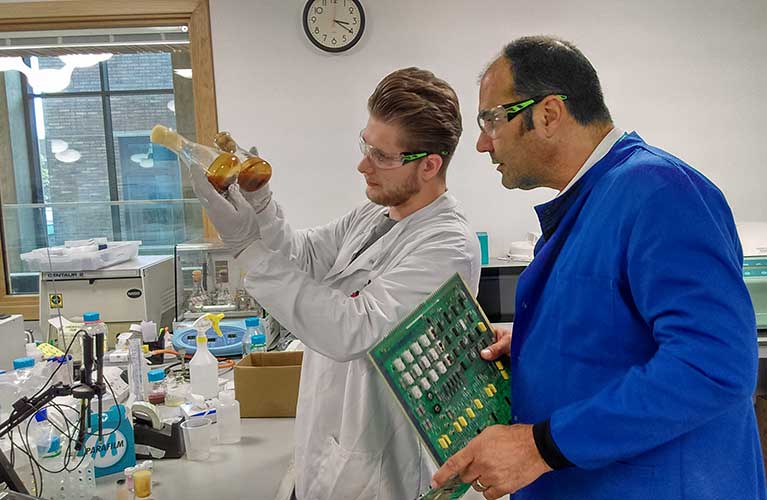 Formal recycling of printed circuit boards has traditionally come with a large carbon footprint, printed circuit boards can travel thousands of miles to refineries where they are incinerated and a lot of the valuable material lost and not recovered.
The Solution
N2S has partnered with Coventry University through the Knowledge Transfer Partnership (KTP) programme. This partnership has allowed N2S to access the expertise of Dr Sebastien Farnaud and Professor Derek Renshaw from the University's Health and Life Science faculty, supporting them to develop an innovative solution to extract the valuable material within printed circuit boards through Bioleaching techniques.
For more information on Bioleaching contact Associate Professor Sebastien Farnaud.
To learn more about KTPs contact Dr James Convery.
International E-waste Day 2020
Together with Insider, Coventry University's Centre for Sport, Exercise and Life Sciences brought together business leaders, experts and academics from organisations including N2S, Department for Environment, Food & Rural Affairs (DEFRA), BT and Microsoft for a special online forum on International E-Waste Day 2020. Watch a recording of the event now.