Integrated master's degrees explained
An integrated master's degree combines both undergraduate-level and master's level study in one degree.
The degree typically consists of three years of bachelor's level study followed by an additional year at master's level.
You have the choice of completing an optional placement year at the end of your second year of study. Part-time options are also available for some courses.
The final year typically provides you with a choice of modules, enabling you to graduate with a more specialised qualification that fits with your career aspirations.
Optional Placement Year

Growth

Year Three

Professional preparation
What are the benefits of studying an integrated master's degree?
Studying an accredited integrated master's provides successful graduates with the most direct route to meeting the academic requirements for future registration as a Chartered Engineer. There are many reasons to become professionally registered; check out the Engineering Council's website for more information.
Professionally registered engineers continue to out-earn their non-registered colleagues and generally have higher employment rates than their undergraduate counterparts.
(Source: Engineering Council UK 2022)
Integrated master's graduates appeal to employers because they will have gained deeper, more specialist subject expertise and knowledge than their undergraduate counterparts.
The total cost of studying an integrated master's degree is typically less than if you were to complete separate undergraduate and postgraduate degrees in succession. Student Finance will also cover you for the full duration of the degree with one undergraduate loan if you are a UK student, rather than you having to take out separate undergraduate and postgraduate loans and then paying back both simultaneously.
International students can apply for a longer VISA than if they were to apply for an undergraduate degree.
I started on the BEng, transitioning onto the MEng after achieving satisfactory grades to do so. I transitioned because it's the most direct route to chartership. Studying the MEng provided me with that extra bit of knowledge that helped with particularly difficult interview questions. I was able to focus my studies on a preferred technical aspect within motorsport; in my case this was electrical design.I've already secured a junior role at Aston Martin Formula 1 as a permanent member of staff.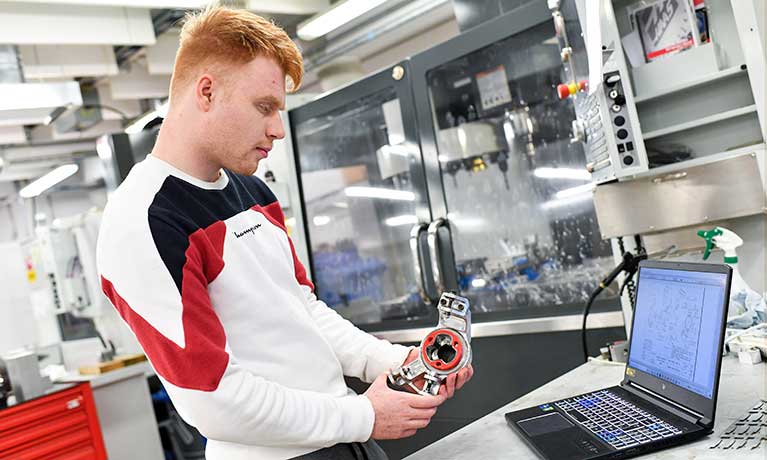 How do I apply for an integrated master's degree?
You can apply through UCAS, the same as you would for an undergraduate bachelor's degree.
What if I don't meet the entry requirements?

We will automatically offer you entry onto a similar undergraduate degree, typically the BEng or BSc version of the integrated master's course. There may be further opportunities for you to transfer to the integrated master's degree as you progress through your studies.

Can I swap from undergraduate studies to integrated master's and vice versa?

Coventry University recognise that students develop at different rates and that circumstances and ambition can change. This is why we have created flexible routes so that you can join on the MEng or MSci and fall back to the BEng or BSc and equally, depending on academic performance, start on the BEng or BSc and transfer to the MEng or MSci.

Can you become chartered without following the integrated master's route?

Yes, there are multiple ways to become chartered, and an accredited integrated master's is simply the most direct route to meeting the academic learning requirements.

If you study a BEng or BSc you will need to undertake additional studies to demonstrate a postgraduate level of learning. This could be studying part-time or full-time on an MSc course or undertaking an additional professional development course. The appropriate accrediting body can help you in identifying suitable additional learning and any costs incurred.

Will holding an integrated master's improve my employability?

Many of our MEng and MSci graduates have gone directly to permanent, higher-paid roles rather than graduate training schemes, the majority of which do not guarantee a permanent job at the end. Our industrial advisory boards inform us that they recognise the specialist expertise and knowledge that graduates with an integrated master's bring to employers. This potentially makes them a more valuable employee.

Does funding work differently between the undergraduate and integrated master's degrees?

You apply for your funding in the same way, so if you have an offer for an integrated master's we recommend you apply for five years of funding. This will cover four years of the integrated master's and a one-year placement. If you decide to fall back to the undergraduate degree or do not take a placement, then that can be accommodated. It is simpler to have all the funding in place at the start and then reduce rather than apply later and the additional complications of getting additional funding.
I am International Student. How will the integrated master's affect my Visa?

If you have an offer for an integrated master's, you can apply for a five-year visa. This will cover any placement you may undertake and your fourth year of additional study. If for any reason you do not do a placement or decide to not continue with the final year of study, we can curtail the Visa accordingly. Applying for the five-year visa upfront will avoid all the additional costs and complications of extending your visa compared to obtaining a three-year visa.

What's the difference between an MEng or MSci and an MSc?

MEng is four years advanced undergraduate degree graded First Class Honours, 2:2, etc. It will add two semesters of additional study to an undergraduate degree.

MSc is typically a one-year stand-alone postgraduate degree graded Distinction, Merit, Pass etc. The fees for an MSc year are typically higher than for the additional integrated master's year. It will require three additional semesters of study.

If I study the MEng, will I have a BEng and an MEng degree?

No, you cannot hold a BEng and an MEng separately. The MEng is an integrated undergraduate and postgraduate degree.

If I decide to graduate at BEng level, can I come back and complete the MEng at a later date and have two degrees?

It may be possible depending on your specific course. This will have to be by individual consultation. If you do come back to complete your MEng year, then the professional accrediting bodies will require you to hand in your BEng certificate on completion of your MEng.
Open Days
Speak directly to academics and find out more about your integrated master's options at one of our forthcoming Open Days. You'll also have the opportunity to take a look around our facilities.
Book your place