UCAS Exhibitions Question Guide
It's important that you are as prepared as possible when making a visit to a UCAS exhibition. You will only have one chance to ask the questions that mean the most to you. So if you're struggling for ideas or inspiration, don't worry, check out some examples below and see which ones are important to you.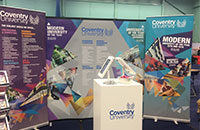 ---

Your course
What are the typical offers made for entry on to my chosen course?
Is an interview part of the selection process?
How is the course taught and how many contact hours are there per week?
What if I want to take a gap year?
When are the relevant Open Days?
What if I can't attend any of those dates?
Your money
What are the current fees for my chosen course?
Are course books and equipment included in the fees?
What scholarships do you currently offer?
What is the typical weekly cost for your student accommodation?
Your university
Where is the university located?
Is it campus or city-centre based?
Is on-campus accommodation guaranteed for all first years?
Do you have a student car park, and how much does it cost?
What if I am commuting from home?
Tell me about your sports facilities/students' union/library/clubs and societies etc
And what kind of nightlife can I expect?
Your future
Where do graduates from my course typically find employment?
What is the current graduate employment rate from my chosen course?