One-step closer to fulfilling her ambition
Beth, who is a sport student, is interested in working for a Rugby or Cricket Club in the future.
Through the help of the University, Beth was able to get that one-step closer to fulfilling her ambition when she was selected onto the Wasps Student Ambassador Scheme – which led to her getting a foothold in the competitive sports industry.
Beth tells us more..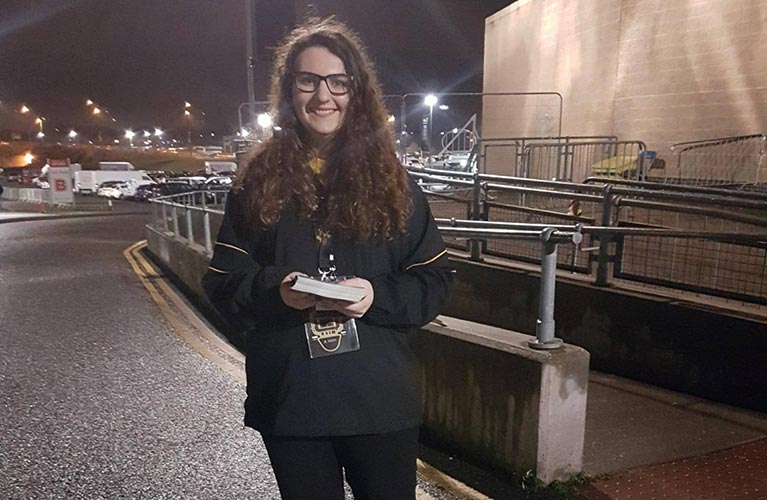 What is the highlight of your university experience?
The highlight of my university journey began in my first year when I was selected for the Wasps Student Ambassador Scheme.
I was made aware of this scheme in my first week at university when Wasps came in to advertise the scheme. This scheme provides Sport Marketing, Sport Management and Event Management students with the chance of gaining matchday experience relevant to their field of study.
What did your role as Wasps Ambassador involve?
I was a Wasps Ambassador for 2 years and some of my tasks included, assisting with signing media into the ground and accommodating die-hard supporters such as the Wasps Drummers, through to accompanying club mascot Sting around the pitch, facilitating the pre-match guard of honour with community groups, and helping to set up various fan villages.
In December 2019, the Marketing Manager at Wasps, thought that after all my hard work volunteering, I should be rewarded and was given a job. My job is being responsible for recruiting fellow students to the Wasps Student Ambassador Scheme.
I have loved sport ever since watching the London 2012 Olympics but because I have cerebral palsy down one side of my body, I can't participate in much physical activity, so being in a sporting environment at a club such as the Wasps is the next best thing.