International Finance and Banking BSc (Hons) top-up
Study level:

Top-up courses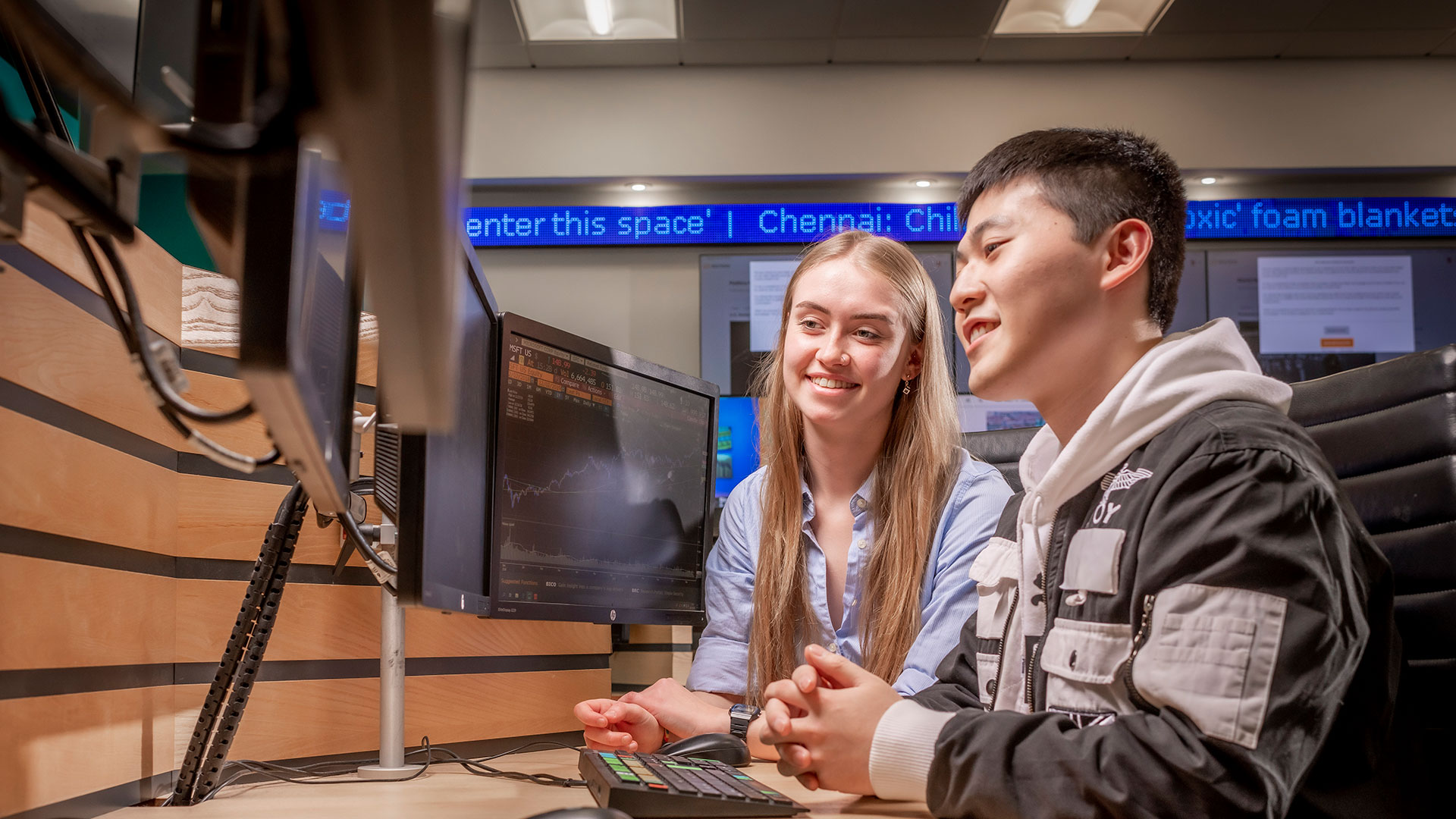 Do you speak another language and are you interested in banking and finance? Then international banking and finance could be an ideal potential future career option for you.
Location
Coventry University (Coventry)
Duration
1 year full-time (Entry at level 6)
2 years full-time (Entry at level 5)
Start date
January 2024
May 2024
---
Course overview
This course is designed for international students and as such, is designed with a specific focus on banking and finance in an international context, incorporating the study of the English language for business, to better prepare you for potential global career options in areas such as business, accountancy or financial management.
If you are a UK student and would like to study the course, please contact us at info.fbl@coventry.ac.uk for more information.

Joint Top Modern University for Career Prospects
Guardian University Guide 2021 and 2022

5 QS Stars for Teaching and Facilities
QS Stars University Ratings

Top 5 UK Student City (Coventry)
QS Best Student Cities Index 2023
Why you should study this course
Designed to help you develop the skills needed for a career in the finance and banking sectors, this top-up course covers core finance modules and relevant banking modules, while also incorporating important elements of the economics and accounting disciplines. This approach allow you to gain knowledge across various areas, while also specialising in the skills needed to become a finance and banking professional.
With a strong focus on applying learning to practical situations, this course involves rigorous banking and regulation-based modules which should help to prepare you for potential work in the sector. Throughout the course, modules should allow you the opportunity to work on real case studies and explore the tackling of specific issues faced by banks in the global banking environment, using the skills you have learned to look at proposing recommendations on how to solve the problems.  
There are also modules covering contemporary developments in the industry, including Financial Technology, or FinTech, which give you the opportunity to gain insight into recent technological developments (such as blockchain and cloud computing), new emerging sectors (such as crypto-currencies and peer-to-peer lending), and take a look at the main players driving the growth of the FinTech industry.
By studying our top-up course you will benefit from:
Specialist content which covers the identification, analysis and solution of financial decision making.
Outstanding facilities4 include our Trading Floor, currently one of the largest of its kind in Europe, featuring 42 dual screen Bloomberg terminals.
Opportunity to access support from the university's sigma centre, which can provide maths and stats help and advice through drop-in sessions with experienced staff4.
Experienced staff, some of whom have worked in roles such as auditors for large scale professional services firms in different countries and as ACCA markers in the UK (please note that staff are subject to change).
Opportunities2 to join a variety of student-led societies, such as the Accounting and Finance society, the Investment Society and the Financial Trading Society.
Potential opportunities to network with like-minded professionals and visit key financial institutions, which have previously included the London Stock Exchange and Bank of England2.
Memberships
Chartered Association of Business Schools (CABS)
Coventry Business School is currently an active member1 of the Chartered Association of Business Schools, which has a membership of over 120 business schools and higher education providers, and supports its members in maintaining world-class standards of teaching and research.
European Foundation for Management Development (EFMD)
Coventry Business School is currently an active member1 of the European Foundation for Management Development, a global membership organisation dedicated to management development, covering over 900 members across 91 countries.
This course is recognised by the above memberships for the 2022/23 intake. There is currently no intention for either of these memberships to lapse however if either of these memberships were not to be renewed, we would notify applicants and students as soon as possible.
Additional certificates
As part of the degree you will have the option to work towards two additional certifications (outside of your study modules):
[1] Bloomberg Market Concepts Certificate: Optional certification to help our students stand out and demonstrate their understanding of financial markets, central banking and the application of economic indicators, as well as hone their skills in utilising Bloomberg terminal functionalities for a fast moving market.
[2] Bloomberg ESG Certificate: Optional certification for students to demonstrate their understanding of the Environmental, Social and Governance factors, and their implications for strategy development and regulatory compliance.
---
The below modules are studied in your first year when entering the course at Level 5. The modules in this year are intended to provide a strong background in Finance and Financial Theory, setting the basis for further specialism at Level 6. All modules are mandatory.
Alongside modules covering key areas of finance and banking, you will also study a module focused on employability skills, to help you as you progress into the world of work, and a module on academic English, to help further develop the English language skills needed in the globalised economy.
Modules
Principles of Finance - 20 credits

This module aims to introduce students to relevant concepts in finance. You will learn about the workings of the equity and bond markets and acquire techniques to exploit the trade-off between risk and return to an optimal effect. This module also aims to provide a comprehensive understanding of the theoretical and practical underpinnings of modern day finance. It will cover a broad range of topics to provide an understanding of the structure, operation and functions of the financial industry.

Business Accounting for Decision Making - 20 credits

The module aims to develop your understanding of the fundamental aspects of management accounting and accounts and will build an understanding of the tools and techniques that are commonly used for short and long term decision making in various business scenarios. Also, this module will develop your basic understanding in solving different problems, choosing the best alternative by critical analysis and guiding management in implementing the organisation's strategic choices.

English Skills for Finance - 10 credits

This module helps international students to develop their English language knowledge and skills to a level where they can operate effectively. This is achieved in a context where the language is used for the study of finance. The emphasis is on developing your practical reading, writing, speaking and listening skills to support the study of finance courses at the university. This module will involve activities and tasks designed to increase the range and effectiveness of your use of language and the development of study and communication skills in a professional and academic context.

Employability Skills in Finance - 10 credits

This module aims to ensure you have a clear understanding of employers' expectations and how to best prepare to face the job market at this level. The module begins with an opportunity for self-evaluation where you will complete a skills audit in order to identify strengths and weaknesses relative to the job applications. Once this reflective exercise is completed, you will address and enhance the areas of weaknesses identified and also be supported and mentored towards job opportunities that would best utilise your strengths.

Governance and Ethics in Finance - 20 credits

The aim of this module is to provide you with an understanding of a number of key topics of corporate governance theory including research and practice (incorporating associated reporting and regulation, and issues of ethics). It will also develop your ability to evaluate the academic literature and current issues; and to integrate and synthesise topics in order to participate in current debates, and suggest potential insights for development.

Software Applications in Finance - 20 credits


The use and scope of technology is expanding in every sector of finance. This module will develop your understanding and use of a variety of software applications used in finance and investment analysis. The module significantly develops the practical Microsoft Excel skills required for the measurement, analysis and presentation of financial data. Various data sources and databases are also explored (e.g. FAME). The module also offers training in the software in use on the Trading Floor, such as Bloomberg and Reuters4.

Quantitative Analysis - 20 credits

The module seeks to introduce you to the main quantitative techniques which are used in academic finance literature by financial analysts, economists, and accountants as well as individual investors to enable students to access this literature in an effective and illuminating manner. It examines the structure and content of financial and quantitative data and goes on to develop your understanding of a range of statistical techniques which can assist the financial manager to make decisions. It combines theory with practical computing exercises, allowing you to get a hands-on experience where you will examine some real-world data and apply statistical concepts to make inferences. The module will primarily focus on the statistical techniques of estimation, hypothesis testing and modelling using economic and financial data.
The below modules are studied in your first year if you enter the course at Level 6, or in your second year if you enter the course at Level 5. All modules are mandatory.
Further focus is placed during the year on your personal development, with a module on employability skills, and a module on academic English. Modules in this year are designed to provide a more focused analysis of the banking industry, including risks in the sector and associated theories.
Modules
International Banking and Financial Institutions - 20 credits

This module aims to provide a thorough understanding of the financial underpinnings of banking and other financial institutions, including insurance companies, fund managers, and securities firms. It will cover a range of topics concerning their roles, structure, and functions. This module will also examine the relationship between business models, balance sheet structures, and the creation of financial risks. You will also appreciate current issues in banking and financial institutions, which should enhance their employability in the finance sector.

Financial Theory - 20 credits

This module aims to further develop your understanding in the key concepts in finance. You will learn about the function of capital markets, the relationship between risk and return and how to price a variety of financial assets.

Academic English for Finance - 10 credits

This module helps international students to further develop their English language knowledge and skills, in the areas of finance, banking and investment to a level where they can operate effectively and independently. This is achieved in a context where the language is used for the study of finance, banking and investment. The emphasis is on developing practical reading, writing, speaking and listening skills to support the study of finance courses at the university. This module will involve activities and tasks designed to increase the range and effectiveness of students' use of language and the development of study and communication skills in a professional and academic context.

Employability Skills in Finance - 10 credits

The aim of this module is to develop a range of key skills necessary for your learning, research and intercultural communication during your study of a top-up programme on banking and finance. This module should enable you to actively pursue your academic development and could also lead to greater confidence in your broader life, thereby allowing you to make the most of your overseas experience. Intercultural communication skills are recognised as valuable assets in the world of expanding global business. This module will help you develop a range of intercultural competencies to work effectively with diverse teams to enhance opportunities for future careers or further study. The module relates to your overall academic study. You will be required to demonstrate skills to reflect on your progress on the course.

Risk Management in Banking - 20 credits

This module enables you to understand how banks are impacted by risk, and what measures banks can take to measure and mitigate risks they encounter. Bank risk is explored within the traditional spectrum of risk types, including liquidity, credit, market risk, and operational risk. Importantly, bank risk is also explored at enterprise (balance sheet) level, and also at whole financial sector (systemic) level, in order to reflect the emergence and increasing recognition of systemic risk management as a risk discipline.

Financial Technology - 20 credits

The aim of this module is to provide a rigorous introduction to Financial Technology (FinTech). The module reviews the history and development of FinTech and discusses how FinTech is transforming financial institutions and the finance and business sectors more broadly. The module provides an overview of the application of innovative technologies within finance such as big data and analytics, AI and machine learning, cloud computing, blockchain, and mobile banking. The module also discusses alternative finance such as cryptocurrencies, peer to peer lending and crowdfunding. In addition, regulation and governance of FinTech and some specific industry applications are examined and evaluated.

Analysis of Investments - 20 credits

The module focuses on the bond and equity markets. You will evaluate and apply advanced bond pricing techniques along with bond portfolio managements and the associated risk immunisation methodologies. In respect to equity valuation, you will compare and contrast discounted cash flow methods with fundamental valuation approaches associated with approaches such as value investing and growth investing. Market timing is also explored through the application of technical analysis.
We regularly review our course content, to make it relevant and current for the benefit of our students. For these reasons, course modules may be updated.
---
How you'll learn
Seminars and workshops are smaller group teaching environments, they are interactive and may involve hypothetical problem questions, simulations, case studies and the analysis of more theoretical issues. Teaching methods include: lectures, seminars, workshops and personal study.
Teaching contact hours
We understand that everyone learns differently, so each of our courses will consist of structured teaching sessions, which may include:
On campus lectures, seminars and workshops
Group work
Self-directed learning
Work placement opportunities2.
If you would like more information, you can request information about teaching hours.
You will be expected to undertake significant self-directed study each week, depending on the demands of individual modules. The number of contact hours may vary from semester to semester, however, on average, it is likely to be around 15 contact hours per week.
Part of university life is undertaking self-directed learning. During a typical week, you will have time that allows you to work independently to apply the skills and knowledge you have learned in taught or facilitated sessions to your projects or assignment briefs. This self-directed learning allows you to use your research skills, consolidate your knowledge or undertake collaborative group work.
As an innovative and enterprising institution, Coventry University may seek to utilise emerging technologies within the student experience. For all courses (whether on-campus, blended, or distance learning), the university may deliver certain contact hours and assessments via online technologies and methods.
Since COVID-19, we have delivered our courses in a variety of forms, in line with public authority guidance, decisions, or orders and we will continue to adapt our delivery as appropriate. Whether on campus or online, our key priority is staff and student safety.
---
Assessment
This course will be assessed using a variety of methods which will vary depending upon the module. Assessment methods include:
Formal examinations
Phase tests
Essays
Group work
Presentations
Reports
Projects
Coursework
Exams
Individual Assignments
Laboratories
The Coventry University Group assessment strategy ensures that our courses are fairly assessed and allows us to monitor student progression towards achieving the intended learning outcomes.
---
Entry requirements
Typical offer for 2023/24 entry.
English language requirements
IELTS: 6.0 overall, with no component lower than 5.5.
If you don't meet the English language requirements, you can achieve the level you need by successfully completing a pre-sessional English programme before you start your course.
For more information on our approved English language tests visit our English language requirements page.
---
Fees and funding
2023/24 Tuition fees
| Student | Full-time | Part-time |
| --- | --- | --- |
| International | £16,800 per year | Not available |
For advice and guidance on tuition fees3 and student loans visit our Undergraduate Finance page and see The University's Tuition Fee and Refund Terms and Conditions.
We offer a range of International scholarships to students all over the world. For more information, visit our International Scholarships page.
Tuition fees cover the cost of your teaching, assessments, facilities and support services. There may be additional costs not covered by this fee such as accommodation and living costs, recommended reading books, stationery, printing and re-assessments should you need them. Find out what's included in your tuition costs.
*Irish student fees
The rights of Irish residents to study in the UK are preserved under the Common Travel Area arrangement. If you are an Irish student and meet the residency criteria, you can study in England, pay the same level of tuition fees as English students and utilise the Tuition Fee Loan.
**EU support bursary
Following the UK's exit from the European Union, we are offering financial support to all eligible EU students who wish to study an undergraduate or a postgraduate degree with us full-time. This bursary will be used to offset the cost of your tuition fees to bring them in-line with that of UK students. Students studying a Degree with a Foundation Year with us are not eligible for the bursary.
How do you know if you need to pay UK or international tuition fees?

We carry out an initial fee status assessment based on the information you provide in your application. Your fee status determines your tuition fees, and what financial support and scholarships may be available to you. The rules about who pays UK (home) or international (overseas) fees for higher education courses in England are set by the government's Department for Education. The regulations identify all the different categories of student who can insist on paying the home rate. The regulations can be difficult to understand, so the UK Council for International Student Affairs (UKCISA) has provided fee status guidance to help you identify whether you are eligible to pay the home or overseas rate.

If you meet all the criteria required by any one category, including any residence requirements, your institution must charge you the home rate. You only need to find one category that you fit into.
---
Facilities
Our facilities4 and technology are close to what you would expect in real-world business environments.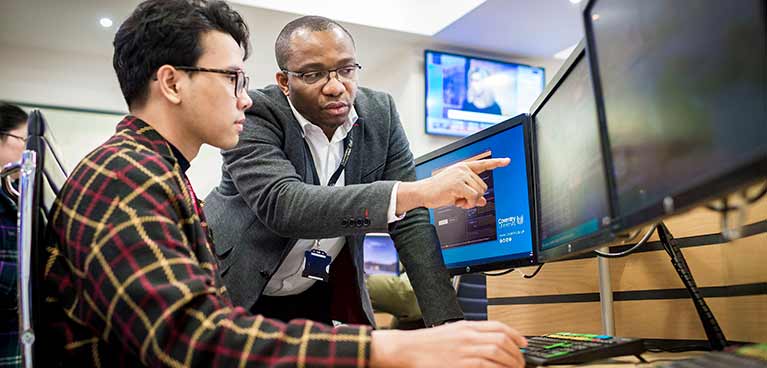 The Trading Floor is an invaluable facility which allows you to get hands-on with industry-standard software. Housing 42 dual-screen Bloomberg terminals, the facility can add a dynamic practical element to your course.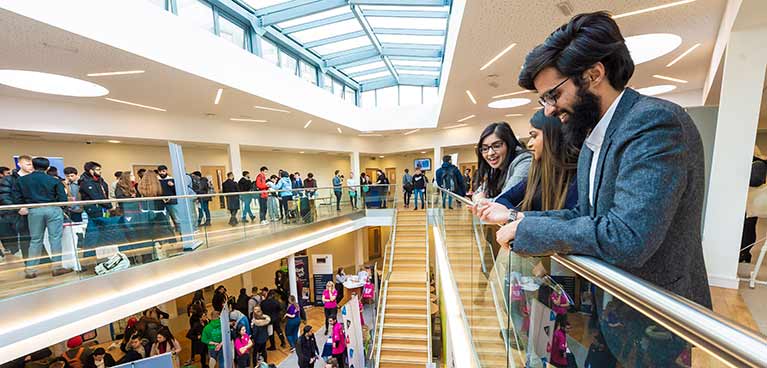 Employability is at the forefront of all our accounting and finance courses. Our dedicated Talent Team are also on hand to help. They can assist you in applying for work placements, graduate level jobs and offer skills development workshops, and also organise networking events to introduce you to potential employers and industry contacts.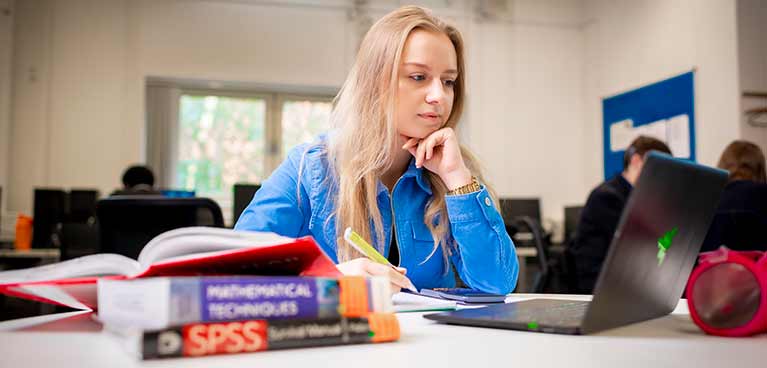 The sigma Centre is housed in our Lanchester Library and offers maths and statistics support through drop-in sessions and bookable appointments. It is the ideal place to help you navigate any issues you might have while studying an accounting and finance degree.
---
Careers and opportunities
Upon successful completion, you will be able to:
Develop a critical understanding of appropriate research theories and empirical evidence relevant to banking policy, regulation and ethical practice.
Assess banking and financial institutions' operations within an international context by comparing different approaches to financial regulation and practice.
Constructively analyse theoretical and empirical approaches to solving banking and financial problems in an international context.
Apply financial modelling and analytical tools when conducting research using a variety of finance and finance-related resources such as relevant databases and literature in order to resolve typical finance and banking issues.
Demonstrate digital literacy by using information, communication and digital technologies in solving different financial problems and be aware of emerging financial technologies that play a significant role in the finance and banking world now and in the future.
Make rational decisions that take into account ethical issues faced by the finance and banking industry today and demonstrate awareness of the role played by ethics in making financial decisions.
Understand what is meant by, and what is involved in, the risk management of financial issues and relevant factors influential to the investment behaviour of firms.
Demonstrate enhanced employability including attributes such as professionalism, and interpersonal and communication skills to enable the effective oral written presentation of work, whilst also showing initiative and the ability to work independently.
Upon successful completion, you should be well placed to pursue a variety of potential future career options in finance, management, accounting, banking, personal and corporate finance and IT in private, public and third sector organisations. Subject to further training or qualification, you could find yourself exploring potential future roles as an accountant, auditor, business analyst, investment consultant, stock controller, tax assistant or teacher.
Further study
Alternatively, you may decide to pursue postgraduate study opportunities by studying courses such as Accounting and Financial Management MSc or Finance MSc here at Coventry Business School, which could further enhance your employability.
Please note that further study opportunities are subject to competitive application, availability, meeting any applicable visa requirements and additional costs may apply.
---
How to apply
International students

International codes:
FBLU060

Full-time students applying to start in September 2023 should apply directly to the university.
Read our application pages to find out your next steps to apply.

How to apply

You can also apply through UCAS for 2023. Our university code is C85 and this course code is N315.

For further support for international applicants applying for an undergraduate degree view our International hub.

You can also download our International Guide which contains lots of useful information about our courses, accommodation, tips for travel and guidance on how to apply.

---

If you'd like further support or more information about your course get in touch with us today.
Disclaimers

Coventry University together with Coventry University London Campus, CU Coventry, CU London, CU Scarborough and Coventry University Online come together to form part of the Coventry University Group (the "University") with all degrees awarded by Coventry University.

1Accreditations

The majority of our courses have been formally recognised by professional bodies, which means the courses have been reviewed and tested to ensure they reach a set standard. In some instances, studying on an accredited course can give you additional benefits such as exemptions from professional exams (subject to availability, fees may apply). Accreditations, partnerships, exemptions and memberships shall be renewed in accordance with the relevant bodies' standard review process and subject to the university maintaining the same high standards of course delivery.

2UK and international opportunities

Please note that we are unable to guarantee any UK or International opportunities (whether required or optional) such as internships, work experience, field trips, conferences, placements or study abroad opportunities and that all such opportunities may be subject to additional costs (which could include, but is not limited to, equipment, materials, bench fees, studio or facilities hire, travel, accommodation and visas), competitive application, availability and/or meeting any applicable travel COVID and visa requirements. To ensure that you fully understand the visa requirements, please contact the International Office.

3Tuition fees

The University will charge the tuition fees that are stated in the above table for the first Academic Year of study. The University will review tuition fees each year. For Home Students, if Parliament permit an increase in tuition fees, the University may increase fees for each subsequent year of study in line with any such changes. Note that any increase is expected to be in line with inflation.

For International Students, we may increase fees each year but such increases will be no more than 5% above inflation. If you defer your course start date or have to extend your studies beyond the normal duration of the course (e.g. to repeat a year or resit examinations) the University reserves the right to charge you fees at a higher rate and/or in accordance with any legislative changes during the additional period of study.

4Facilities

Facilities are subject to availability. Since COVID-19, we have delivered our courses in a variety of forms, in line with public authority guidance, decisions, or orders and we will continue to adapt our delivery as appropriate. Whether on campus or online, our key priority is staff and student safety.

Student Contract

By accepting your offer of a place and enrolling with us, a Student Contract will be formed between you and the university. A copy of the 2023/24 contract can be found here. The Contract details your rights and the obligations you will be bound by during your time as a student and contains the obligations that the university will owe to you. You should read the Contract before you accept an offer of a place and before you enrol at the university.
---